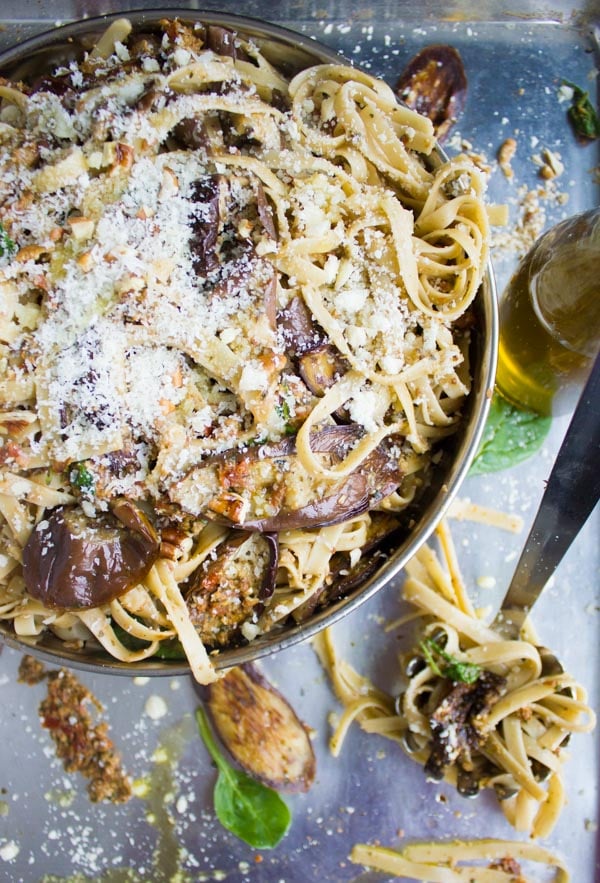 This skinny eggplant parmesan pasta is a flavorful, light twist on an all time favorite. The eggplant is roasted till tender melt in your mouth soft (with secret tip!) and tossed into cooked pasta that's loaded with a light, flavourful sun dried tomato pesto boosted with extra tomato flavor. This lovely pasta is light, vegetarian, vegan and made gluten free for everyone to enjoy and feel good about!
After a weekend of grilling, the week has to start off with pasta! So are you a fan of eggplant Parmesan pasta? Have you tried making it healthier, lighter or just more appealing to the healthy people in your life? I once had a request for a cooking class, it was a special Italian dinner where the group wanted to make pasta from scratch and many Italian classics from scratch—-with a condition—it had to be light and healthy. They were willing to cook/bake/chop/do anything required to make the event a success. So when the cooking school contacted me—this recipe came to mind as a must have on the menu!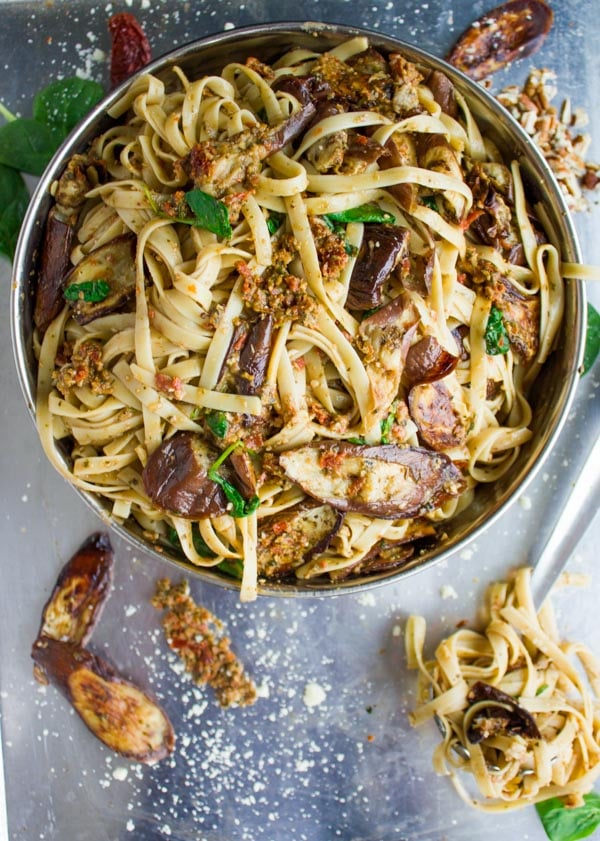 I think my husband can qualify as the number one fan of this skinny eggplant Parmesan pasta —but then again he is a fan of anything eggplant. I am a fan of this recipe for many reasons—it's CRAZY DELICIOUS, and I love the light feel and fresh taste here compared to the heavy saucy version —now don't get me wrong, I have my days with the real saucy stuff.. but I can only enjoy a tiny portion of it before I start feeling heavy. This recipe however, I can enjoy all the portions I want! And while we're still on this topic—have you checked my step by step skinny grilled chicken Parmesan recipe? It happens to be one of the most popular recipes on the blog!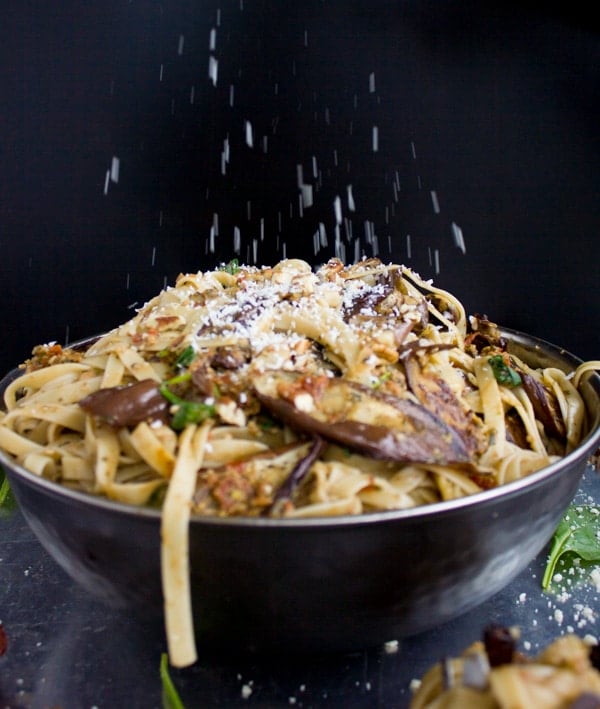 So back to the light Italian cooking event, I ended up going with this skinny eggplant Parmesan pasta as part of the menu. Everyone was anxious to taste the difference, and mostly anxious to to see if this recipe will offer the same comfort they expect from a classic eggplant Parmesan. After much anticipation on their end (and quite honestly some stress on my end—hoping to deliver) the skinny eggplant parmesan pasta was declared a WINNER!!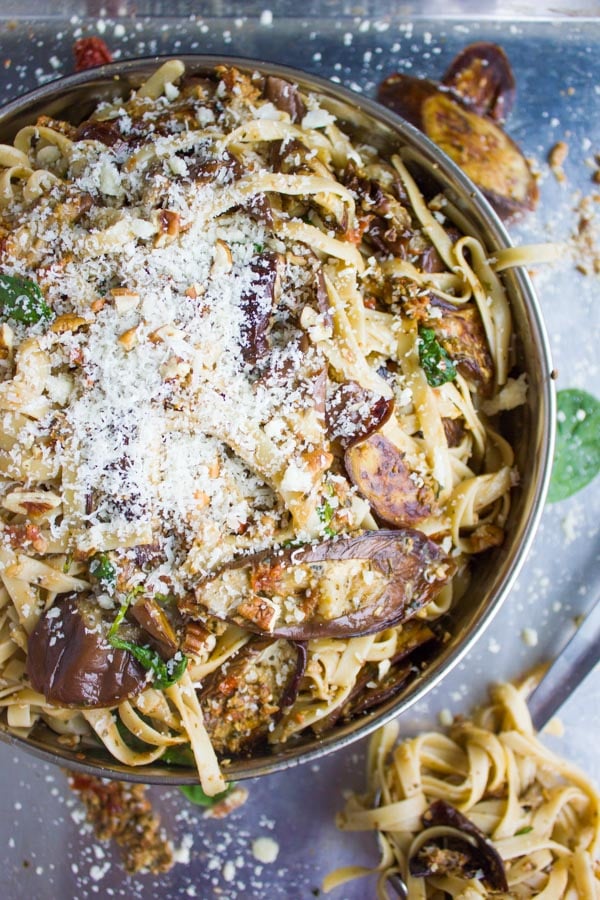 Now I'll walk you through tiny tips and tricks why this recipe is indeed a winner! So it starts with roasting eggplant slices. If you're used to the melt in your mouth, utterly sweet taste of fried eggplants—you'll have quite a bit of time adjusting to the taste and texture of roasted eggplant slices. So to avoid this and get the same results with roasting eggplant, the TRICK I made was to roast the eggplant slices while covered. This produces ultra soft melt in your mouth eggplant slices that also as a bonus, cook much faster!! So it's a win win situation!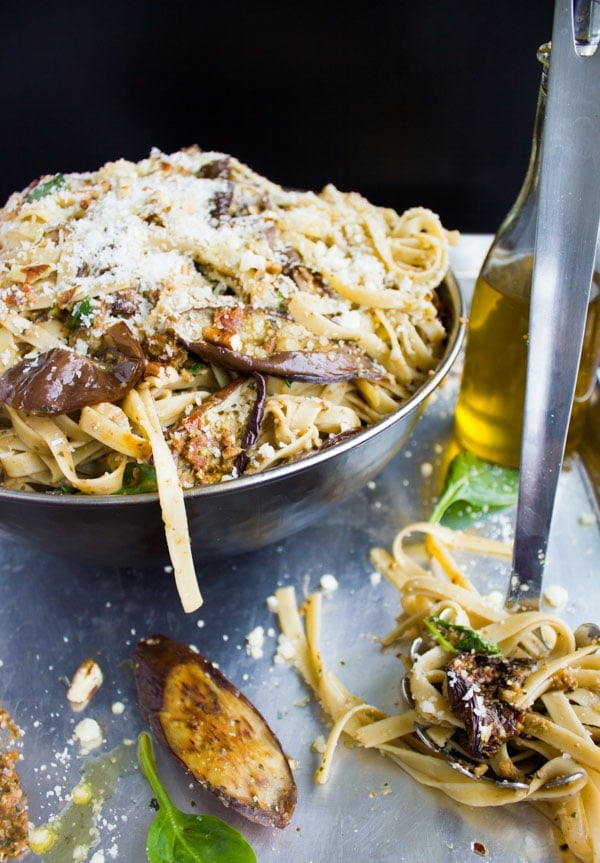 The sun dried tomato pesto is one of my favorites here, I kick it up for this recipe with doubling the sun dried tomatoes and adding in 2 tablespoons of canned crushed Roma tomatoes. this produces an incredible boost of tomato flavor that's much needed for this recipe. Basically after the eggplants are roasted , pasta is cooked and pesto is zipped up in a food processor for 3 mins, everything gets tossed together in a snap! I love sprinkling some Parmesan cheese on top (take this out if Vegan) and extra walnut pieces for crunch (optional).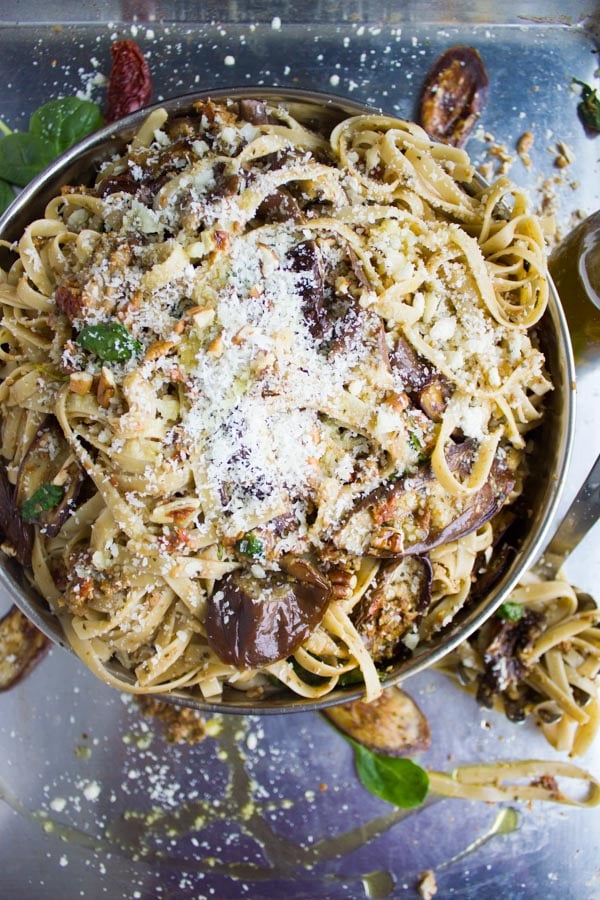 Now go ahead, indulge and spare 20 mins for a fabulous healthy twist on an Italian eggplant Parmesan pasta love affair and enjoy 🙂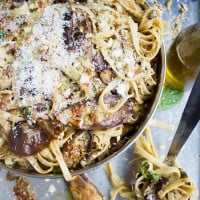 Skinny Eggplant Parmesan Pasta
Ingredients
4

large Japanese eggplants sliced into 1/4 inch slices

, totalling to 6 cups

1/4

teaspoon

of salt

pinch of black pepper

2

teaspoons

of dried oregano

2

tablespoons

of olive oil

Sun Dried Tomato Pesto

1/4

cup

of sun dried tomatoes

2

tablespoons

of crushed canned tomatoes

1

lb

box of fettuccine or your favorite pasta

(gluten free if needed)

Parmesan cheese for sprinkling

(optional)

chopped walnuts for sprinkling

(optional)
Instructions
Preheat the oven to 425 degrees F.. Place the eggplant slices in a single layer on a parchment lined baking sheet and season them with salt, pepper, oregano and a drizzle of olive oil.

Cover the baking sheet with foil entirely and place in the oven to cook for 15-20 mins (depending on the thickness of your eggplant slices).

In the meantime, if your pesto is ready, place it in a food processor and add in the extra tomatoes. If not, then place all the sun dried tomato pesto ingredients in a food processor with extra tomatoes and process until smooth.

Cook the pasts according to package instructions and save some of the pasta water ( the water where the pasta was cooked—like in this 10 mins Greek tortellini).

When the eggplant is ready, toss the pasta with the pesto and add in some pasta water 2 tablespoons at a time to lose up the pesto and form a sauce (as thick or thin as you like). Then toss in the eggplants. sprinkle some Parmesan and walnuts (optional) and serve.