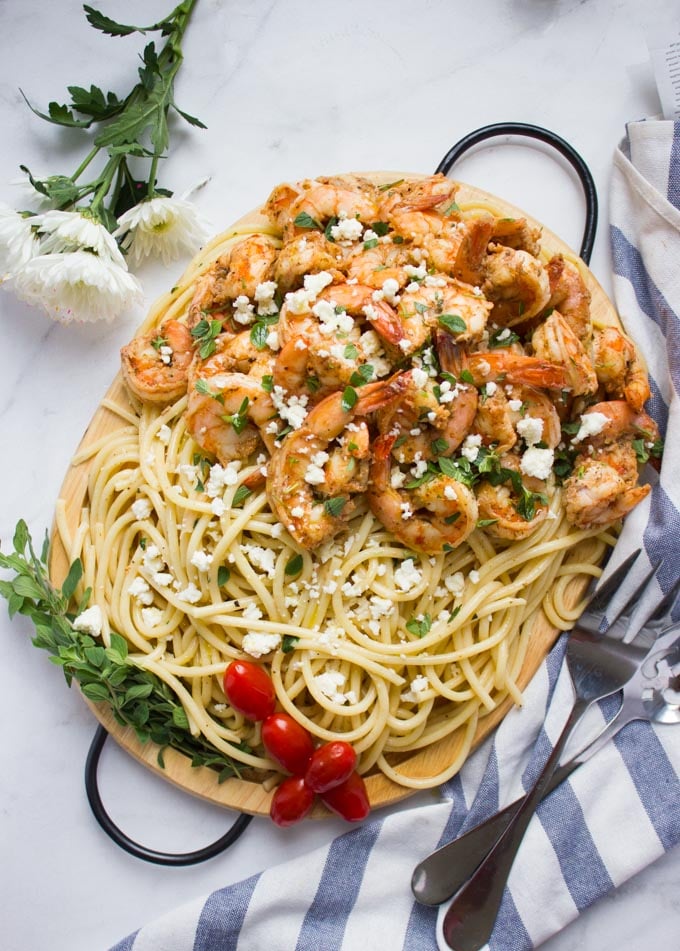 Even though it's warm outside, pasta dinners always find their way to my dinner table. Today's Quick Shrimp Pasta with Garlic Feta Sauce is zesty and light yet very comforting. The shrimp is a burst of garlic, paprika and oregano cooked for almost 5 minutes. Just serve that succulent shrimp over a pasta tossed in garlic, olive oil and feta cheese for a fresh taste of the Mediterranean! This delicious plate takes 15 minutes start to finish, and it's worth every single one 🙂
Happy Wednesday! This week has been so hectic and those few days felt like a week on its own! It all started with kids getting sick. And since then, one thing after the other start coming at me. It's almost like the universe wants to teach me time management lol. So I end up trying to catch up here and there, running from doctor to the other, phone call to email..etc. And then finally, the moment comes when things start to cool down and I start to breathe a sigh of relief. While this would be the happy ending to a long week, it almost always ends up being my turn to be sick!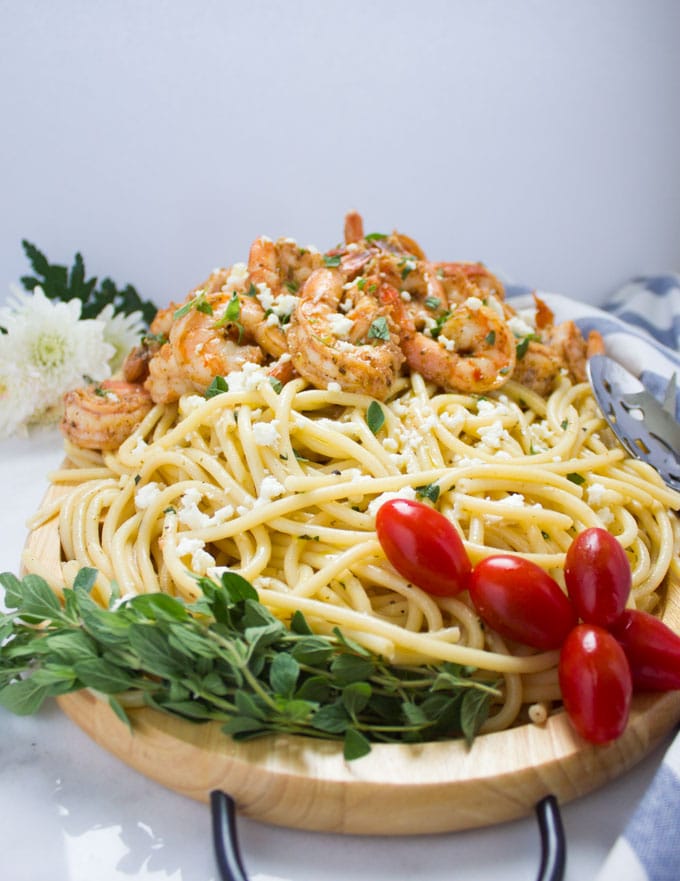 On a bright side, the weather has been gorgeous. Simply gorgeous. Yes a few rainy days here and there, but overall gorgeous. The last thing I feel like is spending more than half an hour making dinner! And I know I'm not the only one! Throwing something on the grill is typically my first choice for dinner all summer long, but today I felt like pasta. I just needed that comfort of a pasta dish. Probably because girls have been sick and I'm on the edge too. Or I've just probably missed it. Shrimp pasta is like my go to for quick dinners.
This 10 Minute Greek Cheese Tortellini recipe is another bright and light pasta dish, and this Grilled Shrimp Chimichurri is a succulent one for shrimp. On my list for quick shrimp dinners, I'll probably make Shrimp Salad With Avocado Dressing, and Shrimp Salad Recipe With Lentils Avocados And Shallot Vinaigrette. Today's shrimp pasta is an in between dish. So it's not super saucy, nor is it grilled and dried out.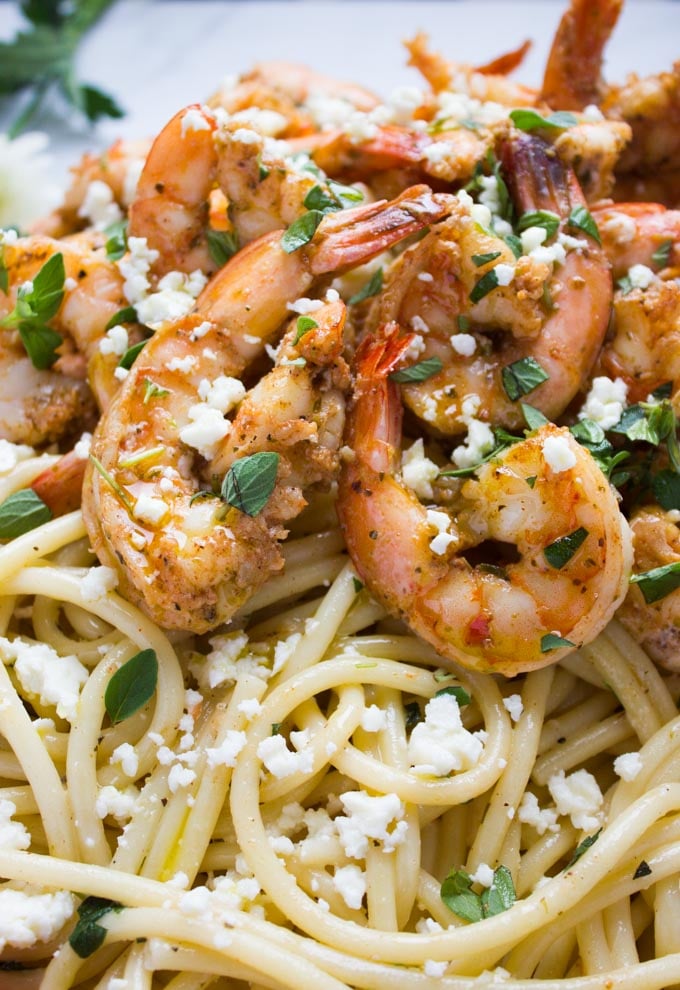 The saucy part of the sauce is not really a sauce. It's more of a toss and go. So rather than cooking and simmering a sauce for the pasta, I love to simply sautee garlic in olive oil. After that, I add in the pasta with a half cup of the pasta water. If you don't want to be this exact, simply don't strain the pasta completely, just remove it with bits of water clinging to it. Add the pasta with its' water to the garlic mixture and then sprinkle some feta cheese over it. The feta will slowly melt into the pasta, creating a slightly salty, super refreshing sauce.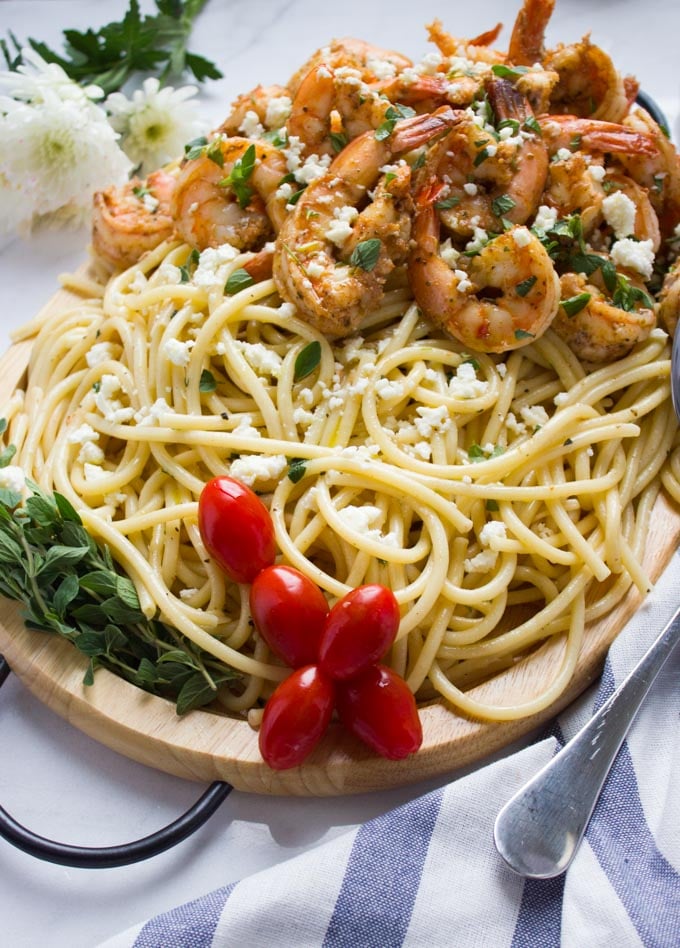 And just like that, pasta with sauce is done. Finally the shrimp. Nothing fancy, but seriously delicious Mediterranean flavors here. Garlic, oregano, paprika and lemon juice. And simply sear them on very high heat (or grill them!) for 5 minutes in total. Serve the succulent shrimp over the pasta and sprinkle some fresh herbs, lemon zest, extra feta and chilli flakes if you like!
Make this quick and easy shrimp pasta for a fresh summer meal with a Mediterranean flare, and get all the pasta comfort you crave! 🙂 Enjoy! 🙂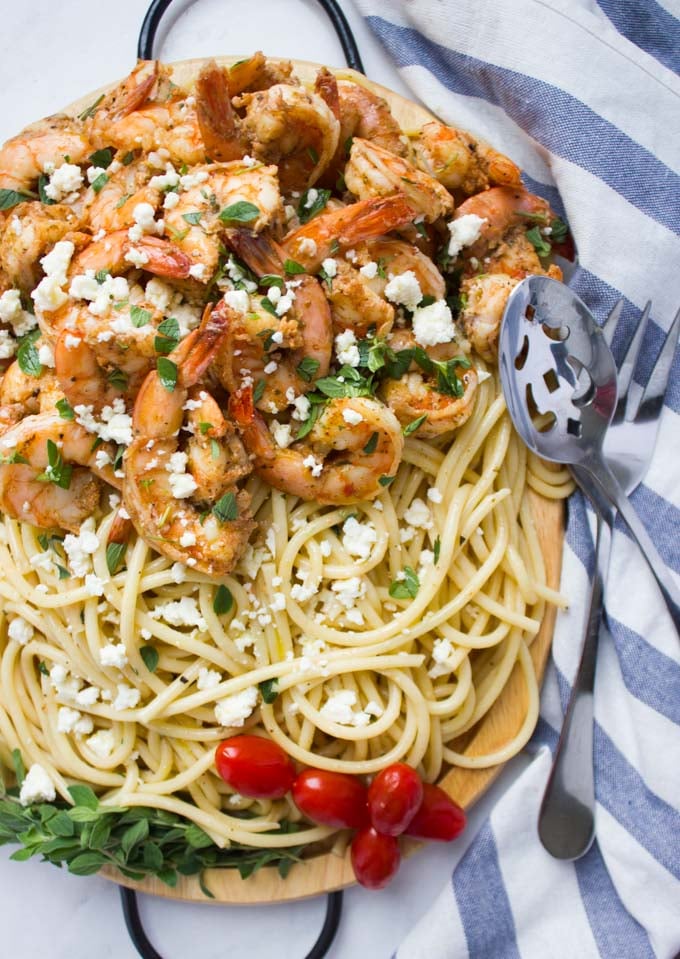 Quick Shrimp Pasta with Garlic Feta Sauce
Even though it's warm outside, pasta dinners always find their way to my dinner table. Today's Quick Shrimp Pasta with Garlic Feta Sauce is zesty and light yet very comforting. The shrimp is a burst of garlic, paprika and oregano cooked for almost 5 minutes. Just serve that succulent shrimp over a pasta tossed in garlic, olive oil and feta cheese for a fresh taste of the Mediterranean! This delicious plate takes 15 minutes start to finish, and it's worth every single one 🙂
Ingredients
For the Shrimp:
1

Tablespoon

of olive oil

2

lbs

of shrimp

any size you prefer, I used 15-21 peeled and deveined

1/2

teaspoon

of salt and pepper

1 1/2

teaspoon

of oregano

1

teaspoon

of paprika

juice of 1 lemon
For the Pasta:
1

box of pasta

2 lbs

2

tablespoons

of olive oil

2

large cloves of garlic

minced

1/2

teaspoon

of salt and pepper

1/3

cup

of feta cheese
Assembly (optional):
1/4

cup

of chopped herbs

1/3

cup

of crumbled feta

Chilli flakes
Instructions
Cook the pasta according to the package directions. In the meantime toss the shrimp with all the spices and lemon juice, and sautee them over high heat in a non stick skillet for 5 minutes. Set aside.

In another skillet, sautee the garlic and olive oil for the pasta and then add in the cooked pasta to the skillet with about 1/2 cup of the pasta water and the feta cheese. Toss to create a sauce.

Serve the pasta and top with the shrimp, then sprinkle any additional toppings over it. Enjoy 🙂