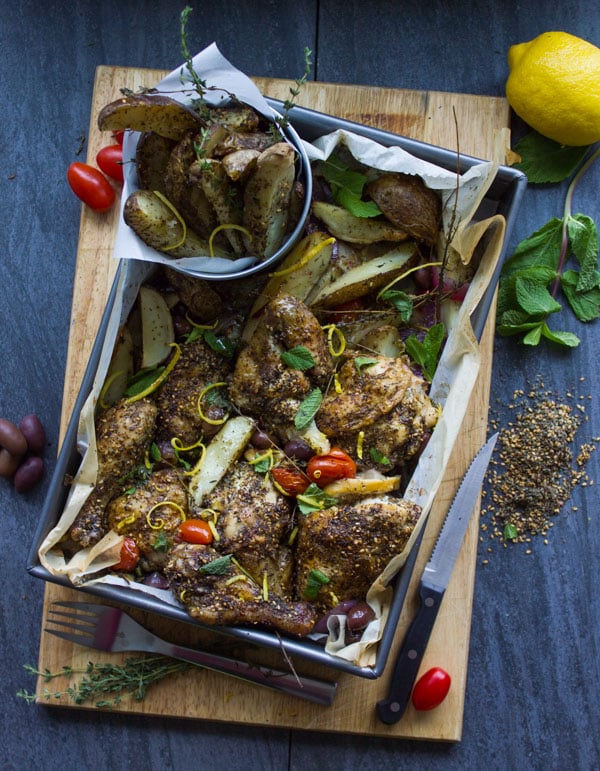 If you're a busy bee, this One Pan Chicken Potato Bake With Zaatar recipe is waiting for you! It needs no marinades or special tricks, just plain simple flavor and comfort. All ingredients go in together and 40 mins later, you've got yourself a full flavorful Mediterranean plate. Now why would you miss that?! Busy or not, weekday or weekend, any time, any season, this is a perfect way to end your day!
I'm feeling lately that my schedule is falling apart. It's like I try and try to be organized and fit everything in, but I'm clearly not doing a good job! And on top of it all, I always feel tired. Always. I wake up in the morning feeling tired.. I have a terrible lack of sleep which has been dragging now for nearly 8 years..I drink a decent amount of caffeine, start going through my never ending to-do list, and that's how I start building up the "tired" .. by the end of the day, I am  really TIRED.. It helps a bit that my closest mom friends feel the same, but then where'e the light at the end of the tunnel?—the light here being : sleep..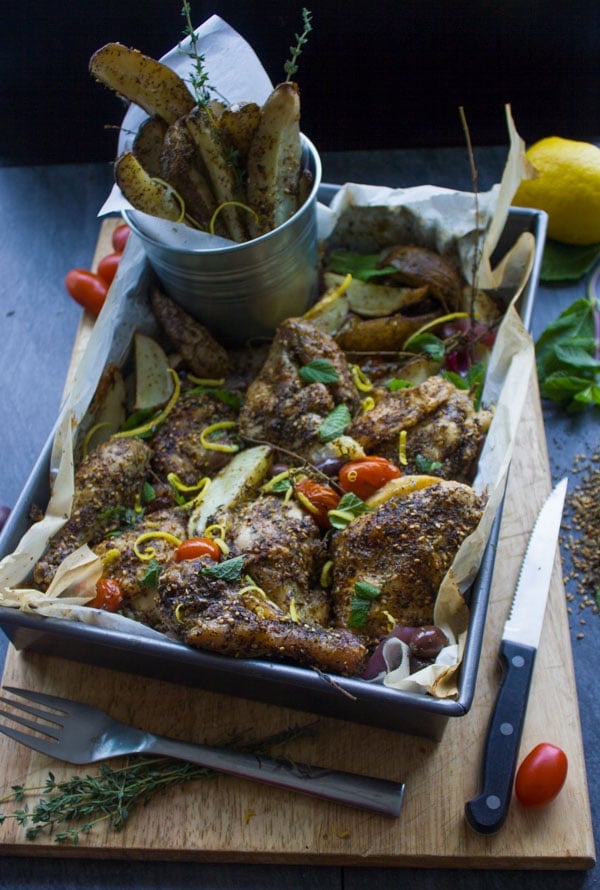 But on the bright side, tired works great with a chicken potato bake like this! Ok aside from my constant complaining, do you feel like anytime you're tired or down, a good meal can cheer you up and make you forget the tired-ness? I absolutely feel that. Many times in my usual tired phase, I would start cooking/baking up something… and it really helps me feel better when I'm done and enjoy a yummy meal or treat! The only down side to this, is that my husband doesn't believe me when I complain I'm tired anymore, almost as if I lose credibility.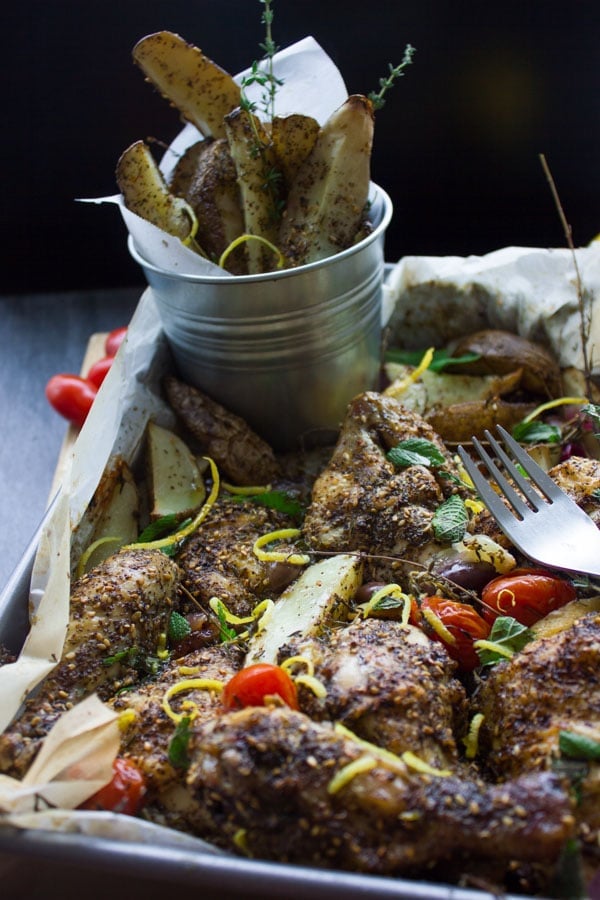 Ok so luckily this one pan meal thing is as simple as it sounds.. All in one pan and in the oven it goes for 40 mins. In the meantime, have a shower, set the table, set up a nice movie and if you're in the mood, chop up a nice salad, then sit back and enjoy yourself some succulent flavorful chicken, and tender flavorful potato wedges.
before…
after…
When it comes to flavor, I'm keeping it simple as simple can be—I'm using one spice blend only, and it's one of my favorites. It's the Zaatar spice. This spice blend is a harmony of thyme, sesame, salt and sumac ( a lemon-ish tasting flower spice) in perfect proportions. So it tastes like thyme with a lemony tang and a rich sesame bite. On it's own it flavors the chicken and potatoes perfectly—just a bit of salt and olive oil is all I add. And to maximize the flavors, I place sliced onions, garlic, lemon slices, baby tomatoes and black olives at the bottom of my roasting pan. The chicken pieces and potato sit over those flavor boosters.
The one pan chicken potato bake concept here is very common, the spice blend and flavors are what make it unique. You can find Zaatar in many stores ow or if you want to make Zaatar from scratch, you can check out this Labneh with Mint Olive Zaatar topping recipe. And for the record, ANY of your favorite spices will make this chicken potato bake a fantastic dinner! The trick is 2 things to keep in mind, spice up your onions, tomatoes, garlic, olives, herbs (bell peppers, carrots etc if using, and your favorite flavorings) with he same spice blend you're using on your chicken. And cut up your chicken to approximately the same sizes, leave the bones in for maximum flavor. Layer the chicken pieces over the top of the onion mix, and the potatoes on the other half of the sheet pan (do not overlap chicken and potatoes because they will end up a bit soggy).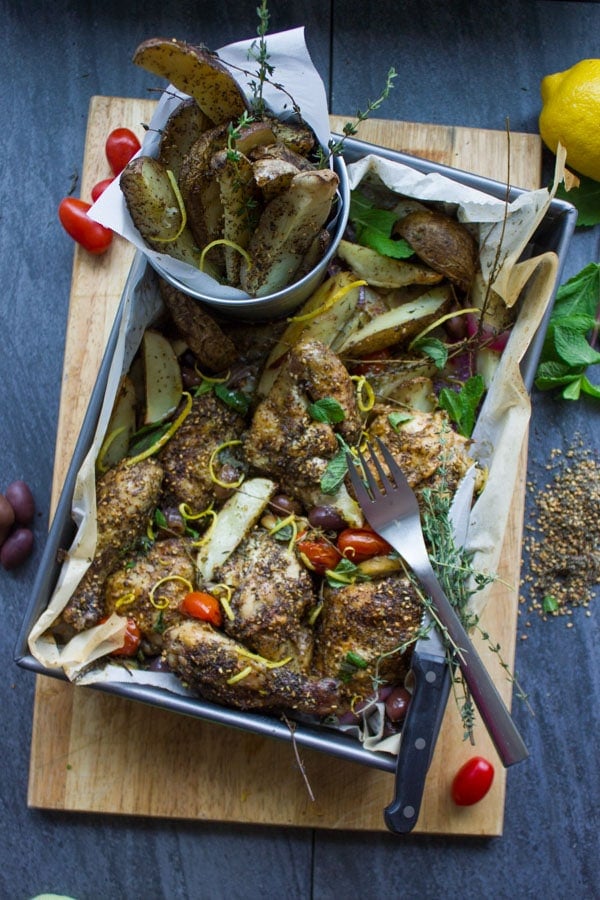 If you're really upbeat with a nice chicken potato bake like this, try drizzling the pan with a nice Honey Greek Salad dressing when it's done for more flavor, and serve this with a healthy super kale Greek salad. Now that's a busy day's dinner that tastes like grandma's comfort cooking! Enjoy!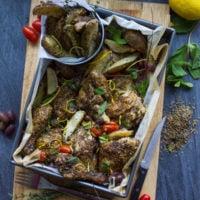 One Pan Chicken Potato Bake With Zaatar
Ingredients
2

purple onions

, sliced

1

head of garlic peeled and cloves smashed

1/2

cup

of Kalamata olives

1/2

cup

of cherry/grape tomatoes

1

lemon

, thinly sliced

8

sprig of fresh thyme leaves

4

large Russet potatoes

, cut up into wedges

1

large chicken cut up into 8 pieces

1

cup

of Zaatar Spice blend

1

teaspoon

of salt

(more or less to your taste)

2

tablespoons

of olive oil
Instructions
Preheat the oven to 420 degrees F.

Arrange the onions, garlic, cherry tomatoes, lemon and kalamata olives on a parchment lined baking sheet. Sprinkle 2 tablespoons of Zaatar spice, a pinch of salt and a drizzle of olive oil (1 teaspoon). Toss them well.

Rub the chicken pieces with 2/3 cup of Zaatar spice, a tablespoon of olive oil and 1/2 teaspoon of salt. Rub the spice over the chicken and underneath the skin as best as you can.

Then layer the chicken over the onion mixture on half of the baking sheet.

Rub the potatoes with the remaining zaatar, olive oil and spice.

Layer the potatoes over the onion mixture on the other half of the baking sheet.

Bake the pan for 40 minutes until golden crisp and cooked through. Enjoy!