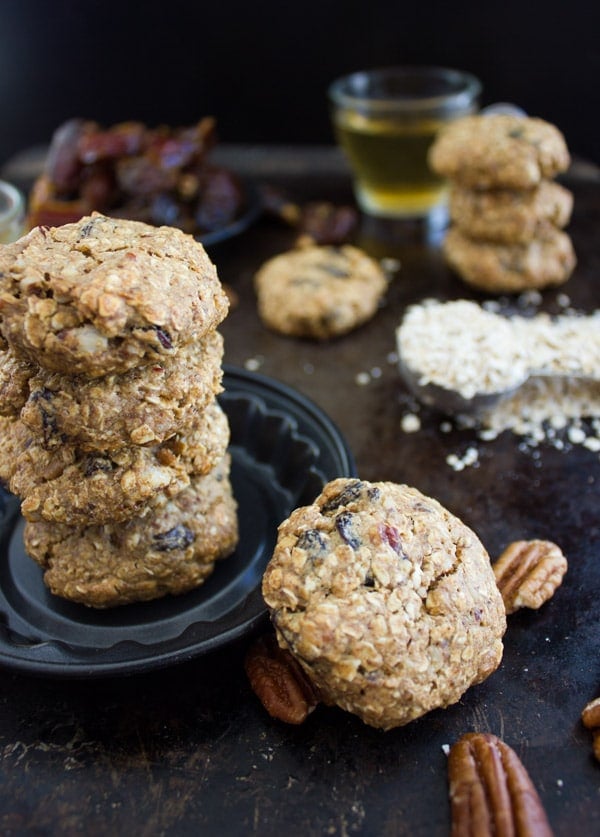 This soft and chewy vegan oatmeal raisin cookies recipe is like the healthified, no sugar added, utterly soft and vegan, gluten free version of my already healthy oatmeal raisin cookies! So it's the best healthy version of this ultimate comfort cookie that packs the perfect energy to start your day, or fuel your afternoon coffee break! Absolutely straight forward–no beating or fussing around techniques, you just can't go wrong!
Well I can't believe I am making an even healthier version of my all time favorite healthy oatmeal raisin cookies recipe! The truth is, while it is healthy and absolutely a YUMMY cookie with absolute satisfaction and very little guilt…I've been asked at one of my cooking classes to make a vegan version, and a no sugar added version.. so I thought I might aswell make it gluten free with zero flour at all.. and no butter substitutes either..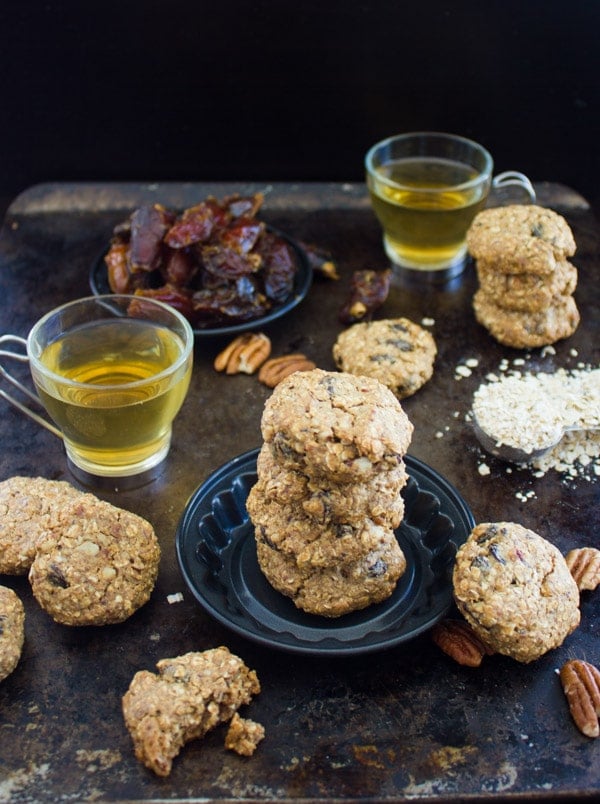 Well as un-appealing as this may sound to some of us, the result came out absolutely fabulously deliciously appealing! Yes that's a guarantee. You might feel you're losing plenty of your cookie enforcement ingredients here,but they've all been substituted in the best way possible–so once they're baked and you take the first bite, you won't miss a thing!
Just a quick vent before I get back to these yummy ultimate chewy vegan oatmeal raisin cookies… If you've got kids you'll totally relate and if not, just skip this paragraph! lol I've always felt grocery shopping is my kinda fun shopping, it's never been a chore with lists. It's more like a place to graze around food, get inspiration and just enjoy picking up items here and there. And I love taking my girls with me. I keep talking to them about the different ingredients around and which is used for their favorite dishes etc.. Anyways yesterday a person was extremely annoyed at me for "talking too much in a busy grocery store" !?lol and for "brining my kids to a grocery store" And I just wondered, out of ALL things that are really annoying in this world, she picked me and my kids to top her list! Anyways, the happy ending was we came home, my girls and I made cookies and laughed it off–sort of.lol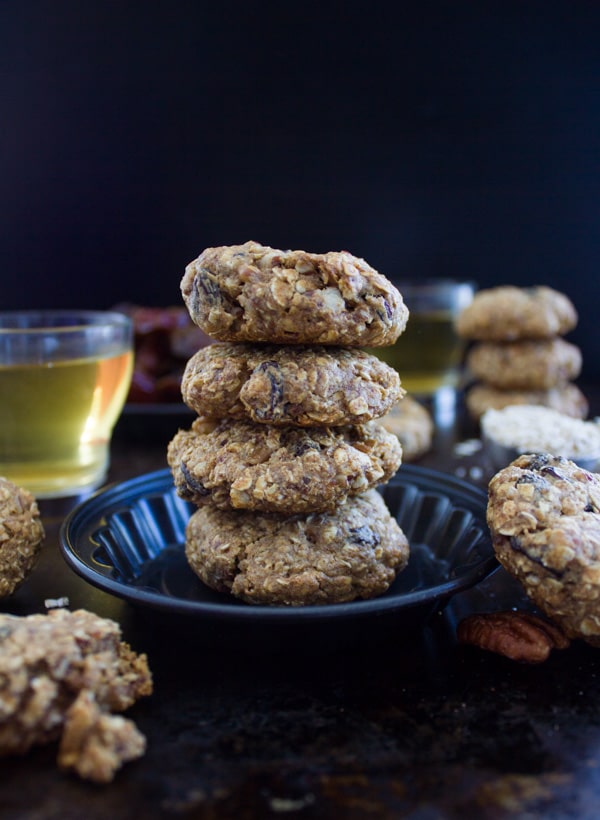 Now what should you expect out of these vegan oatmeal raisin cookies, you may ask? To start off, they are extremely chewy. No crisp factor at all (remember no butter, sugar or flour). They're not soft like an energy ball–because the cookies are baked unlike energy balls. They have a really nice cookie like chew. They are perfectly sweet. I mean you wouldn't be inclined to add a single granule of sugar! And this sweetness comes from pitted dates that are pureed and make up the batter.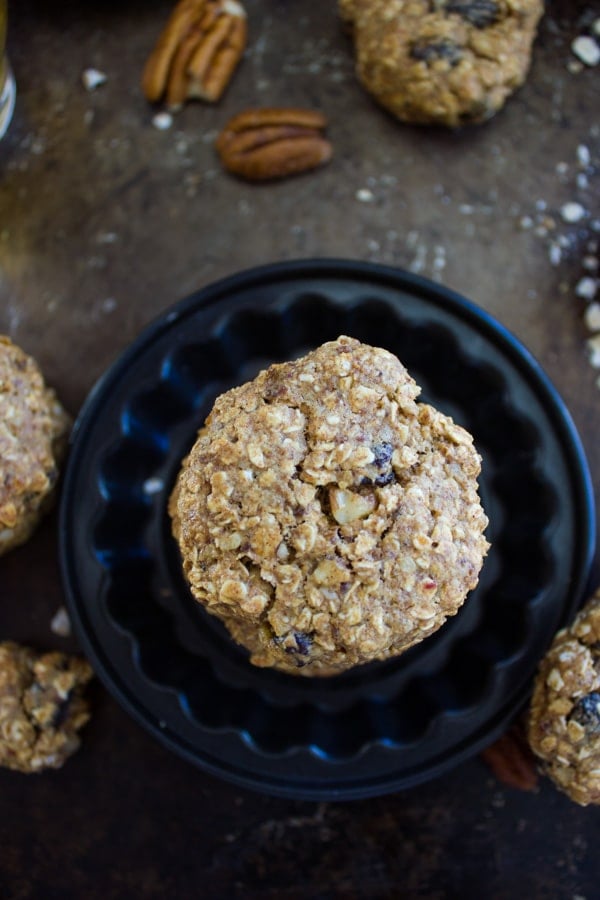 The type of dates in these vegan oatmeal raisin cookies makes a difference in the flavor only. Go for your favorite, if you have one, or use whatever you find on the shelf. Any type would be perfect. And for the oil/fat factor, I used almonds. You could use almond butter, but I ran.out. So I basically pureed in a food processor whole amonds and dates until the mixture was a smooth runny paste. And what a fabulous flavor that almond adds to the cookies (sorry butter lovers–I am just like you always looking for butter flavor, but in these oatmeal raisin cookies the almond flavor was super satisfying for me!)
And for the binder, instead of an egg, I used a mixture of  ground flax, chia seeds and water. You could substitute this mixture with 1 egg if you're not vegan. All goes into the food processor too.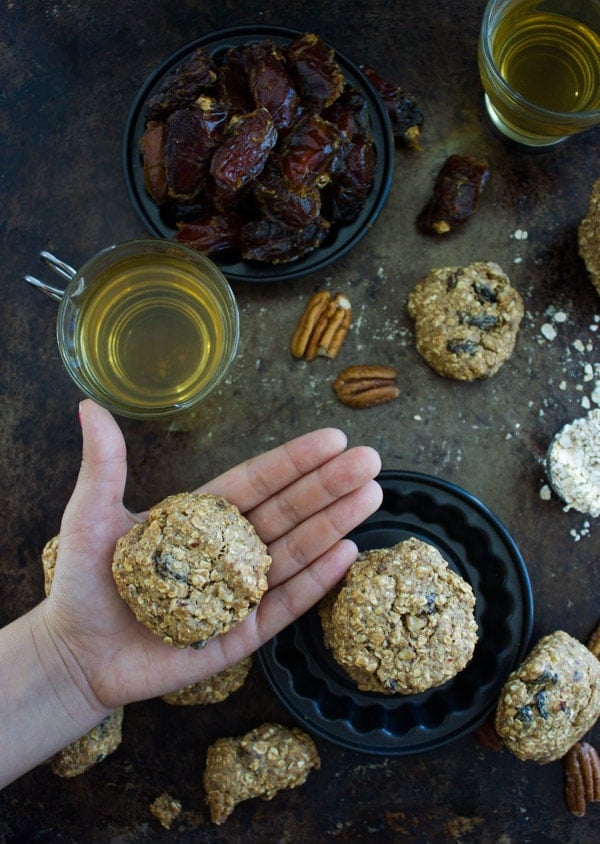 At this point I poured this smooth wet mixture into a bowl, added to it oats, raisins, chopped pecans and mixed them with a spatula. Then I shaped the cookie batter into golf size balls, flattened them a bit and baked them right away. The thing is, these chewy vegan oatmeal raisin cookies do not spread during baking. So if you want to make them into that classic flat cookie shape–you'll have to flatten them yourself. They just puff up a little bit which gives them a nice cracky cookie look on the top.
When it comes to variations, I can imagine adding chocolate chips would be absolutely amazing here! Cranberries, different types of nuts and dried fruits. Then let's think spice!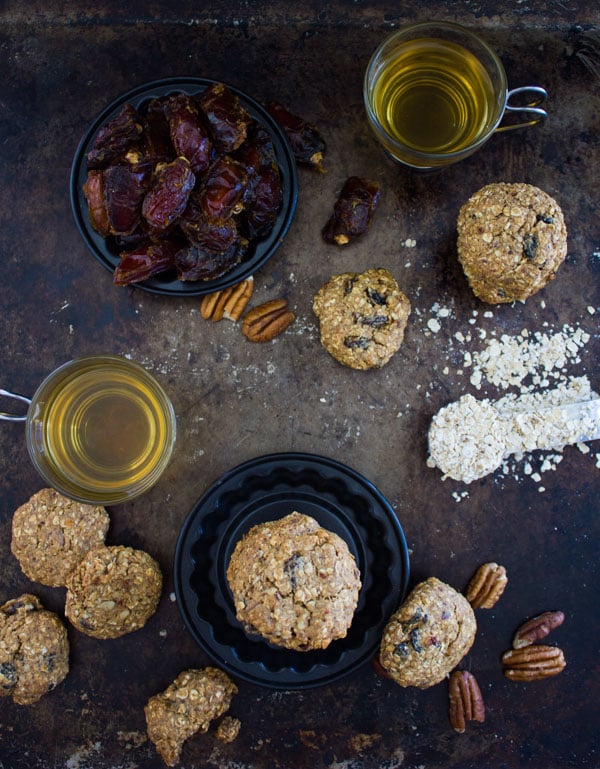 I opted for only cinnamon today, but chai spice would be oh so perfection–something like this orange chai spice date muffins: super good for you power breakfast muffin! But then even vanilla would be absolutely wonderful here too, the flavor of the dates and almonds would completely shine! So think about how you feel like flavoring these wonderful vegan oatmeal raisin cookies and have them your way! Or try different add-in options while using the base ingredients as a base for the cookies and have yourself a different breakfast power cookie every time! Enjoy!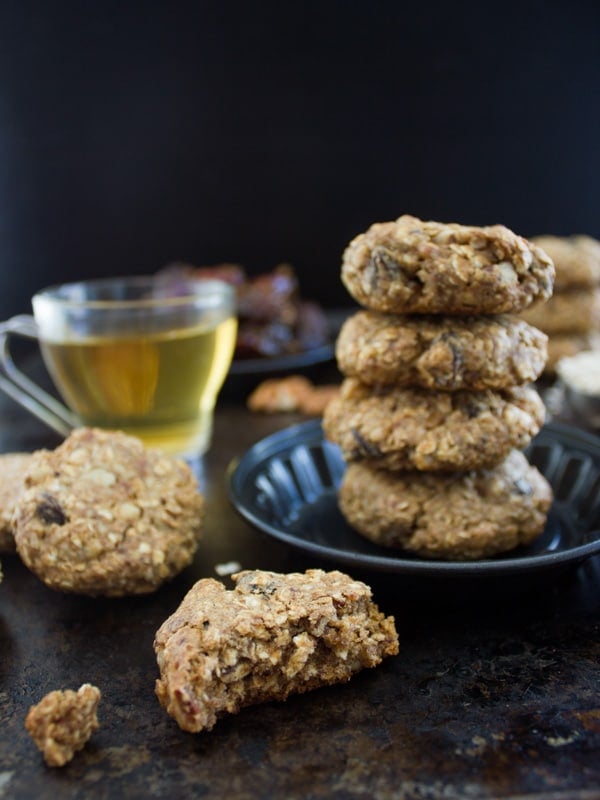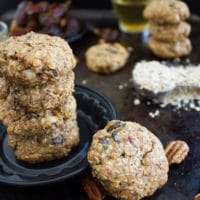 Vegan Oatmeal Raisin Cookies
Ingredients
1/2

cup

of almond butter or 1 cup of whole Almonds

1

cup

of pitted whole dates

(scant cup, not packed)

1

whole egg or 1 flax/chia egg

( 1 tablespoon each flax powder and chia seeds mixed with 1 tablespoon of water)

1

teaspoon

of cinnamon

1/2

teaspoon

of baking powder

1

cup

of oats

(any type)

1/2

cup

of crushed pecans

(hazelnuts, almonds, walnuts or a mixture)

1/3

cup

of raisins
Instructions
Preheat the oven to 350 degrees F.

Mix the flax/chia egg and set aside. In a food processor, add the almond butter and dates, and mix until smooth.

Add in the chia/flax egg, cinnamon, baking powder and process again until smooth.

Then remove the mixture from the food processor and put it in a large bowl. Add to that the oats, nuts and raisins and fold them in with a spatula.

Scoop up gold size balls of cookie dough and place them on apartment lined baking sheet.

Bake for 12-15 mins (depending on the size) until the edges are set and firm, while the centres still look a little soft.

Remove them from the oven and cool them for a few mins. Enjoy!