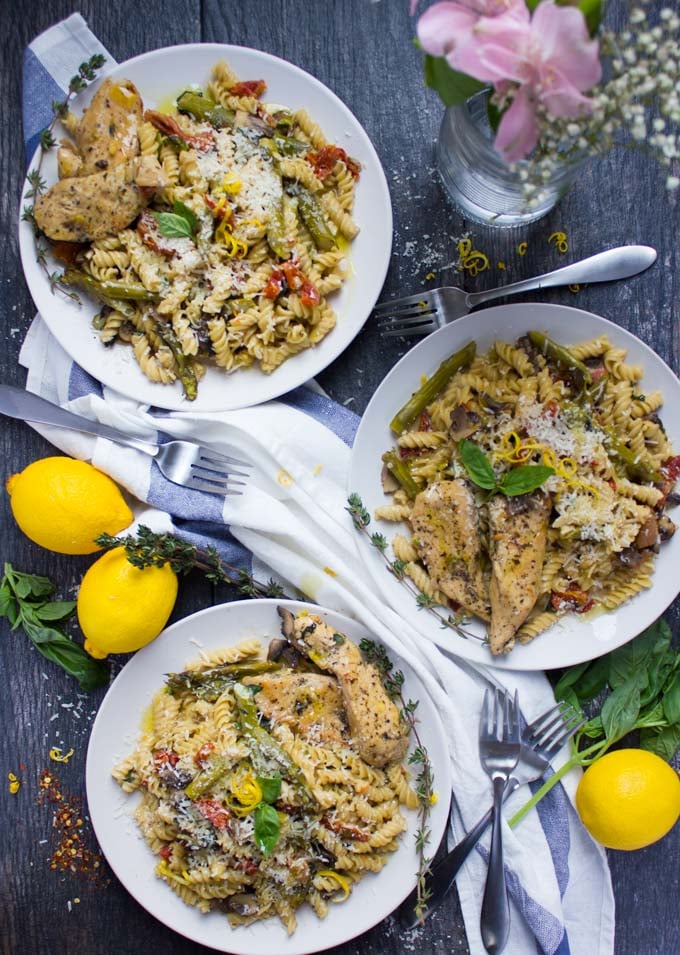 If you're like me and can't resist a big bowl of pure, creamy, delicious pasta comfort, I can almost guarantee  this will become one of your favorite recipes! This Quick, One-Pot Creamy Chicken Pasta Dinner is loaded with fresh veggies, and  packs a good serving of protein from the succulent chicken. The best part:it comes together in just 10 minutes of cooking time! Sounds too good to be true, but it's seriously too good and too true! 🙂
Today's delicious recipe is sponsored by Save on Energy—Ontario's go-to source for energy efficiency! All thoughts and opinions are mine alone. Get to know how you can make use of energy-efficiency programs/incentives for home and business, making it easier than ever for Ontarians to manage their electricity use.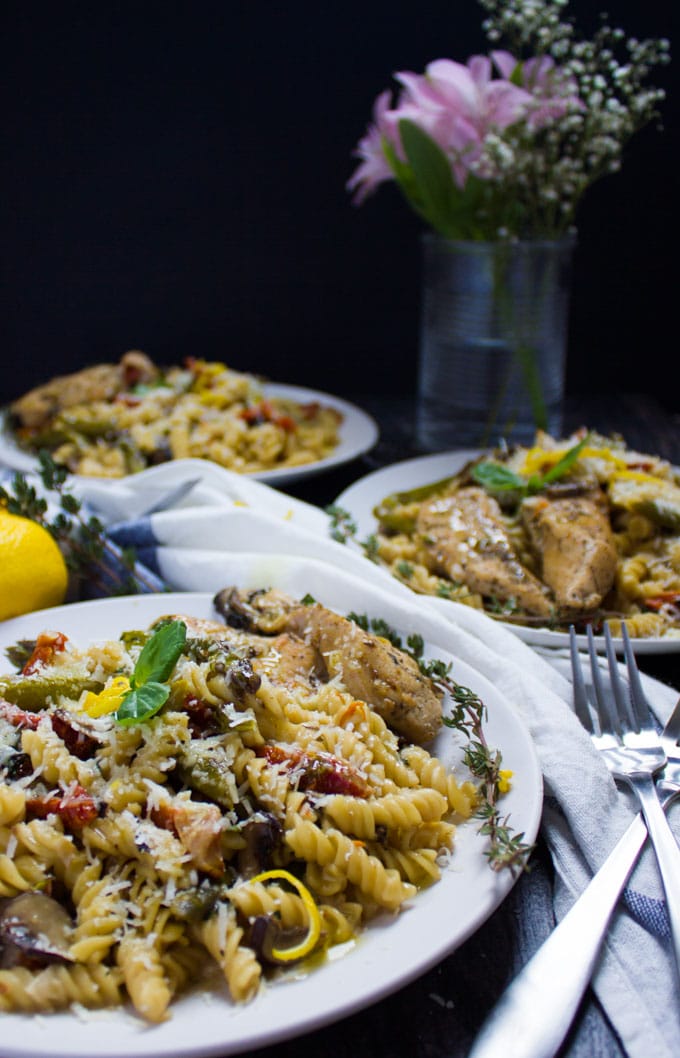 This recipe is all about simplicity and time-saving, so I can't help but mention energy- saving benefits. These days, it seems like we all track our food intake, but we rarely track the energy consumed when cooking. This can result in habitually leaving the fridge door open, powering your oven or stovetop beyond the required time, and cooking elaborate meals that use multiple appliances. There's plenty of ways to save energy in the kitchen, like keeping pot lids on to reduce cooking time, using Energy-Star appliances, or trying a one-pot recipe like this one! I'm making a conscious effort to cut back on energy use in the kitchen, and this one-pot (pressure cooker) recipe is my new go-to.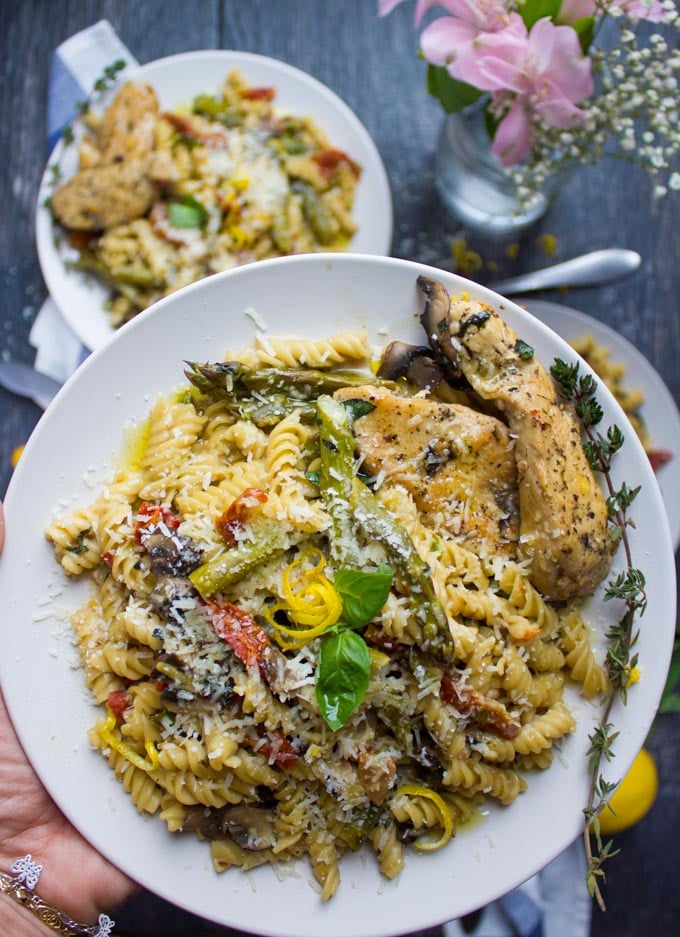 My (second) favourite thing about this creamy chicken pasta is that it's completely versatile.For my happy comfort pasta plate, I've got asparagus, mushrooms, sundried tomatoes and seared chicken. You can go for broccoli, corn, extra cheese, fresh tomatoes, and even more, you can swap the chicken for shrimp. So, while it's absolutely delicious as is, I would urge you to make it differently each time so you can enjoy it more often. 🙂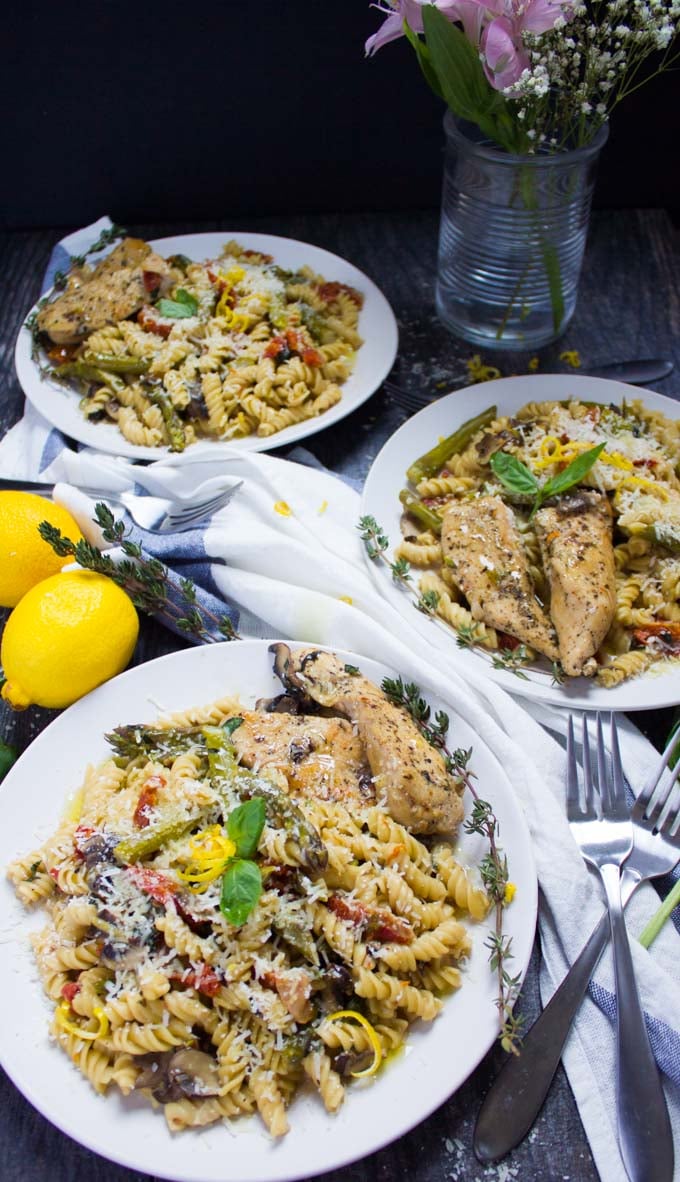 Now, we're making this a one pot meal, so depending on the size of your chicken strips and, the type/size of pasta you're using, this ecipe takes anywhere from 10-14 minutes start to finish. How amazing is that?! It's quick, delicious, healthy and saves your monthly energy bill.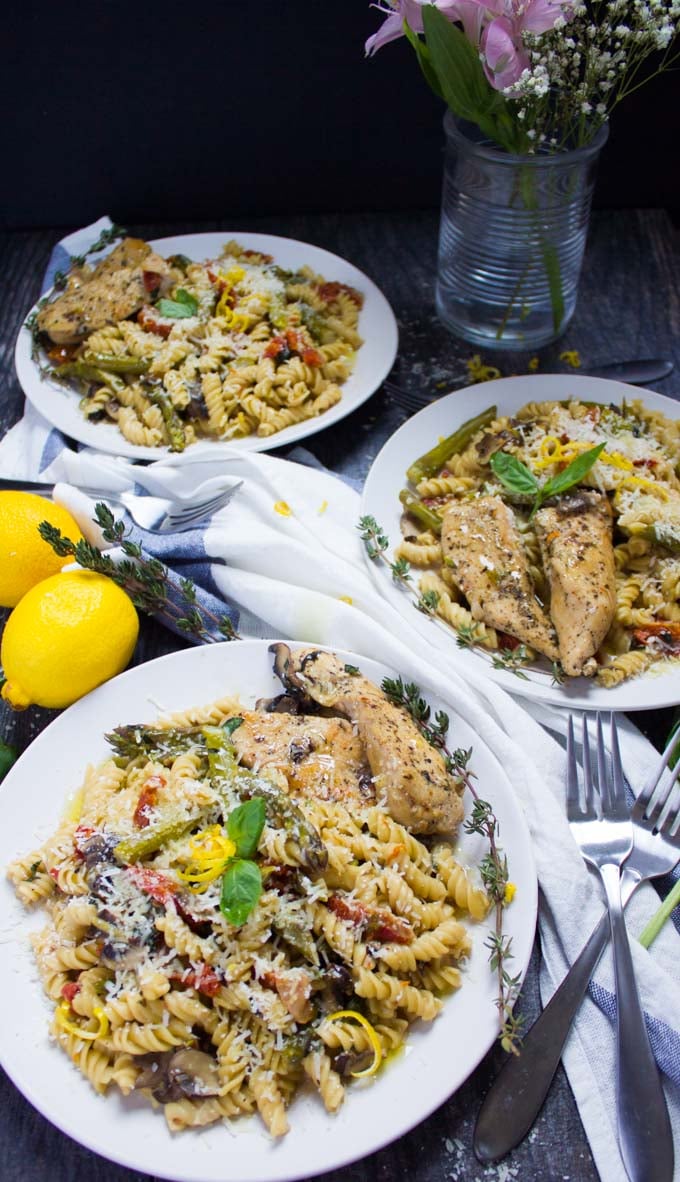 You'll start by seasoning the chicken strips with salt, pepper, garlic powder and oregano. Then sear it in a pot or even better, in an instant pot or pressure cooker like I did today. While it's searing, chop up your veggies—mushrooms, asparagus and sun- dried tomatoes. The chicken sears for 2 minutes per side at most so it won't be cooked through. You basically want a nice sear to seal in all the chicken juices.
You can certainly skip the searing and cut up your chicken into cubes rather than strips, adding all ingredients together in the pressure cooker, but I feel this tiny extra step makes a world of difference! After chicken is seared, removed it and place it on plate. In the same pot,  add garlic and veggies giving them a quick stir.
Now the pasta and water, along with some cream and salt go right in. Exactly 5 minutes later in the instant pot pressure cooker, you can happily say dinner is served. 🙂 It's that simple. And guys, it's SO GOOD! Another thing I love to do is add some fresh basil and lemon zest once the creamy chicken pasta is ready. While it's optional, this last burst of herbs, lemon, Parmesan cheese, some red chilli flakes and , pinch of black pepper are like icing on the cake.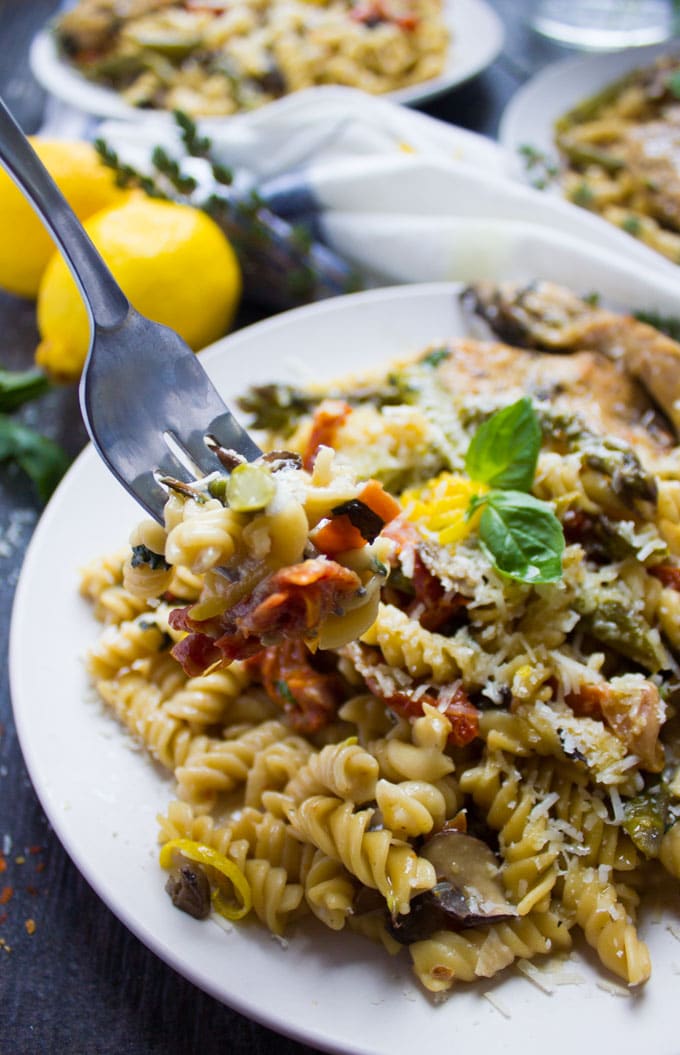 For the record, this recipe can be done as is even if you don't have an instant pot or pressure cookers, but it will take you 20 minutes instead of 105, which is still awesome!
If you're looking for a weeknight dinner, this is the one! You'll love the convenience and savings (time, cost and energy!), love the ease and flexibility of ingredients you can play with, and you'll LOVE yourself for making something so yummy in a few short minutes! Enjoy! 🙂

P.S don't forget to tag me when you make it so I can woohoo over your creamy chicken pasta 🙂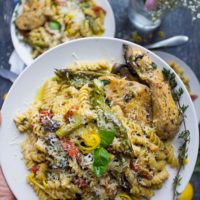 Quick, One-Pot Creamy Chicken Pasta Dinner
If you're like me and can't resist a big bowl of pure, creamy, delicious pasta comfort, I can almost guarantee this will become one of your favorite recipes! This Quick, One-Pot Creamy Chicken Pasta Dinner is loaded with fresh veggies, and packs a good serving of protein from the succulent chicken. The best part:it comes together in just 10 minutes of cooking time! Sounds too good to be true, but it's seriously too good and too true! 🙂
Ingredients
For the chicken:
1

tablespoon

of olive oil

1.5

lbs

of chicken breasts cut up into half an inch thick strips

about 3 inches long

1/2

teaspoon

of Kosher or sea salt

1

teaspoon

of oregano

1/4

teaspoon

of garlic powder

1/2

teaspoon

of pepper
For the Veggies:
1

teaspoon

of olive oil

3

cloves

of garlic

minced

1

bunch of fresh Asparagus

trimmed and chopped

1/2

cup

of sun dried tomatoes

chopped

1

cup

of sliced mushrooms

pinch

of salt
For the Pasta:
1

box 375 grams of pasta

any shape you prefer as long as it fits in your pot comfortably with the water, chicken and veggies

1 1/2

cups

of water

1/2

cup

of table cream

or you can use light cream if you prefer

1

teaspoon

of salt
For the Toppings and Assembly:
1/4

cup

of fresh basil

minced

zest of 1 lemon

1

cup

of Parmesan cheese

grated (more or less to your taste)

pinch

of red chilli flakes

skip, or adjust to your taste

Freshly grated black pepper to your taste
Instructions
For the chicken:

1 tablespoon of olive oil

1.5 lbs of chicken breasts cut up into half an inch thick strips, about 3 inches long

1/2 teaspoon of Kosher or sea salt

1 teaspoon of oregano

1/4 teaspoon of garlic powder

1/2 teaspoon of pepper

For the Veggies:

1 teaspoon of olive oil

3 cloves of garlic, minced

1 bunch of fresh Asparagus, trimmed and chopped

1/2 cup of sun dried tomatoes, chopped

1 cup of sliced mushrooms

pinch of salt

For the Pasta:

1 box 375 grams of pasta (any shape you prefer as long as it fits in your pot comfortably with the water, chicken and veggies)

1 1/2 cups of water

1/2 cup of table cream ( or you can use light cream if you prefer)

1 teaspoon of salt

For the Toppings and Assembly:

1/4 cup of fresh basil, minced

zest of 1 lemon

1 cup of Parmesan cheese, grated (more or less to your taste)

pinch of red chilli flakes (skip, or adjust to your taste)

Freshly grated black pepper to your taste

Preparation:

Preheat the olive oil in your instant pot, pressure cooker or large 5 quart pot over high heat.

Season the chicken with the remaining ingredients and toss it well.

Start by searing the chicken for 1.2 minutes to 2 minutes on each side until it's lightly golden and the chicken shrinks to seal in all its' juices.

In the meantime, prepare the veggies, pasta and water.

Remove the chicken into a plate and to the same pot, add the veggie ingredients and sauté them for 45 seconds until the garlic is fragrant and veggies start to wilt a bit.

Add in the pasta, the seared chicken strips, water, cream and salt. Adjust your pressure cooker/Instant pot to exactly 5 minutes ( for spirals, bowties, penne and similar size pasta).

Once ready, add in fresh basil, lemon zest, Parmesan cheese, some red chilli flakes and extra salt and pepper if you need.

Serve up the creamy chicken pasta right away and enjoy! 🙂