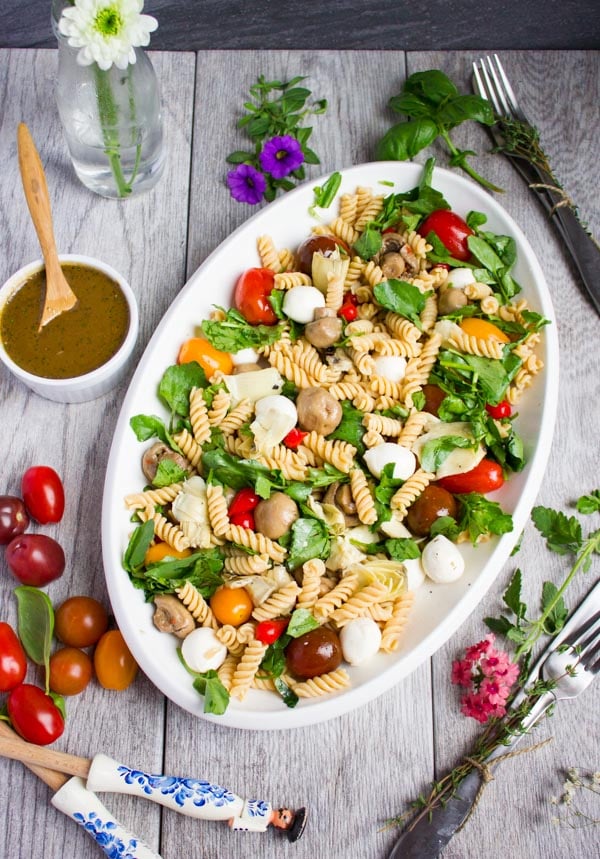 This  Antipasto Platter with Chickapea Pasta recipe is a perfect cross between your antipasto platter favorites and pure pasta comfort. Perfectly combined in a sweet tangy warm basil balsamic no cook sauce. It's the type of recipe you can whip up in minutes and totally personalize it to suit your taste! Hello Summer lunches, dinners, BBQs, picnics, potlucks and summer beach pasta LOVE! 🙂
Before we get to the details of this antipasto platter pasta, I have to share my excitement about being part of the Chickapea team! If you've been following me on social media, you'll notice I've shared a bunch of super delicious nutritious pasta recipes from amazing bloggers, all made with Chickapea pasta! 🙂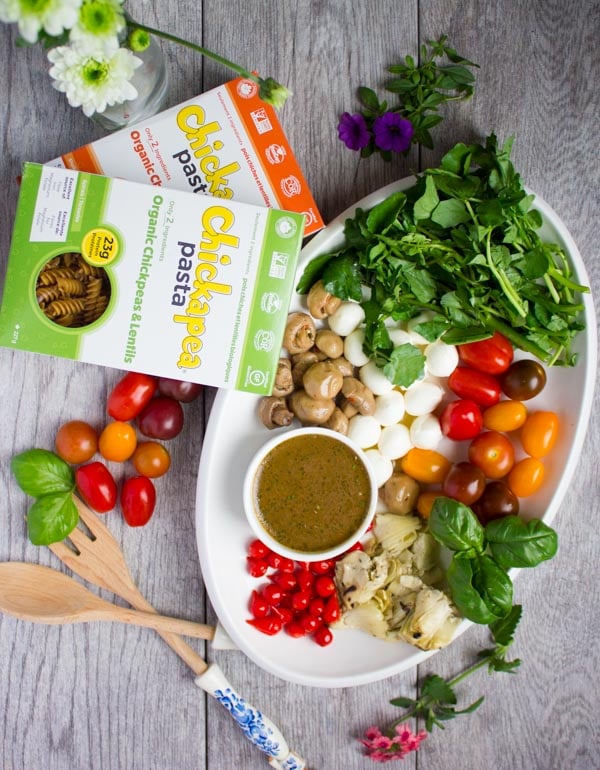 The first time I heard about them was last summer when I tasted Chickapea pasta at a trade show in Toronto. And the first thing I thought was, wow that tastes so hearty! Because no matter what I read about it, made with just two ingredients (YES just two)—chickpeas and lentils, it was hard to imagine what it would taste like. So I had to try it. I found it has such a rich taste, it fills you up beautifully—not like your carb loaded pasta and it has the same texture as al dente pasta. It was like a dream for a pasta lover like me 🙂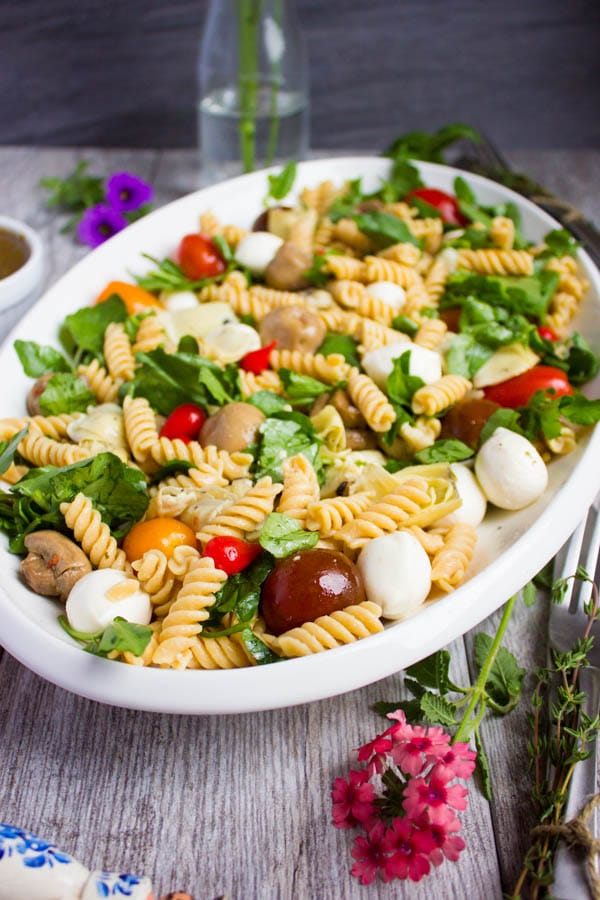 So the burning question in my mind was, would the girls actually eat this? One day after school, I used the spirals and topped it with their favorite tomato sauce, and watched the pasta disappear from their plates! YES, it was a success! I felt so good feeding them such a healthy pasta, especially my little miss J., aka the pickiest eater on planet earth! 🙂 So while kids loved it with their marinara, we loved it with everything! From pestos, to spicy seafood, pasta salads, and we especially loved this antipasto platter pasta version!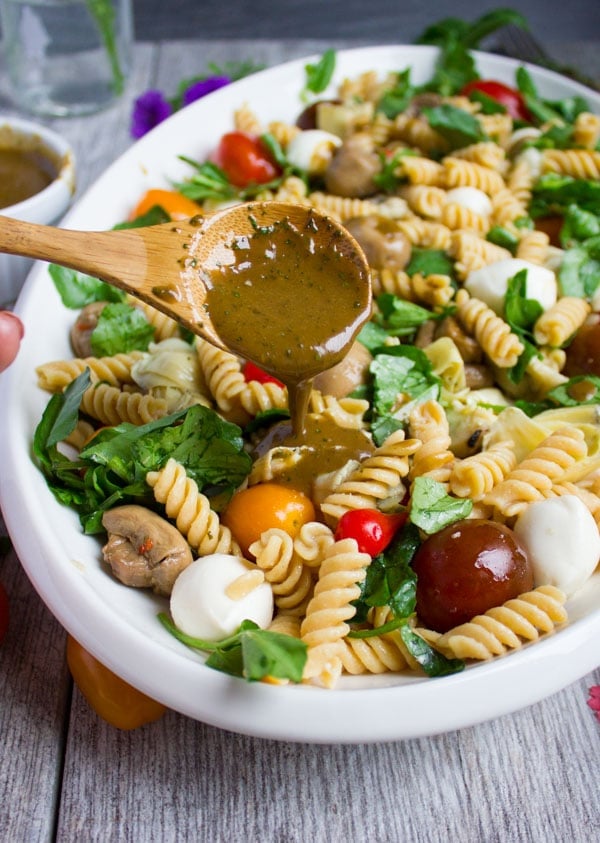 First of all, this recipe happens to be light as air. It tastes bright, sweet, refreshing and rich with all the Italian flavors and Italian comfort. Overtime I get inspired to throw in an Italian twist on my food. I remember when I was a kid and used to live in Paris, we used to visit Italy regularly.  I was mesmerized by the fabulous food in both places. And even if food wasn't as neatly displayed in Italy as it was in France, it looked just as mouthwatering! It tasted just as delicious! It's probably the freshness and comfort feel of Italian flavors. And that's the inspiration for today's delicious mouthwatering antipasto platter pasta!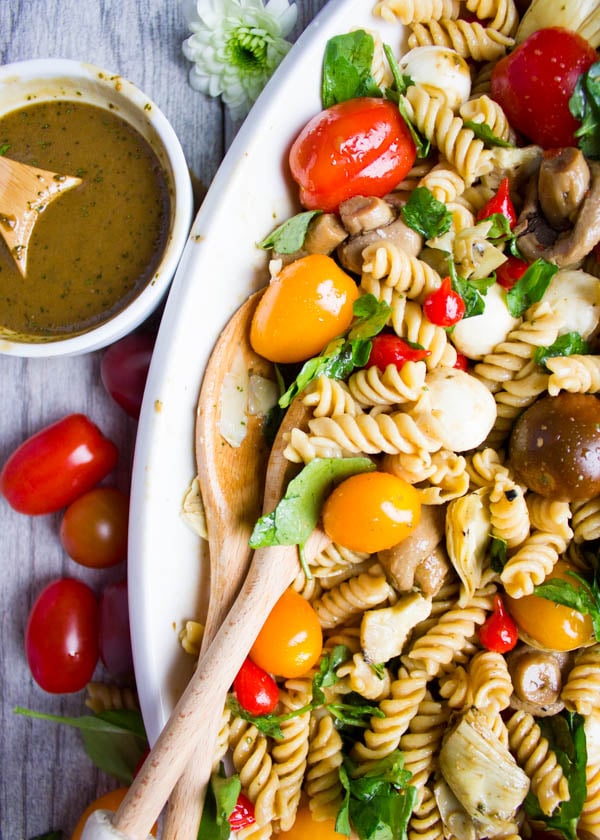 The beauty of a warm pasta like this one is that you can pick your favorite antipasto platter ingredients and throw them in. You can't go wrong. Also, you can make different versions of it every time and it'll feel almost like a new recipe with every variation you make to it! I personally prefer no meats added to this pasta, but if you're into salami and cold cuts—I'll admit according to the hubby—it tastes even better! 🙂
If I were to serve this alongside something grilled, I'd probably choose grilled shrimp or chicken skewers. It would make this antipasto platter pasta feel like a luscious gourmet Italian dinner. I wouldn't go for a heavy spiced grilled protein since there's plenty of flavor in the pasta already, and plenty more extra flavor from the sauce and toppings. Something like garlic, lemon and oregano would be all I need to flavor my chicken/shrimp for the grill. It would compliment all the flavors beautifully and most of all, it will remain light and fresh tasting. And when you make it using the pasta, then you'll get the protein bonus with a hearty feel to your dinner!
Here's how easy and quick this delicious pasta platter comes together. Boil the chickapea pasta with some salt. In the meantime, use your food processor to blend in some garlic, honey, basil, parsley, balsamic vinegar, parmesan cheese, chilli flakes, olive oil and and anchovy paste (optional but SO good!). Once the pasta is done and while it's still hot, drizzle half of the balsamic sauce over it and watch as it soaks up all those flavors.
At that point, add on your favorite antipasto platter ingredients—go as crazy or as minimal as you like: watercress, baby heirloom tomatoes, bocconcini, grilled artichokes, sweet marinated peppers, grilled marinated mushrooms, olives, capers, salami, prosciutto, more fresh basil and plenty of Parmesan cheese shavings 🙂 Drizzle some more basil balsamic sauce and invite your friends to dig in! It's a perfect dish to share!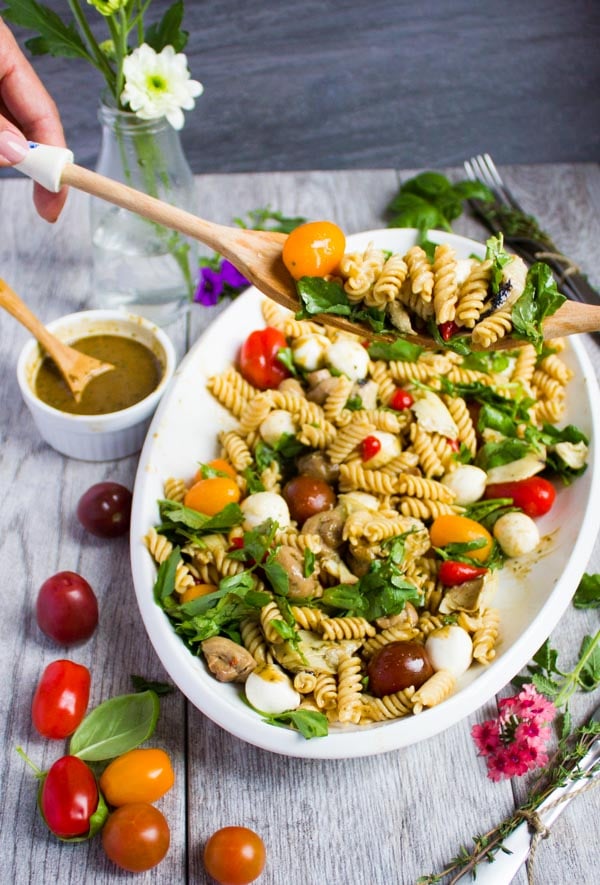 The beauty of a pasta platter like this, is you can serve it warm or cold. So not only is it great for the BBQ, think picnics and beach food, potlucks and any outdoor fun. And also it can be done like one of those assemble your own dish and that way everyone can personalize it to their taste! I would cook my chickpea pasta perfectly al dente and keep it warm drizzled with half the sweet basil balsamic sauce. Then I'll have all the antipasto platter add ons separate like an antipasto bar and have your friends each add their favorite toppings and any extra sauce 🙂 Either way you serve this pasta, you'll sure enjoy 🙂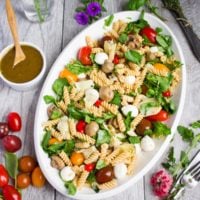 Warm Antipasto Platter Pasta
This Warm Antipasto Platter Pasta recipe is a perfect cross between your antipasto platter favorites and pure pasta comfort. Perfectly combined in a sweet tangy warm basil balsamic no cook sauce. It's the type of recipe you can whip up in minutes and totally personalize it to suit your taste! Hello Summer lunches, dinners, BBQs, picnics, potlucks and summer beach pasta LOVE! 🙂
Ingredients
1

box of chickapea pasta

(any shape you prefer)
Sweet Basil Balsamic Sauce:
1-2

garlic cloves

1/4

cup

of fresh basil leaves—6 grams

2

tablespoons

of fresh parsley leaves—5 grams

1

tablespoon

of capers—9 grams

2

teaspoons

of honey—20 grams

1/3

cup

of Balsamic vinegar—80 mL

pinch of chilli flakes

(optional)

1/4

cup

of grated parmesan cheese—20 grams

1

teaspoon

of anchovy paste

( or 2 anchovy fillets)

1/4

cup

of olive oil—70 mL

1/8

teaspoon

of salt

(more or less to taste)

1/2

teaspoon

of freshly cracked black pepper

(more or less to taste)
Antipasto Toppings: (any or all )
1

cup

of packed watercress leaves—40 grams

1

cup

of baby heirloom tomatoes—170 grams

1/2

cup

of marinated mushrooms—80 grams

1/3

cup

of grilled artichokes—50 grams

1

cup

of bocconcini cheese—180 grams

1/4

cup

of Parmesan cheese shavings—30 grams

1/4

cup

of marinated sweet mini peppers—30 grams

1/4

cup

of marinated olives—40

1/2

cup

of sliced salami and or prosciutto—100 grams
Instructions
Cook the chickapea pasta in salted boiling water till al-dente.

In the meantime, use your food processor or blender to make the sweet balsamic sauce. Add all the ingredients and blend till smooth. Taste and adjust the seasoning.

Toss the hot cooked chickapea pasta with half of the balsamic sauce and toss in your favorite toppings. OR you can serve the toppings separately and the pasta separately like in an antipasto bar and have everyone assemble their pasta platter to their taste.

Keep the extra sauce on the side for drizzling over the toppings once you've assembled the antipasto platter pasta! Enjoy warm or cold 🙂