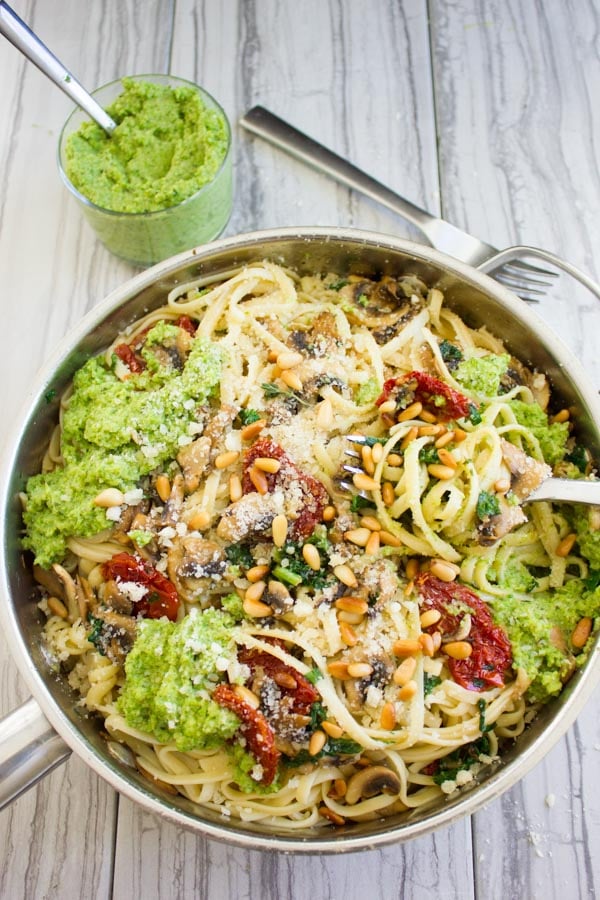 If you're a pasta lover, you need to make this Broccoli Pesto Healthy Pasta Recipe. It's hands down one of my favorites and it will soon be yours! A fragrant broccoli pesto infused with garlic, olive oil and basil, dolloped over a quick pasta sauté with sun dried tomatoes, mushrooms, more garlic and pine nuts. It's a burst of freshness combined with pure comfort in every bite! Kick it up with a touch of pepper flakes, and if you're a cheese lover, bring it on too 🙂
Yaay for pasta dinners! I know it's quite obvious, but can I just say, I really LOVE pasta, pasta dinners, pasta sides, pasta everything! And for some weird reason, I don't have that many pasta recipes on the blog..so things are about to change here. I think I was trying to post recipes that I get asked for more often at the cooking school, and simplify recipes that are rumoured to be challenging, and then a simple, fresh broccoli pesto healthy pasta recipe like this comes to break the ice.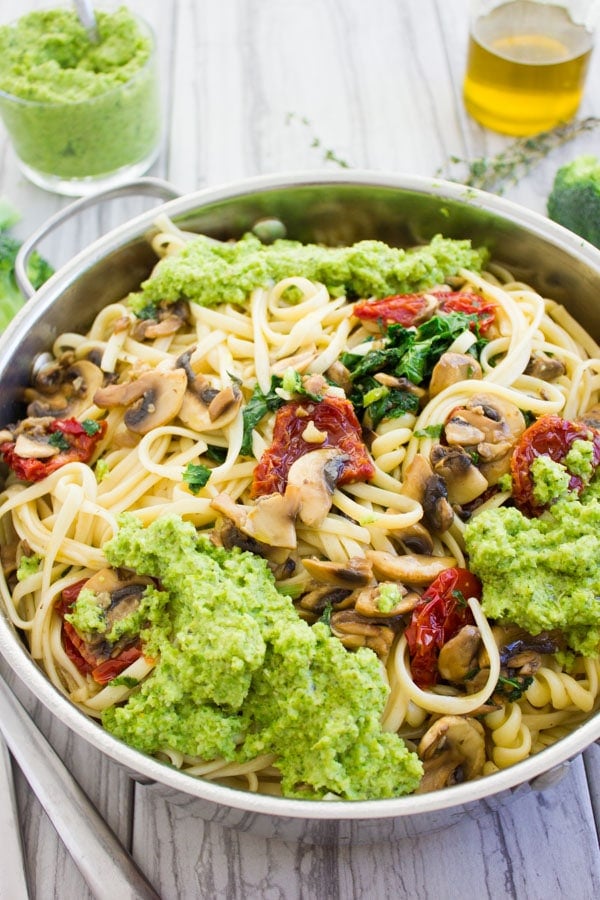 The truth is, I've been missing out on good food lately. As you know I've finally moved from my high end tiny pretentious condo in downtown to the suburbs. So as obvious as this moves sounds, it took years and years to materialize. I think deep down in my heart, theres still a small glitch feeling that scares me from moving..you know I moved so much in my life, it's not even funny! If I tell you I grew up living in14 different countries across the world, you might think—how cool!, but I say it with the same knot in my stomach I got every time I moved from country to the other, home to the other, school to the other, culture to the other..etc.. I have to say that with all this moving and settling, we still traveled so much. We travelled for vacations to neighbouring countries wherever we were, and that sort of travel never bothered me, I actually enjoyed it.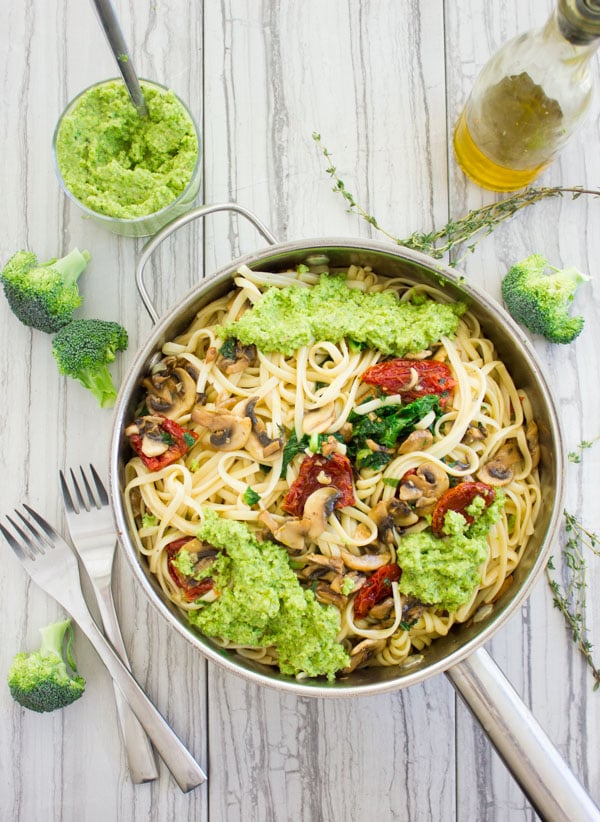 Ok but this time I'm moving literally 30 mins away from where I live, it doesn't even compare to any of my previous moves—why does it still feel the same? This time I'm moving for my own comfort, not because I have to like every other time. I'm moving because, while my downtown condo was as fancy as could be in a high end hype location, with all amenities and services, we simply didn't belong there anymore. And by "we" I mean my family, my kids, my lifestyle! Everything there started bothering us, the traffic, the noise, the ongoing events and celebrations, the late night parties and the lack of families. So we finally moved!! I think I'll write more about how this change in lifestyle feels, but in another post 🙂
Today what I'm trying to say is, with this move—I've been trying not to give in and eat out everyday while I get the kitchen in shape and organized. This healthy pasta recipe makes me totally convinced that as simple as it is, it's SOOO much better than ordering or eating out! It tastes fresh and light, but rich in flavor and texture. And this healthy pasta recipe has saved a HUGE argument I continuously have with my husband.
He claims he has nothing against broccoli, but every time I make it or he finds it anywhere, he won' eat it. He argues it's almost always under-cooked for his taste, I argue who eats their broccoli mushy in this day and age anymore?! So I give in and "mush" it up, he still eats minimal of it. Ok so the argument is back on. Now he says he doesn't really appreciate the tiny pieces of broccoli "crumbs" mixed with whatever else he's eating it with. I say, well maybe because the broccoli is MUSHY? He says well then I can't eat it end of story. One magical morning this healthy pasta with a broccoli pesto CLICKED in my mind and it was magic, like PURE magic!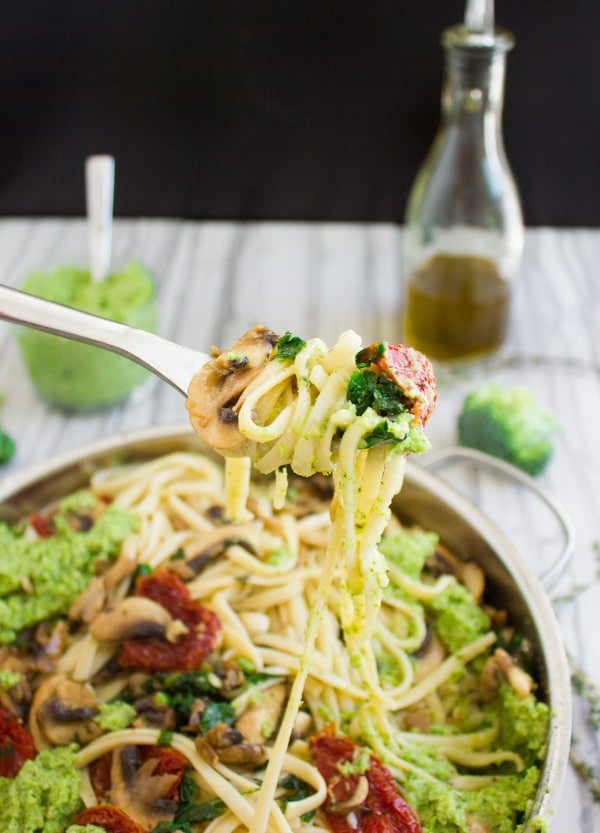 It was the mood for pasta. I was craving that comfort feel meal. I didn't feel like any sauces. And I had quite a bit of broccoli. So to spare myself the mushy vs tender and broccoli crumbs on my pasta business, I thought of making a broccoli pesto and having it on the side ( if he wanted any of it at all), while making a healthy pasta recipe with just garlic, sun dried tomatoes, mushrooms and toasted pie nuts in olive oil. Well I had frozen broccoli (which I think is very slightly partially cooked). I pureed it in the food processor with a bit of garlic, basil, thyme, lemon juice and olive oil. It became a smooth blend of flavorful broccoli.
Now the healthy pasta recipe became a flavor packed pasta recipe! And guess what? The Mr. tasted the broccoli pesto, and kept adding more and more on his pasta. Then he declared this has been his absolute favorite way to eat broccoli!! And I declared this has to be one of my ultimate favorite pastas!! P.S..Some of my other ultimates include this Skinny Eggplant Parmesan Pasta, Healthy Kale Squash Mushroom Pasta, Summer Pasta Salad with Sweet Tea Dressing, One Pan Creamy Mushroom Tortellini and Speedy Lamb Ragu Pasta…well maybe I do have a good bunch of pasta recipes on the blog 😉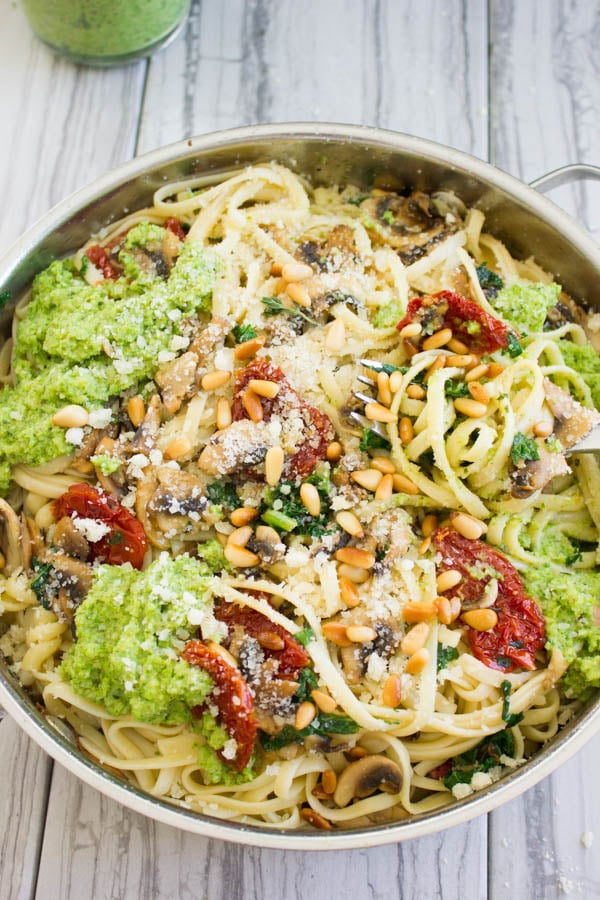 Here's a quick how to for this healthy pasta recipe, cook the pasta and in the meantime make the pesto. Pulse the broccoli and everything else for 2 minutes until smooth. Then you'll simply sauté garlic, mushrooms and sundries tomatoes with thyme and olive oil. And once the pasta is cooked, you'll add it on to the mushroom pan with a bit of the pasta water to create a sauce ( I explained this before in my 10 Min Greek Cheese Tortellini recipe). Then Simply dollop some pesto over the corners of the pan, scatter some toasted pine nuts and dig in!! A sprinkle of Parmesan or any Vegan cheese is awesome over the top! Now go for it and enjoy! 🙂
Broccoli Pesto Healthy Pasta Recipe
If you're a pasta lover, you need to make this Broccoli Pesto Healthy Pasta Recipe. It's hands down one of my favorites and it will soon be yours! A fragrant broccoli pesto infused with garlic, olive oil and basil, dolloped over a quick pasta sauté with sun dried tomatoes, mushrooms, more garlic and pine nuts. It's a burst of freshness combined with pure comfort in every bite! Kick it up with a touch of pepper flakes, and if you're a cheese lover, bring it on too 🙂
Ingredients
Broccoli Pesto:

1

cup

of frozen broccoli florets

, thawed

1

clove

of garlic

juice of 1/2 a lemon

1/8

teaspoon

of salt

1

teaspoon

of thyme leaves

2

tablespoons

of fresh basil

1/3

cup

of olive oil

Pasta:

1

lb

of fettuccine pasta cooked according to package directions

Sauce:

1

tablespoons

of olive oil

2

garlic cloves minced

1/2

cup

of sliced mushrooms

1/2

cup

of chopped kale

1

tablespoon

of thyme leaves

pinch of salt and black pepper

pinch of red pepper flakes

(optional)

Sprinkling:

1/3

cup

of toasted pine nuts

1/3

cup

of grated Parmesan cheese

(Or Vegan Cheese)
Instructions
While the pasta is cooking, make the broccoli pesto by blending all ingredients in a food processor until smooth. Taste and adjust seasoning.

Make the Sauce by heating the olive oil in a sauté pan, then add the garlic and mushrooms. Sauté for 2 minutes, add in the kale, thyme and sun dried tomatoes with salt, pepper and and chilli flakes for another 2 minutes. Turn off the heat.

Once the pasta is ready, remove it from the hot water (reserving at least 1 cup of the pasta water) and add the pasta in to the mushroom pan. Toss the pasta well with the mushroom mixture and then add in the reserved pasta water gradually ( 1/4 cup at a time, while tossing with every addition) until your sauce is the desired thickness.

Then add in the broccoli pesto in dollops over the pasta, scatter some toasted pine nuts and your choice of cheese. Serve and enjoy! 🙂