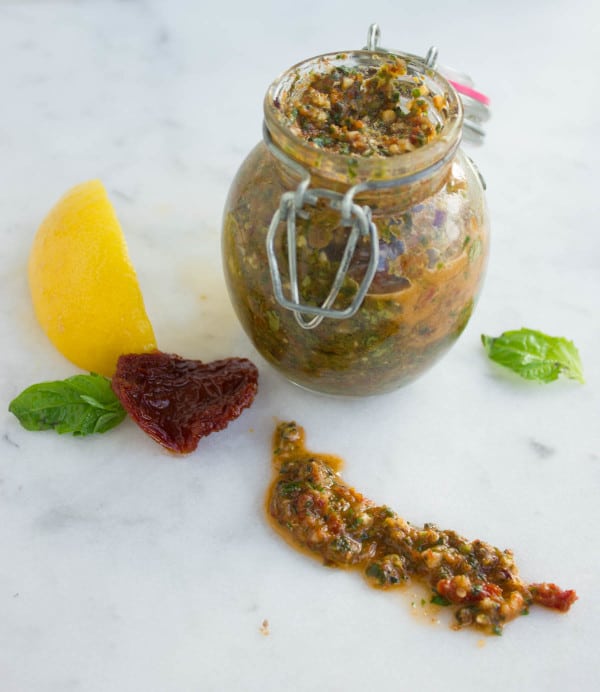 This sun dried tomato pesto recipe is an absolutely addictive one that you can use on so many different dishes. It's perfect on it's own tossed with pasta, slathered on grilled chicken, fish and meat, slathered on sandwiches and burgers, tossed into salads and much more. The concentrated flavor of sun dried tomato is dressed up with herbs, scallions, lemon and garlic then turned creamy with walnuts and olive oil. 5 minutes and a food processor is all you need!
I am an absolute fan of pestos. It's an obsession almost, and it's one I can't hide. And I absolutely love pestos because they only need 5 minutes of my time and I can throw in many different varieties of ingredients and end up with endless varieties of pestos. And what do I do with all those pestos you may ask?
Well on a rushed day, I'll boil some spaghetti, toss it with a type of pesto and have a fabulous dish ready in 10 minutes! If I'm rushed again and have no time to marinate chicken, beef or fish—I'll cook or grill them and then smear a thin layer of pesto (you can thin it out with a little more oil or mayo or lemon juice) on top for a fabulous boost of flavor! Or even on veggies! I love to slather pestos on my sandwiches and burgers. I also love to flavor or make my salad dressings with pestos—by simply taking a teaspoon of pesto and diluting it with a type of vinegar, a little more olive oil and some times mustard and, or, mayo. For a quick snack, you can make a dip out of pesto by adding a 1:2 ratio of pesto to cream cheese (or sour cream or a combo of both).
Another fabulous way I love using this sun dried tomato pesto is in my pesto stuffed shrimps recipe!
The beauty of getting into the pesto making vibe, is that once you've made your pesto, store it in the fridge for up to 1 month. Then if you're ever rushed on time, the first thing you'll reach for will be your pesto jar! Or if you're in a mood of making something special, again the first thing you'll reach for will be the good old pesto jar!
I love making this sun dried tomato pesto as is—I think it's the tomato garlic basil Parmesan combination that is so familiar and brings a level of comfort to our food, then comes the walnut, scallions and lemon to spike the flavors and make it a little more intriguing. Now that doesn't mean I haven't twisted this sun dried tomato pesto..because often times have made it with kalamata olives, oregano and a few capers. I'm sure you'll come up with different variations on it too! Some times it's what ingredients I have on hand, other times it's a combo of ingredients I day dream about and can't wait to try..either way, pesto is a sauce worth day-dreaming about and experimenting for! Get your food processor out and enjoy the world of pesto sauces! 🙂
Sun Dried Tomato Pesto
Ingredients
1/4

cup

large sun dried tomato

, chopped (packed in oil)

1/2

cup

basil leaves

, torn into small pieces

2

Tbsp

. fresh parsley

, coarsely chopped

1

clove

of garlic

, peeled

1

small scallion

( or greens only from a large one)

1

pinch crushed red pepper flakes

(optional)

1/4

teaspoon

of salt

1/4

teaspoon

of black pepper

2

tablespoons

of walnuts

, chopped

1

tablespoon

of lemon juice

2

Tablespoons

of freshly grated Parmesan cheese

1/4

cup

of extra virgin olive oil

( or 2 Tablespoons of extra virgin olive oil and 2 Tablespoons of the sun dried tomato preserving oil)
Instructions
In a food processor, add sun dried tomato, garlic, scallions, basil, parsley, walnuts, seasonings, Parmesan and pulse until mixture forms into a coarse paste.

Add the olive oil and lemon juice and process until it forms a pesto as chunky or smooth as you prefer the texture to be.

Store the pesto in the fridge for unto 1 month.