This healthy kale squash mushroom pasta recipe is the perfect pasta dish! It's packed with flavors, vibrant colours, healthy veggies like kale, squash and mushrooms—all tied up with a faint of cream that gives it that extra luxurious feel of a creamy Alfredo sauce without the guilt! Impress and be impressed each time you make this delightful pasta…
Pasta, pasta, pasta is one thing everyone relates to. I feel every person has a special connection with at least one type or flavor of pasta, kids included. And I think it's because pasta has a lot to offer—it's comfort food, it can be made differently everyday and  feel like a brand new dish, it's fast and easy to prepare, and can be  as light or creamy as you like.
The first time I made this delicious pasta was at the coking school, where I had a fun group who wanted a pure Italian hands on class. We agreed on a full menu which included pasta from scratch (their most important request). Then they wanted to turn that fresh pasta into something creamy and satisfying, but also wanted some veggies to make them feel good about eating it.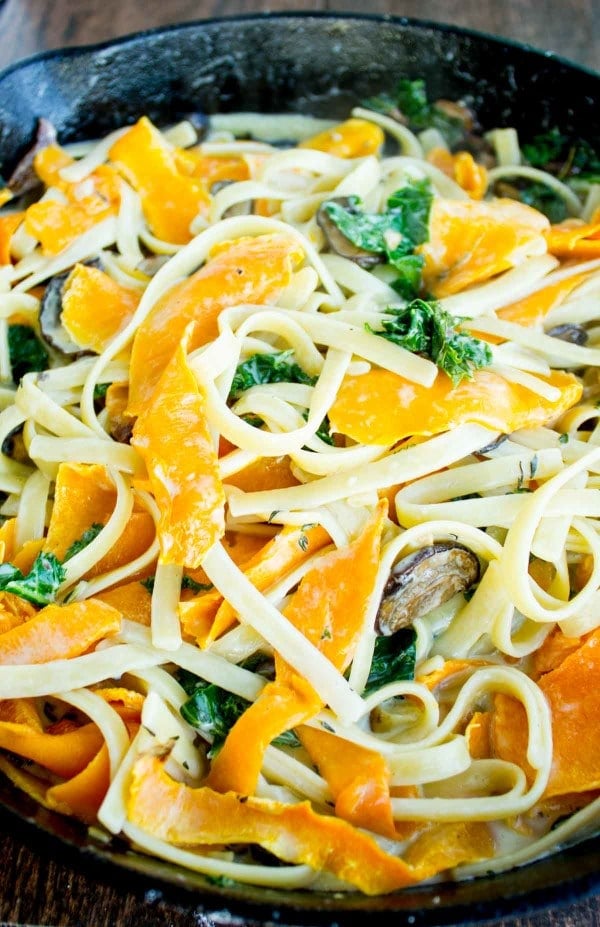 So this gorgeous pasta came to the rescue..Butternut squash ribbons roasted till perfection, sautéed mushrooms and kale with garlic and oregano, all tossed with a little cream, parmesan cheese and fettuccine pasta. Everyone devoured this pasta, and didn't make room for much else!
It is really that good—every pasta lover should make this!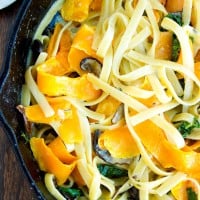 Healthy Kale Squash Mushroom Pasta
Ingredients
1

box of fetucinne pasta

1/2

a large butternut squash

, peeled

1

teaspoon

of olive oil

2

tablespoons

of butter

, unsalted

1

cup

of washed fresh kale

1/2

cup

of sliced mushrooms

2

cloves

of garlic

1/2

cup

of heavy cream

3/4

teaspoon

of salt

, divided

1/2

teaspoon

of black pepper

, divided

1

teaspoon

of dried oregano leaves

pinch of red pepper flakes

(optional, but recommended)

1/4

cup

of grated parmesan
Instructions
Preheat the oven to 375 degrees F. Using a vegetable peeler, peel the squash and keep peeling the flesh to make the ribbons. Don't worry if they're not all the same size.

Spread the squash ribbons on a parchment lined baking sheet and season them with a pinch of salt and drizzle the olive. Roast them for about 10 minutes, they shouldn't be too soft as they will cook a bit more in the sauce.

In the meantime, start cooking your pasta according to the box directions.

Preheat a cast iron or a non stick skillet over medium heat and add the butter.

Add the mushroom, kale and garlic when the butter melts and season with a pinch of salt and oregano. Sauté the mixture for 2 minutes until the veggies soften up a little.

At that point add in the cream and lower the heat to medium low. Season the cream mixture with salt and pepper.

Once the pasta is done, drain and reserve about 1/2 cup of pasta water on the side to thin out the sauce to your desired consistency.

Check on the squash and when it's ready, add it to the cream mixture.

Toss the pasta into the creamy veggie mixture and thin out the sauce with some of the reserved pasta water to the thickness you like.

Add the parmesan cheese and the red pepper flakes pinch (if you're using it). Give the pasta a final toss and serve. Enjoy!