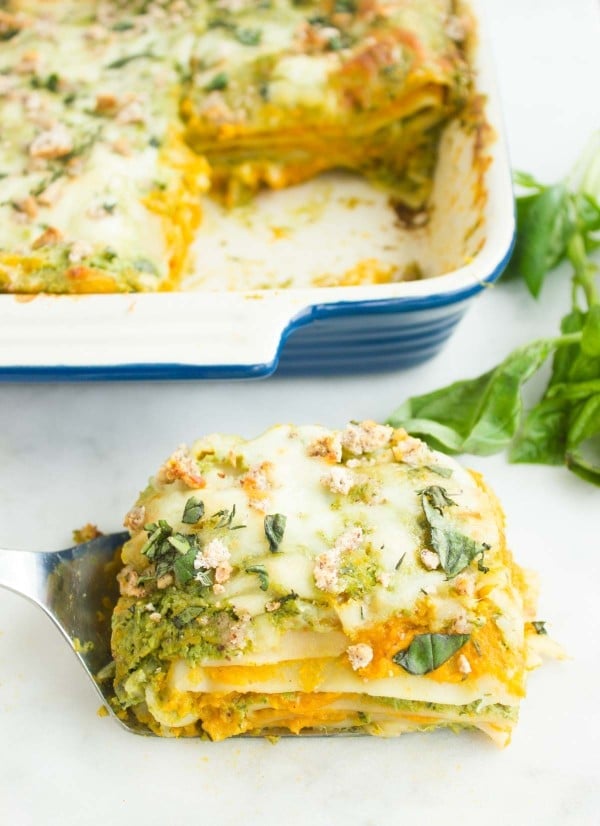 This squash basil Amaretti lasagna recipe is a gorgeous tribute to Italy and Italian flavors! Smooth roasted sweet butternut squash flavored with Parmesan cheese and sweetened with Amaretti cookies are layered between tender lasagna sheets and a sweet basil béchamel sauce, then toped with more Amaretti cookies for a slightly sweet crunch! This lasagna is a sweet twist on comfort food with a load of flavor.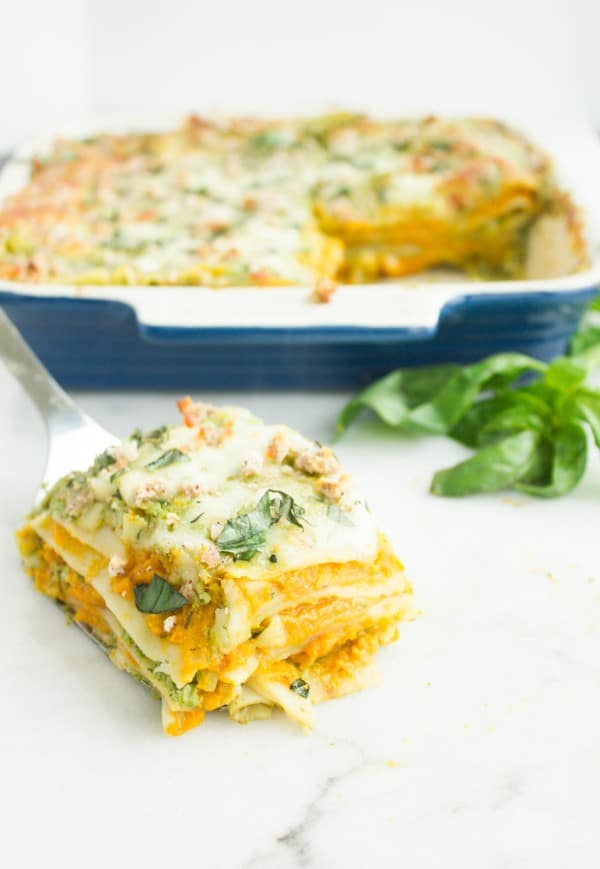 If you read this easy speedy blue cheese lasagna recipe, you'll know how much I love lasagnas, and if you haven't—what are you waiting for? There can't ever be enough ways to enjoy lasagna, it's one of those comfort food essentials that lifts you up on any gloomy day. Now that doesn't mean you should hold back on making lasagna when you're in a happy place—because that happy place will feel oh-so-much happier with a nice cheesy bite of lasagna too! So this squash basil Amaretti lasagna is a must try, and yummy addition to your everyday comfort foods list.
butter and flour browning
adding the first batch of milk
finished béchamel after all milk has been added
blending basil and bechamel
basil bechamel sauce!
before baking
out of the oven
I have to say that the beauty of this recipe, aside from the squash and amaretti, happens to be the sweet basil béchamel sauce. And as much as I am a foodie, as much as I resent the glorious béchamel sauce. I don't even have a reason or justification for this. It's just what it is. I have nothing against cream sauces, I actually devour them. So why not the good old béchamel? I seriously don't know. But I can say that the addition of fresh basil to the béchamel here has made me two (three or four) steps closer to béchamel—and for me that's huge! So now I will hesitate before bad mouthing the béchamel again.
When it comes to the squash, I love roasting mine and then pureeing it. You can also micro-wave it if you prefer. And if you love a chunky squash-ish texture in your lasagna, then leave the chunks whole, but I would strongly recommend pureeing them. And to make this lasagna in a snap, prepare the squash a day or two before, and prepare the béchamel a day or two before too. So the day of, all you really need to do is just assemble and layer your lovely squash basil Amaretti lasagna..and..indulge, enjoy, devour and share it with the world 🙂 On a side note, I love making amaretti cookies–hello espresso amaretti cookies!! But for the lasagna, I would make them minus the espresso 😉


Squash Basil Amaretti Lasagna
Ingredients
Squash:

1

large butternut squash

, washed, peeled and cut into 1 inch cubes

Pinch of salt and pepper

1

tablespoon

of olive oil

¼

cup

of grated parmesan cheese

1

tablespoon

of amaretti cookies

, crumbled--store bought or thisespresso amaretti cookies without espresso.

Sweet Basil sauce:

¼

cup

of butter

, unsalted

¼

cup

of all purpose flour

3

cups

of milk

(whole or low fat)

¼

teaspoon

of freshly grated nutmeg

1

cup

of lose fresh basil leaves

, washed

¼

cup

of freshly grated parmesan cheese

¼

cup

of crumbled amaretti cookies

, divided into 2 tablespoons and 2 tablespoons

¼

teaspoon

of salt

Pinch of black pepper

Assembly:

1

cup

of grated mozzarella cheese

¼

cup

of freshly grated parmesan cheese

Fresh basil leaves

, finely chopped

1

box

(12 sheets) of fresh or no boil lasagna pasta
Instructions
Preheat the oven to 400 degrees and line a baking sheet with parchment paper.

Arrange the butternut squash cubes on the baking tray, season with salt and olive oil and toss the butternut squash evenly to make sure they're well coated with seasoning.

Roast for about 30 minutes until tender. Remove the tray from the oven and allow it to cool.

In the meantime, start making the sweet basil sauce:over medium high heat, melt the butter in a medium pot. Add the flour and whisk them together for a minute then gradually add the milk in 3 portions while whisking to ensure the sauce is smooth.

Allow the sauce to simmer on medium low heat for about 8 minutes until it thickens.

Remove the sauce off the heat and add the nutmeg.

When the sauce has cooled down a little, take a third of it and blend it with the fresh basil leaves until smooth.

Now place the basil sauce back with the original béchamel and mix them together for a sweet light green basil scented béchamel.

Add the parmesan cheese and 2 tablespoons of the crushed amaretti cookies.

Season the sauce and set aside.

Finish off the butternut squash filling by pureeing it in a food processor along with the parmesan cheese and amaretti cookies until smooth.

Assemble and bake the lasagna: butter the bottom and sides of a 9"X13" pan and ladle ¾ cup of the basil sauce at the bottom, top that with 2 or 3 sheets of lasagna (depending on the size—but make sure the entire surface is covered), and spread half of the squash puree over the pasta, top with a layer of sauce,a sprinkle of parmesan, a sprinkle of mozzarella cheese and amaretti cookies.

Then repeat the layering process two more times.

Cover the pan with foil and bake in a preheated 375 degrees oven for about 30 minutes. Uncover the lasagna and sprinkle the remaining mozzarella cheese,and then bake an extra 10 minutes until cheese is melted. Sprinkle with fresh basil. Cool for 10 minutes and serve.