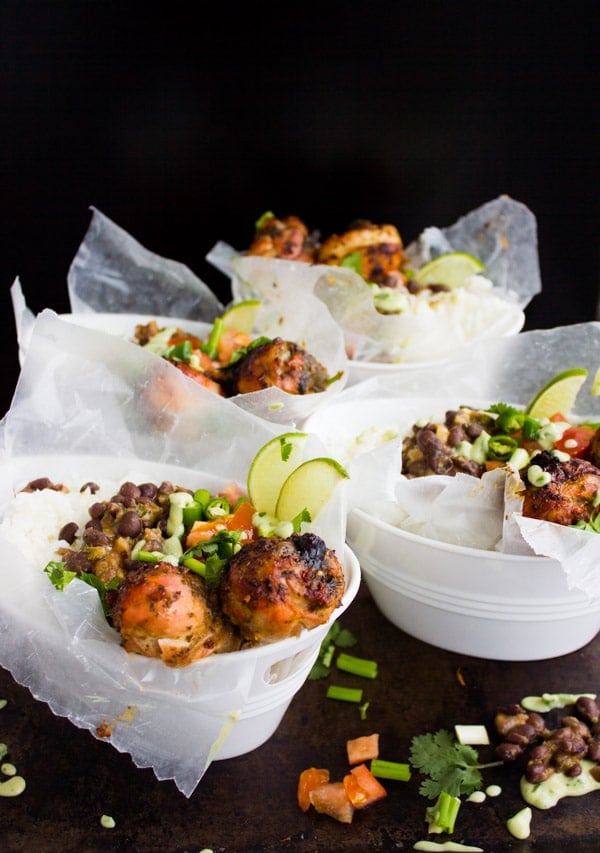 This Cuban black beans chicken with rice recipe is a classic comfort dinner. A super flavorful and filling meal loaded with protein, fibre and goodness. Chili spiced roast chicken is served over buttered white rice and topped with an amazing black bean mixture that's cooked with onions, garlic and spice— a refreshing take on a classic chicken and rice dinner! NEVER have a boring roast chicken again!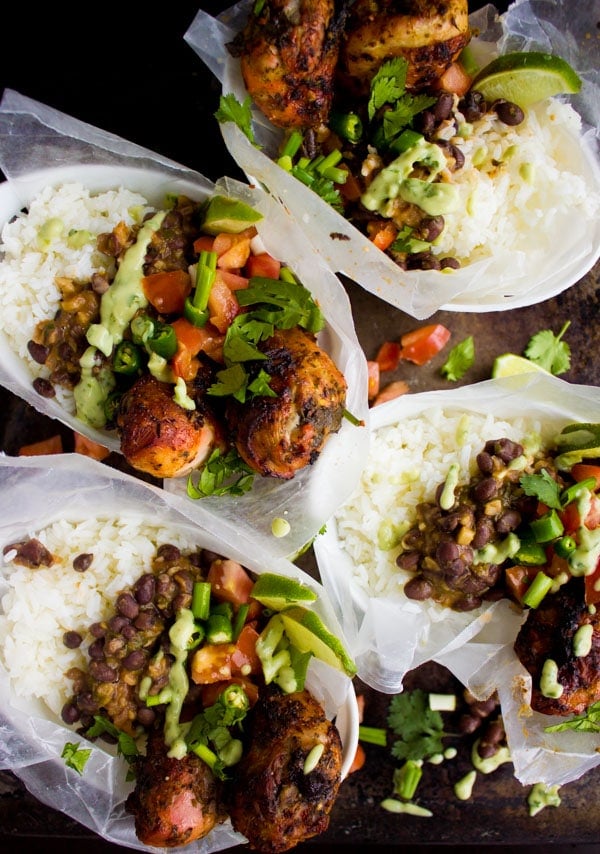 Oh I don't know where to start. This recipe hits a soft spot in my heart. When I got married, I moved to Miami FL with my husband– this recipe reminds me of the beautiful vibrant Miami and the sweet years I lived there. We were both students, he was doing his post graduate degree and I was finishing off my pharmacy license and then moved to food science/recipe development.. it feels like yesterday although it's been 13–yes—thirteen years! I miss it terribly. The city, the beach, the weather, the people, the food and I miss a cup of good Cuban coffee 🙂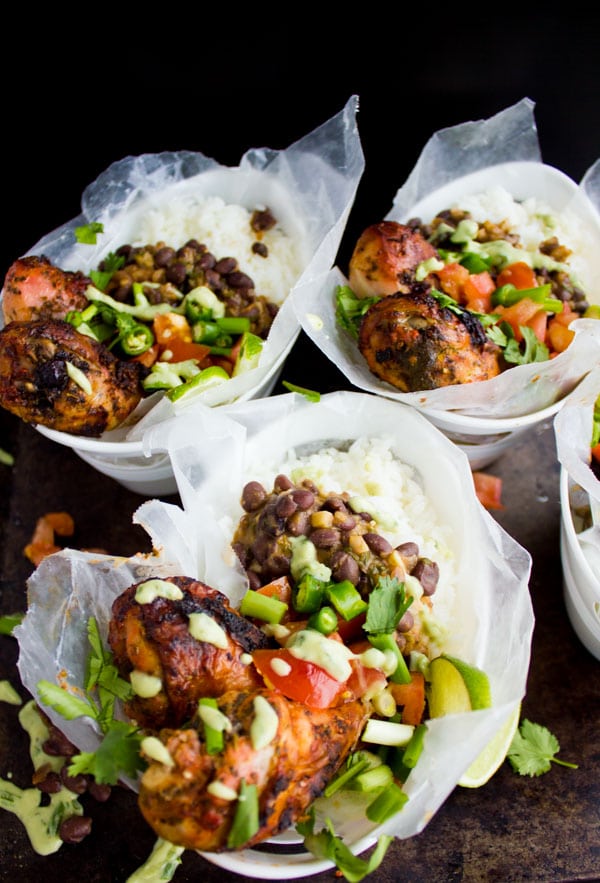 So there was this local chain of "fast food" Cuban food. It really isn't your typical fast food, but it wasn't high end either—just a perfect in between. It was across from the university and like our go to last min. each time we craved a nice big plate of Cuban black beans chicken with rice. It was super affordable, super comforting and super flavorful. There was an option of salad instead of rice, and the chicken in different portions. And they served this with plenty of different salsas, flavored sour creams and hot sauces on the side–what more can you ask for! It was the perfect Cuban style fast food.
Aside from the sweet Miami memories, this recipe is really an amazing way to serve up your chicken dinners. The chicken is spiced beautifully like in this salsa avocado roast chicken skillet  (if you don't have fresh salsa on hand, feel free to use store bought. But if you can spare 10 mins and make this food processor, quick and AMAZING restaurant style Mexican salsa–then I urge you to! ). Roast the chicken for 35 mins. In the meantime, the rice is cooked–sauteed first in butter for flavor, and the beans alongside.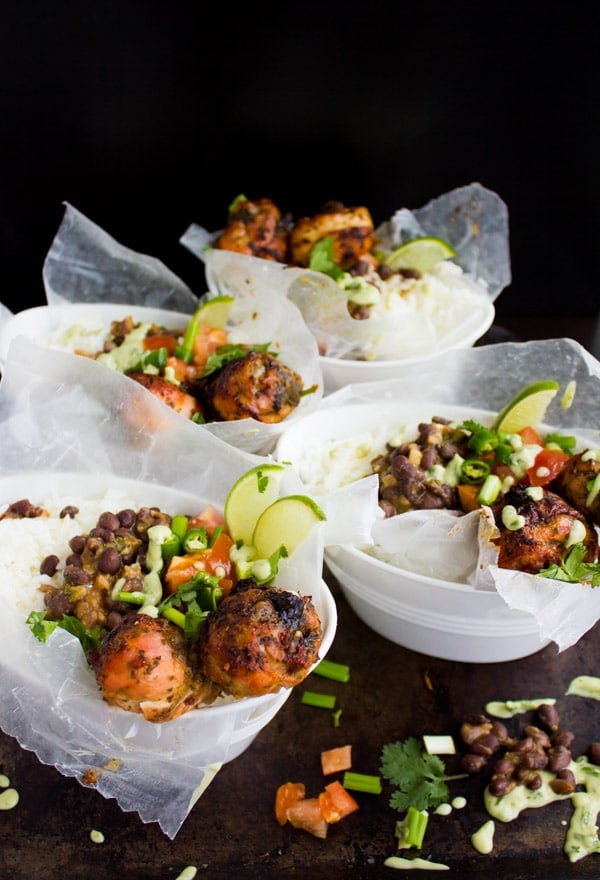 A quick note here—the other day I was grocery shopping and I met a lovely mom talking to herself reading out "how to cook rice" instructions. So I chatted with her and she complained her brown/black rice is always either burnt or though to chew. So I told her to always soak the rice for 30 mins in warm water before cooking it. She e-mailed me back a week later saying this trick worked like a charm! And with this recipe—you can perfectly use brown or wild rice too–and don't forget to soak 🙂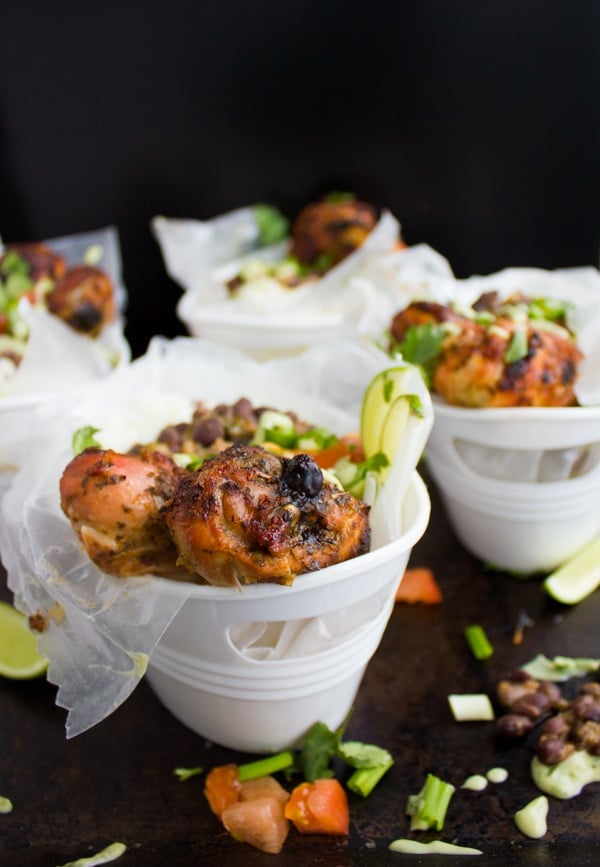 I love drizzling some of AMAZING avocado cream on  top–it's a 2 min avocado dressing that brightens up any average dish! It perfectly balances the spices and heat in the Cuban black beans chicken with rice recipe, plus it adds another level of flavor! I use it with this fabulous shrimps salad with avocado dressing, this Miami inspired sweet potato black bean soup and this Mexican style lentil detox salad. I really urge you to make this avocado crema if you haven't already 😉 Now for the record, the avocado crema is more of a Mexican touch and not typical in Miami or in this dish–but once you pair them, you won't ever go back to skipping the crema!
Ok on to the black beans, because it's all about the beans in this Cuban clack beans chicken with rice recipe. It starts with a quick sautee of onions, peppers and garlic, then a boost of spice, cilantro, a touch of vinegar and some chicken stock. This creates an unbelievably flavorful thick sauce for the beans to cook in and makes it feel like a long cooked comfort meal—minus the long cooking time!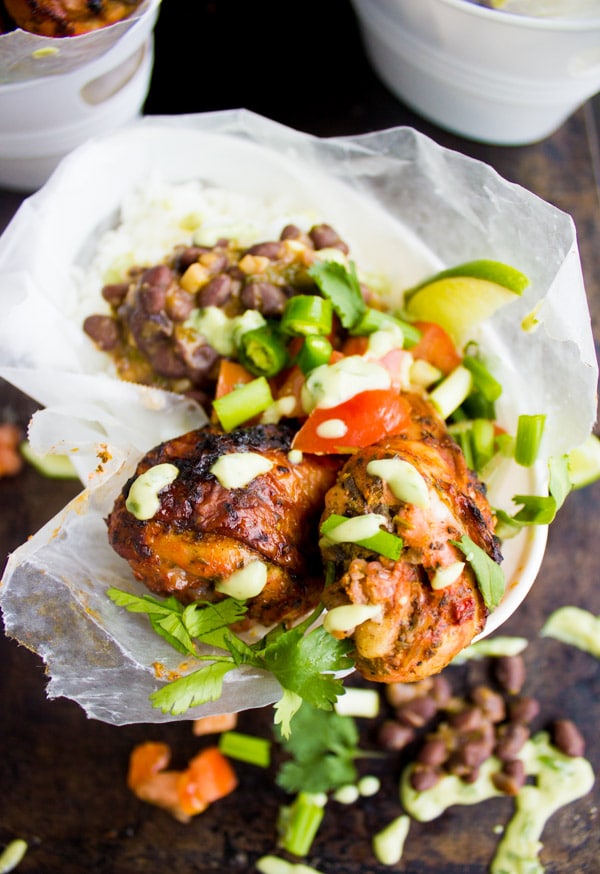 I love plating the rice on one side, chicken on the other and the beans in the middle overlapping slightly the rice–I like it best this way and, that's exactly how it was served in Miami! Now if you have any salsa at home (This 5 min restaurant style Mexican salsa is fabulous OR the salsa in this quickest chicken fajita with mango pineapple salsa) place that in a corner, sour cream (flavored or not) and hot sauce–the more flavors the better! And don't forget to leave room for the avocado crema to cool down and smooth out all the spice!
Try this fabulous chicken dinner and enjoy a warm comforting meal that'll take you straight to Miami! And make plenty of it to freeze for another dull day! Enjoy 🙂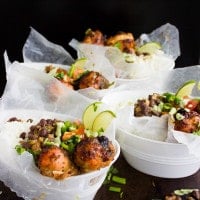 Cuban Black Beans Chicken With Rice
Ingredients
For the chicken:

Salsa Avocado Roast Chicken skillet

For the rice:

1 1/2

cups

of long grain rice

, rinsed ( brown, black or wild rice works too, soaked in water for 30 mins prior to cooking)

2

tablespoons

of unsalted butter

(or olive oil)

1/4

teaspoon

of salt

2 1/2

cups

of water

For the Black Beans:

2

cans of black beans

, drained and rinsed well

2

shallots

, minced

1

bell pepper

, minced (any color)

1

tablespoon

of olive oil

2

coves of garlic

, minced

1

tablespoon

of minced cilantro

1

teaspoon

of oregano

1/2

teaspoon

of cumin

1/2

teaspoon

of chili spice

pinch of red pepper flakes

(optional)

1/4

teaspoon

of salt

1/3

cup

of chicken or vegetable stock

1

tablespoon

of apple vinegar

(or any tangy vinegar)

2

tablespoons

of minced cilantro

Avocado Crema here:Mexican style lentil detox salad

Extras:

Restaurant style Mexican salsa

Mango Pineapple salsa from the quickest chicken fajita with mango pineapple salsa

Sour cream flavored with lime and cilantro or flavoured with hot sauce

Hot sauce
Instructions
Preheat your oven to 400 degrees F.

In the meantime, cook the rice. Place a pot over medium high heat and add in the butter (or olive oil), then add in the rinsed rice and sauté the rice in the butter for at least 1 min and up to 2 mins. Then add in the salt and water.

Bring the mixture to a boil, and then lower the heat to the lowest setting on your stove. Cover the pot and allow the rice to cook for about 30 mins until all water is absorbed and the rice is tender.

**If using wild rice, black or brown rice, make sure the rice is soaked for 30 mins prior to cooking.

In the meantime, start with the beans. Add the olive and start sauteeing the onions and bell peppers in a deep skillet or cast iron pan over medium high heat. Add a pinch of salt and sauté for about 2-3 mins until the veggies are softened.

At that point add in the garlic and cilantro and sauté for another min. Then add in the beans, spice and stock and bring the mixture to a boil.

Lower the heat to a simmer and let the beans soak up all the flavors and cook for about 5 mins more until the sauce starts to thicken up.

Finish off the beans by adding the vinegar and cilantro. Turn off the heat and keep the beans covered until ready to serve.

To serve, place the rice on a side, the chicken on the other side and the beans in the middle overlapping on both sides.

Drizzle avocado creme on a side, the salsa on the other, hot sauce and sour cream on the corner.