This delicious recipe has been compensated by Collective Bias, Inc. and its advertiser. All opinions are mine alone. #VeryVeggieHoliday #CollectiveBias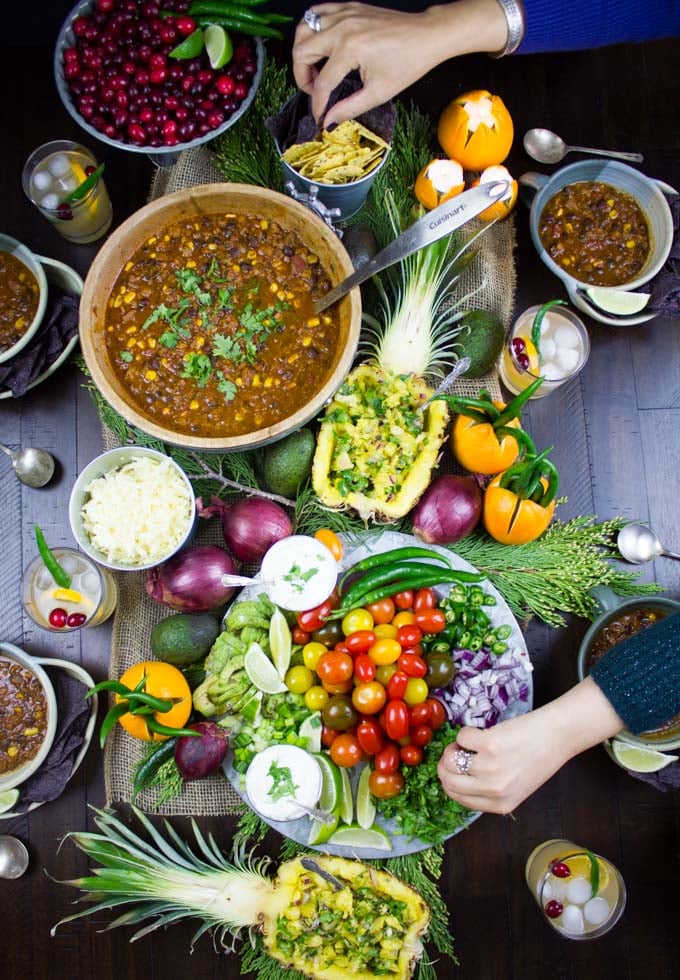 Today is all about one word. Comfort. Real comfort food. The food that can sooth your soul and warm your heart, put a big smile on your face and just infuse more joy this season! We're making a Vegetarian Chili Recipe today, a Chili party and bar that brings everyone together for pure comfort and joy! 🙂
I'm having a really cozy Fall this year. A Fall loaded with soups, baked goods and this vegetarian chili recipe! There's something about chili that works both ways, it's probably one of the most comforting heart warming cozy foods ever. Yet, it's also a great food to enjoy while watching the Game, having friends over for a fun non cozy occasion.
You've probably made plenty of chili recipes before, I've found vegetarian chili recipes tend to be a touch more delicious. Another factor I love with vegetarian chili is the feeling that I can load up as many toppings as I like without feeling "heavy". So no matter what I add, my chili bowl always feels light and because of that, I go for seconds and thirds without counting lol this feels quite great!
But guess what, the good news is—today we're going for a vegetarian chili recipe plus we're also getting a load of vegetable protein! It's absolutely a win win. So whether you're a vegetarian or not, you're getting a light and healthier version of your favorite cozy bowl 🙂 I've found these MorningStar Farms® products at my local Walmart (freezer aisle) and used them as my primary source of protein and hearty goodness to my vegetarian chili recipe. They were exactly what I was looking for! And before I go into more details, here's an amazing ibotta offer for you to try them and EARN some $!
When you're looking for them, try the MorningStar Farms® Chipotle Black Bean Crumbles or the MorningStar Farms® Grillers Crumbles. Each one has a different flavor and spice, both of them totally delicious! The MorningStar Farms® Chipotle Black Bean Crumbles has bold southwest spices which worked beautifully here in my chilli boosting 8g of protein per serving.
Similarly the MorningStar Farms® Grillers Crumbles have 9 grams of protein but with 75% less fat than regular ground beef. These crumbles have no strong flavors which means they're super versatile! I added them to my chili for a hearty filling meaty-ness, likewise, they're great for sloppy joes and bolognese pasta. Bonus—kids love them! And you all know very well how picky my little miss J. is!
Ok so let's get started on this natural seasonal Fall set up. Lately I'm finding myself in love with rich fruits, veggies and herb table setups. I used to be on of those who spends on fancy centrepieces, and usually reach for floral anything. I still love floral settings. Can't deny that. Flowers certainly add intense beauty to whatever setup you have. However I find that now, I prefer a touch of floral beauty rather than relying on it entirely.
I started setups like that in the Summer since fruits were absolutely gorgeous and vibrant. And I felt I wouldn't continue as the weather cools down, but I was so wrong! Fall citrus, pomegranate, squash, radishes, beets..etc..all are still gorgeous and vibrant, but in a deep warm way compared to summer fruits. I start with a burlap sheet and scatter some seasonal sprigs of cedar greens along the center of my table.
For the oranges, I quartered the tops using a pairing knife, going a third of the way only. Then I peeled the tops off carefully without removing them, and I used them two ways. I stuffed some with some green chilli peppers, and I stuffed some with tea candles. Then I made a sweet, spicy and addicting pineapple salsa which I stuffed in the pineapple.
Start off by slicing the whole pineapple in half and coring it. It seems like the easiest way was to first use a paring knife and cut around the flesh of the pineapple leaving about half an inch border and then coring the insides using a melon baller. Dice the pineapple with salsa ingredients and place it right back in each half.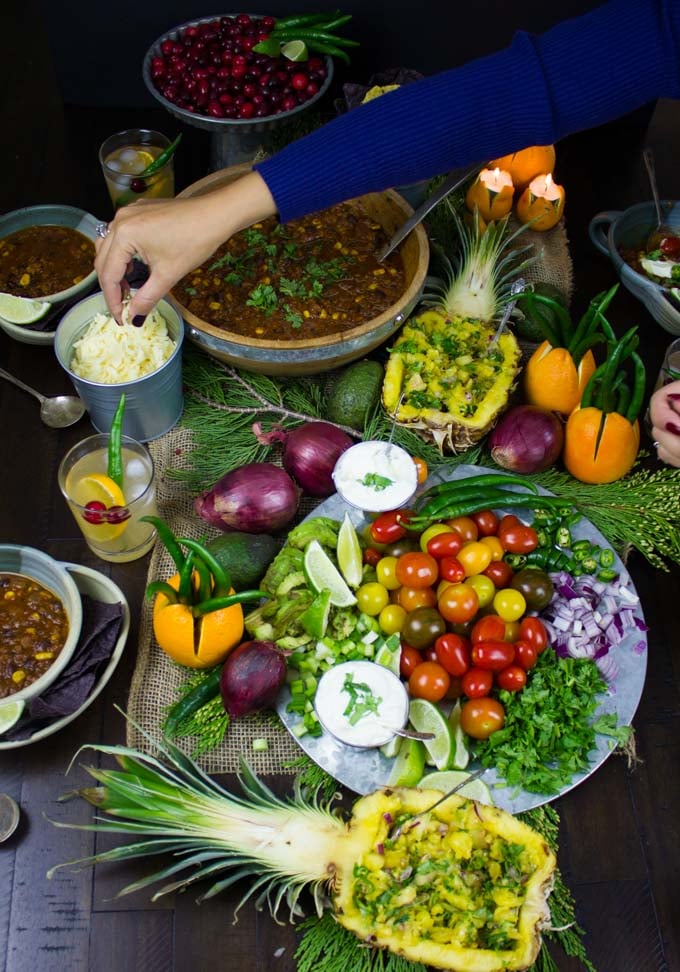 Probably one of the most colourful things on the table was the chili bar ingredients! Use your favorites, store bought or homemade—just add as many as you think your guests would enjoy! I had sliced avocados, diced onions, sliced chilli peppers, baby heirloom tomatoes, lime wedges, sour cream, chopped cilantro, shredded cheese and different corn chips!  Just imagine a loaded bowl of this vegetarian chili recipe!! It was SO GOOD!!!
Now, certainly we need to talk chili. I start by sautéing some onions, chilli peppers (optional), cilantro and garlic which I spice with some chilli powder, cumin and oregano. Then I add in my MorningStar Farms® bags, jazz up with more spice. I stick to chilli powder, cumin and oregano for my chili recipes, always! Give that a nice sauté for a couple of minutes before I add in my tomatoes. I used a combo of canned diced tomatoes ( you can use crushed tomatoes for a smoother chili with zero tomato chunks!) and tomato paste. Add in more beans, some corn and the same spice mix. Cover and let the chilli cook for about 30 minutes until all these amazing flavors blend and infuse!!
Simple, easy and serious crowd pleasing food! This vegetarian chili recipe and bar are a great excuse to throw a hearty vegetarian Holiday and New Year's eve party this year! Made it last week as a heart warming to one of my friends who lost her Mom not too long ago. Just wanted to bring her together with a couple other close friends to relax, chat and infuse some Joy this season.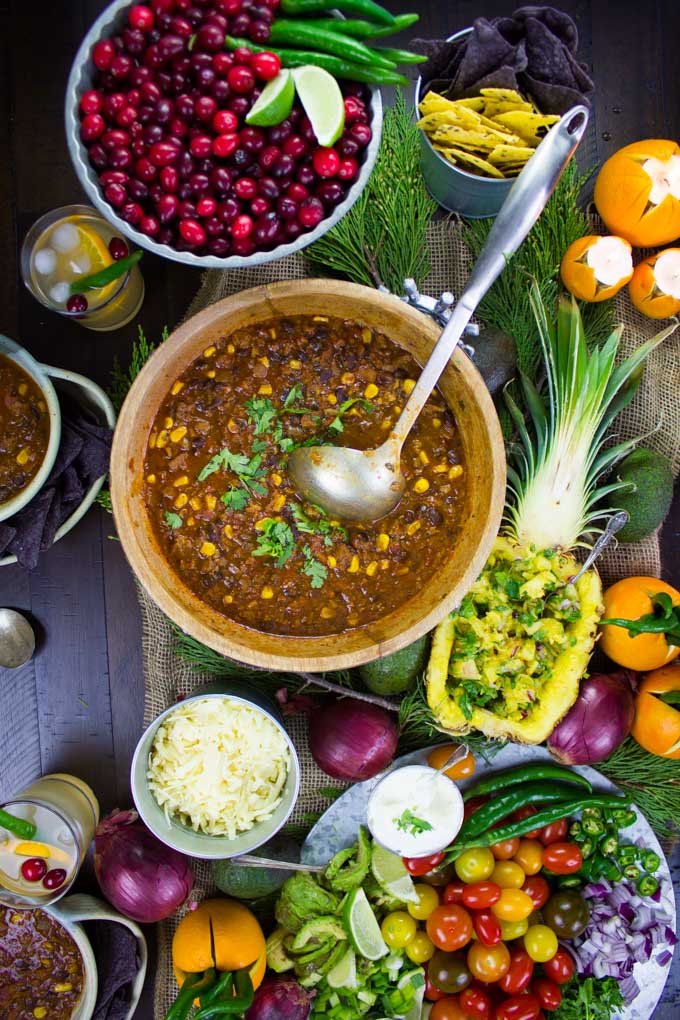 I almost wanna say that it's all about the chilli, but seriously it's not just that. Sometimes the tiniest things in life can bring so much comfort and joy to our hearts. A group of close friends, a natural seasonal Fall set up on the table and a huge bowl of hearty cozy vegetarian chilli sometimes can put you in the happiest mood—just like it did with us! It seems like this time of year always reminds me to celebrate the tiniest things in life 🙂
Finally, I can't urge you enough to try the MorningStar Farms® products—you need to taste it to believe it! They're the star of my vegetarian chili recipe and they're an "as is" meal solution for busy crazy days! Plus if you're one of those who loves veggies and can't get enough protein out of them—well they're your perfect answer! And if you're not a vegetarian, well they're a healthier way of enjoying a meaty taste minus the fat! Here's a fabulous resource of recipes and inspirations to make the most out of these goodies!!
Enjoy this easy, delicious, heart warming and cozy chilli party and bar for your friends and family 🙂
Vegetarian Chili Recipe Party and Bar
Today is all about one word. Comfort. Real comfort food. The food that can sooth your soul and warm your heart, put a big smile on your face and just infuse more joy this season! We're making a Vegetarian Chili Recipe today, a Chili party and bar that brings everyone together for pure comfort and joy! 🙂
Ingredients
Vegetarian Chili:
2

tablespoons

of neutral tasting oil

2

onions

finely diced

2

chilli peppers

sliced (optional for extra heat)

6

cloves

of garlic

minced

2

tablespoons

of cilantro leaves

minced

1/2

teaspoon

of oregano

1/8

teaspoon

of cumin

1

teaspoon

of chilli powder

1

bag of MorningStar Farms® Chipotle Black Bean Crumbles

frozen

1

bag of MorningStar Farms® Grillers Crumbles

frozen

1/4

teaspoon

of salt

1/2

teaspoon

of oregano

pinch

of cumin

1

teaspoon

of chilli powder

3

cups

of diced tomatoes and their juices

use crushed for a smoother chilli without chunks of tomatoes

1/2

cup

of tomato paste

1

cup

of corn kernels

1

cup

of black beans

canned (rinsed and drained)

1

teaspoon

of chilli powder

1

teaspoon

of oregano

pinch

of cumin

1/2

cup

of minced cilantro leaves
Pineapple Salsa:
1

pineapple

cored and finely diced to about 3 cups of pineapple chunks

2

jalapeños

minced (more or less to taste)

2

tablespoons

of minced red onions

juice of 1 large lime

1

teaspoon

of salt

2

tablespoons

of minced cilantro

2

tablespoons

of olive oil
Chili Bar:
finely diced onions

sliced avocados

selection of baby tomatoes

chopped cilantro

scallions

chopped

sour cream

shredded cheddar cheese

assorted corn chips

sliced jalapeños

Pineapple salsa

recipe above
Instructions
In a large pot over medium high heat, add the oil, onions, chilli peppers if using, garlic, cilantro and seasonings. Sauté that for about 5 minutes until the onions are soft and translucent.

Add the MorningStar Farms® bags, seasonings and sauté for an extra couple of minutes.

Add in the tomatoes, corn, beans, seasoning and bring the chilli to a boil. Then cover the pot of chilli and let it cook for at least 30 minutes on low heat to infuse all the flavors together. Once the chilli is ready, add in the cilantro, turn off the heat and serve!

Make the pineapple salsa int he meantime, slice a whole pineapple in half and use a pairing knife to go around the boarders of each half pineapple. Leave about half an inch boarder as you go. Then grab a melon baller and scoop out as much of the pineapple as possible.

Chop the pineapple into fine pieces about 1/8th of an inch and add them in a bowl. Mix in the remaining ingredients and then scoop the salsa back to the pineapple shells.

Serve the chili with the salsa and toppings! Enjoy!