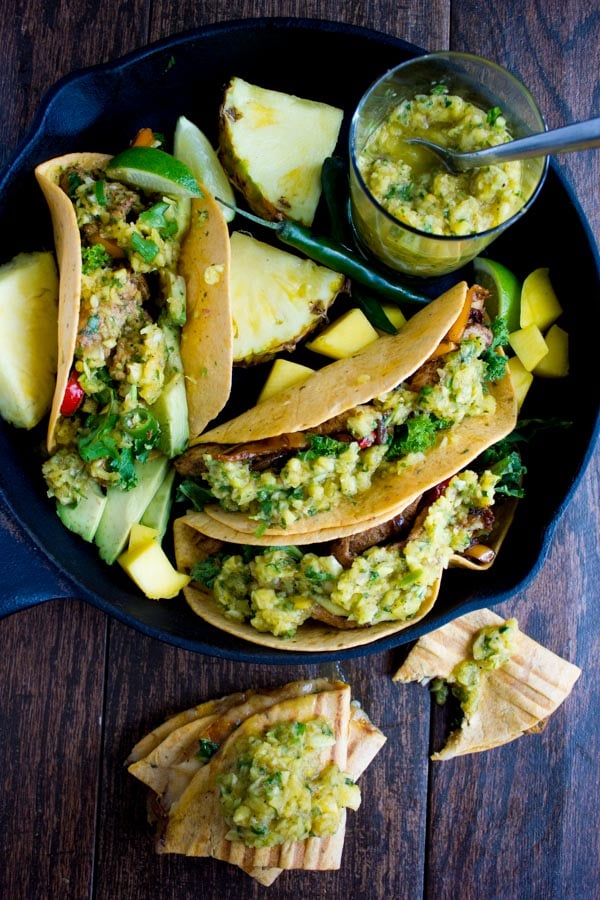 This quickest chicken fajita with mango pineapple salsa is in fact the quickest way to have dinner on the table—not just any dinner, a fabulous meal! We're skipping the marinades, the slow roasts and the fancy techniques BUT we aren't skipping a pinch of flavor! Tex-Mex spiced chicken loaded on tortillas and topped with a 3 min food processor sweet and spice salsa—this quickest chicken fajita with mango pineapple salsa is as YUMMY as it gets!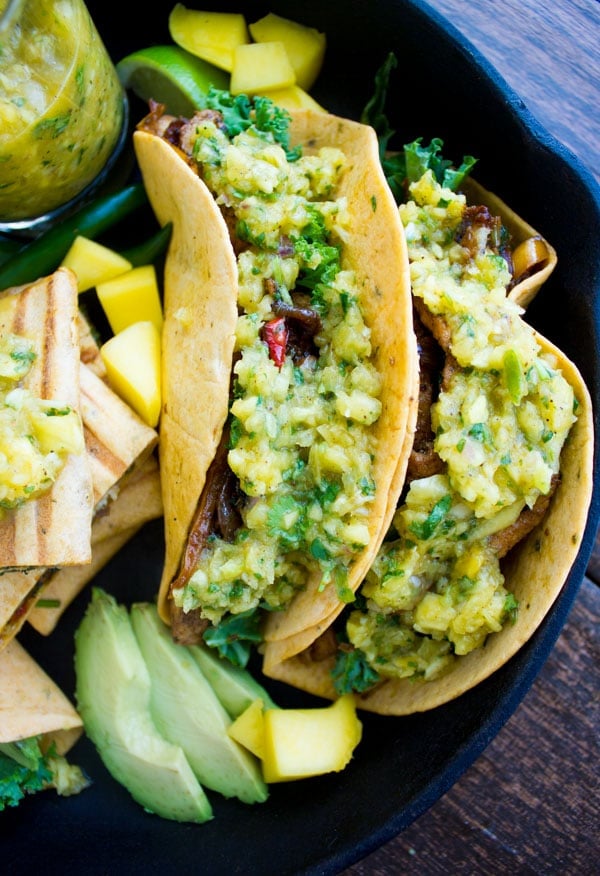 Do you ever feel like you're rushed to a point where it's hopeless to even google a quick recipe for dinner? As much as I hate to admit it, I've been feeling this way more often than I like! Long ago in college, I thought this is as rushed and stressed as it gets—little did I know, it only gets worse.. I feel more rushed by the year, and I don't have a perfect justification as to why this is happening. It just happens. And with every year, I dig and experiment with ways to make the best out of my time in the kitchen, that's how wonderful recipes like this quickest chicken fajita with Mango pineapple salsa knock on my door.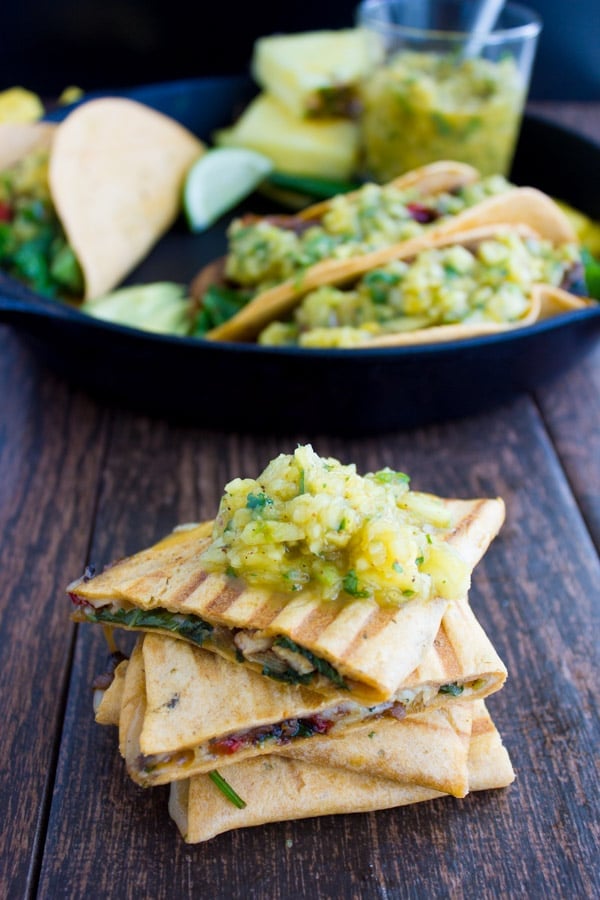 Luckily, I know I'm not the only one! I have a good "mom" friend with 2 toddlers and a baby, she struggles every day to feed the kids. And she doesn't want to skimp and buy ready bought meals unless it's an emergency. So she would ask me for recipes, some times check the blog, and lately she got into the funniest habit—she would call me every few days and tell me the list of ingredients (or foods) in her fridge and pantry, so then based on that, I give her a quick, easy, and healthy recipe to whip up in a flash for the kids 🙂 So today's recipe was the latest she made!


This quickest chicken fajita with mango pineapple salsa is GENIUS because unlike other fajitas—we're skipping the marinades. And instead we're spicing up our chicken, onion and bell peppers with plenty of chili powder (use a non-spicy version for kids), oregano, cumin and a pinch of allspice. And we're sauteeing plenty of cilantro, garlic and some lime slices for a boost of extra flavor. And the salsa is whipped up in a food processor with whatever fruit you have on hand—make it all mango or all pineapple, papaya, peach or simply the greatest of classic salsas: this restaurant style Mexican salsa -with a secret ingredient;). So don't fuss or stress or feel like you must have mango and pineapple at home to make this recipe!
Now let's start with the chicken, when I'm making a sauté of chicken pieces like this (or meat) I actually like slicing when the meat is 70% or so frozen. This helps me get nice thin slices with minimal effort and time. So if you're back from work, or if you forgot to defrost the chicken a day before—not to worry, it actually works to your benefit! So slice the chicken into strips (thickness and size of your choice) and season it with plenty of spice, minced garlic, cilantro and tiny lime slices. The same spice mix will go into the sliced onion and bell peppers. Sauté the veggies for 5 mins first to get them soft and charred, then go in with the chicken mixture and sauté for 10 mins more while mixing over hight heat. sliced jalapeños and fresh cilantros go in at the end at it's done!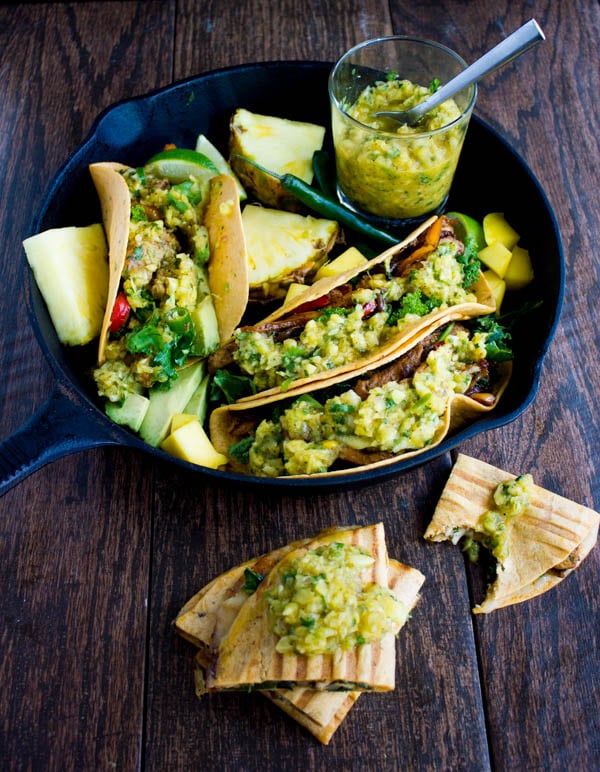 For the salsa—I love processing the onion, garlic and cilantro first until they're minced, then I add the fruit, seasonings and extra cilantro. Pulse until the salsa reached the texture you prefer (super chunky or super fine). A quick tip—I add a teaspoon of honey to my  fruit salsa because I prefer them a bit on the sweet side, it's optional, but if you feel the fruit is super ripe then skip it all together. At that point all you need is to assemble this fabulous meal and have the Tex-Mex experience on your couch or dining table!
So this quickest chicken fajita with mango pineapple salsa recipe can be served up as fajitas, or loaded into tortillas,wraps, tacos, or pressed into quesadillas with some cheddar or Monterey cheeses. I love pairing some chopped kale (yes again, kale!) with the fajitas, because I love the contrast of flavors with the sweet salsa and spicy chicken! I also love piling up the salsa with every layer so under the chicken, on top of the chicken, on top of the quesadillas.. everywhere! Totally optional, but why not?
Feel free to jazz up this recipe with guacamole, sour cream, hot sauce, cheese sauce or any topping you prefer! It makes a great party dish, pot luck, snack, finger food, and an absolutely DELICIOUS busy night dinner! Enjoy 🙂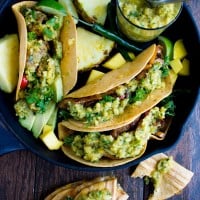 Quickest Chicken Fajita with Mango Pineapple Salsa
Ingredients
For the chicken:

1

Tablespoon

of oil

(any type)

2

lbs

chicken breasts

, cut into strips (your desired size)

2

teaspoons

of chili spice

(as hot or mild as your prefer)

1

teaspoon

of dried oregano

1/2

teaspoon

of cumin

1/4

teaspoon

of allspice

1/2

teaspoon

of salt

(more or less to taste)

1/2

teaspoon

of black pepper

2

garlic cloves minced

1/2

teaspoon

of minced lime slices

(or zest of 1 lemon)

2

tablespoons

of minced cilantro stalks

For the Veggies

1

tablespoon

of oil

(any type)

1

large onion thinly sliced

1

red bell pepper

, thinly sliced

1

orange bell pepper thinly sliced

1/2

cup

sliced mushrooms

(optional)

pinch of salt

1/8

teaspoon

each of oregano and chili spice

pinch of cumin and all allspice

1

teaspoon

of minced cilantro stalks

Mango Pineapple Salsa:

3

scallions

1

small garlic clove

1/2

a jalapeno

, deseeded (more or less to taste)

2

tablespoons

of cilantro leaves

juice of 1 lime

1/3

cup

of chopped mango

1/3

cup

of chopped pineapples

1/8

teaspoon

of chili spice

pinch of salt

1

teaspoon

of honey

(optional unless the fruit is very ripe)

1

teaspoon

of olive oil

Assembling/Extras:

1

jalapeno minced

2

tablespoons

of fresh cilantro leaves

, chopped

1/2

cup

of fresh kale

, chopped

Tortillas

Cheddar

, Monterey cheese

cheese sauce

sliced avocados

sour cream
Instructions
Preheat a cast iron or non stick skillet over medium high heat and add in the oil. Toss the chicken ingredients together (minus the oil) and set aside. Toss the sliced veggies ingredients together (minus the oil) and start sautéing them in the hot oil. Keep mixing for about 3-5 mins until the veggies are tender and start to char.

Turn up the heat to high and bring the veggies to the sides of the skillet. Add in the oil for the chicken in the middle of the skillet. Then add the chicken ingredients and keep sautéing. The chicken should take anywhere from 8-12 mins (depending on the size and thickness).

Once chicken is done, turn off the heat, add in the sliced jalapeños (optional) and chopped cilantro then tent the mixture slightly with some foil.

Prepare the salsa while the chicken cools down a little. Pule the scallion, garlic, cilantro and jalapeños (optional) until they're minced. Then add in the remaining salsa ingredients and start pulsing gradually until your reach the desired salsa consistency. (don't process the salsa, keep pulsing only to avoid it being too mushy).

To serve, scatter some kale on a tortilla, tops with some salsa, the chicken, more salsa, sliced avocados (and add in topping you prefer) and enjoy. To make quesadillas, add just one small layer of salsa, and add in some shredded cheese.

Press the quesadillas in a panini press until the cheese melts. Cut up the quesadillas and top with salsa.