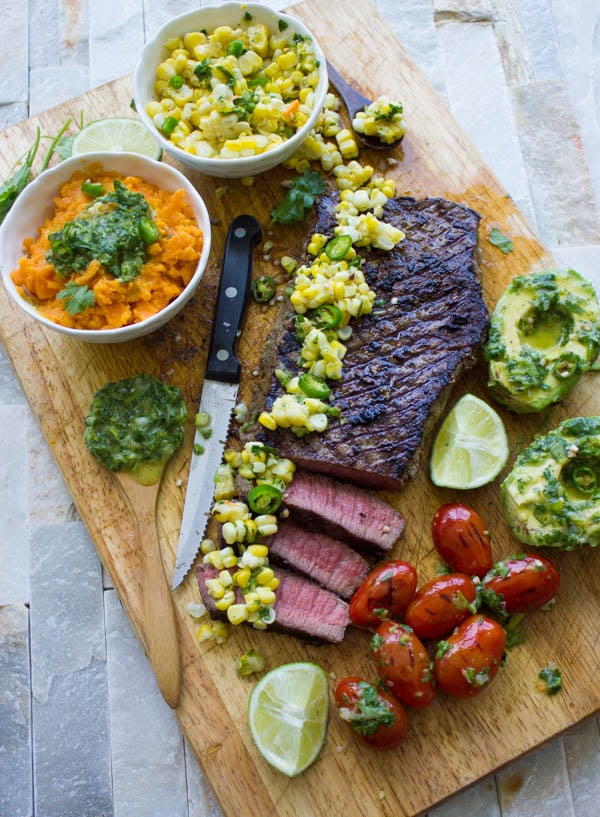 This is the real deal—a Grilled Sirloin Steak With Cilantro Corn Salsa recipe that will blow your steak loving heart and mind! No marinades or fuss required, just pure simple succulent steak-y tasting steak. Then I take it to the next level by topping it with a sweet, spicy, zesty and tangy cilantro corn salsa, which is totally addictive with or without the steak. I love to serve it up with some mashed sweet potatoes, grilled tomatoes and avocados for pure summer BBQ perfection!
Yaaaay for steak, summer heat, bbq and everything fresh season! No, I'm not over it yet, although I know many foodie friends are already dreaming of pumpkin, Fall and spice. Now don't quote me just yet cause I'm a die hard Fall loving person too..just waiting for the perfect time 🙂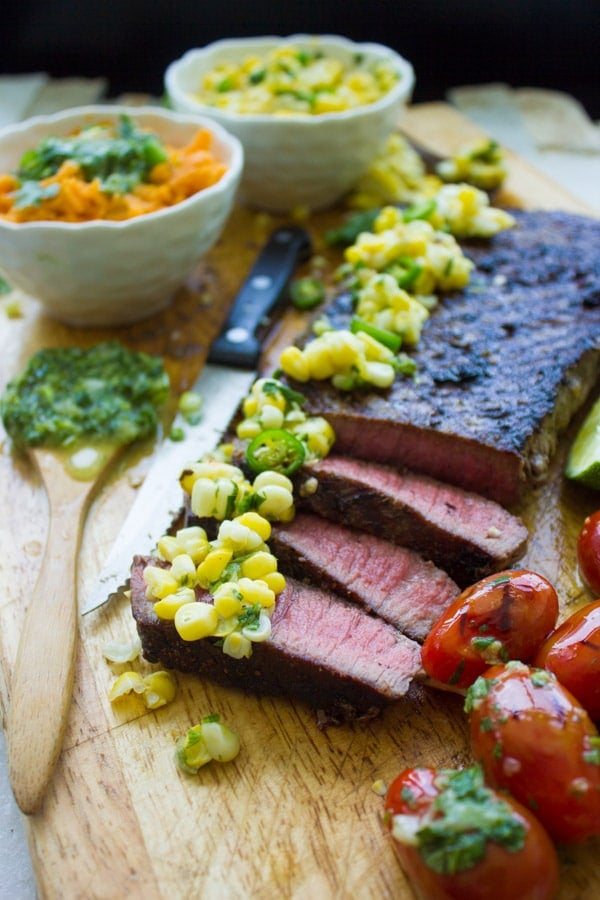 So are you still grilling up a storm this season? Well all I can ask is please please before you pack up your BBQ, make this grilled sirloin steak with cilantro corn salsa! Don't miss out. If you're having friends over, cooking for a loved one or just cooking for yourself—you'll absolutely enjoy it 🙂 Now today's recipe is a grilled sirloin steak, but that doesn't mean you can't indulge in your favorite cut of steak. Think New York strip, flank, tenderloin or your favorite. My personal favorite is always a tenderloin—I write more about it and share tips on steak perfection in this Grilled Steak with Rosemary Lemon Butter recipe, another winner steak dinner!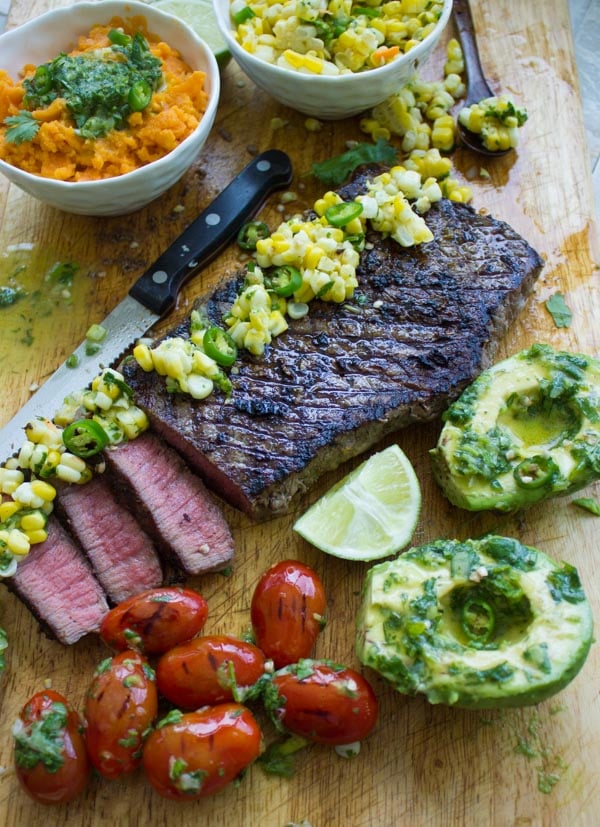 Basically your favorite cut will use up some garlic powder, salt and pepper with brush of olive oil before it hits the grill. And depending on the thickness of your steak cut, and how well/rare you prefer your steak to be, you'll need to grill the steak for 3-6 minutes per side. Now rest this lovely piece of steak on a wooden board and tent it loosely with some foil on top. This resting and tenting combo makes sure your steak stays nice and juicy. Easy, simple and utterly delicious—the simplest things in life are really the best!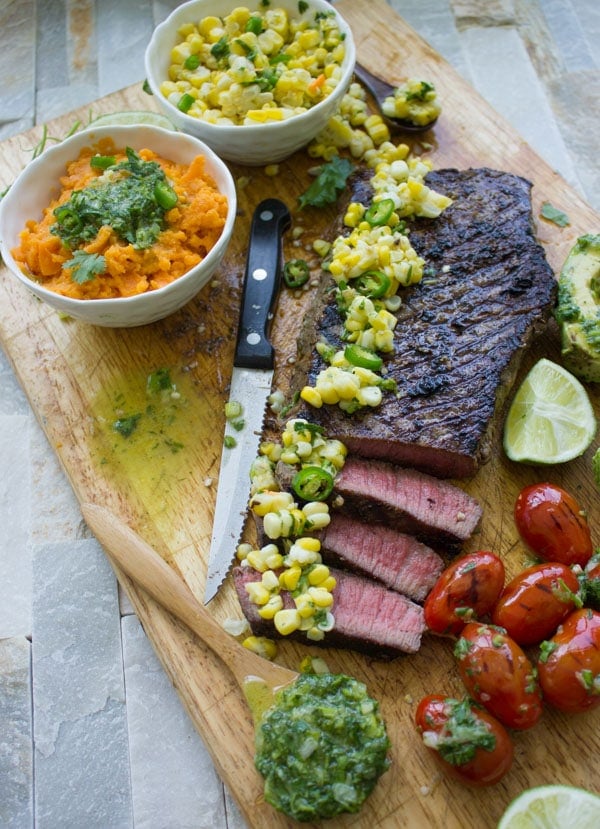 Now as perfect as this grilled sirloin steak is as it is, we don't have to stop there. Since it's sweet corn season too, and since I absolutely love corn ( just take a peak at this Cheddar Zucchini Best Cornbread Recipe or this Best Strawberry Corn Salsa and you'll know!), plus I have a thing for cilantro and guacamole dressings/sauces (like this Mexican Style Lentil Detox Salad or this Shrimp Salad with Avocado Dressing). So by combining all this, the amazing cilantro corn salsa came to life. Pure snacking addiction.
For the record, the cilantro sauce is what makes the salsa stand out. I love my tiny handy food processor, I take it out for everything dressing, sauce and small batch marinades. I love zipping in some scallions, fresh cilantro, jalapeños, lime juice, honey and olive oil. Season it and that's it. This sauce is like a miracle. Add it to corn and you've got an amazing corn salsa, top it over pitted avocados and you've got like an instant whole avocado guacamole, top some over your steak for a quick cilantro sauce, and top it over some simple mashed sweet potatoes for a zesty kick to sweet potatoes! Then keep extras in your fridge and use it as a topping for chopped tomatoes and feta cheese or dip your chicken in it, spread it on your quesadillas and just be as creative as you want with it!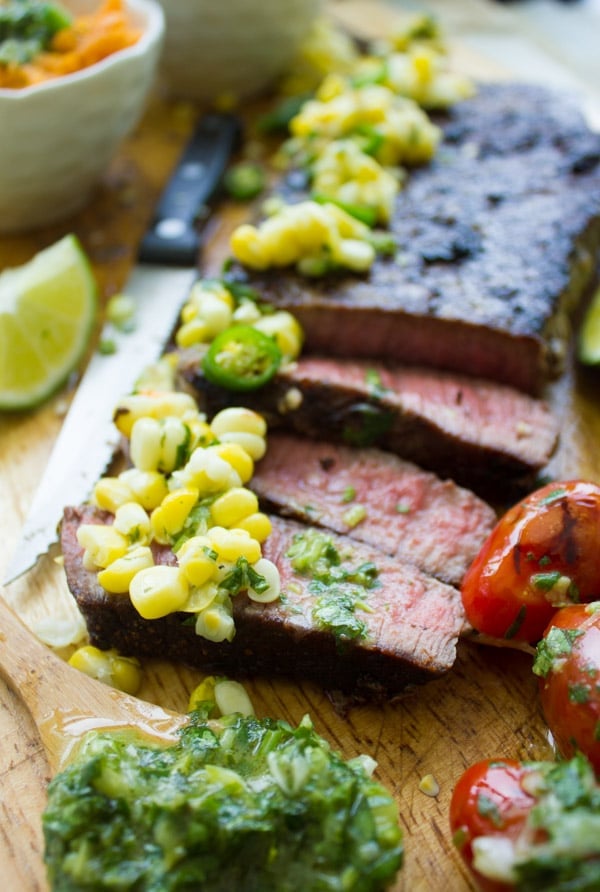 This is really a super yum recipe, I can't urge you enough to try it! It's a steak lovers' dream, a family and friends gathering dream..and it's simpler than ever. I would absolutely make this even on my coldest days for a perfect steak house feel and to reminisce the lovely warm summer bbq season. Now while you're still at it, enjoy this grilled sirloin steak asap 😉
HOW TO MAKE COLESLAW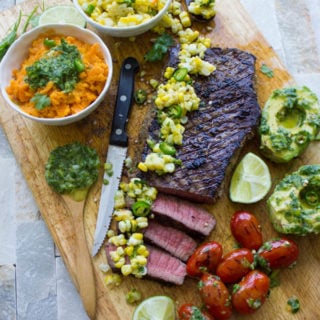 Grilled Sirloin Steak with Cilantro Corn Salsa
Ingredients
For the steak:

2

lbs

Sirloin Steak

(or your favorite cut)

1/4

teaspoon

of salt

1/2

teaspoon

of black pepper

1/2

teaspoon

of garlic powder

1

teaspoon

of olive oil

Cilantro Sauce:

4

scallions

1

cup

of cilantro leaves

1-2

jalapeños

(depending on your preference)

juice of 1 large lime

1

teaspoon

of honey

1/4

cup

of olive oil

1/4

teaspoon

of salt

Corn Salsa:

3

cups

of cooked corn kernels

1/4

cup

of the cilantro sauce

(above)

Sweet Potatoes:

3

cups

of mashed sweet potatoes

2

tablespoons

of cilantro sauce

(above)

Extras:

Grilled baby tomatoes

Avocados

, halved and pitted
Instructions
Preheat your grill to high. Rub the steak with all the ingredients. Place it on the grill and lower it to medium high. Let the steak cook for 3-6 minutes before flipping it (depending on how thick your steak cut is, and your preferred steak done-ness).

Flip the steak and cover your grill for another 3-6 minutes.

When done, place the steak on a cutting board and lovely tent it with foil. Don;t cover it tightly, just loosely. Let the steak rest for at least 8 minutes before slicing it.

For the cilantro sauce, place all ingredients in a mini food processor and pulse until a chunky sauce comes together. taste it and adjust salt and spice.

Make the corn salsa by mixing all ingredients together.

Serve the sweet potatoes topped with the corn sauce.

Serve the avocado halves, grilled tomatoes topped with some cilantro sauce and Enjoy!
Nutrition Facts
Grilled Sirloin Steak with Cilantro Corn Salsa
Amount Per Serving
Calories 631
Calories from Fat 234
% Daily Value*
Fat 26g40%
Cholesterol 138mg46%
Sodium 709mg31%
Potassium 1336mg38%
Carbohydrates 45g15%
Protein 55g110%
Vitamin A 14715IU294%
Vitamin C 12mg15%
Calcium 110mg11%
Iron 5mg28%
* Percent Daily Values are based on a 2000 calorie diet.