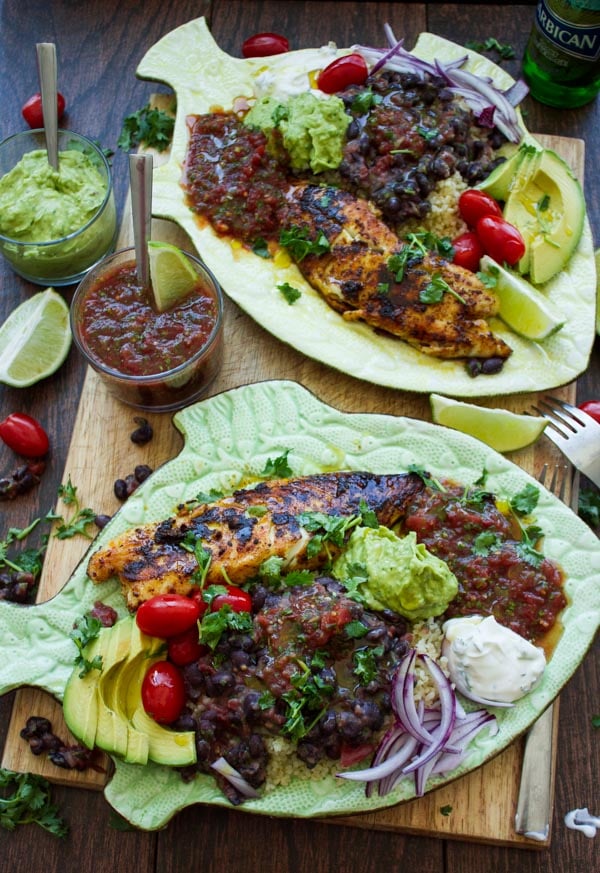 This 30 mins Mexican tilapia fish dinner recipe is one of those last minute dinner meals that packs on flavor, flavor and more flavor! It's absolute deliciousness and a crowd pleaser with minimal effort! You can play around with toppings and grains, add some chips, salad, and make this a different version every time. It's one of those ultra satisfying dinner plates with condiments that will make you wanna double and triple your servings! 
So it's no secret I've been having quite the fun week staying home taking care of my littlest one. No sleep, cranky love and absolutely zero appetite—which is ok I didn't want her to ask for food and then find myself telling her no because your throat will hurt. But then how about the rest of us? We spent pretty much the whole week eating behind closed doors, or eating liquid smooth stuff—so that if she asks, we would gladly share. Now that she's ok to start eating again—with the exception of crackers and crunchy foods—I thought of this amazing, quick tilapia fish dinner with a Mexican twist to compensate for that lost week..:)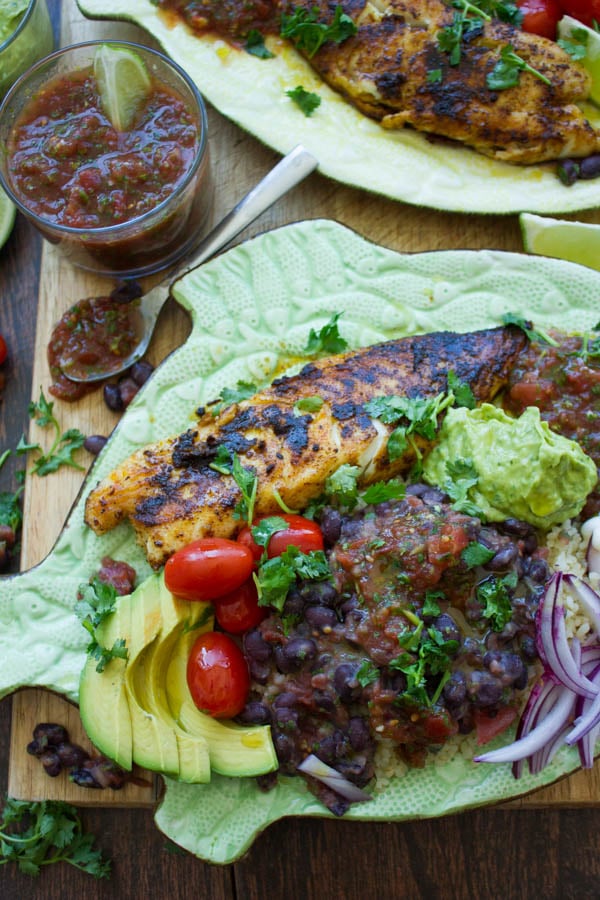 If you remember my spicy succulent Cuban Black Beans Chicken with Rice recipe—an all time favorite and reminiscent of my beautiful Miami, I wanted to make something similar to it using tilapia fish—because I had a bunch of tilapia which I bought by mistake for an ultra fun fundraising cooking class a couple of weeks ago, and they had to be used! And also tilapia fish cooks faster, if softer for the little miss ( that's in case she ever considered tasting it!) and lighter. It was the perfect choice!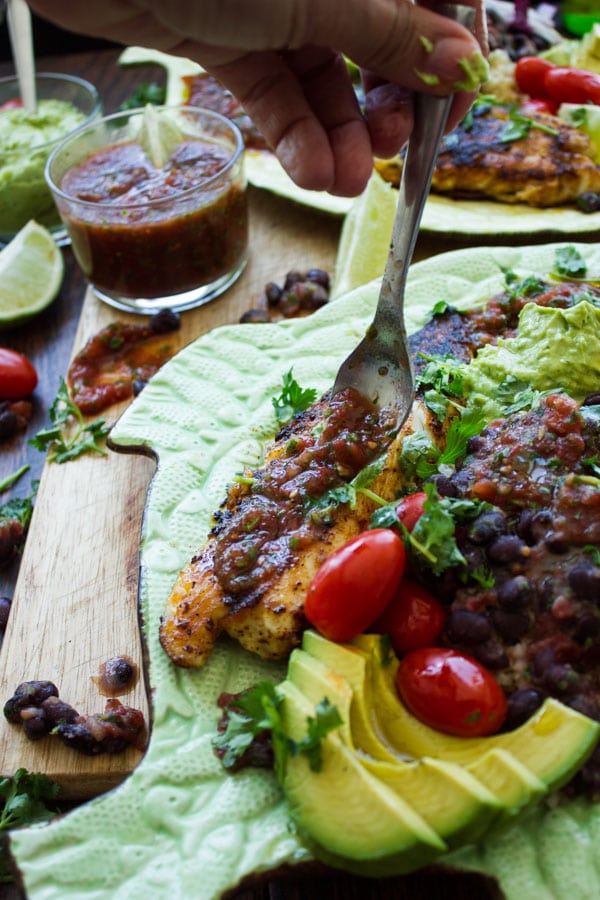 Now every time I'm up for something Mexican or Cuban inspired-I pull out my favorite gadget: Yes, my food processor. I end up making salsas, guacamole or avocado dressing in minutes—and what a difference to the final meal those few mins make! It's day and night. One of my favorites is this Quickest Chicken Fajita with Mango Pineapple Salsa, or this Mexican Style lentil Detox salad . Seriously just a few minutes.
For today's Mexican infused tilapia fish dinner plate, I made my favorite restaurant Style Mexican Salsa (with a secret ingredient —all I can say is, you have to MAKE the salsa to believe the difference!!) And my favorite classic Mexican guacamole. Disclaimer—I absolutely hate the photos I took for this Classic Mexican guacamole recipe 🙁 And I feel bad every time I see them because this is TRULY the best BEST guacamole you'll ever have—simple, flavorful and classic..but the photos are hideous, hideous and more hideous! I need to update them, yes I know that..but every time I see them, I'm reminded that I learn something new every day with my photography lol.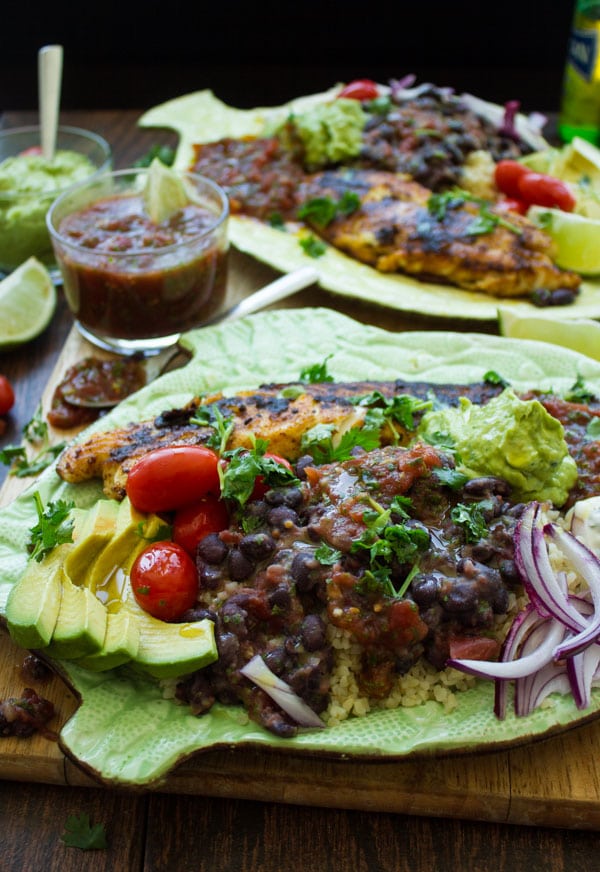 So now our condiments are ready, let's talk about the tilapia fish for a minute. I absolutely LOVE tilapia because it's a tender, super neutral tasting fish. And what that means to me is, ANY which way I feel like flavoring it, I CAN! It takes on any spice blend or topping beautifully, so the sky's your limit—something simple like this Quick Zesty Herb Tilapia is an example or something fancier and richer in flavor yet still simple, like this Pesto Pistachio Fish Fillet. You can even go bold with a tandoori spice, or stick to my Mexican spice. Basically garlic, lime and chilli spice. And that's it. Sear the fish on each side for 6-7 mins and you're done!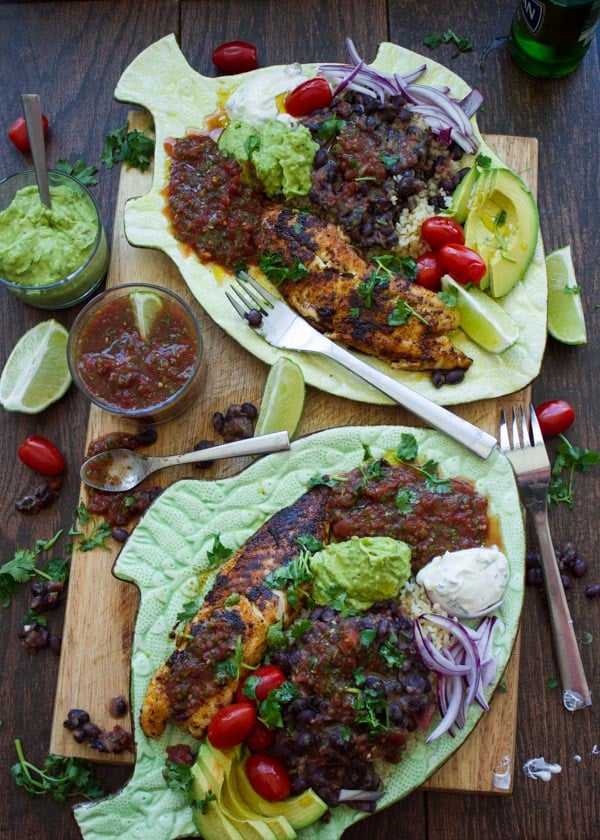 My final additions to my dinner plate are, a grain and beans. For the grain—I tried to stay away from rice (not necessarily something I was craving), so I used whole wheat bulgur. Any type of grain works beautifully here—quinoa, millet, buckwheat if you're gluten free (or not), or something like faro, couscous, pearl couscous.. anything you have on hand. And for the record grain is completely optional—I would've probably wanted some tortilla or blue corn chips, but I had to stay away from crunchy foods. And for the beans. This is my favorite shortcut to speedy refried style beans, I mash up roughly some black beans using a fork (very roughly) and then toss them with a pinch of salt and my favorite Restaurant style Mexican salsa. This also makes an amazing bean topping to load up your nachos with!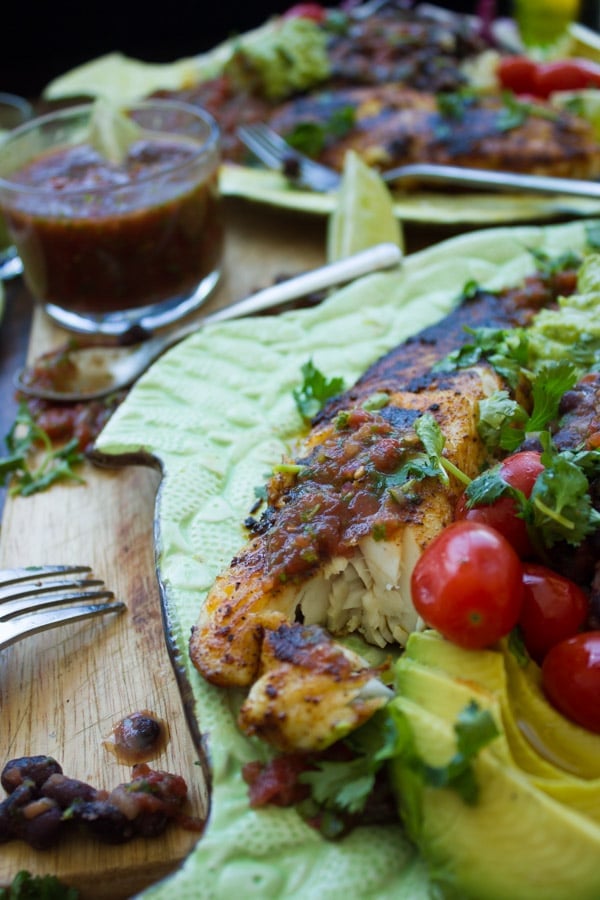 Finally I just assemble my tilapia fish dinner plate by piling up some grain, topping it with my fancy speedy bean mixture, more salsa on top, guacamole on the side, my succulent fish, more salsa, maybe a dollop of sour cream, forks and a BIG smile on my face!!! If you're one of those quick dinner, quick meals, grain bowls, one bowl, however you all them, meals.. THIS one is a must try!! Now dust your food processors, and make yourself a Mexican Fiesta 🙂 Enjoy 🙂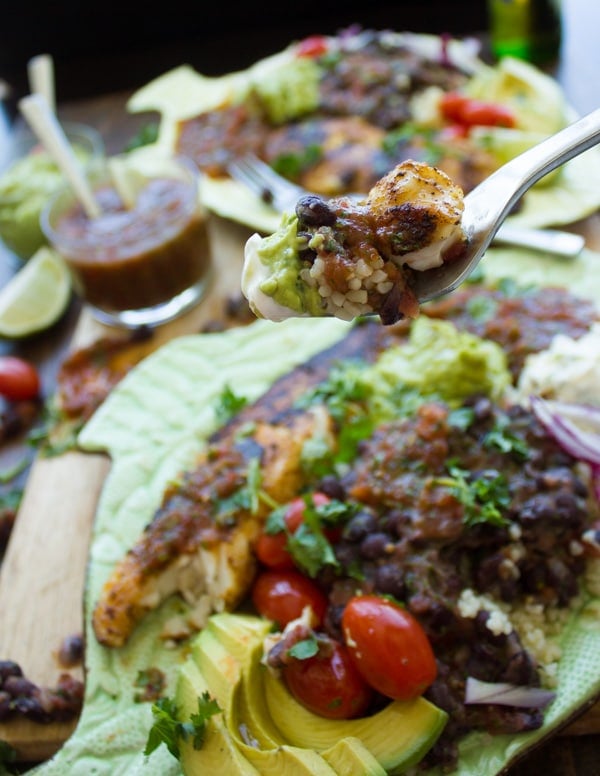 30 Mins Mexican Tilapia Fish Dinner
Ingredients
Tilapia:

4

tilapia fish fillets

(whole or loins only)

2

cloves

of garlic minced

juice of 1 lime

2

tablespoons

of Mexican chilli spice

(hot or mild)

1/4

teaspoon

of salt

1

tablespoon

of olive oil

Beans:

1

cup

of drained canned black beans

1/2

cup

of Restaurant style Mexican salsa

1/4

teaspoon

of salt

Assembly:

2

cups

of cooked grain

, lentil or seed ( see: how to cook quinoa, spicy vegan chickpea Moroccan couscous, mixed grain kale citrus salad, or Mexican style lentil detox salad)

1

batch of restaurant style Mexican salsa

1

batch of classic Mexican Guacamole

sour cream

(optional)

grape tomatoes

(optional)

sliced jalapeños

(optional)
Instructions
Using a food processor, prepare the Restaurant style Mexican Salsa and the guacamole.

Toss the fish fillets with all ingredients except for the olive oil. Rub the spice, garlic and lime well into each fillet for utmost flavor.

Heat up a skillet over medium high heat with the olive oil, and when hot, add the tilapia fish. Let the fish sear on one side for 6 mins, flip the fillets and let them cook for another 6-7 mins, and then flip them one last time. Turn off the heat, cover the pan and let the fish stay in the pan for 2-3 mins more (this ensures perfect done-ness).

In the meantime, prepare the bean mixture. Mash up the black beans roughly using a fork in a bowl, season them with salt, and toss them with the salsa mixture while gently mashing to your desired texture.

Assemble the plate by mounding some cooked grain, seed or lentils, top them with the bean mixture, and top that with more salsa. Place the fish fillet next to it and then surround it with some salsa, guacamole and your favorite condiments. Enjoy!