This quinoa Autumn harvest salad recipe is a fresh and vibrant Autumn right in your plate. It's bursting with flavors of pomegranate, pears, carrots, kale, corn and quinoa, all tied up with a sweet dill mustard sauce that just brightens up your palate. And the best part is, it's ready in 15 mins and there are no limits to anything you want to add in or substitute! Hello, Thanksgiving preparations?
So seriously I love salads. That doesn't mean I can't love sugar, cake or coffee, it just means my list of foodie love is quite versatile and moody—like me maybe? There are days only chocolate can lift my up, others a salad like this is all I need. A salad that's bursting with freshness, texture and a nice sweet dressing. This quinoa Autumn harvest salad has all the lovely seasonal Autumn produce I could find that doesn't need cooking or roasting. This blackberry pecan roast veggie power salad is also a Fall favorite warm salad which has plenty of flavors, roast cauliflower and sweet potatoes. Today I wanted a salad I can chop, grate, mix and devour in a flash. I also wanted a more fresh feel to the salad rather than a nice warm feel. Now if you're preparing for Thanksgiving, either of these two fabulous salads will make you shine like a star!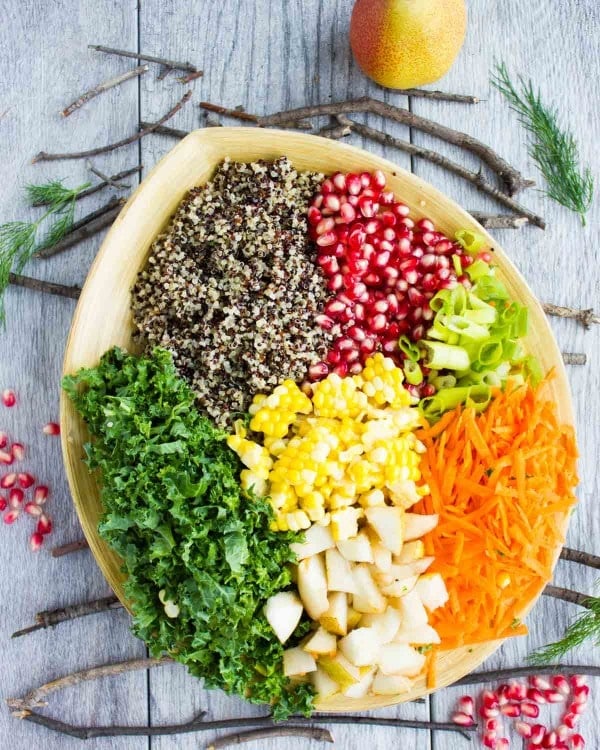 So I started by cooking the quinoa, which is detailed with tips and tricks in this how to cook quinoa post—strongly recommend you give that a read if you're a quinoa person like me or know a special quinoa person in your life. During the time while the quinoa is cooking, you'll get your fruit and veggies ready. And then just toss everything together and dress it up when you're ready to devour.
Now let's talk about dressing up this quinoa Autumn harvest salad, I opted for my sweet mustard dill sauce. Before you start judging if you're an anti-dill, I really loved the freshness the dill added to this salad. And it pairs beautifully with every single ingredient in the salad. But, for the record, I made this salad before using apples instead of pears and dressed it up with this honey Greek salad dressing and it was so refreshing too! I just dared myself today by switching to dill and I was amazed at how vibrant it came out. If you'd like a warmer feel to the salad, try the basil balsamic vinaigrette I used with this blackberry pecan roast veggie salad. I think however you dress this quinoa Autumn harvest salad—you're bound to love it !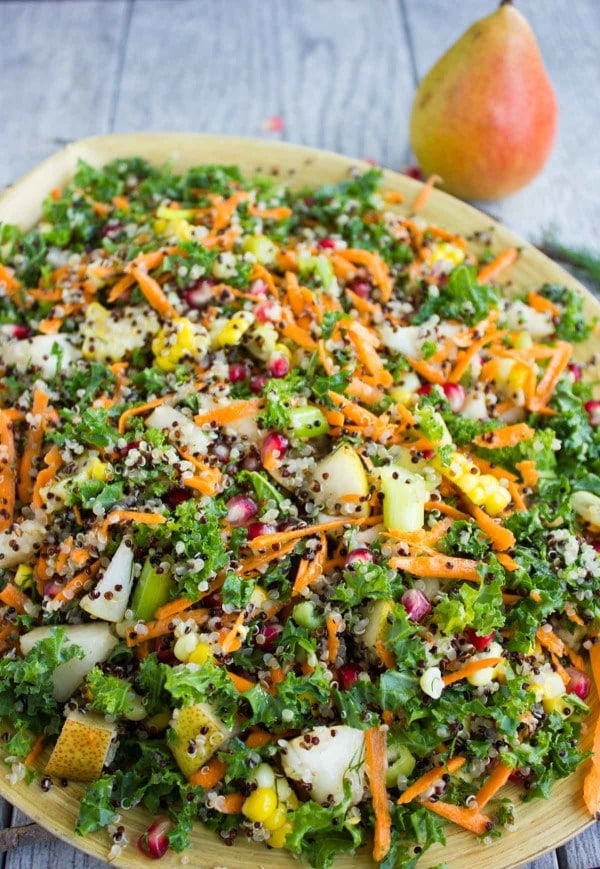 So let's go back to the ingredients, I used pomegranate arils for a sweet tangy crunch, pears for pure sweetness and soft texture, shredded carrots for a nice carrot bite, fresh cooked corn for more sweetness and bite, chopped scallions for a bit of contrast to the sweetness, and fresh chopped kale for a slight bitter contrast and green feel to the salad. All these lovely fruits and veggies are tossed with plenty of cooked quinoa for a boost of "nutrition" and a perfect bite! Then the dressing really brightens, sweetens and rounds off this salad.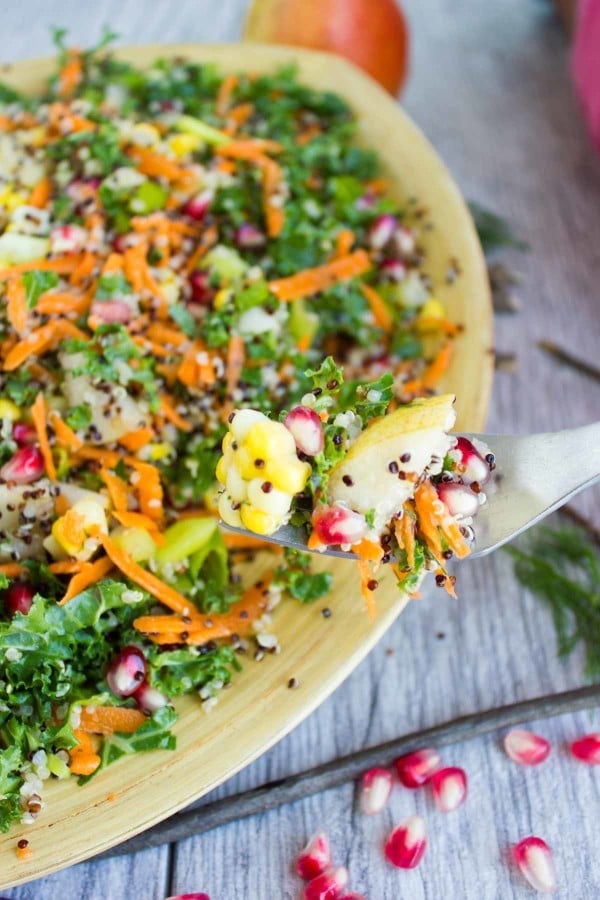 Make this quinoa Autumn harvest salad for a potluck and watch it disappear! Or make it for a party and pair with chicken or fish for a perfect meal! Or just make it for your happy little self like I did today 🙂 Enjoy 🙂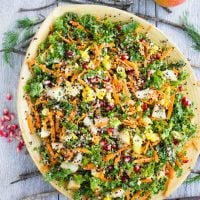 Quinoa Autumn Harvest Salad
Ingredients
2/3

cups

of uncooked quinoa

(black, brown, white or a mixture)

1

large carrot shredded

1

large pomegranate arils

1

large pear diced

3/4

cup

of cooked corn kernels

2

scallions diced

1 1/2

cups

of thinly sliced kale

Dressing:

Sweet Mustard Dill sauce OR

Honey Greek Salad Dressing
Instructions
In a large plate, toss the quinoa with the remaining ingredients.

Pour the dressing over the salad and toss together. Serve.