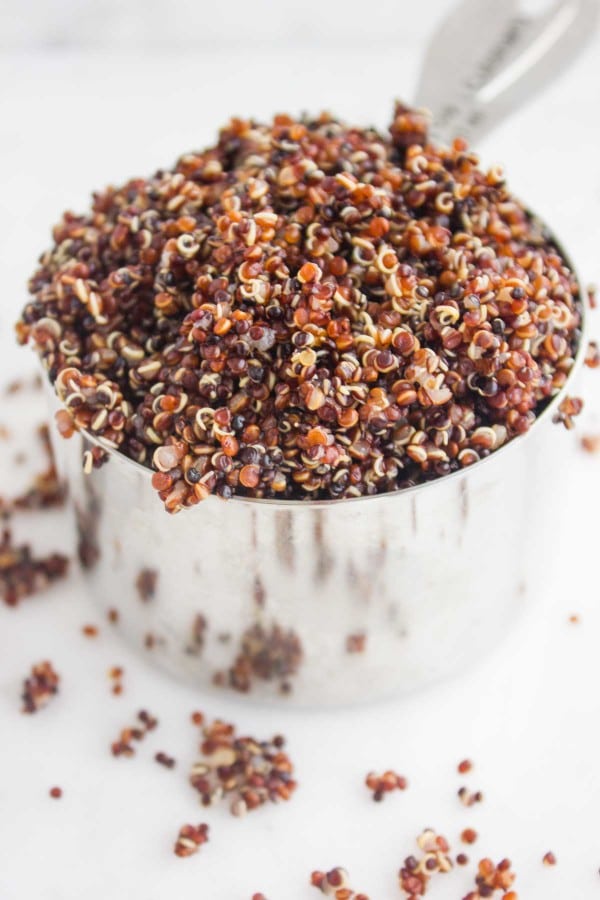 This post is all about how to cook quinoa, the basic recipe and the way to get it right each time. If you're wondering why quinoa? It's such a tiny yet powerful super food that's naturally gluten free, vegan and fits into all lifestyles. It's has a lovely nutty flavor and just a slight bite that stands out. Most importantly, quinoa is so yummy and can be used in many many recipes, it adds nutritional value and flavor—even if you're not a quinoa flavor loving person, you can use it and never taste it in some recipes!
This isn't a clear cut recipe post, but rather just a basic recipe and way of getting around quinoa. I use quinoa in many different ways, and I thought let's start by clearing everything related to quinoa first, and then stay tuned for many different recipes and ways to get a load of this super food into your every day diet.
I'll be super brief about why quinoa is so good for you—I am not a nutritionist but I've been reading many articles and researches about quinoa in the last ten years or so, and here's what I know. Quinoa is a tiny little grain that's loaded with protein, amino acids, fibre and high daily values of vitamin B's and E. Quinoa is also a good source of Iron and Calcium. So a little bit of quinoa in your meal can really makes a difference in the overall nutritional value of that meal.
The beauty of quinoa is it's subtle flavor, it does have a slightly nutty taste in my opinion and a delicate crispy bite which I love. But since it's almost neutral tasting, it's makes it ideal to enjoy sweet or savory. And before we get into how to cook quinoa, I wanted to write just a couple more tips.
If you've noticed quinoa in stores, mostly they're either a light yellowish color or a dark brown, dark red or blackish color. They're all quinoa and all equally great for you—I personally love the darker versions for cooking, because they are slightly tougher and rarely will they go mushy. So for salads, or side dishes where I really want to feel and taste quinoa I would use the darker ones.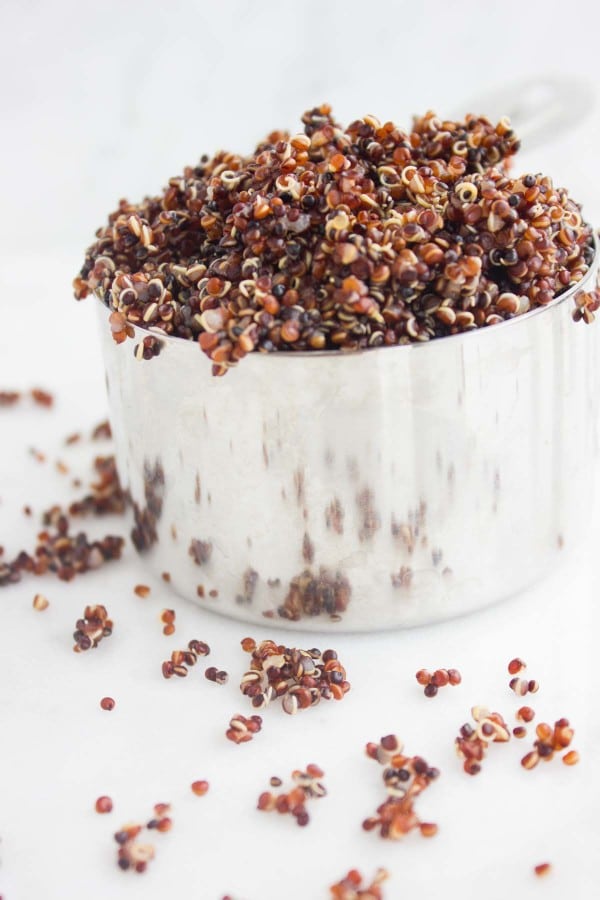 I love using the lighter coloured quinoa when I'm not looking for a bite at all, so if I'm blending quinoa with cake ingredients to make a cake, I definitely want the light softer version. It blends beautifully and has a neutral color so it fits well into my baked quinoa treats. Now my closest friend loves only using the light quinoa in her salads—so by all means try both and chose which is your favorite and where to use it!
So how to cook quinoa, first you'l want to rinse it in cold water. Rinsing has been debated, because quinoa is coated with a substance called saponin, it's not harmful but it's rather bitter. Fo that quinoa has to be rinsed to get this substance removed completely. Many have debated that quinoa sold now in stores has been rinsed from saponins already and dried and for that it's not bitter and can be cooked right away. Even though I lean to believe that, I still rinse my quinoa—it takes 2 minutes so I don't mind.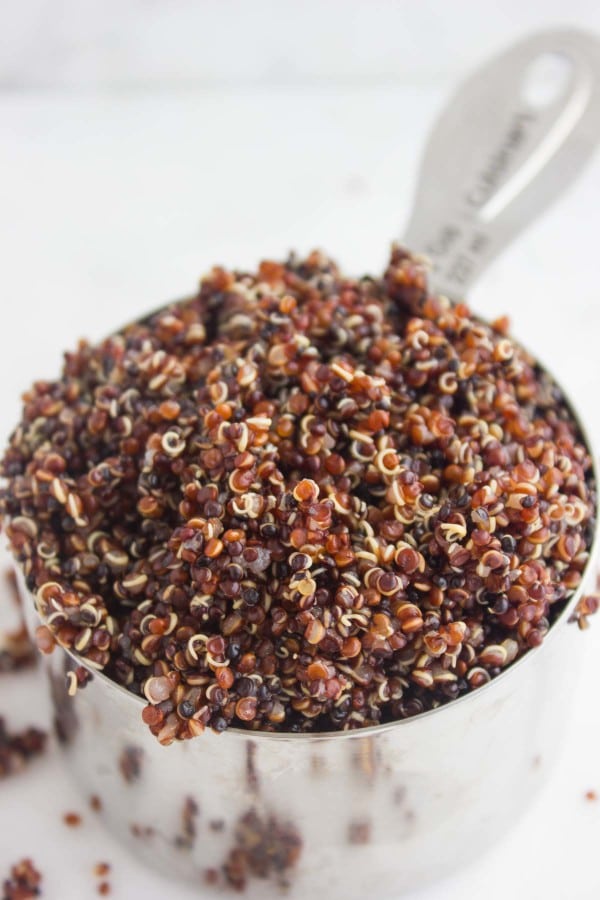 Now that you're ready to cook quinoa, it's best to use a ratio of 3/4th of a cup of hot boiling water (or stock) to 1 cup of quinoa in a pot. And cook the quinoa on medium low heat while the pot stays covered. Once all the water is absorbed you'll notice the quinoa will puff up and a little white strand (the germ) will come out of each quinoa grain. That cup of raw quinoa will triple in volume giving you 3 cups of cooked quinoa.
In some savoury recipe I like to toast the quinoa in a teaspoon of olive oil right before I add the water to give it extra flavor. So this post is just the very basic way to cook quinoa. Enjoy!:)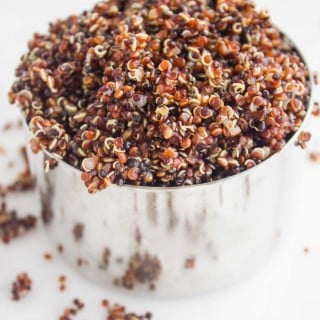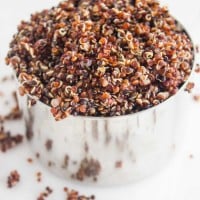 How To Cook Quinoa
Ingredients
1

cup

of quinoa

1 1/2

cups

of ht boiling water

1/4

teaspoon

of salt
Instructions
Rinse the quinoa in cold water in a fine sieve for a couple of minutes.

Place a pot with the water over high heat and when it boils, add in the rinsed quinoa and cover the pot.

Let the quinoa cook over medium low heat for abut 10-15 minutes until all the water is absorbed and the quinoa is fluffed up.
Nutrition Facts
How To Cook Quinoa
Amount Per Serving
Calories 313
Calories from Fat 45
% Daily Value*
Fat 5g8%
Sodium 304mg13%
Potassium 479mg14%
Carbohydrates 55g18%
Protein 12g24%
Calcium 46mg5%
Iron 4mg22%
* Percent Daily Values are based on a 2000 calorie diet.