This shop has been compensated by Collective Bias, Inc. and The Coca-Cola Company. All opinions are mine alone #SmartWayToShareJoy #CollectiveBias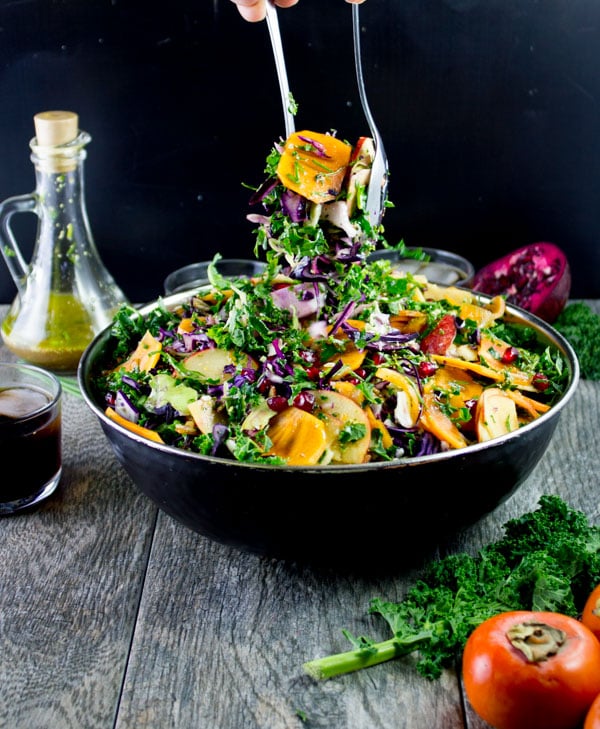 A perfect Holiday table needs a perfect salad, and here it is—A Sweet Persimmon Apple Kale Salad Recipe that's festive, delicious, crunchy, fresh, hearty and light as air! It's made days in advance and dressed up on the table with a sweet dressing that perfectly compliments the sweet fruits and kale flavor. No matter what main dish you'll be serving for the Holiday, this kale salad recipe will pair beautifully with it, and any leftover salad would taste even better the next day for brunch 🙂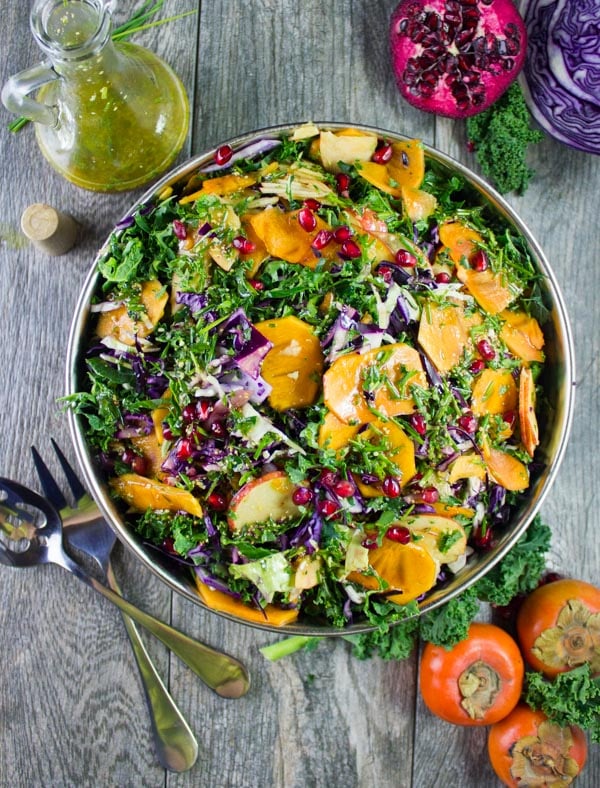 More Holiday LOVE coming your way—A beautiful rainbow goodness kale salad recipe for you to make this Holiday and always! It's a combo of good for you kale, white and purple cabbage, apples, sweet persimmons and pomegranate. But it doesn't stop there, you can add in your favorites or swap any ingredient you love. So think fruits—pears, berries, figs etc..and think greens—arugula, spinach, watercress, mixed greens..etc.. plus extra protein like chickpeas, navy beans, lentils, cooked quinoa or barley..etc.. So really there's no limit to how many ways you can jazz this salad up. And we can't forget the star of any salad, the dressing—with a secret ingredient!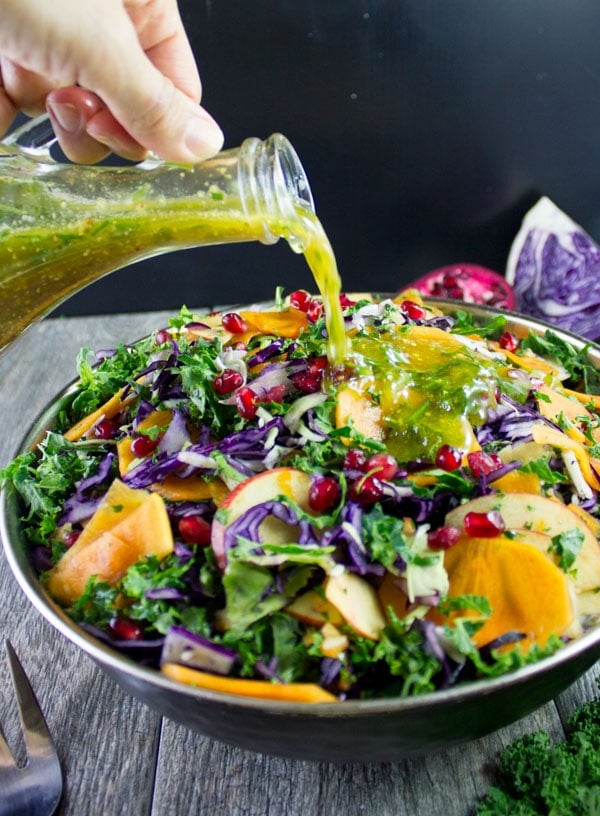 My cousin came over last week for a quick visit from NY, She works and lives there alone, so she came in to see the girls and have some family time—which we certainly needed too! I wanted to make her something special for lunch, something festive so it still feels like the Holidays, only a little bit earlier 🙂 I know she's a vegan, I know she loves light not heavily dressed salads and fruits,  and I know she loves Coca-Cola 🙂 So I gathered up some gorgeous colored seasonal veggies and fruits, and made her this sweet kale salad recipe with a Coco-Cola dressing! YES that was the secret ingredient!
Ok before you start thinking why, what or how this is even possible..I'll tell you this. The Coca-Cola added the perfect sweetness I was looking for to compliment the slight bitterness of the kale, and the sweetness of the fruits. It's got more flavor than sugar, and it's vegan (unlike honey if I wanted to use it as a sweetener), plus I know how much she LOVES it—so it was the perfect way to create a special Holiday moment for us 🙂 We enjoyed every bite, every sip, she wrote down the recipe, we shared plenty of laughs, a bit of gossip and the sweetest memories!
So for today's gorgeous recipe, I shopped at my local Family Dollar. I always find something I need at great value there each time I visit. So I found the special new Holiday edition of Coca-Cola drinks—can you see how festive they look? I absolutely LOVE the Holiday edition, and I wait for them every year. I wish they would last forever, so it feels like a Holiday forever! 🙂 For me, just serving them at my Holiday table feels like pure Holiday JOY!
So let's talk about how quickly this salad comes together. If you think I spent all my morning slicing and chopping—you're wrong lol I used my food processor! I love the shredding disc attachment, it makes salad making a breeze. So I used the large blade side of the shredding disc attachment and started adding in my colourful veggies and fruits, one at a time. And in just 5 minutes, you'll make yourself a large batch of this kale salad recipe. You can serve all of it for a big day, or store it in the fridge and dress up small portions for daily lunches and dinners.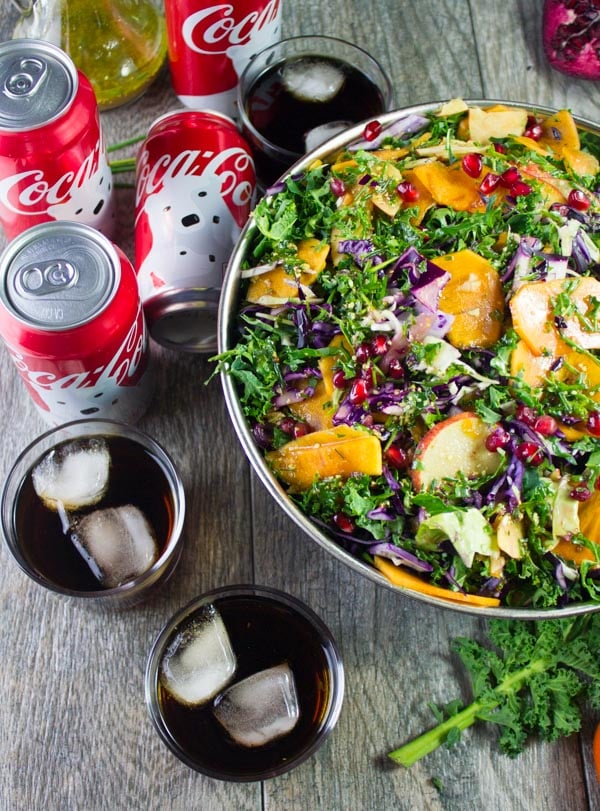 Now let's talk dressing. Plenty of chopped chives are the base of flavor here. You can use shallots or garlic if you prefer, I love chives because of how mildly onion-ish they taste. And to that I add mustard, seasoning, white balsamic vinegar and Coca-Cola to add sweetness and more flavor. To finally round it off, I use olive oil and shake the container really well until my dressing is emulsified and looks creamy. If you're in to really nice creamy dreamy salads, you can add half Mayo (vegan or regular) and half olive oil to the dressing. I've made it both ways and I think it's a personal taste, my cousin doesn't like mayo based dressing so she preferred without, while the hubby LOVES mayo based everything so he went for the mayo dressed salad. 🙂
Make yourself a really nice BIG bowl of this sweet persimmon apple kale salad recipe, and watch your friends and family eat it all up! Don't forget to pick up those Joy filled Holiday edition Coca-Cola bottles at your local Family Dollar! Happy Holidays 🙂
Sweet Persimmon Apple Kale Salad Recipe
Ingredients
1/3

of a purple cabbage head

1/3

of a white cabbage head

4

cups

of packed Kale leaves-stems removed

2

apples

(any type), cored and cut in half

4

sweet Persimmons

, peeled and cut in half

1

cup

of Pomegranate arils

Coca-Cola Dressing:

1/2

cup

of chopped chives

2

tablespoons

of grainy mustard

1/3

cup

of Coca-Cola

2

tablespoons

of White Balsamic Vinegar

(or any fruity vinegar)

1/2

teaspoon

of salt

pinch of salt

1/2

cup

of olive oil OR 1/4 cup of olive oil + 1/4 cup of Mayo

(vegan, or any type)
Instructions
Assemble your food processor with the shredding blade on. Use the larger slicing disc side to have your veggies and fruits sliced bigger for extra texture.

Put the veggies and fruits one after the other, emptying the food processor as needed, and continue until all the veggies and fruits are ready.

Place all the salad veggies and fruits in a large bowl and make your dressing.

In a salad dresser or container with a lid, add all your dressing ingredients. Seal the container and shake it vigorously until the salad dressing is emulsified.

Dress up the salad and serve it with some refreshing Coca-Cola drinks! Enjoy 🙂