Have you had enough salads this month already? Just make room for this one, just this One Pot Quinoa Sweet Potato Salad Recipe. It's not exactly your typical salad, it's a warm one pot vegetarian and vegan meal on its' own which I love having for lunch. And if I'm serving this for dinner, potluck or a party, I use it as a salad—it pairs wonderfully with just about anything! Depending on how big/small you cut your chunks of sweet potatoes, this salad all comes together in 15 minutes start to finish, and it's absolute comfort you can't miss 🙂
There are some recipes that you can't go wrong with in life. Even though I teach and make plenty—and I mean PLENTY of recipes throughout each year, I know recipes are very unique. Some are a bit daring, some are a bit controversial, some are non traditional, some are too healthy or too heavy..etc..and I also know for a fact, some recipes are inarguably GREAT. These great recipes are mostly those that offer pure comfort with mostly classic flavors and ingredients. Today's sweet potato salad fits right in to this category. Easy, simple, quick and pure delicious comfort love.
I've got a friend who doesn't cook everyday. Everyone has their reasons, right? So for her, she's got three little ones (really little ones) and a business to run. Everyday meals are just something to get her going through the day. But, once a while she feels sick of restaurants and on the go meals—like we all do! So she makes room, time and energy to cook. NOW that's the day she calls me and asks for a fool proof, inarguably GREAT recipe. She's not looking for anything new, fancy or out of the norm. She needs classic ingredients and flavors, really easy simple technique, a quick recipe that tastes like homemade comfort and delicious. Kid friendly is always a bonus.
That's when she made this sweet potato salad, and fell in LOVE with it! In fact she made it twice the same week. So it's not about salad per say, because there are so many salads out there—and you all know I LOVE salads. But this recipe is about a few amazing things combined. Let's start with how the sweet potato is cooked perfectly with no water, boiling, roasting or mess. I teach this technique all the time at the coking school and every single person who came in and made it has never gone back. The ultimate best way to cook sweet potatoes (or regular potatoes as a matter of fact), whether for mashing or for using them cubed as they are is on your stove pan.
Do you remember this amazing sweet potato gratin recipe? I explain much about it there. Basically you'll sauté the sweet potatoes in a bit of butter or olive oil, turn the heat to low and cover the pan tightly. The sweet potatoes will cook and steam in their own juices. No extra water added. And if you want to add onion, garlic or any flavors to the sweet potatoes, you just simply sauté them first before adding the sweet potatoes to your pan. It's that simple, easy and brilliant. Once they're fork tender, the sweet potatoes can be mashed, or left whole.
Quick How To
Back to the delicious sweet potato salad, I've added quinoa to the sweet potatoes. Raw quinoa seeds that I've rinsed. P.S here's a great post on How to Cook Quinoa perfect every single time. For today's recipe, the quinoa cooks right in the pot with the sweet potatoes. It's like a one pot wonder. Once the sweet potatoes are fork tender, the quinoa will be tender with a slight bite (perfect for texture), you'll then add in some white navy beans (my favorite beans, but you can add chickpeas, black beans or skip it). The beans will just cook for a couple of minutes withe sweet potatoes and quinoa and then I turn off the heat totally, add in some chopped fresh kale, cover the pot. The kale will wilt slightly from the heat in the pan for a couple of minutes. And it's DONE!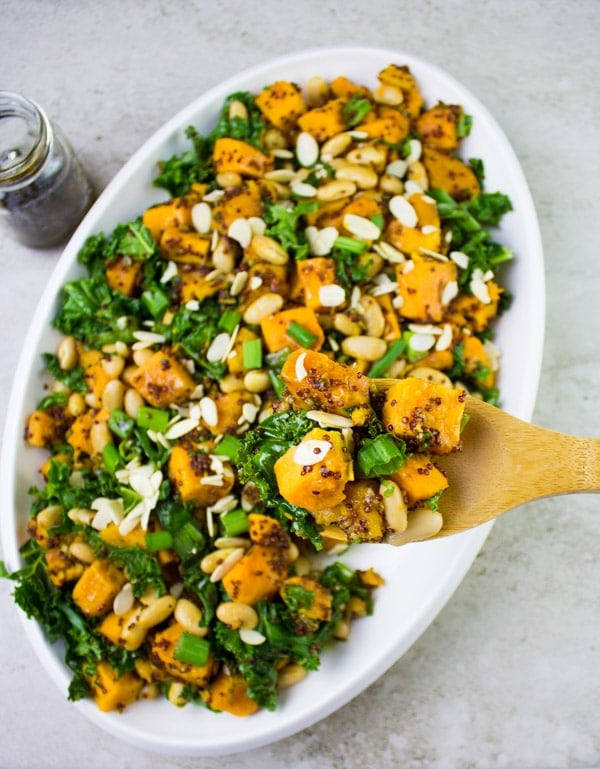 Dress it up
I finish off the salad with a basic straight forward balsamic dressing. You can make a really fancy basil balsamic like the one in this Blackberry Pecan Roast Veggie Power Salad, or keep it a simple balsamic vinegar and olive oil one. Either way—it tastes GREAT! I love sprinkling some slivered almonds and some more chopped scallions on the top. Here's where you can use any extra toppings you feel like. Even add your favorite ingredients to pair with the sweet potato salad. So if you'd love some chopped tomatoes, sweet bell peppers, broccoli etc.. add them right in! And if you want to swap spinach/arugula for the kale, you don't need to cover the pot (kale needs that because its' leaves are sturdier). Simply toss the greens with the hot cooked sweet potato salad and it will soften up just perfectly.
Now mater how sick of salads you've been this month—PLEASE make room for this one. And don;t think of it as a salad, it's really more of a side dish or a full meal. Make this delicious sweet potato and enjoy! 🙂
Recipe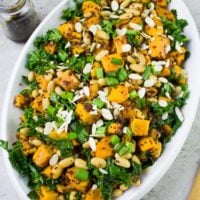 One Pot Quinoa Sweet Potato Salad
Ingredients
1

teaspoon

of olive oil

, butter or butter substitute

2

scallions chopped

2

sweet potatoes

, peeled and cut into 1/2 inch cubes

1/2

cup

of brown/black raw quinoa

, rinsed

1

teaspoon

of oregano

2

tablespoon

of water

2/3

cup

of white navy beans

(drained and rinsed from a can or home cooked)

2

cups

of chopped fresh kale

1/4

teaspoon

of oregano

1/2

cup

of slivered almonds

2

callions

, chopped

Dressing:

1

small clove of garlic

, minced

1/4

cup

of Balsamic vinegar

1

teaspoon

of mustard

1

teaspoon

of olive oil

( up to 2 Tablespoons for extra flavor)
Instructions
Preheat a wide pot with a lid over medium high heat, and add in the olive oil or butter.

Sautee the scallions for one minutes over medium hight heat and then add in the sweet potatoes, quinoa, seasoning and sauté for 1-2 minutes over medium hight heat.

Add the water and cover the pot firmly. Lower the heat to low and allow the sweet potatoes too cook for about 15-18 minutes. Check the sweet potatoes with a fork, when it's fork tender, it's ready.

Add the white navy beans, toss them with the sweet potatoes and let them cook for two more minutes then turn off the heat.

Add the kale, seasoning and toss the kale with the sweet potato mixture. Then cover the pot and let the kale wilt form the heat in the pan for 2-5 minutes.

Plate the salad, sprinkle extra almonds and scallions (optional).

For the dressing, mix all the ingredients in a bowl and pour over the salad. Enjoy warm 🙂