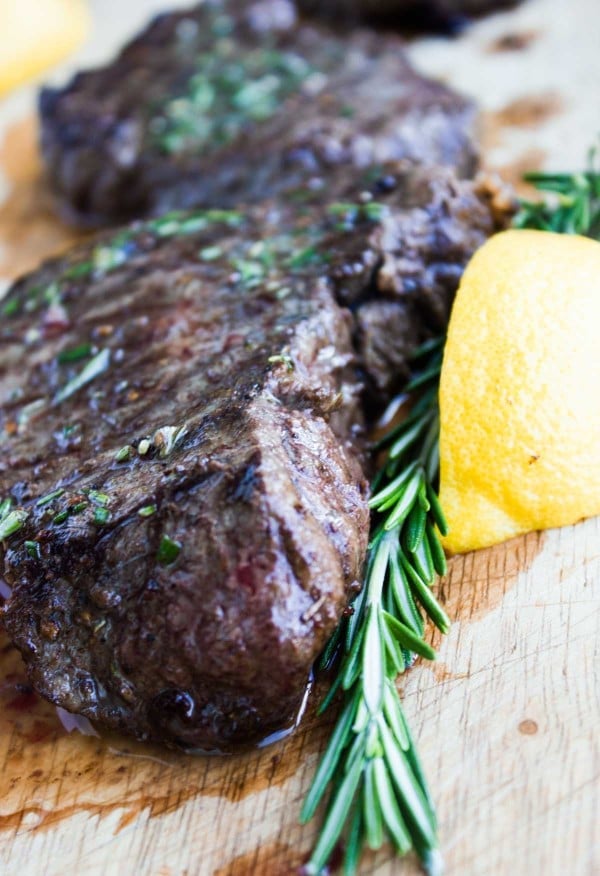 This grilled steak with rosemary lemon butter recipe is the way to go for all steak lovers! Juicy, flavorful and perfectly grilled pieces of tenderloin steak covered in lemony herb butter for ultimate flavor. The best steak you ever had, easy and all ready in 20 minutes—save that trip to the steakhouse today! you will definitely love it.
The perfect steak is one of my favorite things to have and make, and if you agree to that or have a special person in your life who's also a steak lover — then here's the good news :without a doubt, a steak done right at home, is the best steak you'll ever have — and that's coming from a person who had her share of steaks at fancy restaurants! So before you think I'm over-stating this and run away, take a look at this simple rustic beauty of a steak!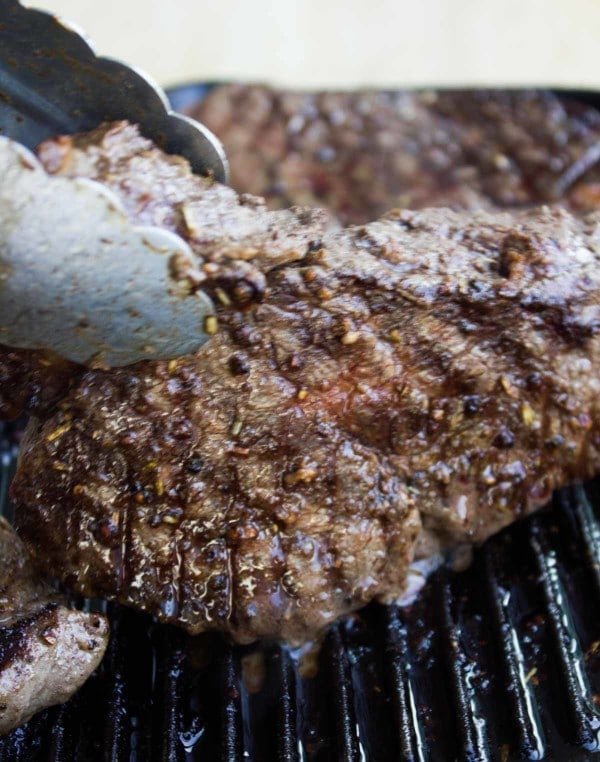 My brother is a die hard steak lover, so is my dad, my husband, some close friends, my brother in law, ok and many people in my circle I suppose. But I will mention my brother because he's a foodie guy too, and always asked me for recipes when he was living on his own for a while during his college years. I convinced him to dare himself and make this simple rustic looking perfect steak—and he did it! Now he competes for the steak master title among his buddies!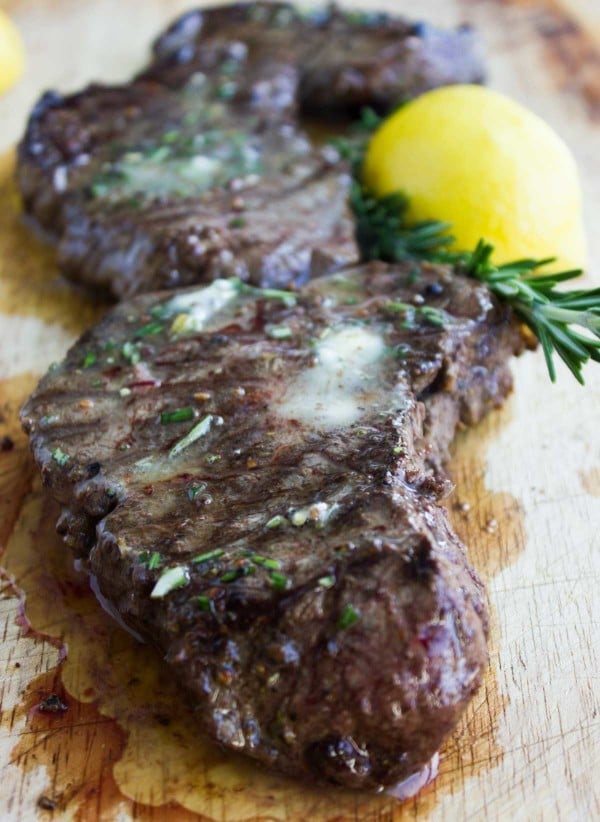 So back to the perfect steak, by all means it starts with the perfect steak cut! There's no escape around that. But the best thing is it's totally a taste thing, so a NY strip, rib eye, sirloin all good if that's your taste, my personal favorite is the tenderloin (otherwise called fillet mignon) cut. If you feel you're not sure which to pick, by all means start with the tenderloin too. Here's why, it's super tender so it cooks fast, it has a really smooth nice beefy flavor and very low fat content yet utterly juicy and tender.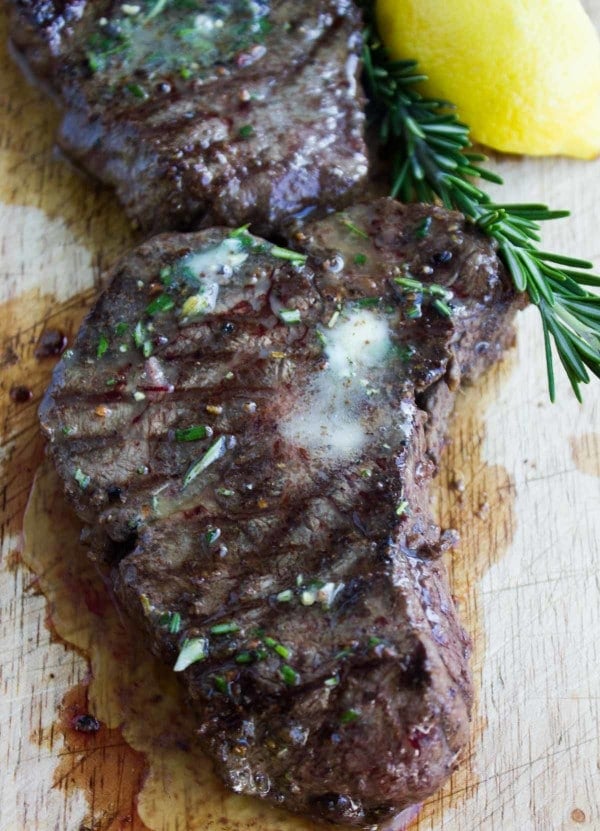 Then moving on to seasoning the steak, salt and pepper are fine, but a touch of onion powder and dried rosemary really elevate the flavor without over powering the "beefy" taste you want. The steaks are perfect cooked on the grill or on a stove top grill pan (as it ends up being the case for most of our cold months here). Depending on the size and thickness of your steak and on how rare-well you prefer your steak, 9 minutes per side is the most cooking time you'll need—most steaks vary between 4-8 minutes per side. And as tempting as it may be—don't taste the steak right off the grill, it's best to let it sit for 2-3 minutes before serving so the juices stay in the steak not run out with the cut of your knife!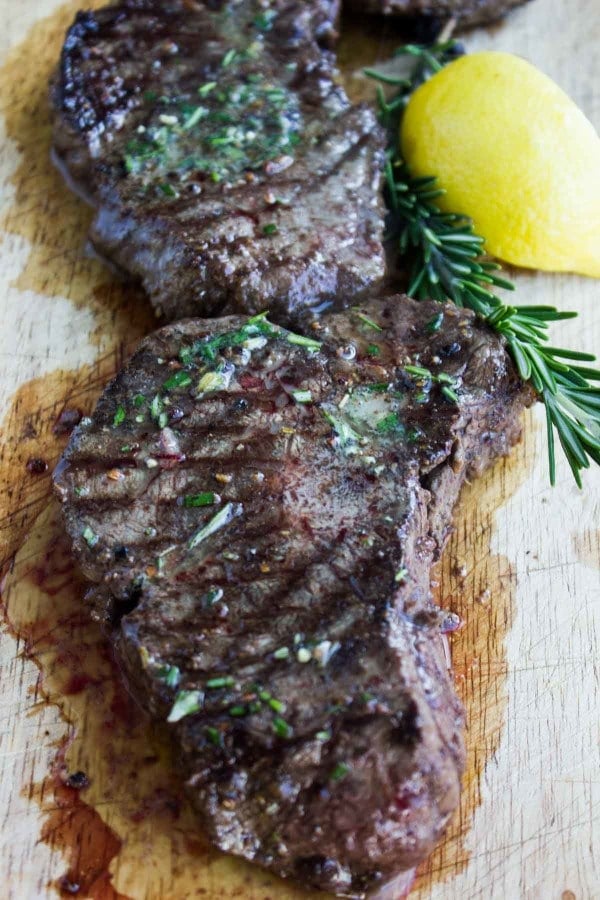 The last thing is the butter, I really can't stress on how this tiny bit of butter can make a difference to your steak—a real difference. The idea is not to add fat to your steak or drench it in fat, you won't need more than half a teaspoon ( maximum 1 teaspoon) of this butter mix on each piece of steak. As this flavor infused butter is added on top of the ready hot steak right off the grill, it starts to melt, and it covers up the whole piece of steak, adding a little extra juiciness, a lot more fresh flavor and the perfect final touch to the steak!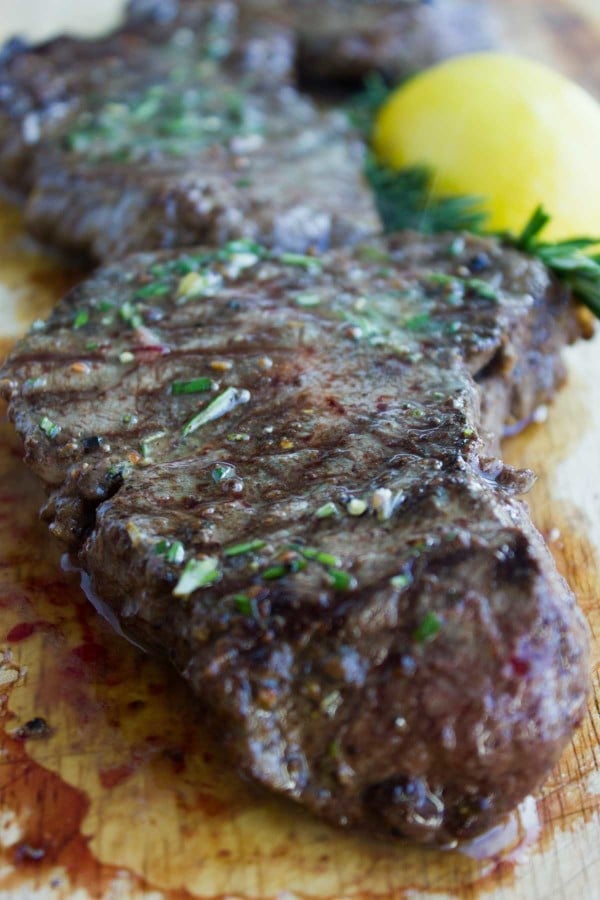 This recipe is a must  try for everyone who thought about making their favorite perfect steak at home. It's so easy, so amazing, so satisfying, so perfect!! Now Enjoy:)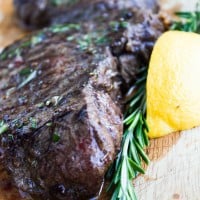 Grilled Steak with Rosemary Lemon Butter
Ingredients
2

lbs

beef tenderloin steaks-4 pieces

(otherwise called fillet mignon)

1

teaspoon

of Kosher salt

(or to taste)

1

teaspoon

of coarse ground black pepper

1/2

teaspoon

of onion powder

1/2

teaspoon

of dried whole rosemary leaves

1

teaspoon

of olive oil

(if using a stove top grill pan)

Lemon Rosemary Butter:

2

Tablespoons

of unsalted room temperature butter

1/4

teaspoon

of lemon zest

1/8

th teaspoon of kosher salt

(or to taste)

1/8

th teaspoon of black pepper

(or to taste)

pinch of red pepper flakes

(optional but recommended)

1

teaspoon

of chopped fresh rosemary leaves
Instructions
Preheat your grill or grill pan to medium high heat.

Season the steak pieces on both sides equally with the salt, pepper, onion powder and rosemary.

Place the steaks on the grill and do not be tempted to flip for at least 5 minutes until it has a nice sear on that side.

Flip the steak and lower the heat to medium, then cook for an extra 6-8 minutes depending on how well you want your steak and how thick it is. Let it cook longer for medium well-up to 10 minutes.

Flip the steak back and turn off the heat. Place half a teaspoon (or more up to your taste) of the butter mixture on each piece of steak.

Then put the cover on (if using a grill) or aluminum foil (if using a stove top grill pan) to cover the steak pieces loosely for 2-3 minutes.

Serve the steak with extra butter if needed.