No mater what you're grilling, this Corn Coleslaw recipe will fit right in! It's the perfect side dish, packed with sweet, zesty and crunchy goodness.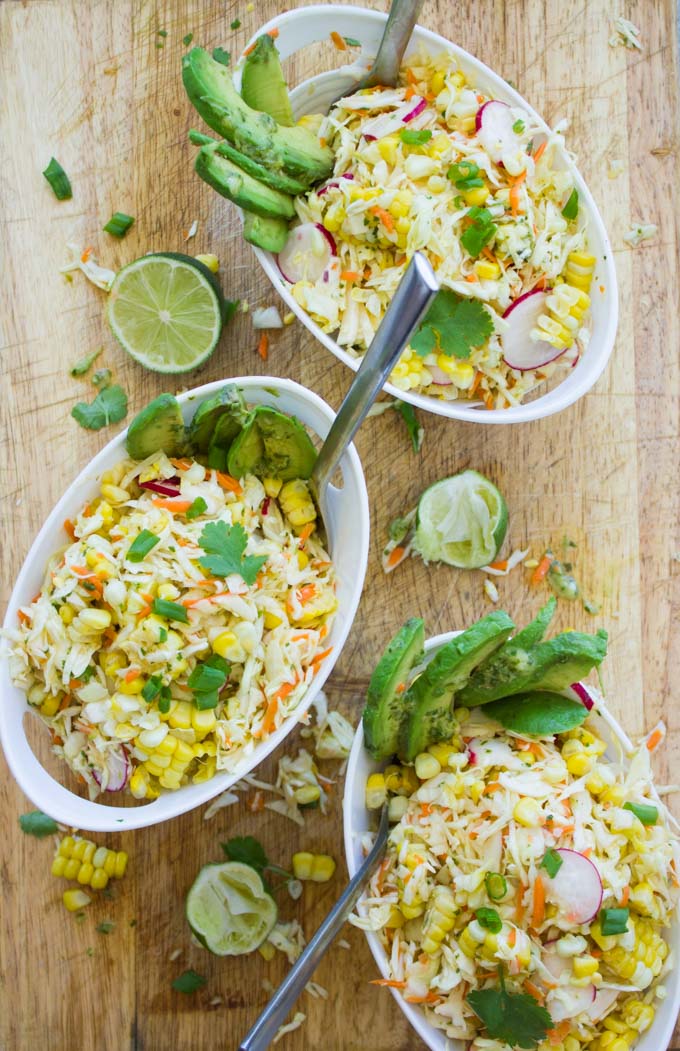 Coleslaw is one of my favorite salads in the world. I love everything about it. Today's corn coleslaw recipe is packed  with corn, radish, cabbage, cilantro, lime, scallions and olive oil. Simple ingredients, BIG taste.
What are you grilling this weekend? We're going for lamb, potatoes and this yummy corn coleslaw. Dessert will probably involve some ice cream with lots of summer berries. 🙂
Before we talk all about this delicious crunchy and sweet corn coleslaw recipe, I certainly need to remind you about this Coleslaw with Kale Apple Pomegranate too!  It's almost a complete other recipe, yet similar in so many ways.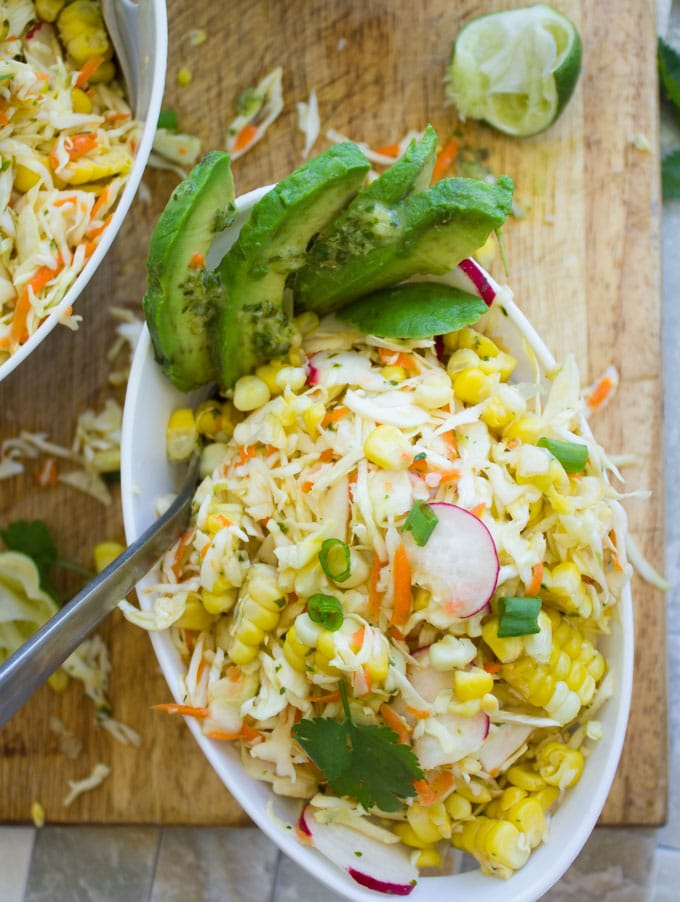 Coleslaw
You can definitely buy the pre-shredded stuff in a bag, any type any color and it would work so beautifully! I do that sometimes, however today I wanted to shred them in my food processor. Start by putting your disc blade and shred to the size you prefer.
The beauty of coleslaw is you can add anything crunchy here. I love adding apples, carrots, radish and cabbage. Other times I'll add Brussel sprouts, peaches, persimmon, you name it!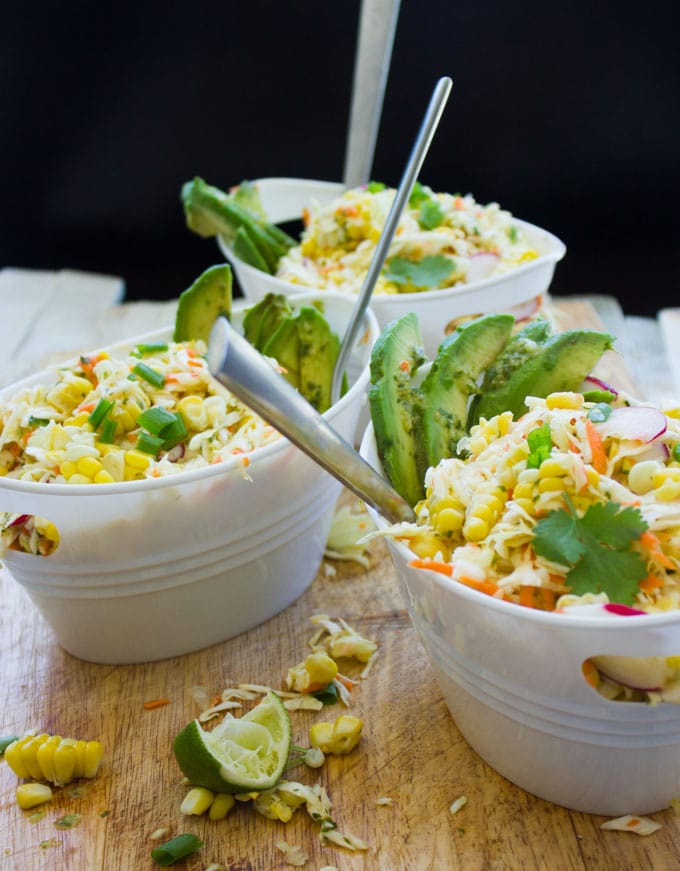 Dressing
While almost all coleslaw recipes are dressed up with a heavy mayo based sauce, I prefer the mayo free version. So you may probably think this isn't the real deal, I can tell you it's just as good! Lots of flavors make up this dressing, lime, honey, olive oil and plenty of cilantro. Imagine that with the coleslaw crunch—SO GOOD.
Corn
It's not unnatural to have corn in a coleslaw recipe, but it's unusual to have it based on corn. But hey, it's summer and it's corn season and we're going all for it!! So rather than having a cup of corn in your huge bowl of coleslaw, we're having a 50:50 ratio of slaw and corn.
To use cooked corn or raw corn, it's certainly your choice! I can totally use raw corn kernels and not be bothered, but I know some people can't. So just cook the corn in boiling water and remove the kernels before adding it to the coleslaw recipe.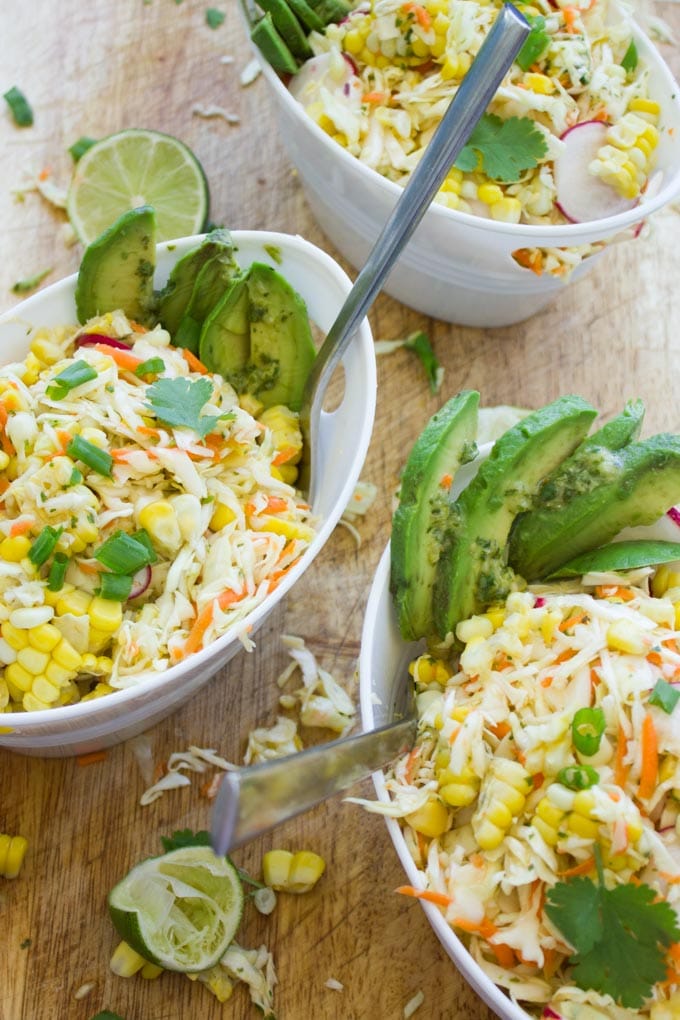 Serving
This gorgeous delicious corn coleslaw recipe is great on its own and even more, it's perfect with anything on the grill. If I had to pick, I would probably chose burgers to be a perfect side to this coleslaw.
If you're such a corn person like me, check this Grilled Sirloin Steak with Cilantro Corn Salsa and the Cheddar Zucchini Best Cornbread Recipe. Enjoy 🙂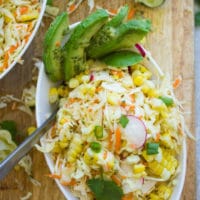 Corn Coleslaw Recipe
No mater what you're grilling, this Corn Coleslaw recipe will fit right in! It's the perfect side dish, packed with sweet, zesty and crunchy goodness.
Ingredients
Coleslaw
2

cups

cabbage

shredded

2/3

cup

carrots

shredded

1

cup

radishes

sliced

2

cups

corn kernels

raw or cooked

3

scallions

sliced

2

avocados

sliced

1/4

cup

cilantro leaves

minced
Dressing
2

Tablespoons

lime juice

1

tablespoon

vinegar

2

tablespoons

honey

1/8

teaspoon

salt

1/4

cup

olive oil

1/3

cup

cilantro leaves

minced
Instructions
For the coleslaw, mix all ingredients together in a large bowl, except for the avocados.

For the dressing, mix all ingredients in a container with a lid and shake the container well.

Pour the dressing over the coleslaw and mix well. Arrange the sliced avocados over the slaw and serve right away 🙂
Nutrition Facts
Corn Coleslaw Recipe
Amount Per Serving
Calories 269
Calories from Fat 171
% Daily Value*
Total Fat 19g 29%
Sodium 178mg 7%
Potassium 547mg 16%
Total Carbohydrates 25g 8%
Protein 3g 6%
* Percent Daily Values are based on a 2000 calorie diet.