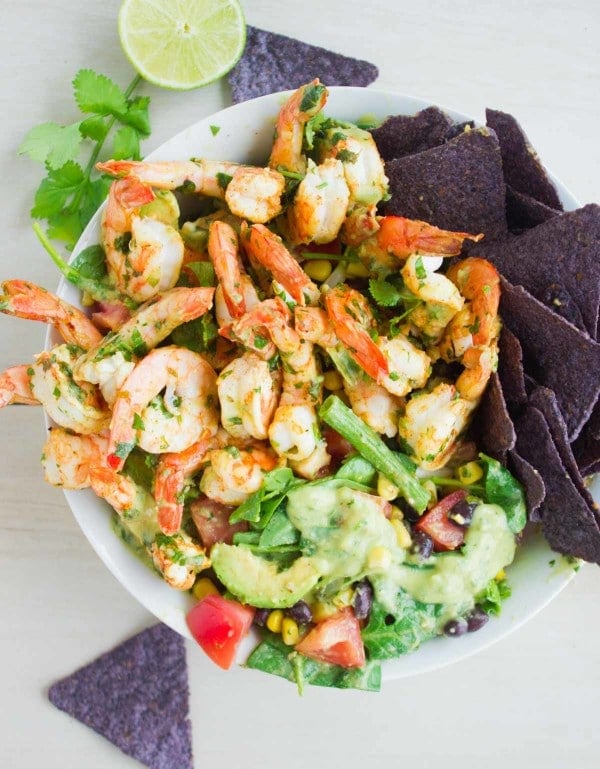 A shrimp salad with avocado dressing recipe that is a cross between a nachos and a salad. A nachos salad with beans, tomatoes, corn, spinach, avocados and scallions are tossed in a tangy yet creamy avocado dressing and topped with garlic cilantro broiled shrimps—all served with a crunch of blue corn chips. Salad for dinner never got easier.This is a really quick dinner recipe that never fails to satisfy any Mexican food lover. It's light and fresh, comes together in minutes, fills you up and has a good boost of nutritional value! It's my idea of a perfect salad for dinner.
Let's start with the creamy avocado dressing—it's naturally creamy from pureeing the avocados and all it needs is a bunch of flavors. I add cilantro, scallions, sour cream and olive oil and I thin it out with a little water so it reaches a good pour-able drizz-able consistency. I will admit there are times when I made it without the sour cream to be vegan friendly and it was really really good. The sour cream makes it lusciously good. So pick your choice. And don't blame yourself either way.
shrimp ready for broiling
cooked shrimps
creamy avocado dressing
salad
The shrimps are peeled and deveined, and I leave the tails on just for a personal preference. Tossed in a garlic-lime-cilantro-parsley-olive oil mixture and broiled in a really hot oven. I have to say many times I've met skeptics about shrimp broiling and fish broiling in general. I manage to prove them wrong because by the end of a cooking class they've all changed their minds. And if you try it, you will too. It's absolutely the easiest way to cook fish. The thick fillets that need to cook all the way through and the most sensitive fillets that stick to your skillets and are hard to flip—all do well broiling.
All you'll do is set your oven on broil, wait for a while (it needs to get super hot), place your oven rack at the top most level in the oven, place a baking sheet (lined with foil for sensitive fillets that may stick) with he fish on the rack (the fish should be about 6 inches away form the heating element) and leave it there for a few minutes depending on the type and size of fish. Out form the oven and it will be cooked all the way through—not just the top!
This shrimp salad with avocado dressing happens to be also naturally gluten free so if you're following a gluten free diet or have friends who are—this is a perfect salad to make. I use blue corn chips for an extra crunch but the chips are totally optional and even the veggies you chose to add on to your salad—I've used spinach, chopped tomatoes, canned black beans, cooked corn, avocados and scallions.
I love to toss the salad with some avocado dressing, and arrange the shrimps and extra avocados then drizzle extra avocado dressing on top. On the side I stack the chips so you can scoop some salad with them or just crunch them on their own. Ok I just realized I should've made this statement earlier on: This shrimp salad with avocado dressing salad is for really faithful avocado lovers! Enjoy! 🙂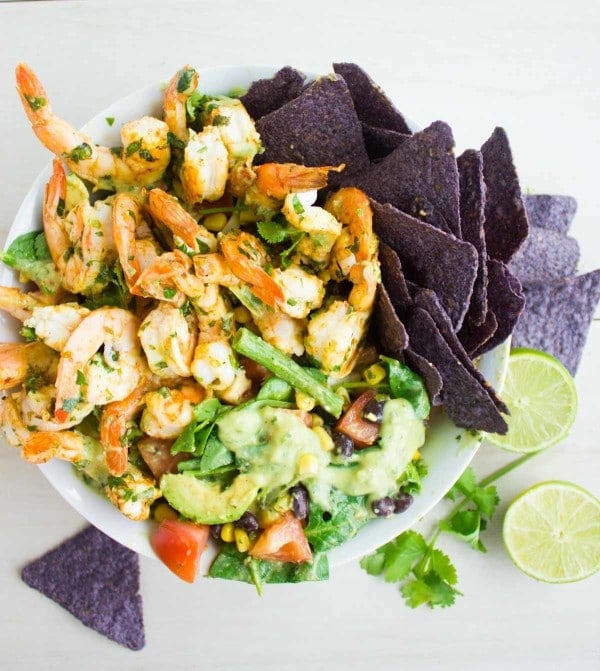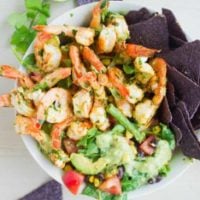 Shrimp Salad With Avocado Dressing
Ingredients
Broiled Shrimps:

2

lbs

fresh or frozen

(thawed) uncooked shrimps, peeled and deveined ( any size or count you prefer)

2

cloves

of garlic minced

juice of 1/2 a lime

1/4

cup

of fresh minced cilantro and parsley

pinch of chili flakes

1/4

teaspoon

of salt

2

tablespoons

of olive oil

Avocado Dressing:

1

small recipe avocado

1

tablespoon

of minced scallions

1

tablespoon

of minced cilantro

2

tablespoons

of olive oil

1/8

th teaspoon of salt

juice of 1/2 a lime

1

tablespoon

of sour cream

(optional, omit for vegan)

2

tablespoons

of water

(more or less depending on the consistency of your choice)

Salad:

2

cups

of fresh spinach leaves

1

large tomatoes diced

1/2

cup

of canned black beans

1/2

cup

of cooked corn kernels

2

scallions roughly chopped

1

small avocado sliced

Blue corn chips for serving
Instructions
Preheat your broiler to its highest setting and place an oven rack on the top level of your oven so it's about 6 to 8 inches away form the heating element of the oven.

Toss the shrimps with all the remaining ingredients and place them on a baking sheet in one layer. Let the shrimps marinate for about 15 minutes while the oven is heating up.

In the meantime, make the avocado dressing. Place all the ingredients ( minus the water) in a small food processor (or use an immersion blender) and puree until the mixture is smooth. Add the water depending on your desired thickness and blend the dressing again.

To broil the shrimps, place the baking sheet with he marinated shrimps on the top rack and let the shrimps cook for about 3-5 minutes (depending on the size). Remove the from the oven when the shrimps have turned pink and opaque. Do not over cook your shrimps at all as they turn gummy.

While the shrimp is cooling down, arrange the salad ingredients, toss them with some avocado dressing then arrange the shrimps on top, some extra avocado slices and drive extra dressing, and serve with clue corn chips.