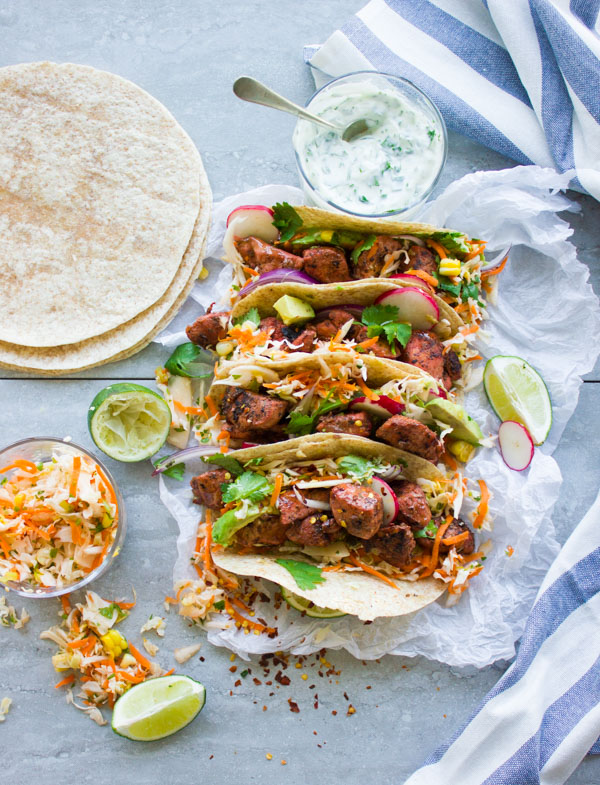 Taco lovers, the wait is over—this Fiery Tandoori Chicken Tacos with Cilantro Corn Slaw recipe will win over your favorite taco recipe! Succulent tender Tandoori spiced chicken cubes over a bed of zesty cilantro corn slaw, add in some avocado slices, crunchy radishes and an herb yogurt sauce! Now that's a taco party 🙂
Are you all about Taco Tuesdays? I seriously love tacos any day, and I have a friend who claims she always arrives first at a taco party—and it's true! Even my kids love tacos—minus the picky one of course, she'll eat the shells and shredded cheese only lol which is ok for now. And while this recipe is not a tacos party, it's absolutely deliciously addictive and you can wrap up your tacos with different toppings. A real tacos party however will be showing up on the blog real soon, I promise!!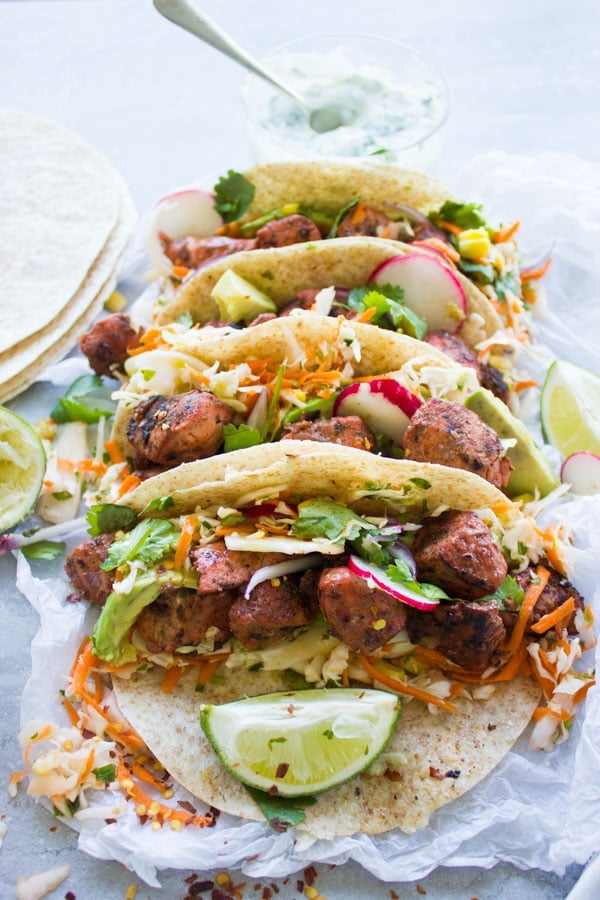 So these tacos are like the best of worlds! They combine classic all time favourites with a bit of zest. If you've missed this easy homemade Quick Roast Tandoori chicken recipe (hello—you need to check it out!), it's a boost of flavor and spice with no waiting and no fuss. I'm always on the lookout for easy and quick ways to make classic restaurant favorites at home—and today it's a combo of tacos and tandoori, who can resist!
For the slaw, I chose another favorite of mine—the cilantro corn slaw. I think I might be still hanging on to summer which I know I shouldn't! The other day I made my Tomato garden vegetable soup on a very rainy Fall-ish like day and it was great! And another time I made this delicious Roast Pumpkin Mediterranean Salad (+video) which I really hope you make this Fall—it feels like sunshine in Fall! But a few days later, our sun was up and warm again—so I went back to my summer mood with these Tandoori Chicken Tacos!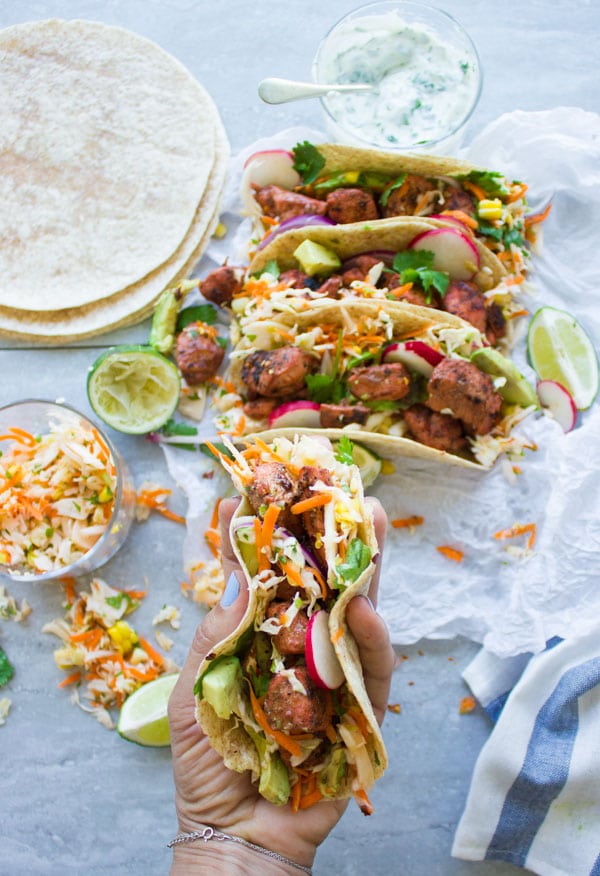 I made this corn slaw before but in as a salsa with this Grilled Steak with Cilantro Corn Salsa ( if your Falls still feels like Summer, then you'll need to try this steak—it will rock your dinner table!). It's basically a combo of cooked corn kernels (or raw if you prefer) tossed in a simple lime- cilantro- jalapeno- and olive oil sauce—really really good! For today's chicken tacos, I added some shredded cabbage and carrots to make it feel more like a real slaw. Then I sliced some radishes and avocados for extra toppings.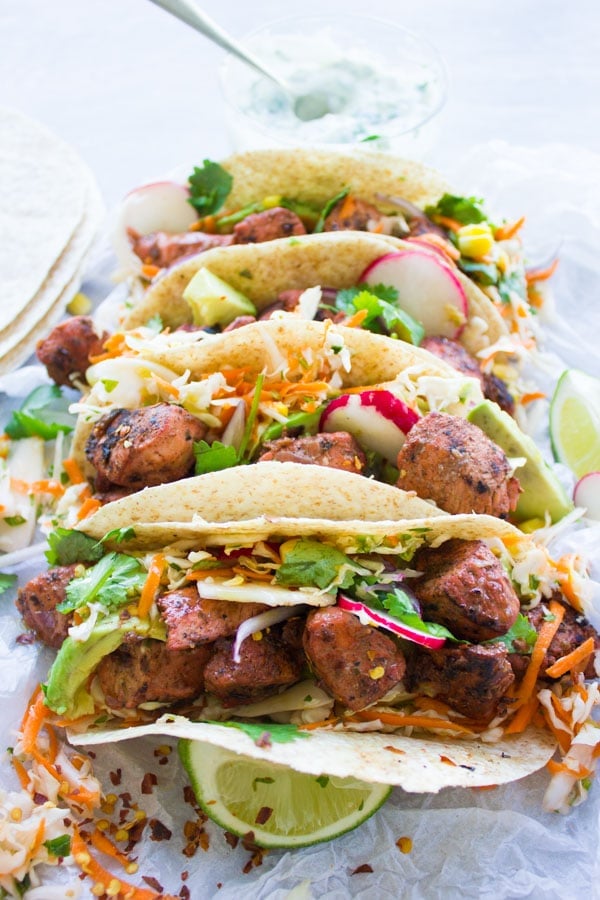 Now I made a cool Greek yogurt dip because my chicken was quite spicy and I needed that extra cooling off effect. I just mixed Greek yogurt with some salt, lime juice and plenty of fresh minced mint and parsley. It's totally optional which herbs you chose to put in, and the whole yogurt sauce, but I felt it added a nice creamy cool touch to my tacos! If you're rushed or for some reason won't be making the sauce, then you can go a bit less on the chilli flakes in the tandoori spice for the chicken.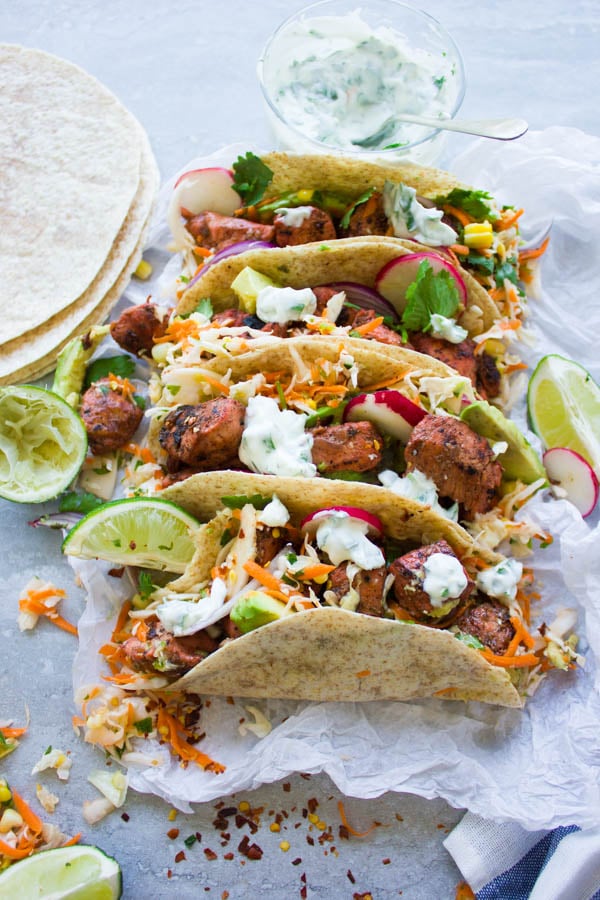 And finally the chicken. It's all about the chicken. I love using the same spice blend as this Roast Tandoori chicken—it's flavorful, simple with no waiting time and no fuss! After I coat the chicken cubes with this spice mix, I pan them over really high heat to get a nice charr. Then gather up your friends, all your ingredients and load up your Tandoori Chicken Tacos..and ENJOY!! 🙂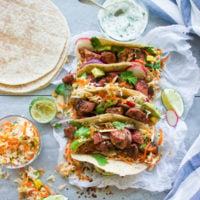 Fiery Tandoori Chicken Tacos With Cilantro Corn Slaw
Ingredients
2

lbs

boneless skinless chicken breasts

, cut up into 1 inch cubes

Tandoori Spice mix:

1/2

a red onion

3

cloves

of garlic

1/2

teaspoon

of ginger powder

1/2

teaspoon

of cinnamon

1/2

teaspoon

of all spice

1

teaspoon

of garam masala spice

1/4

teaspoon

of turmeric

1

tablespoons

of paprika

3/4

teaspoon

of chilli flakes

(more or less to your taste, or omit all together)

1/4

cup

combined of fresh mint and parsley leaves

juice of 1 limes

2

tablespoons

of plain Yogurt

1/2

teaspoon

of salt

(more or less to taste)

1

teaspoons

of black pepper

Corn Slaw:

Recipe from this Grilled Steak with Cilantro Corn Salsa

1/2

cup

of shredded cabbage

1/4

cup

of shredded carrots

Toppings:

2

avocados

, sliced

1

cup

of sliced radishes

lime slices

fresh cilantro leaves

12

mini tortillas

Yogurt Sauce:

(optional)

3/4

cup

of plain Yogurt

Juice of 1 lime/lemon

pinch of salt

1/4

cup

of mixed fresh mint and parsley

1

teaspoon

of olive oil
Instructions
Mix the chicken with the tandoori spice and toss well.

Prepare the slaw and add in the cabbage and carrots, and toss them well. Prepare the yogurt sauce and set aside.

Heat a cast iron skillet over high heat with a teaspoon of olive oil, and when the pan is really hot, add in the chicken.

Don't toss the chicken for the first 2 minutes and wait for it to charr, then toss the chicken pieces evenly and wait another 2 minutes. Toss the chicken again while lowering the heat to medium. Cook the chicken on medium for 3 more minutes until done, tossing frequently.

Assemble the tacos by layering some slaw over a tortilla, load up some chicken, sliced radishes, sliced avocados, a squirt of lime juice and a dollop of yogurt sauce..enjoy 🙂