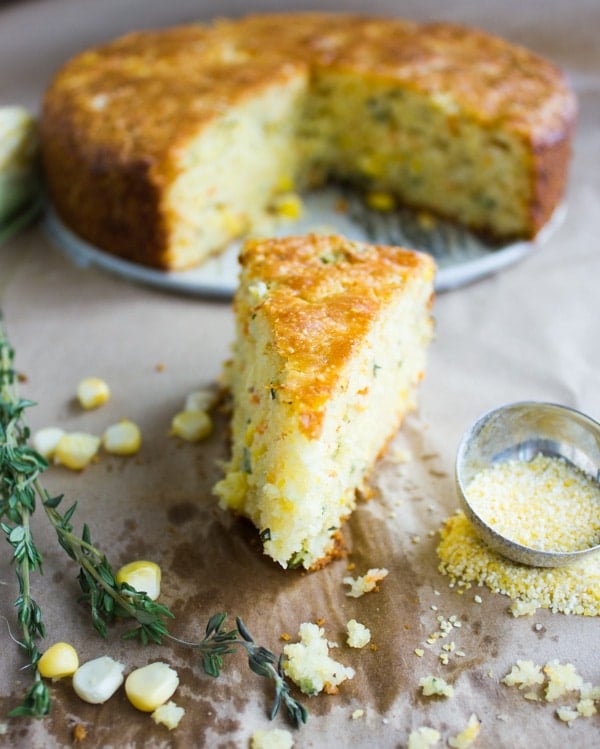 If you've tried so many cornbread recipes or looking for the  perfect one—here's the ultimate one– cheddar zucchini best cornbread recipe! A cornbread that's tender, fluffy, loaded with corn and super moist from the zucchini. Cheddar cheese adds more tang and cheesy-ness to the bread which is totally optional, but so worth it! One bowl and one whisk is all the tools you'll need to make this blow your mind best cornbread recipe today!
I love cornbread. Back when I just got married, I moved to Miami FL. I loved it. I miss it terribly. Passing through the many details of Miami—which believe me I go on and on about, like I did in this Sweet Potato Black Bean Soup and this Cuban Black Beans Chicken with Rice –which by the way you should TOTALLY check them out! For now I'm going to and mention that cornbread wasn't a big thing in Miami —and yet I tasted the best cornbread ever at a local breakfast joint in Miami Beach! Ever since then, I changed my perception of a good cornbread and I made plenty of versions to reach up to this one!
I know classically in the US cornbread is chilli's best friend! And I find it to be a perfect side to soups—any soup, and salads. I also love it toasted slightly with a dab of butter or cream cheese, or just plain tender fluffy bread on it's own. And as a bonus, a super bonus for me—my little picky one happens to love this best cornbread recipe too!! which is why I loaded it up with zucchini and some grated carrots! But before you turn around—because YES I am aware that's not what one looks for in the ultimate classic cornbread, but believe me you won't taste any of those veggies—there's PLENTY of corn to cover it up!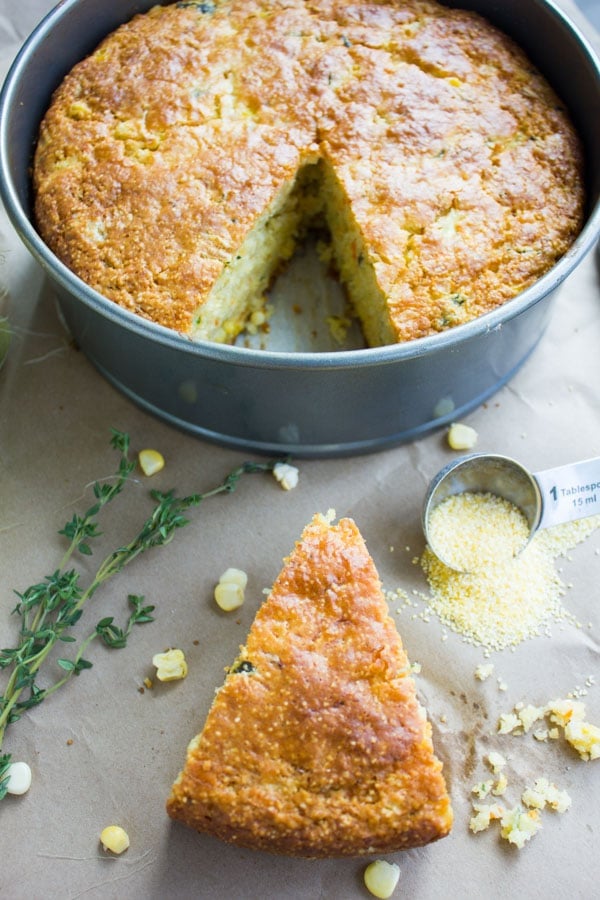 So before we get into the absolute BEST cornbread recipe, let me tell you what I look for and what you can expect from it. I love my cornbread to be fluffy—not dense, I love it to feel light—not oily, I love it to be moist—not dry, I love it to be tender almost crumbly—not stiff. I love a really nice butter flavor so I use melted butter, but I add a little bit of oil to enhance the softness of the bread. When it comes to flavor—corn corn and more corn!!! No skimping on the corn what so ever! Plenty of fresh corn, every single bite is loaded with fresh corn! And when it comes to sweetness—I prefer my corn bread to be on the sweet side, this is completely optional so feel free to go less on the sugar (**see recipe). How else would your BEST cornbread recipe be?
Now on to the veggies. Zucchini adds a ton of moisture and soft texture to the cornbread with a super absolute neutral zero flavor, so it's a win win here. Carrots, add a touch of sweetness and texture again with barely any flavor because I don't use that much. Some of my other favorite additions to this fabulous cornbread which I've made over the years are : finely diced sun dried tomatoes, kale bits, herbs, bits of olives, japalenos… basically the sky's your limit! Just watch out for sizes of your veggies (smaller the better—nothing larger than the size of a corn kernel to be safe) and always always use in moderation! I had a friend who I used to tell her the sky's your limit on my favorite whole wheat banana bread recipe—but she didn't practice moderation!! lol You can guess the results!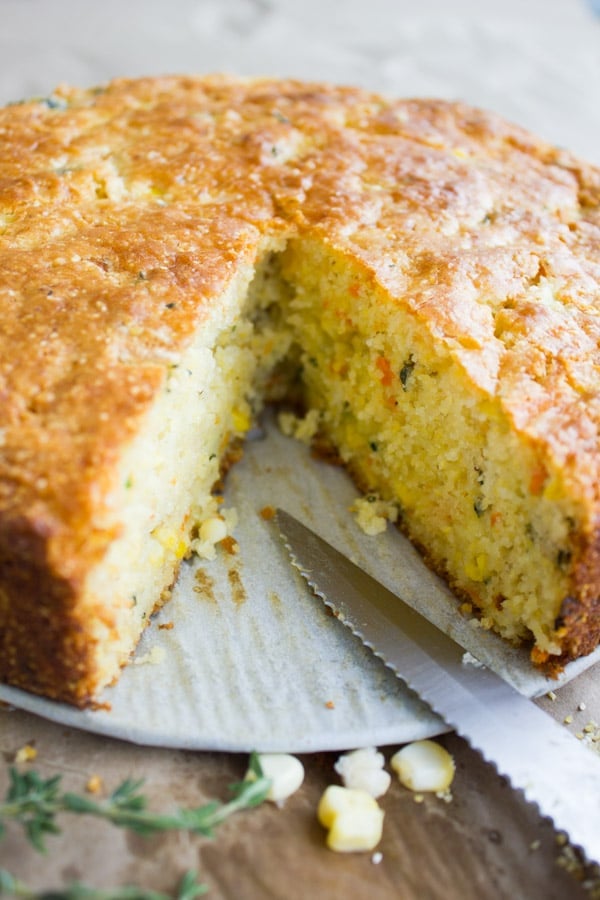 When it comes to the flour—I love using a 50:50 ratio – cornmeal : all purpose flour for this best cornbread recipe ever. When all cornmeal, I find the cornbread tends to lose some of it's tender fluffy character—which I love! And when I use all flour, well it's not cornbread anymore! The type of cornmeal I use is a bit coarse, for extra bite and texture—as long as you don't use cornstarch—you're good with any type of cornmeal! When it comes to freezing, this is a perfect candidate! Freeze whole or slices of this best cornbread recipe and re-heat them in an oven, defrost in a microwave or warm up in a toaster..So finally, here YOU have the best, super, cheddar zucchini BEST cornbread recipe that will blow you away!! Enjoy 🙂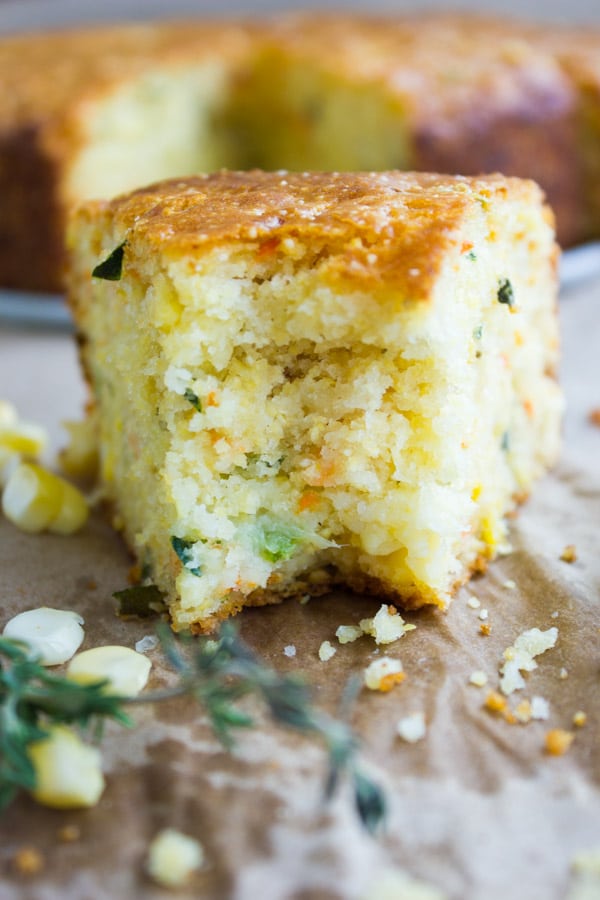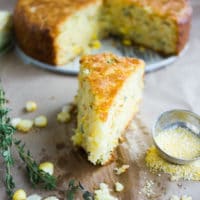 Cheddar Zucchini Best Cornbread Recipe
Ingredients
1

cup

f flour

1

cup

of cornmeal

2

teaspoon

of baking powder

1/2

teaspoon

of baking soda

1

teaspoon

of salt

1

egg

1/3

cup

of melted butter

2

tablespoon

of oil

1/3

cup

of sugar

(use 3 tablespoons for less sweet cornbread)

1

cup

of buttermilk or Yogurt

1 1/2

cups

of shredded zucchini

1

cup

of shredded carrots

2

cups

of corn kernels

(fresh preferably, but canned or frozen are ok)

1/2

cup

grated strong cheddar cheese

(up to 1 cup)
Instructions
Preheat the oven to 425 degrees F.

In a medium bowl, whisk the dry ingredients together.

In another bowl, whisk the sugar, egg, yogurt (or buttermilk), sugar, butter and oil until well blended. Add in the dry ingredients, all veggies and cheese and then use a spatula fold everything together until the batter looks mixed and blended. It doesn't have to be smooth and perfect.

Pour the batter into a 9 inch round cake pan (lined with parchment) and bake for 50 mins until a toothpick inserted in the centre of the bread comes out clean. Cool for 10 mins, slice and serve.

Note:

This bread can be baked in a loaf pan, cast iron pan, square pan and sheet pan—just adjust baking times.