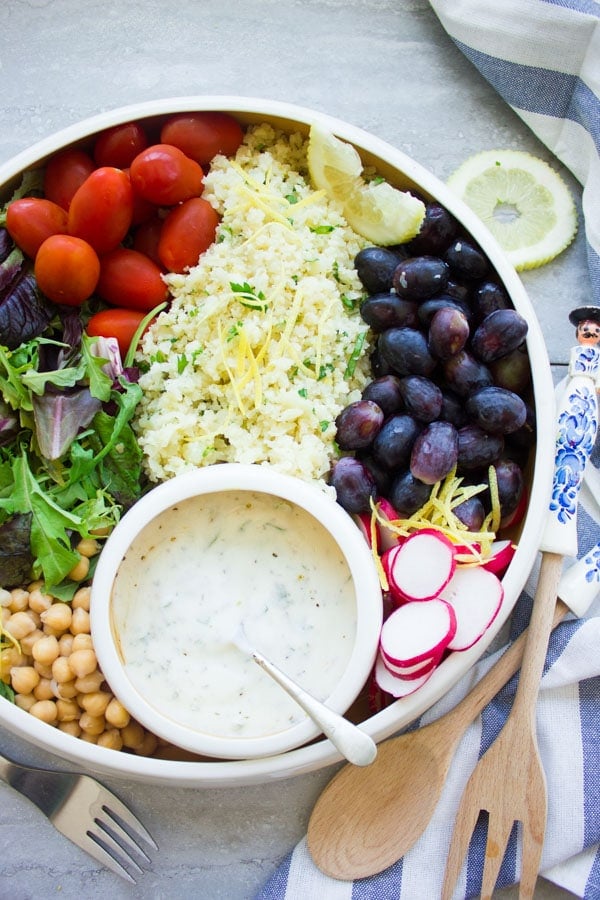 This Lemon Cauliflower Rice Salad with Yogurt Dressing recipe is a protein packed, light, and really filling salad. I love this as a light lunch on its' own, or as a starter and side to a big dinner. You can easily substitute your favorite fruits and veggies—just keep the refreshing yogurt herb dressing and fill up on this amazing salad! Perfect to beat the heat and freshen up this season!
I'm sure you've noticed the sugar rush lately on the blog! Yes it's summer and everyone goes light, but kids are kids and a sweet tooth has no season…but then again it's never too late! So I started with this amazing Baked Salmon With Greek Dressing, and since we're still talking Greek, you'll have to make this Orange Lentil Greek Salad too.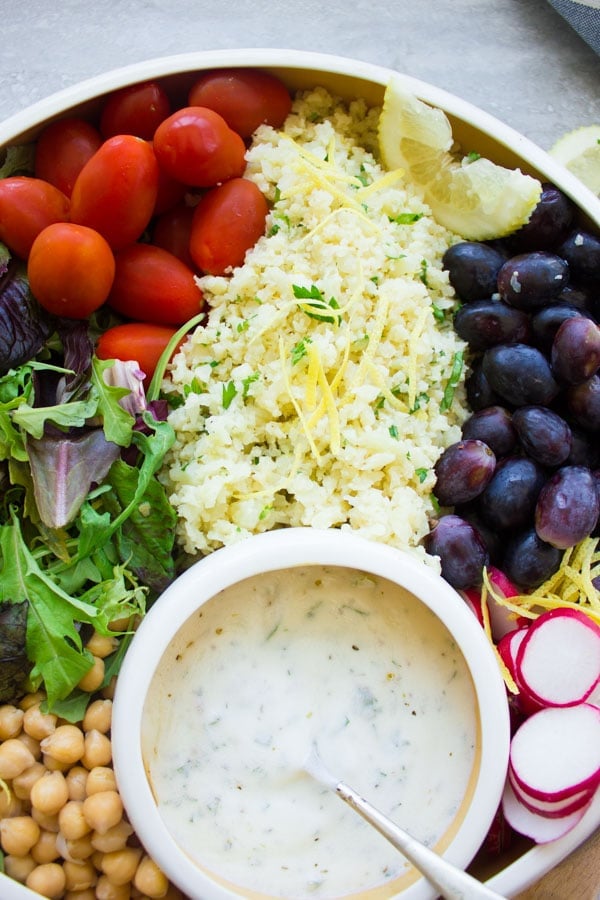 Now how about some cauliflower rice? A while ago, I wrote much about cauliflower rice in this "must try" Dill Cauliflower Rice recipe and I've included the easy two step photos to make it. Basically if you haven't ever made cauliflower rice yet, can I say—what? how? why!! It's super healthy, super quick and much easier to make than rice..best of all, it tastes exactly just like rice (if not better)!
For the record, no one on earth could resent cauliflower more than my little sister..and she actually doesn't mind it as rice! So in my mind, you can never beat that—you can't possibly dislike cauliflower more than her. In that case why haven't you made cauliflower rice yet? Thought it was hard—well it's actually a simple food processor pulse action till you break down the raw cauliflower into rice size pieces..Thought it doesn't cook through—it actually cooks in 7-8 mins max.. Thought it tastes like cauliflower—it actually tastes nothing like cauliflower when you add a touch of garlic to it!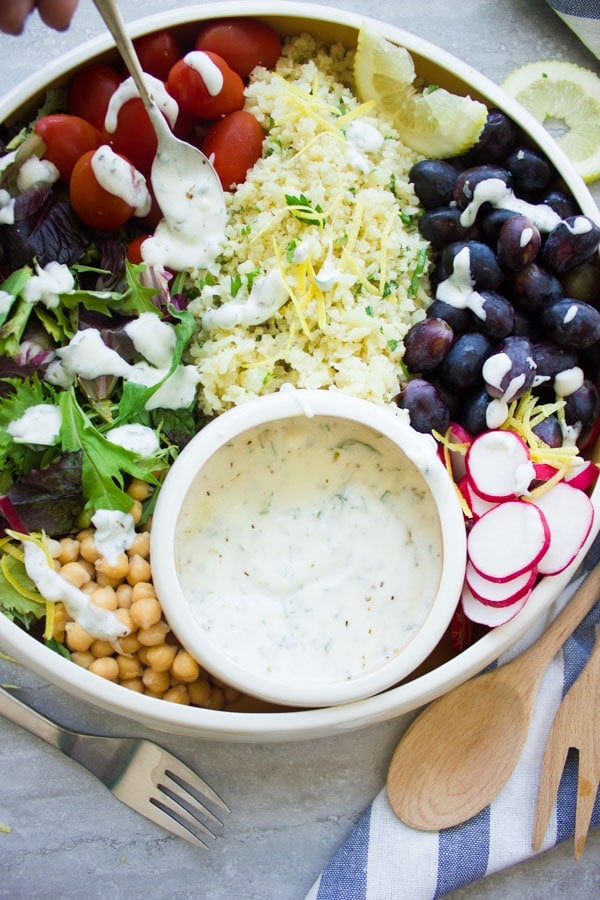 So for today's recipe, I've made this cauliflower rice with a touch of garlic, some herbs and lemon zest. You get this burst of refreshing flavors with every bite—plenty of lemon and garlic and herbs. And the beauty of this rice is, you can serve it warm as a side to a warm meal, or cold like in this salad.
I love pairing this lemony cauliflower rice with some crunchy radishes, some crunchy sweet grapes, some hearty chickpeas, my salad greens and some juicy tomatoes. Now this doesn't mean you can't throw in some fresh sliced peaches, cucumbers, navy beans, onions, spinach or strawberries! It's a plate where the more the merrier fits perfectly 🙂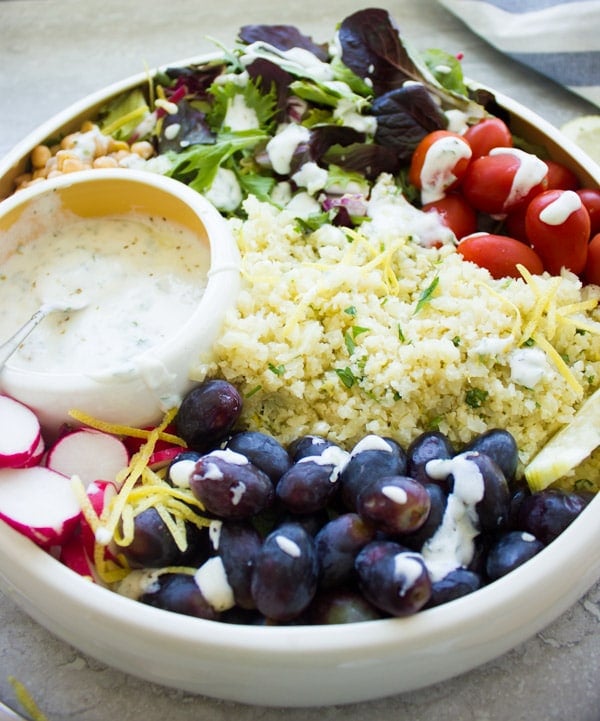 Now how about some refreshing smooth creamy yogurt herb dressing to brighten up this salad plate. If you've been to the Mediterranean, you'll find many countries there use yogurt endlessly. Dressings, dips, sauces and drinks! Actually one of my favorite is a Turkish yogurt mint drink, which you find in this Turkish Style Chicken Skewers recipe—it's mainly used there as a cooling drink to balance out the spice and help with digestion. So today we're using this yogurt herb dressing to balance out the salad flavors and freshen up the palate.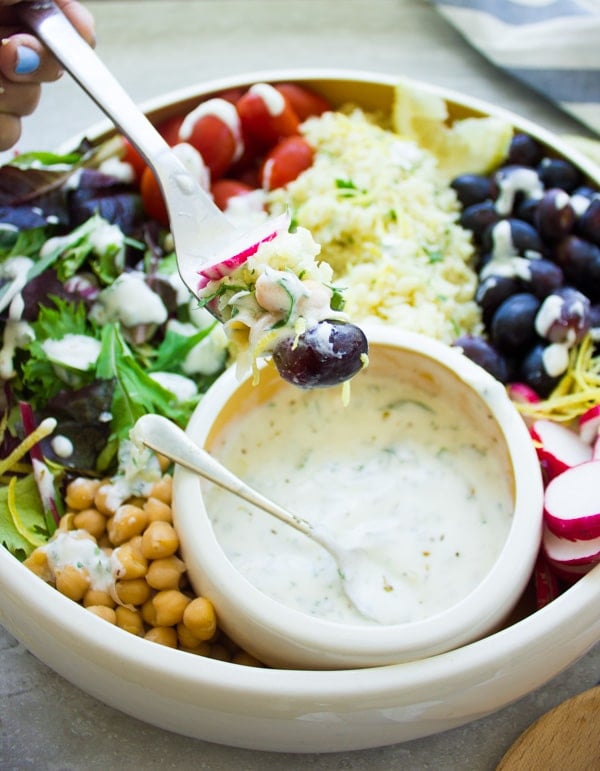 Make this hearty salad for potluck, BBQ, family dinners, Holiday tables, next day lunch and lunch boxes—you will Love it! And make plenty of this lemon cauliflower rice so you can serve it warm with a nice roast chicken or fish. Enjoy! 🙂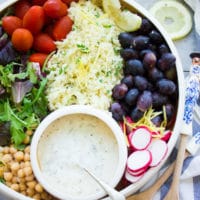 Lemon Cauliflower Rice Salad With Yogurt Dressing
Ingredients
Lemon Cauliflower Rice:

1

small head of cauliflower cut up into florets

(any size)

1/2

Tablespoon

of olive oil

1

large clove of garlic

1/8

teaspoon

of salt and black pepper

1

tablespoon

of lemon zest

juice of half a lemon

3

tablespoons

of fresh chopped herbs

( a mix of parsley, basil and cilantro or your favorite)

Salad:

1 1/2

cup

of back seedless grapes

1 1/2

cup

of salad greens

1

cup

of chickpeas

1

cup

of sliced radishes

1

cup

of grape tomatoes

Yogurt Herb Dressing:

1/2

cup

of Greek yogurt

( any fat concentration)

1

small clove of garlic minced

3

tablespoons

of minced fresh herbs

( a mix of oregano, parsley, cilantro and basil)

2

Tablespoons

of white balsamic vinegar

(use any fruit vinegar if you prefer)

pinch of salt

1/2

tablespoon

of olive oil

1

Tablespoon

(more or less) of water to thin out the dressing to your taste
Instructions
Prepare the cauliflower rice (see the

dill cauliflower rice

recipe) by sautéing the garlic in olive oil and adding the cauliflower rice. Add the lemon zest, juice and herbs at the end once the cauliflower rice is cooked completely. Chill the cauliflower rice while you prepare the salad.

Gather up the salad ingredients and arrange them on your salad platter.

Make the Yogurt dressing by mixing all ingredients in a small bowl. Thin out the dressing to your taste and drizzle a little bit over the salad, leaving the rest aside.