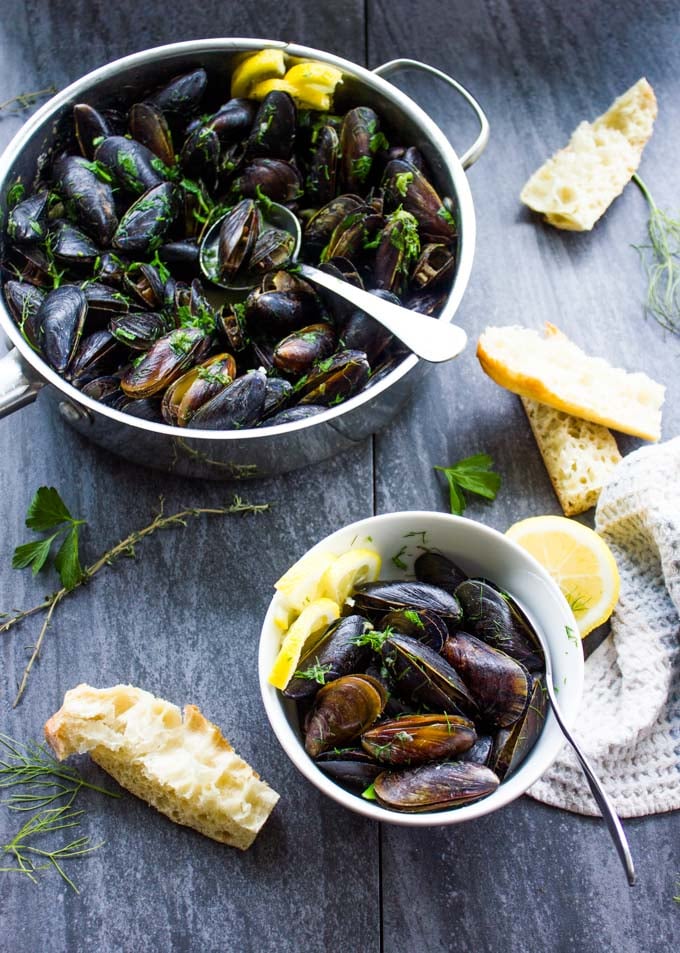 Love mussels? My favorite way to make them is always in a simple garlic and lemon sauce. So today we're chatting about How to Cook Mussels with Garlic and Lemon Sauce 🙂 While I say sauce, I also need to mention that it's quite a self made sauce. So you won't need to worry about any fancy sauce techniques, thanks to the amazing way mussels cook. The sauce is sort of a given. The herbs, flavors and any additional toppings are all up to you. I'll share with you the easiest simplest and most straight forward way to get this done 🙂 
How to posts are really one of my favorites. They remind me of my cooking school days. I miss them terribly! It's only been 5 months since I decided to take a break from the cooking school, yet it feels like years! There's something magically calming and fulfilling about teaching food. Cooking, baking, fancy techniques and simple ones alike. Anything food! And it's something I would've probably never imagined myself doing. But the day I started teaching food, some ten years ago, it felt perfect 🙂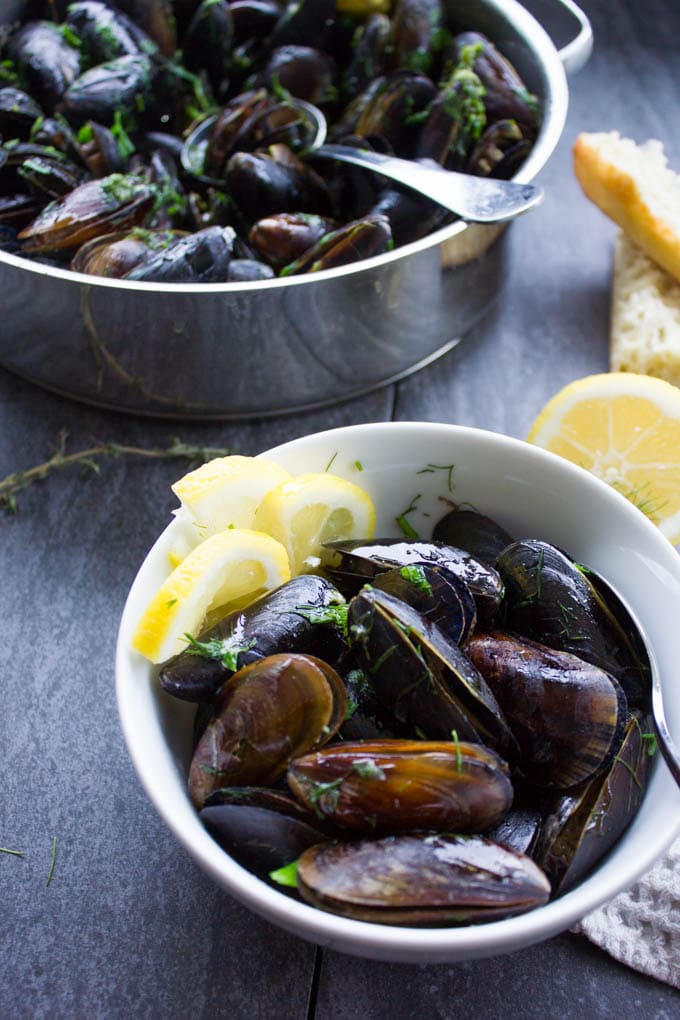 Almost each class I've taught has a distinct memory in mind. Whether it's the menu, the audience, the assistants, and just overall the energy in the class. Most of them are invigorating! But certainly, you'll find a few classes here and there where something is weird, crazy, funny or just plain odd. lol. Like once, a couple attending the class go through a major argument and decide to break up. During the class. Yes. I was standing there, like, hello, let's focus on the food, cooking, happy things here 🙂 In my mind however, I was thinking I wanna run away now! lol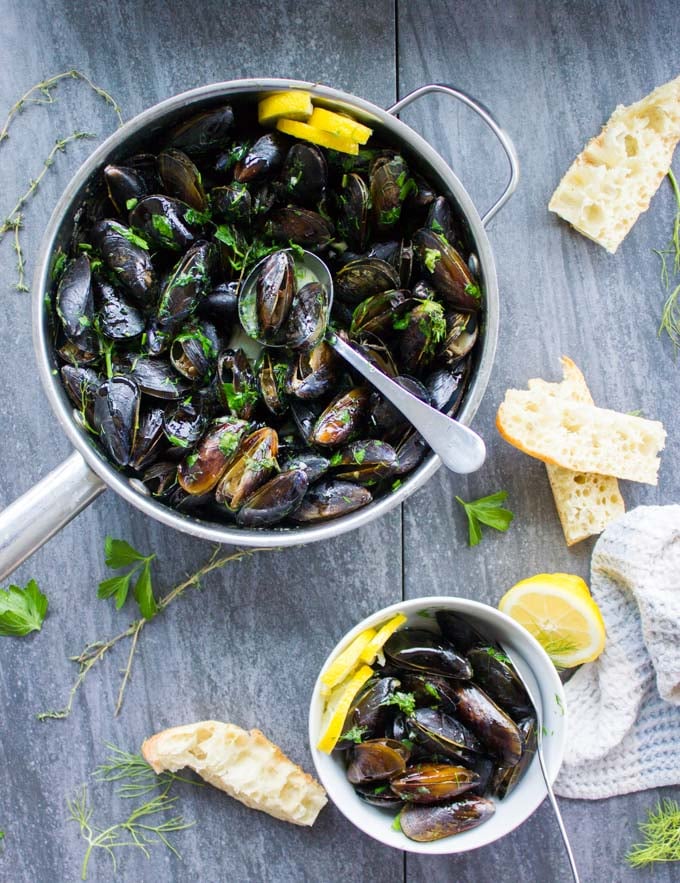 Anyways, I just really miss them 🙂 And I think I won't be able to stay away form them much longer! Ok, mussels time! Miss D. happens to love mussels. I know, very unusual for a kid! But she really does have a good palate and she's such a foodie like her mom! So she saw them a while ago, probably when she was just five years old and asked me to try them. She instantly loved them and kept asking me to make them for her. It was a relief for me, because that meant I don't have to make separate meals for her when hubby and I feel like eating mussels. Yay!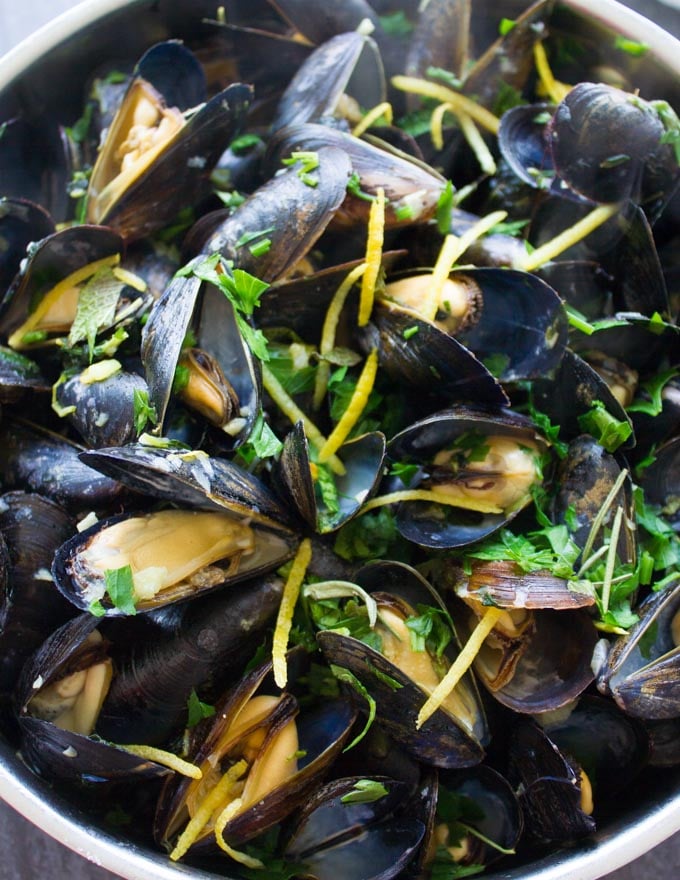 I find that this easy simple garlic and lemon mussels is the base for anyone to start building on their mussels recipes. So here's a break down of how to cook mussels, perfectly. First of all, rinse your mussels and make sure you buy mussels that are sealed. Open mussels mean they're dead and not ok to eat, so if you catch a mussel that's not sealed while you're rinsing them, discard it right away. Then you'll find a tiny thread hanging out on the side of each mussel, pull that right out. That's basically how the mussels were hanging and clinging in the water.
Now take a nice deep sautee pan and here's the beauty of this mussels recipe–the variations are endless. Add in some butter, olive oil, coconut oil, neutral tasting oil– just chose your favorite. Then add in the garlic (or shallots, scallions, red onions, ginger, etc.. endless options) and sautee for a few minutes. Now add in your mussels, season with salt and pepper and put the lid on. You'll need the mussels to cook for 10-15 minutes until you see each mussel has opened up.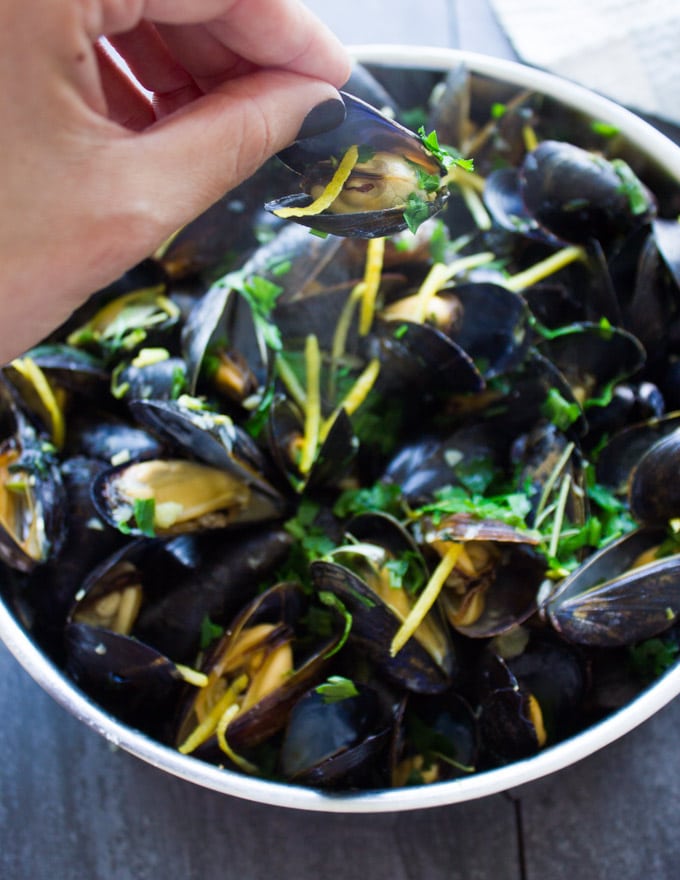 At that point, uncover the lid and start adding your falvors. I add lemon zest, lemon juice, some fresh minced herbs (parsley, dill, thyme) and a final drizzle of olive oil. Simple. Easy. Delicious. Here are a few other ways you can jazz up your mussels recipe. Rather than lemon zest, add diced tomatoes, basil, pesto, fresh kale, kalamata olives, feta cheese, pomegranate molasses, garam masala, curry powder, turmeric, ginger, soy sauce, sesame oil, cumin, salsa, chilli powder..you name it! It's all delicious! and all so EASY!
Finally, I love to squeeze a touch of lemon juice and serve the mussels with crunchy bread! YUM 🙂 The magical sauce happens when the mussls cook, they give out so much water. And not just any water, it's a delicious mussel-y seafood-ish water. It seems like a lot at first, so feel free to let some evaporate before serving, or enjoy it saucy 🙂 Make this easy mussels recipe and you'll be hooked to try them all!! Enjoy 🙂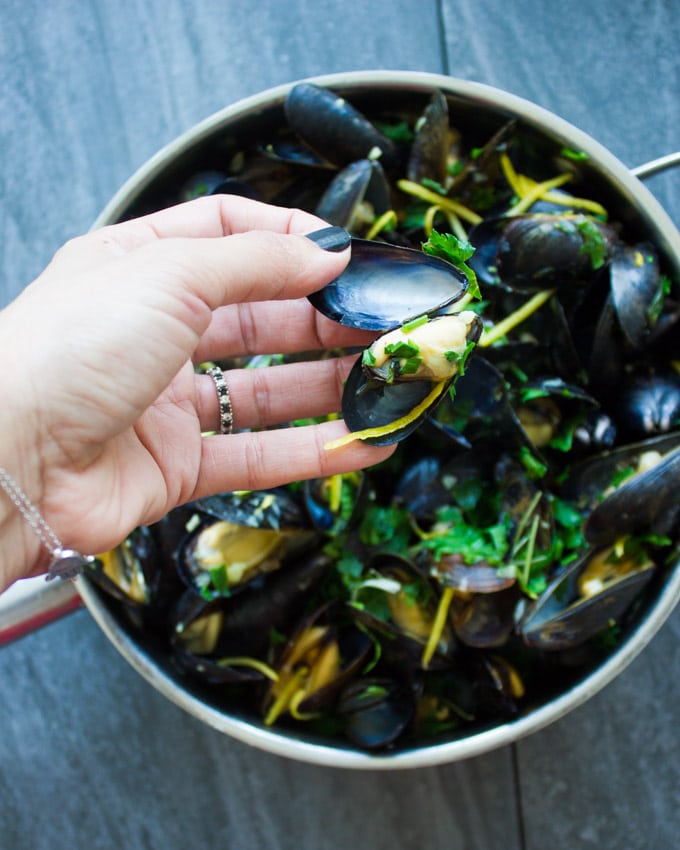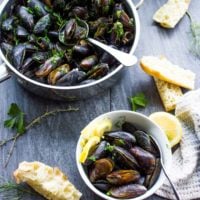 How to Cook Mussels with Garlic and Lemon Sauce
Love mussels? My favorite way to make them is always in a simple garlic and lemon sauce. So today we're chatting about How to Cook Mussels with Garlic and Lemon Sauce 🙂 While I say sauce, I also need to mention that it's quite a self made sauce. So you won't need to worry about any fancy sauce techniques, thanks to the amazing way mussels cook. The sauce is sort of a given. The herbs, flavors and any additional toppings are all up to you. I'll share with you the easiest simplest and most straight forward way to get this done 🙂
Ingredients
4

lbs

mussels

fresh rinsed and any opened mussel discarded

2

tablespoons

butter

or olive oil, coconut oil, neutral oil

4

cloves

garlic

minced ( or shallots, gingers, red onions , etc)

1

teaspoon

salt

1

teaspoon

pepper

1

zest

lemon

1

juice

lemon

3

Tablespoons

fresh parsley leaves

minced ( add basil, mint, cilantro etc)

2

Tablespoons

olive oil

bread

crunchy for serving
Instructions
Preheat a 10 inch sautee pan with lid over high heat and add in the butter and garlic. Sautee the garlic for 2 minutes and then add in the mussels. Toss the mussels with the garlic butter and then close the lid. Lower the heat to medium high and let the mussels cook for 10-15 minutes until you notice all mussels have opened up.

Uncover the post and let some of the liquid evaporate over high heat.

Add in the lemon zest, lemon juice, parsley and olive oil. Toss the mussels one final time and serve right away 🙂 Enjoy! 🙂
Recipe Notes
Notes: Make different combinations of flavors like an Asian flare with sesame oil, ginger, garlic, soy sauce. An Italian flare with pesto, fresh tomatoes and basil. A Mexican flare with chilli powder, cumin, oregano and cilantro, and Insian flare with coconut oil, turmeric, garam masala and curry powder..etc.
Nutrition Facts
How to Cook Mussels with Garlic and Lemon Sauce
Amount Per Serving (4 mussels)
Calories 321
Calories from Fat 153
% Daily Value*
Total Fat 17g 26%
Cholesterol 81mg 27%
Sodium 800mg 33%
Potassium 786mg 22%
Total Carbohydrates 10g 3%
Protein 28g 56%
* Percent Daily Values are based on a 2000 calorie diet.