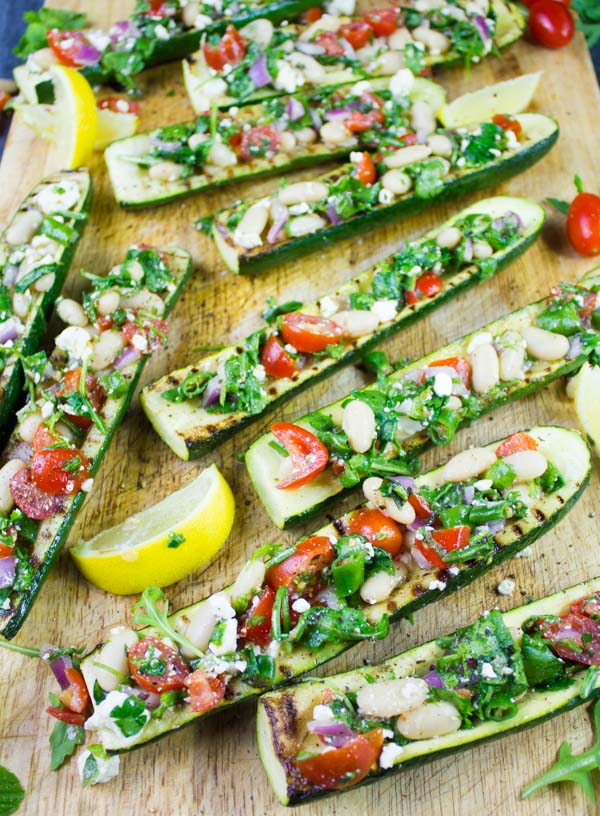 Here's one of my favorite ways to use zucchini all summer long–it starts with these Zucchini Boats Grilled & Loaded With White Bean Salad! It's a bite of tender grilled zucchini that's spiked with a flavorful mixture of white beans, cherry tomatoes, plenty of herbs, olive oil, lemon and some feta cheese. Fresh, bright and delicious! I can almost promise every zucchini hater that these zucchini boats will change your mind about zucchini! Totally. Just try them 🙂
More Summer LOVE coming your way! Zucchini love for today 🙂 I noticed I don't have enough zucchini recipes on my blog and yet I adore it! Can't get enough zucchini recipes all summer long, but wait zucchini haters don't turn your back on me just yet. I promise this recipe can change your mind. Because in all fairness, I think it's the stuffing that makes it what it is. The humble zucchini is pretty tasteless, so all this load of flavor in every bite here comes from the zesty Mediterranean inspired stuffing.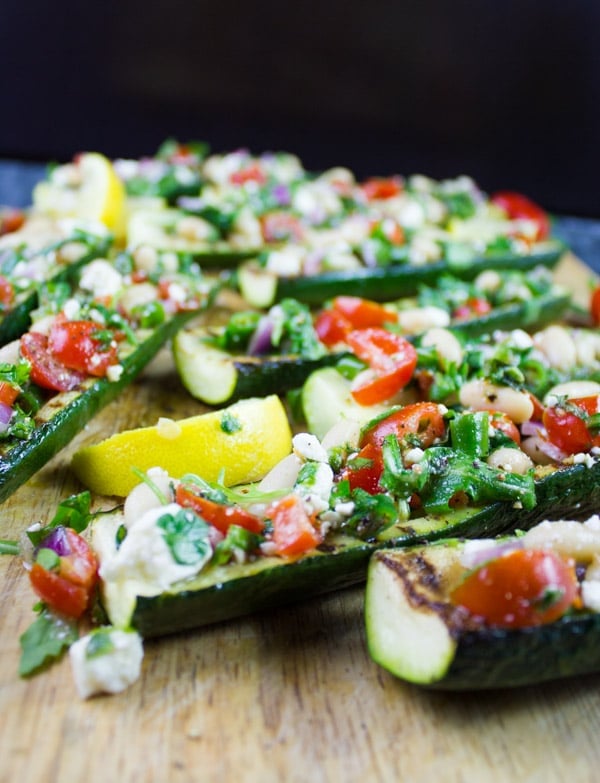 I remember I made this recipe at a cooking class a long time ago. It's one of those cooking classes I remember vividly. For one, I was pregnant and I was actually due lol I had quite the guts doing that class because I really wanted to be part of that cooking school. They had set a date to "try me out" which I accepted blindly. And as the date came closer, rather than cancelling my class (which had filled up with over 20 people) I decided to GO for it.
I was sort of risking it either way–a last minute cancellation on a full class is a bad start to working with anyone, and a baby coming in the middle of a class is another bad way lol. Funny enough, every single person I saw that day–the cooking school staff and every single guest who came in asked me the same question–"Wow when are you due?" I certainly didn't need to freak anyone out so I told them in a couple of weeks. So everyone was relieved (except me of course!) and we started the class with the zucchini boats!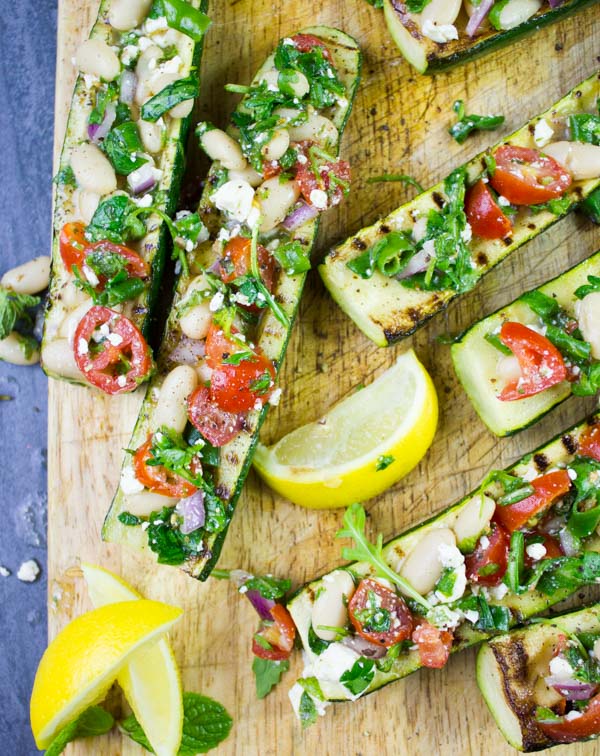 It was a Summer class so all the food we made was grilled, fresh and simple inspired . Maybe that made it easier for me since it's the kind of menu your prep with minimal effort. Oh and finally in case you're wondering, the baby actually showed up 2 weeks past her due date 🙂 She happens to be my little miss pickiest eater ever! So the hands you see in the photos below picking up those zucchini boats bites are those of my oldest daughter, who thankfully is such a foodie like her mama! lol
Ok back to those gorgeous and seriously delicious zucchini boats. I aways this and will keep saying it–the stuffing is all about YOU 🙂 Don't hesitate to make it your own and swap a few things around, but I have to say it's totally delicious as it is! Very Mediterranean, fresh, light and zesty. The white beans certainly add plenty of texture to the filling os please don't skip on that! They add a creamy taste, a smooth texture and a hearty feel to the zucchini boats. And above all they blend in beautifully with the remaining ingredients.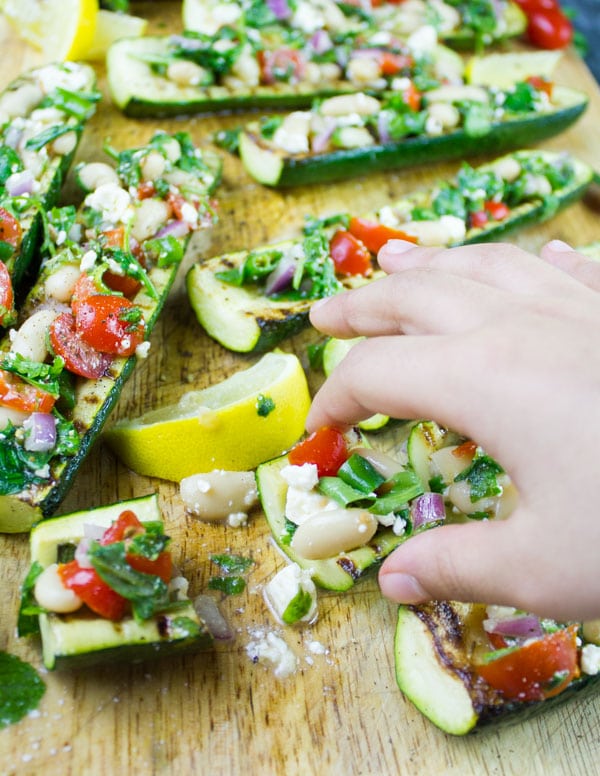 The rest of the filling is a ton of fresh parsley, basil, mint, cherry tomatoes and feta cheese. To make this completely Vegan, replace the feta with a vegan cheese or skip it all together. To me feta is comfort food and you'll find plenty of feta goodies on my blog–try those Mini Zesty Feta Stuffed Peppers , Best feta Cucumber Salad Bites and this dreamy 10 Minute Greek Cheese Tortellini  🙂 Finally, for a combo of zucchini and feta again–try the best ever Zucchini Feta Cranberry Fritters!
When preparing your zucchini boats, there are several ways to do that. Some people like them raw which is absolutely ok, but I prefer them to be cooked in some way. Almost barely cooked, but still cooked. You'll start by slicing each zucchini in half lengthwise and use a small metal spoon to scoop out the centers of the zucchini (doesn't have to be perfect at all). It's a technique similar again to this Best Feta Cucumber Salad Bites recipe. At that point you can broil, boil, bake or grill your zucchini boats. Since it's Summer–we're grilling baby!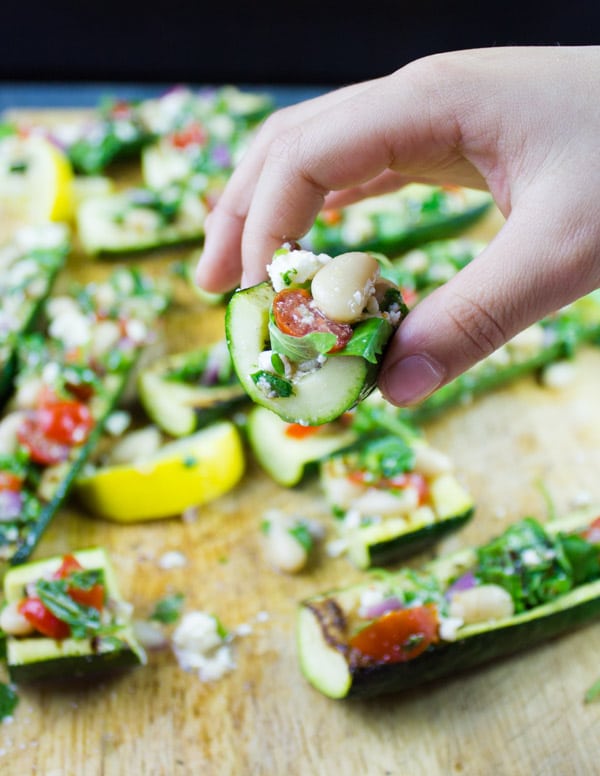 A nice drizzle of olive oil and a pinch of salt is all you need on the zucchini before it cooks. Just a couple of minutes on each side and the zucchini boats are ready. They should still have a bite and hold their shape completely for the filling. Now simply pile your filling over the center of each zucchini boat  and cut them into bite size pieces..and ENJOY!! 🙂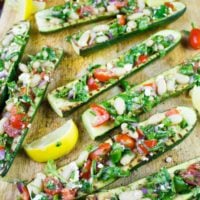 Zucchini Boats Grilled & Loaded With White Bean Salad
Here's one of my favorite ways to use zucchini all summer long--it starts with these Zucchini Boats Grilled & Loaded With White Bean Salad! It's a bite of tender grilled zucchini that's spiked with a flavorful mixture of white beans, cherry tomatoes, plenty of herbs, olive oil, lemon , garlic and some feta cheese. Fresh, bright and delicious! I can almost promise every zucchini hater that these zucchini boats will change your mind about zucchini! Totally. Just try them 🙂
Ingredients
4

medium sized zucchinis

pinch

of salt

1

teaspoon

of olive oil
Filling:
1/2

cup

of mixed chopped herbs

parsley, basil and mint

1

cup

of white beans

drained and rinsed

1/2

cup

of halved cherry tomatoes

1

green chilli sliced

optional for heat

1/3

cup

of crumbled Greek Feta Cheese

1

clove

of garlic

minced

Juice of 1 lemon

2

tablespoons

of olive oil

1/8

teaspoon

of salt

chopped red onions

optional

chopped arugula

optional
Instructions
Half each zucchini by length. Take a metal spoon and try to scoop out some of the zucchini seeds and flesh along the centre of each zucchini half (not going all the way).

Try to remove whatever you can but don;t remove too much so the zucchini would still hold its' shape for the filling.

Season the zucchini halves with a pinch of salt and olive oil.

You can cook the zucchini seared on both sides on a nonstick skillet, bake, broil or grill. Just a few minutes on each side on the grill or baked for 7 minutes or broiled for 4 minutes. Or alternatively you can have the zucchini raw.

For the filling: Mix all the ingredients in a bowl and adjust seasoning.

When the zucchini is ready, simply load on the filling along the centre of each zucchini boat and slice into bite size pieces.

Enjoy! 🙂