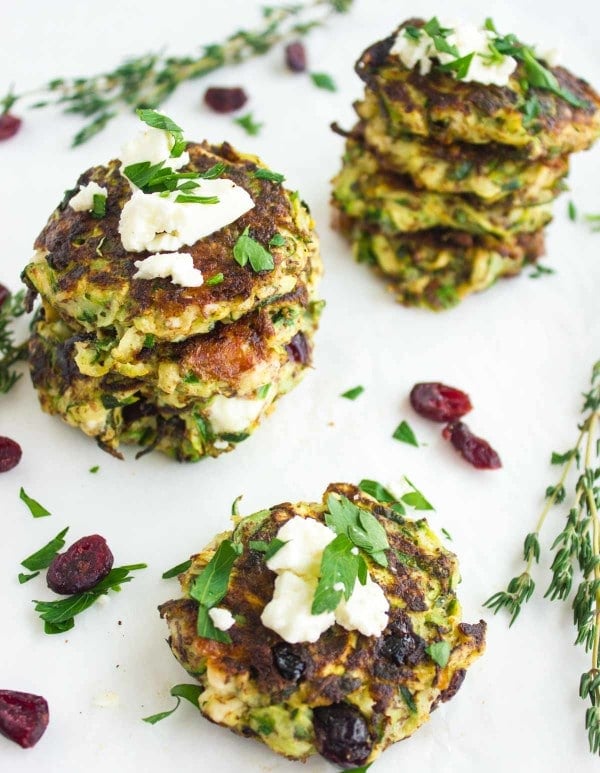 This zucchini feta cranberry fritters recipe is one of the best ways you can use up your zucchini and dazzle your taste buds. Crispy on the outside, soft on the inside, the humble zucchini is flavored with fresh thyme, scallions, feta cheese and dried cranberries for a burst of sweetness to perfectly compliment the fritters. As a bonus they are completely gluten free!
There's something about zucchini that makes me feel it's summer all year long. So every time I use it out of season,  I either look forward to Summer or tell myself next Summer will be here sooner than I know. I am one of those who really love this humble veggie. I love that refreshing  al-dente bite, I love that it has a mild flavor which makes it versatile in many ways and I love that it cooks really really fast!
My husband on the other hand does not share this enthusiasm towards zucchini, and this puts me in a spot where I may feel guilty for over-using it sometimes. Luckily for me, these fritters are one of his absolute favorites! So if you can think of someone who doesn't have a soft spot for zucchini, this is the recipe to win them over!
So this recipe is really really that good, and here's why. I love a fritter that isn't oily and has a good flavor or spice to it, this one is all Greek (again Greek I know) with the thyme and feta cheese and I pan fry the fritters with a thin layer of oil. The scallions really give a depth of sweet onion taste, and the cranberries…oh the cranberries! Well the cranberries just take it to another level—the slight sweetness with the salty feta and strong oregano are just what this fritter was looking for!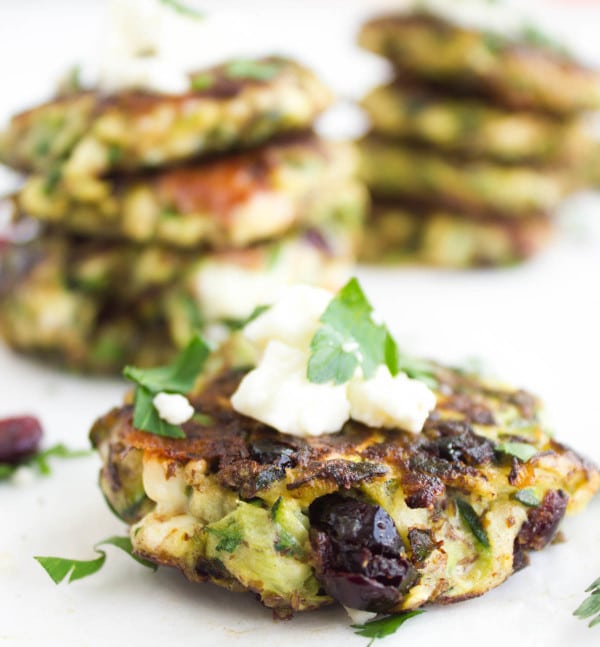 Now to make it even more exciting, I love my fritters completely gluten free. I use flax meal instead of flour, and here's why—flax meal adds a nutty taste to the fritters, it totally binds the batter so I don't need to add much eggs or worry about the zucchini being too watery, and flax meal does not make my fritters feel gummy—rather soft and pillowy on the inside and perfectly crispy on the outside. Another cool thing I love to add is hemp seeds, it's totally optional so don't feel that you can't try this recipe today because you are out of hemp seeds! All it does is a boost of protein, amino acids, iron and fibre with a subtle nutty flavor minus the crunch of the nuts.
So go ahead give those a try and double enjoy!!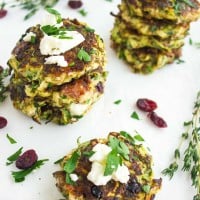 Zucchini Feta Cranberry Fritters
Ingredients
2

Tablespoons

of olive oil

3

small zucchinis grated

(2 cups)

1

large scallion or 2 small

, finely minced

2

tablespoons

of fresh thyme leaves

, finely chopped

1

tablespoon

of fresh parsley finely chopped

1

egg

1/4

teaspoon

of salt

(or to taste)

1/4

teaspoon

of fresh pepper

(or to taste)

3

tablespoons

of flax meal

(use 1/4 cup of all purpose or whole wheat flour, if flax meal is unavailable)

2

tablespoons

of hemp seeds

(optional)

1/4

cup

of cranberries

(scant, not tight packed)

1/4

cup

of crumbled Greek feta cheese
Instructions
Place the grated zucchini in a kitchen towel and try to drain most of it's liquid out by wrapping the towel around it and then squeezing the towel.

Heat a non stick skillet or cast iron pan over medium-low heat.

In a bowl, mix the egg, fresh herbs and seasoning, scallions, flax powder and hemp seed into a lose paste.

Add the zucchini to the egg mixture, and fold it in along with the cranberries and feta.

use a large serving spoon or tablespoon or 1/4 cup measuring cup ( depending on the size you want your fritters to be—the ones pictured above are about a golf size ball of batter) and roll it between your hands slightly into a ball, then place it carefully into the hot skillet.

Repeat with the remaining batter.

Let the fritters cook on each side for 3-6 minutes (depending on the size of your fritters— the ones pictured above cooked 3 minutes per side) before flipping them.

drain on paper towels for a few seconds and serve.

Keep fritters warm in a low oven (220F), or reheat them at 350 degrees for 8 minutes. They are best when eaten fresh!
3.2.2925