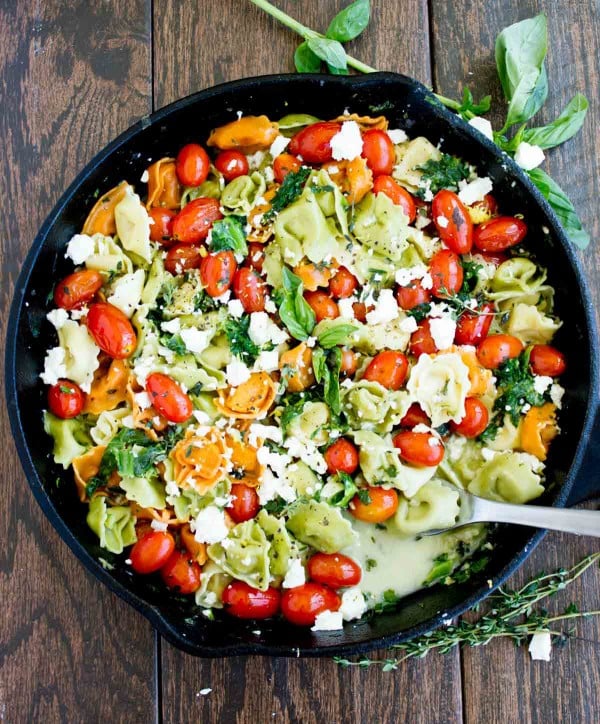 This perfect 10 minute Greek cheese tortellini recipe is a last minute brunch, lunch, dinner and pot luck to pull out in exactly 10 minutes! Loaded with garlic, mixed herbs, feta cheese, tomatoes and lemon zest—it's a burst of flavor and freshness. Use whatever veggie you have on hand, grab any herb and cheese combo you like, use regular pasta, and give this simple, easy, vibrant recipe a try.
This is such an easy, delicious pasta dinner recipe that happens to be super quick as a bonus. There's some comfort and cozy feel to pasta dinners, maybe because we've had so much of them over the years, or because they're so versatile and can be made endless ways, or simply because they're yummy. And so this 10 minute Greek cheese tortellini not only satisfies those pasta cravings, it also adds such a fresh feel to pasta.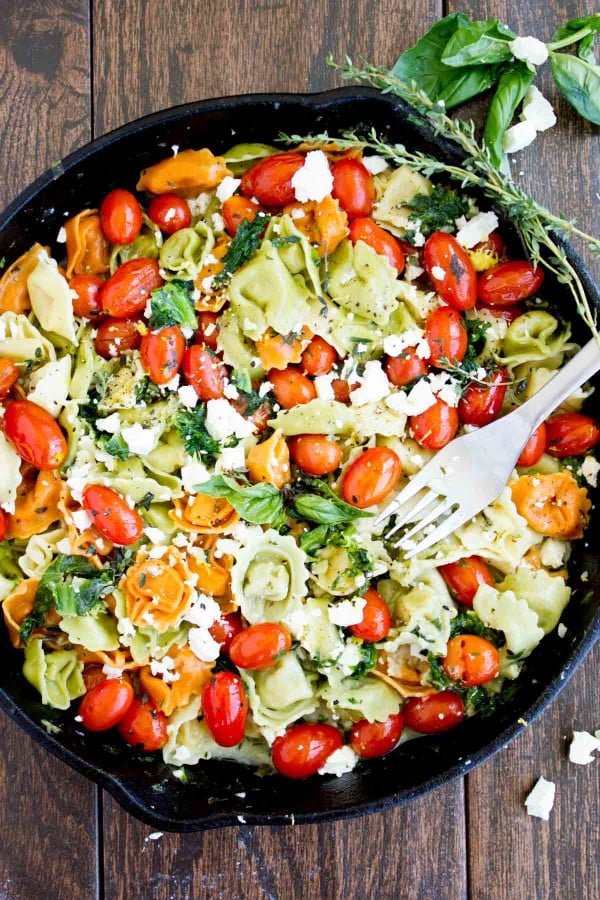 This recipe starts by boiling the tortellini, and in the meantime, I sauté garlic, baby tomatoes, plenty of fresh herbs and lemon zest in olive oil for a few minutes. Then the half cooked tortellini is added in this fragrant garlic herb mixture. And the secret ingredient to make this creamy looking sauce is—pasta water. Yes the same water where the tortellini was cooked, just remove a cup of that salty starchy water. And start by adding 1/4 cup of water at a time while tossing the pasta continuously and then, add a little feta cheese to melt beautifully in the sauce.
The beauty of the sauce in this 10 minute Greek cheese tortellini recipe is that it's actually quite self made. The starchy water will thicken up with the feta, lemon and herbs creating a fresh sauce which beautifully compliments the pasta. The remaining cooking time on the tortellini which is about a couple of minutes takes place in the sauce. This adds much much flavor to the pasta as it soaks up all the garlic, herbs, lemon and feta, and also allows for the sauce to thicken up and blend well. All you need now is to finish it off with a few crumbles of feta cheese, some extra fresh herbs and voila!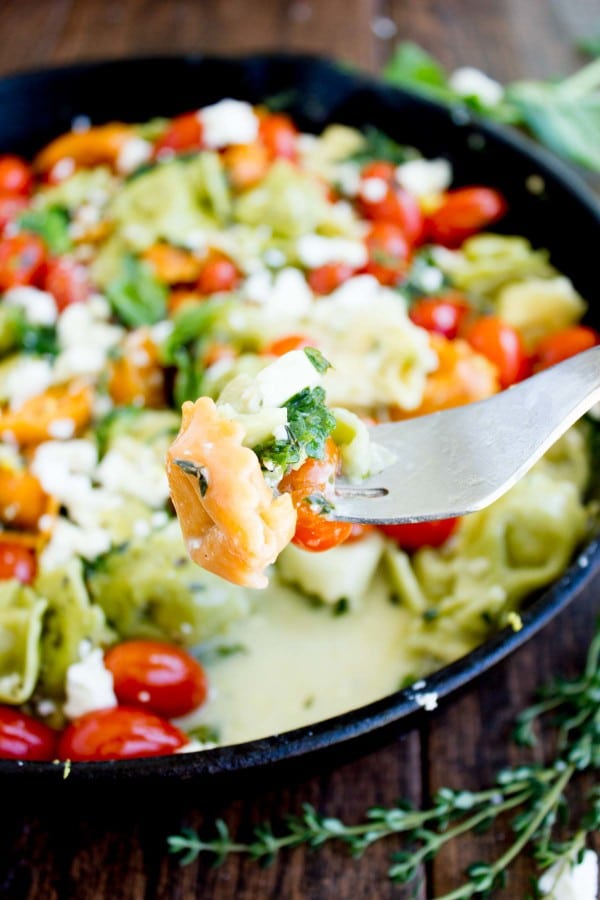 I know there's been quite a bunch of Greek-style recipes on the blog so far, and much use of feta cheese..obviously I love it, but if you're less enthusiastic about feta, you can substitute any other cheese you love. Also feel free to throw in some asparagus, onions, mushrooms and any veggie you have on hand. If you're not a lemon lover, by all means leave it out. And if you're a serious spice lover, throw them right in! However which way you chose to personalize this 10 minute Greek cheese tortellini, you'll love it—so make it and enjoy!:)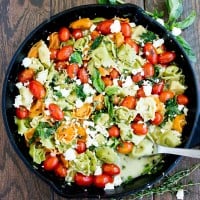 10 Minute Greek Cheese Tortellini
Ingredients
1

lb

box of cheese tortellini

(use any other pasta if you like)

1

tablespoon

of olive oil

2

cloves

of garlic

, minced

1

pint

of baby tomatoes

zest of 1 lemon

2/3

cups

of fresh minced herbs

( you favourite or a combination here of: fresh thyme, parsley and basil)

a pinch pf salt and pepper

1/3

cup

of crumbled feta cheese

juice of 1/2 a lemon
Instructions
In a large pot of boiling water, add 1/2 Tablespoon of salt and start cooking the tortellini.

In another skillet over medium heat. Add the olive oil and start sautéing the garlic and tomatoes for 1 minute.

Then add in the lemon zest and half of the fresh herbs. Sauté them for another minute.

Remove the tortellini from the boiling water and reserve a cup of that cooking water, set it aside.

Toss the tortellini with the garlic tomato mixture and add in 1/4 cup of the pasta cooking water. Lower the heat so that the water is simmering, but not boiling vigorously.

Season the pasta with a pinch of salt and pepper.

Add in a few crumbles of feta (about half the amount) and gently toss the pasta together.

If you feel the pasta is dry, keep adding the pasta cooking water 1/4 cup at a time and allow it to cook over low heat to thicken up.

The sauce should be ready in no longer than 3 minutes, and the pasta should be fully cooked.

At that point, turn off the heat, sprinkle the remaining extra herbs, lemon juice and feta cheese on the top and serve.