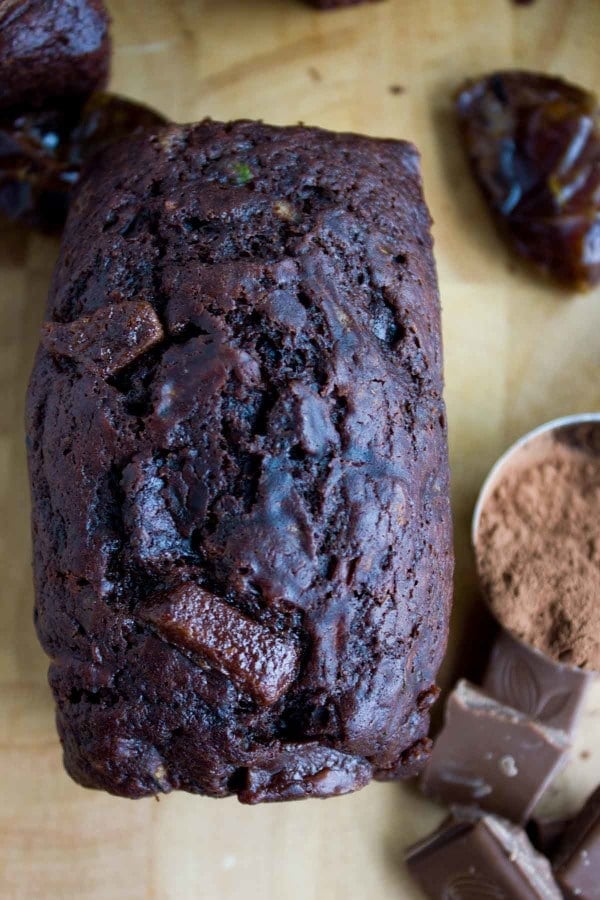 This double chocolate date zucchini bread recipe is simply a really really light, fluffy, super moist and intensely chocolate-y bread studded with chocolate chips and tiny pieces of dates! The zucchini is added here in a way you won't ever notice it, taste it or feel it—it's sneaked in to boost the moisture level and lighten up the bread! A must try recipe for chocoholics.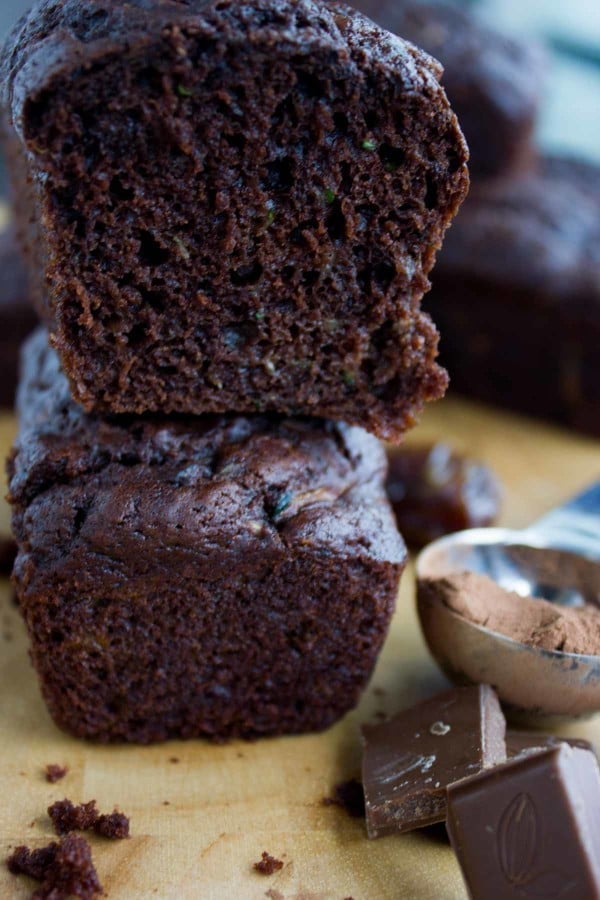 So this double chocolate date zucchini bread is a tricky one, I don't know what's the appropriate name for it. It's a bread, but literally it's also a cake. It's not just a cake, it's a really fluffy chocolate cake. And it has a load of chocolate flavor from the cocoa powder and chocolate chips. It also has dates. That's why it isn't too sweet, it gets just a bit of an extra sweet kick from the dates. Feel free to go nuts here and add some in for an extra crunch if you like.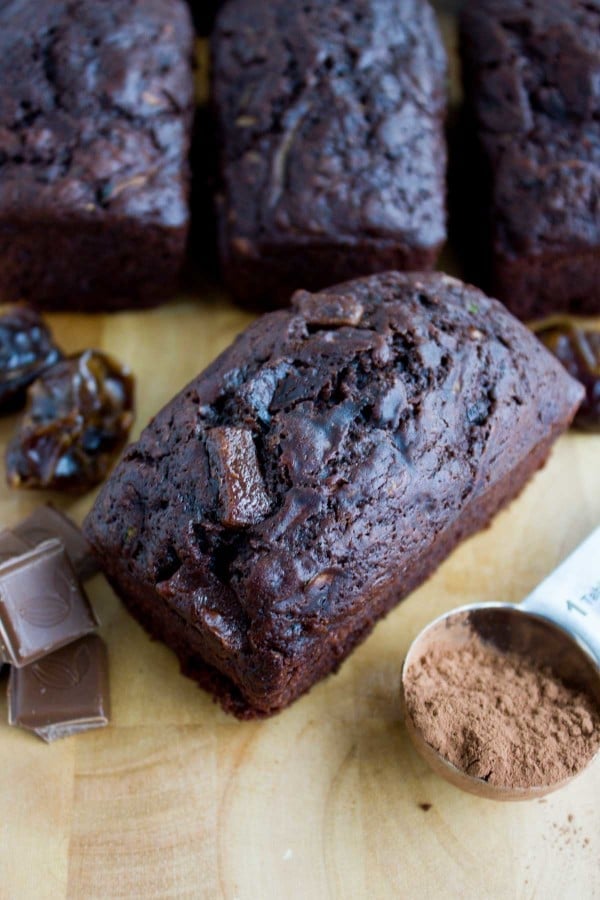 The zucchini factor here is not to make this a veggie cake. It does add a nice bit of veggie goodness, but what it really adds is a ton of moisture to this double chocolate date zucchini bread. It also helps the cake stay fresh for a while—at least 4 days! And I promise, even though there's about 2 cups of shredded zucchini in here—you won't get a bite of zucchini in your mouth that will spoil your chocolate moment—not a bite! It completely absolutely all bakes away and becomes a smooth part of the cake.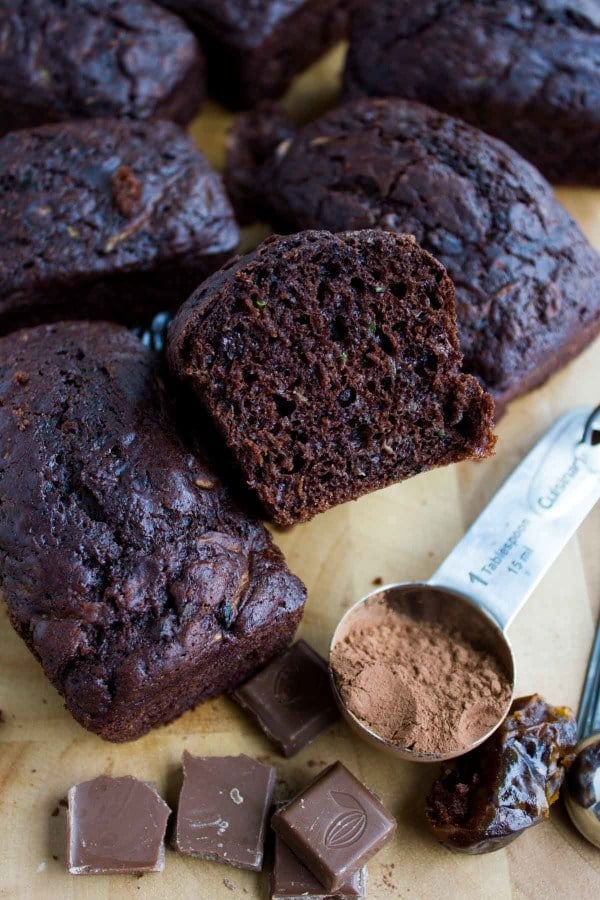 Now the dates. They add another level of moisture to the cake, just a smooth melt in your most sweet feel. And of course they add sweetness. A nice faint sweetness that perfectly balances the chocolate without any date flavor to take away from your chocolate moment.
Ok in case you're wondering what's with the chocolate moments? I don't know about you, but I seriously do need my chocolate moment once a while. It's just a comfort cozy moment between chocolate and yourself—undisturbed by kids asking you ten things at once.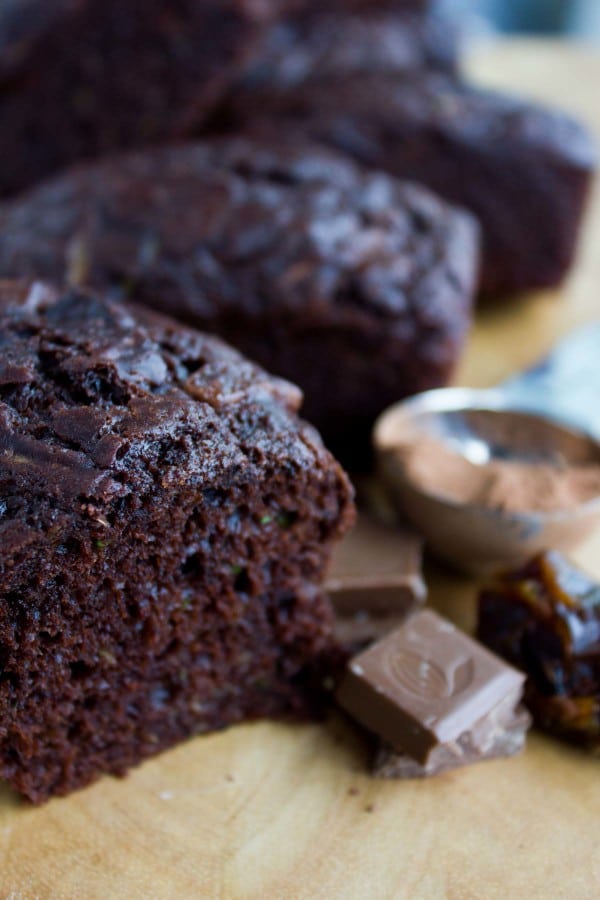 I made quite a bold confession earlier on in this mini chocolate pudding cakes recipe, that I am relatively a newbie chocoholic. I took my time to fully discover chocolate—and when I fell in love with chocolate, I fell in love with really really good chocolate. So when they say life's too short to eat bad food, I think it should specifically say: Life's too short to eat bad chocolate! 🙂 So it's no kidding the chocolate recipes here on the blog totally r-o-c-k!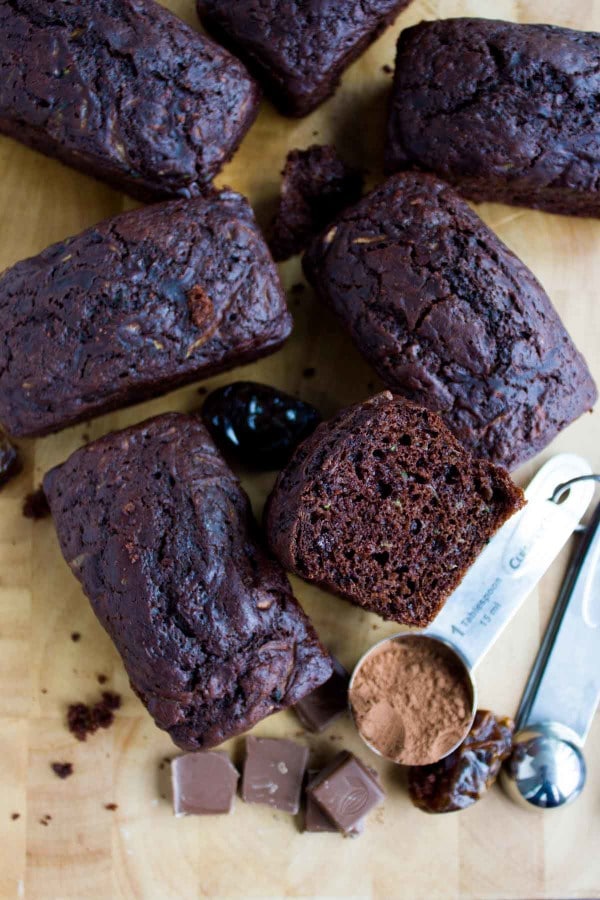 So quickly back to this fabulous out of this world tender and super chocolate-y double chocolate date zucchini bread, you'll need a whisk and 2 bowls. One bowl dry ingredients and one bowl wet ingredients and then all gets whisked up and baked. I bake those in this mini loaf pan so they only need 20 mins and I can start indulging. However you can bake them in a loaf pan for an hour, or a square pan and cut them into squares (flash back: chocolate banana chocolate chip cake did you miss this recipe? Dark chocolate cake with an overload of bananas and chocolate chips! Yes another super moist chocolate cake with hints of banana). Give yourself a chocolate moment, make this now and enjoy 🙂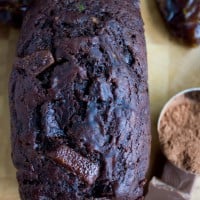 Double Chocolate Date Zucchini Bread
Ingredients
2

cups

of shredded zucchini

, drained

1/2

cup

light brown sugar

1

egg

1/2

cup

of Greek yogurt

1/3

cup

of oil

1

teaspoon

of vanilla extract

1/2

cup

finely minced pitted dates

1/2

cup

of cocoa powder

2/3

cup

of mixed milk and dark chocolate chips

1 1/4

cups

of flour

3/4

teaspoon

baking powder

3/4

teaspoon

baking soda

pinch of salt
Instructions
Preheat the oven to 375 degrees F. Spray a mini loaf pan with baking spray and set aside.

In a small bowl whisk in the dry ingredients : flour, baking powder, baking soda and salt.

In another bowl, whisk in the wet ingredients well : the egg, sugar, yogurt, oil, vanilla and cocoa powder until smooth.

Using a rubber spatula, fold the dry ingredients into the wet ingredients without over mixing the batter. Just make sure there are no visible white specs of dry ingredients. Some lumps in the batter are ok.

Using the same spatula, fold in the chocolate chips and dates. Then pour the batter into a mini loaf pan and bake for 20-24 mins.

If baking in a loaf pan, line the pan with parchment paper and bake for an hour.

If baking in an 8 inch square pan, line the bottom with parchment paper and bake the cake for 45 mins.