This Juicy Burger is loaded with fajita toppings for a fun Mexican twist! They're spicy, zesty, juicy, drenched in salsa and avocados!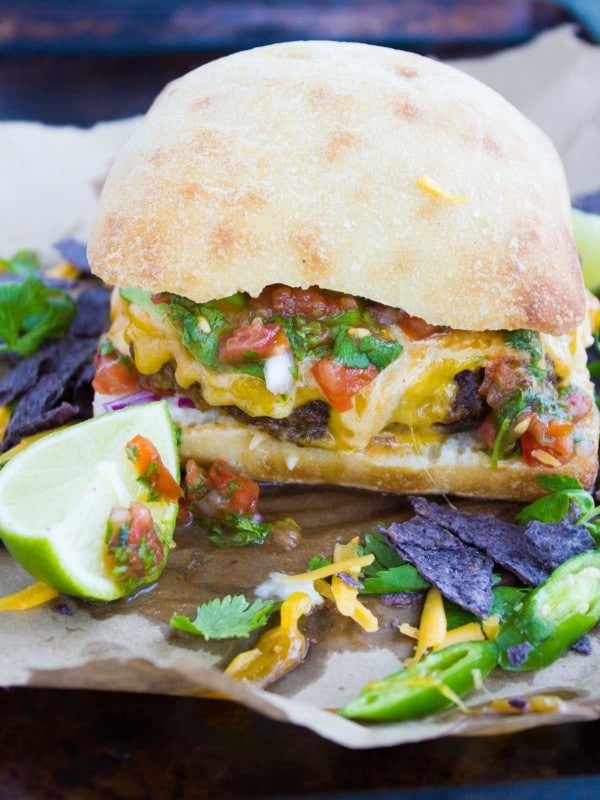 These toppings are what make this Juicy Burger extra juicy and special! This recipe is great with ground chicken and can be personalized to your taste—extra spice, less spice, no salsa, more guacamole, chips, cheeses, veggies, and just about anything you like!

It's no secret I mentioned before how much I love love burgers. And I've heard from many friends who've tried those mushroom Swiss cheese burgers recipe -that it's their go to burgers recipe now. Well maybe until today.
We all love a flavor packed juicy burger, and while I have a few burgers recipes that are my go to, I feel the fajita toppings here are another level!
Cheese Stuffed Burgers With Onions And Mushrooms are a classic you can't miss! The Best Lamb Burgers Loaded with Nachos are for the daring gourmet in you. Mushroom Swiss Cheese Burger is the go to easy and delicious burger.
Let's talk about today's burger and why you should try it!
JUICY BURGER
So these burgers are not a go to or everyday burgers like the mushroom Swiss cheese burgers recipe, they're more of a special feel burgers.
I'm not saying you can't make those everyday, I'm just trying to tempt you to make them at least once on a special day, and take it form there!
Why are they Juicy?
Variations on the Juicy Burger
FAJITA TOPPINGS
The fajita toppings are everything. Everything.
Not only to flavor up my juicy burgers, but to actually add juice to the burgers!
Imagine a warm burger soaking up some Homemade Salsa , guacamole, melting cheese, avocados, mayo and hot sauce!
It's a world of flavors and a whole level of juicy goodness!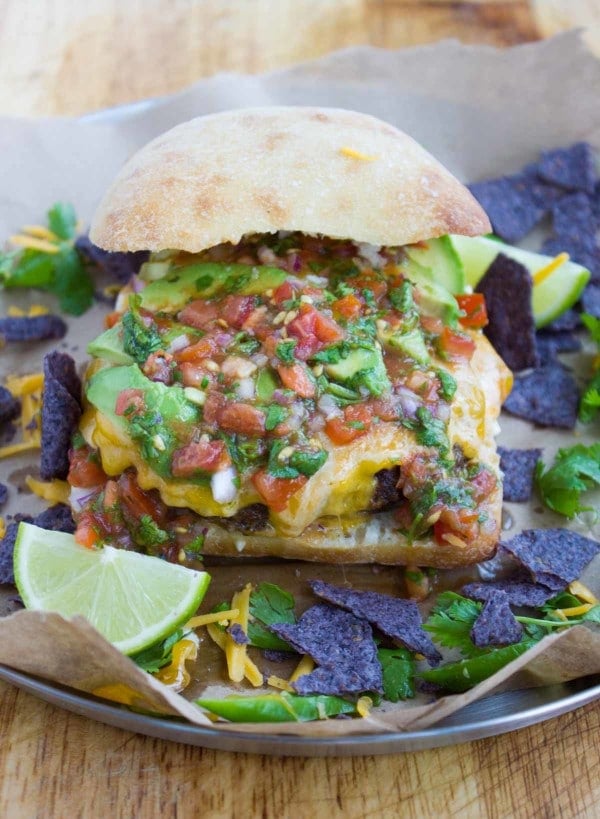 Fajita toppings I used are:
Now that we've got all ingredients and tips, let's make and assemble the burgers!
HOW TO MAKE JUICY BURGERS
Start with all ground beef meat and season it with the Mexican spices.
Always handle the meat minimally to keep the burgers juicy.
Shape the meat into patties and fry for 5-8 minutes on each side depending on how big your burger patty is.
Add the cheddar cheese when the burgers are ready and cover the skillet for just one minute while the heat is turned off. This is all you need to melt the cheese.
Layer the burger bun with mayo and chilli spice.
Add a good layer of Homemade Salsa and extra sliced jalapeños if you can handle the heat 🙂
Now go on with your cheesy topped juicy burger over that.
And YES, we're adding another layer of Homemade Salsa Recipe because why not? And also because we want EXTRA Juicy Burger here!
Ok, it may sound like a lot but seriously NOT! Now add some sliced avocados or Authentic Guacamole Recipe. Extra Salsa please! trust me, it's so GOOD!
Now we're done!
A sprinkle of tortilla chips on the burger or on the side is practically all you need.
Now you can ENJOY!!!
I always say I have a Mexican food love affair which keeps me going back to making something zesty Mexican at least once a week!
If you give yourself a chance and make these juicy burgers with Fajita toppings, I guarantee you will enjoy them more than you expect!:)
Check out this cut: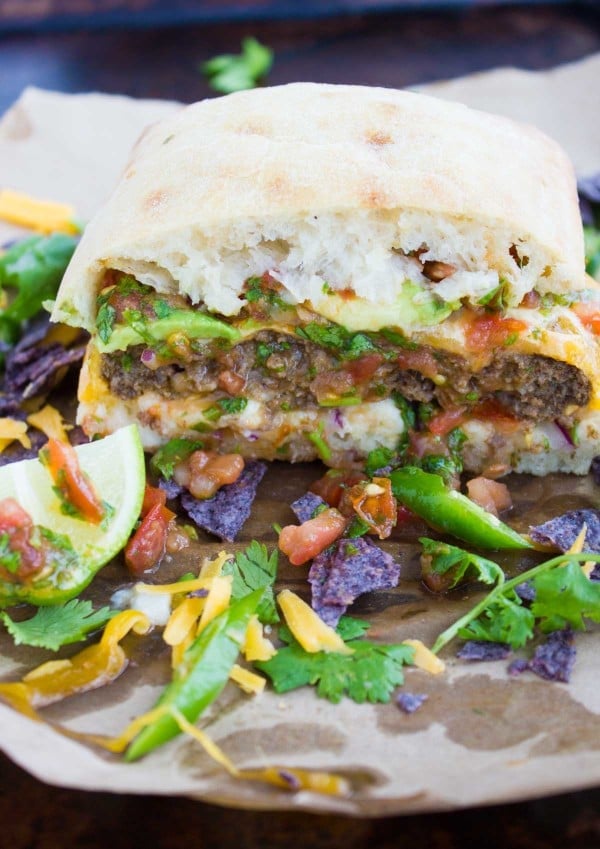 JUICY BURGER TIPS
MEXICAN RECPES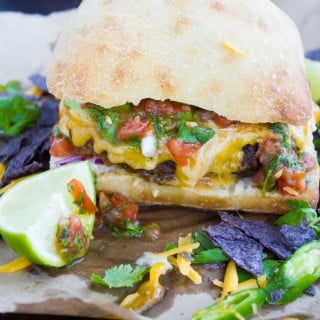 Juicy Burger with Fajita Topping
This Juicy Burger is loaded with fajita toppings for a fun Mexican twist! They're spicy, zesty, juicy, drenched in salsa and avocados!
Ingredients
2

lbs

ground beef

1/2

teaspoon

of salt

1/2

teaspoon

of pepper

1

teaspoon

of dried oregano

1/2

teaspoon

of cumin

1/2

teaspoon

of chili powder

1/2

teaspoon

of garlic powder

1/2

teaspoon

of onion powder

1

teaspoon

of olive oil

1

cup

of shredded strong cheddar cheese

1/2

cup

of restaurant style Mexican salsa

(or your favorite), more or less to taste

2

small hass avocados

, thinly sliced

4

toasted buns of your choice

2

tablespoons

of sour cream

(more or less to taste)

sliced jalapeños

chopped fresh cilantro

crumbled corn chips

sliced red onions
Instructions
Mix the beef, spices and seasoning together in a bowl and shape into 4 burgers.

Preheat a skillet over medium hight heat with the olive oil. And place each burger in the skillet to sear for at least 2 minutes before flipping it on the other side.

Let each flipped burger sear for another 2 minutes, then lower the heat and cover the skillet for 2 more minutes until the burgers are cooked through.

Place about a 1/4 cup of shredded cheese over each burger, turn off the heat and cover the skillet again for the cheese to fully melt.

Spread a layer of sour cream on the toasted bread, a teaspoon of salsa and top with the burgers, more salsa, sliced avocados, sliced jalapeño, fresh cilantro, sliced red onion, corn chips and whatever extra toppings you like.
Recipe Notes
JUICY BURGER TIPS
Start with lean ground beef, not extra lean.
Avoid adding chunky pieces of garlic or onions or herbs to favor the meat because you'll have to over work it to blend everything in.
Go for a dry spice mix to sprinkle lightly over the meat and shape gently into patties.
Cook the burgers on a stove top skillet and watch carefully not to over cook.
Add the cheese and to off the heat right away. Covering the pan for just one minute will help the cheese melt.
When layering the burger sandwich, add salsa at the bottom with the mayo.
When the hot burger is placed over the salsa It ill start to absorb it right away adding extra juicy-ness to the juicy burger.
Add more salsa and guacamole over the burger for extra juicy feel in your mouth from the buttery avocados and juicy salsa.
Serve right away!
It's best to make and serve this juicy burger the day of.
To make in advance, prepare the fajita toppings, ok the burgers and assemble the burger just when serving. 
ENJOY!
Nutrition Facts
Juicy Burger with Fajita Topping
Amount Per Serving
Calories 600
Calories from Fat 441
% Daily Value*
Fat 49g75%
Cholesterol 129mg43%
Sodium 771mg34%
Potassium 839mg24%
Carbohydrates 30g10%
Protein 36g72%
Vitamin A 462IU9%
Vitamin C 7mg8%
Calcium 197mg20%
Iron 11mg61%
* Percent Daily Values are based on a 2000 calorie diet.