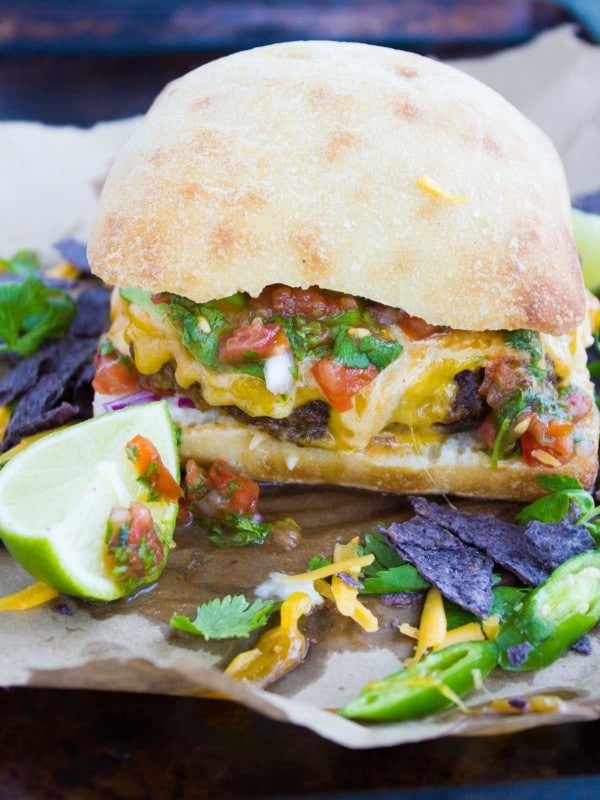 This spicy beef fajita burgers recipe is a super Mexican twist on burgers—making them spicy, zesty, juicy, and drenched in salsa and avocados—making burgers super special. This recipe is great with ground chicken and can be personalized to your taste—extra spice, less spice, no salsa, more guacamole, chips, cheeses, veggies, and just about anything you like!
It's no secret I mentioned before how much I love love burgers. And I've heard from many friends who've tried those mushroom Swiss cheese burgers recipe -that it's their go to burgers recipe now. Well maybe until today.


So these burgers are not a go to or everyday burgers like the mushroom Swiss cheese burgers recipe, they're more of a special feel burgers. I'm not saying you can't make those everyday, I'm just trying to tempt you to make them at least once on a special day, and take it form there!



Those awesome spicy beef fajita burgers can be made with ground chicken for a change, but I prefer the beef version. The meat is flavored with oregano, garlic powder, cumin, onion powder and chilli powder, then shaped and seared on both sides till juicy perfection. And I add a nice mound of shredded sharp cheddar cheese, wait for it to melt and it's all ready to be dressed up!
The toppings are endless, I love adding this 5 minute restaurant style Mexican salsa on the bottom and top of the burgers—it gives burgers so much flavor and extra juicy-ness! I also love adding sliced avocados because they add a great creamy almost buttery feel to the juicy spicy fajita beef burgers. When I have guacamole on hand, I use it instead of the sliced avocados, either way works. To finish off, I love adding sliced jalapeño and chopped cilantro with crumbles of corn chips.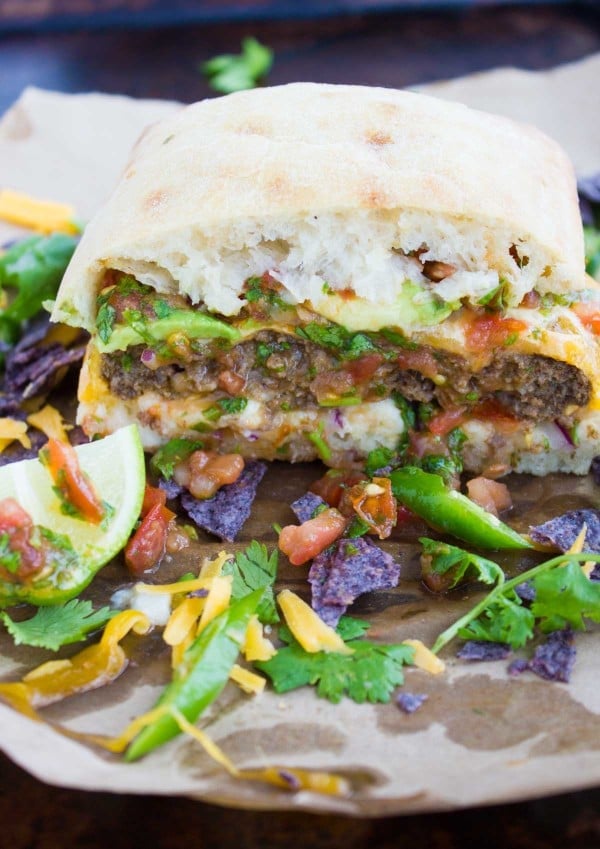 I always say I have a Mexican food love affair which keeps me going back to making something zesty Mexican at least once a week, these spicy beef fajita burgers happen to be one of my favorites which I make more often than I should! If you give yourself a chance and make them, I guarantee you will enjoy them more than you expect!:)
MORE BURGER RECIPES
Nori Crust Asian Salmon Burgers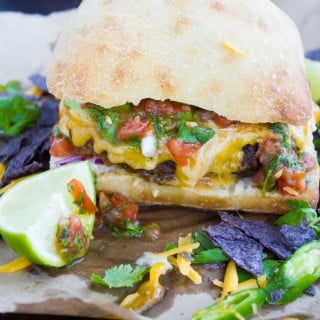 Spicy Beef Fajita Burgers
Ingredients
2

lbs

ground beef

1/2

teaspoon

of salt

1/2

teaspoon

of pepper

1

teaspoon

of dried oregano

1/2

teaspoon

of cumin

1/2

teaspoon

of chili powder

1/2

teaspoon

of garlic powder

1/2

teaspoon

of onion powder

1

teaspoon

of olive oil

1

cup

of shredded strong cheddar cheese

1/2

cup

of restaurant style Mexican salsa

(or your favorite), more or less to taste

2

small hass avocados

, thinly sliced

4

toasted buns of your choice

2

tablespoons

of sour cream

(more or less to taste)

sliced jalapeños

chopped fresh cilantro

crumbled corn chips

sliced red onions
Instructions
Mix the beef, spices and seasoning together in a bowl and shape into 4 burgers.

Preheat a skillet over medium hight heat with the olive oil. And place each burger in the skillet to sear for at least 2 minutes before flipping it on the other side.

Let each flipped burger sear for another 2 minutes, then lower the heat and cover the skillet for 2 more minutes until the burgers are cooked through.

Place about a 1/4 cup of shredded cheese over each burger, turn off the heat and cover the skillet again for the cheese to fully melt.

Spread a layer of sour cream on the toasted bread, a teaspoon of salsa and top with the burgers, more salsa, sliced avocados, sliced jalapeño, fresh cilantro, sliced red onion, corn chips and whatever extra toppings you like.
Nutrition Facts
Spicy Beef Fajita Burgers
Amount Per Serving
Calories 704
Calories from Fat 441
% Daily Value*
Fat 49g75%
Cholesterol 129mg43%
Sodium 771mg34%
Potassium 822mg23%
Carbohydrates 30g10%
Protein 36g72%
Vitamin A 453IU9%
Vitamin C 7mg8%
Calcium 193mg19%
Iron 11mg61%
* Percent Daily Values are based on a 2000 calorie diet.