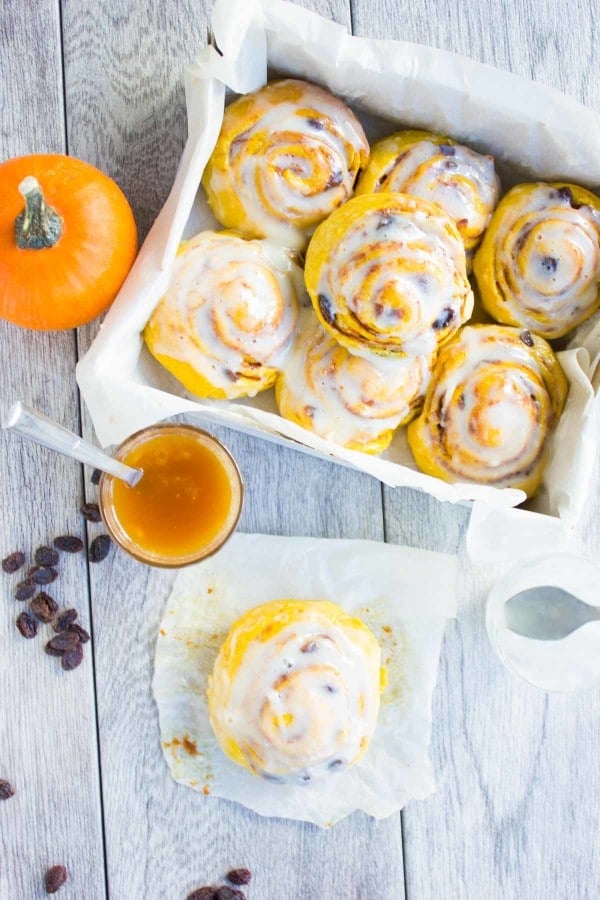 This pumpkin cinnamon rolls recipe is super tender, super fluffy and stays moist for days. It's a pillowy soft dough stuffed with pumpkin, raisins, and almonds. And when baked, it's all dressed up with a vanilla cream cheese icing and a smooth caramel sauce. It's the ultimate cinnamon roll meets pure pumpkin love, and now make this meet your Thanksgiving table!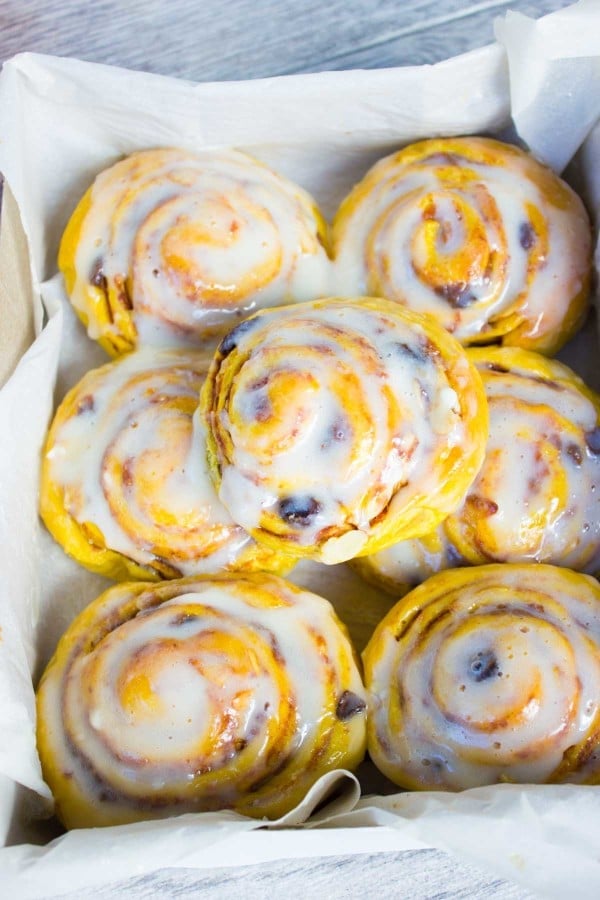 It's countdown for Thanksgiving and this year I decided to let go my turkey traditions! Actually to clarify that, I'm not hosting this year and I'm a first time guest,  so as a first time guest I don't want to offend the hostess and bring in the turkey. For that I'm making either this quinoa Autumn harvest salad or this blackberry pecan roast veggie power salad. And for sure I'm bringing those amazing pumpkin cinnamon rolls!
I absolutely love cinnamon rolls. Do you remember these quick, tender, ultimate cinnamon rolls muffins? They are my go to muffins when I'm rushed and need that cinnamon rolls feel! Super tender and fluffy, with all the dressing and fixings—it's like a dream!
Now to restate, I absolutely love cinnamon roll. I think it's the cinnamon. But then it's the tender buttery dough that compliments the cinnamon. And then the vanilla cream cheese icing brings a moist creamy vanilla feel to it. Oh and I can't forget the homemade caramel sauce which is just a faint drizzle- but takes the rolls to a whole new level of caramel sweetness. And now the pumpkin. Oh the pumpkin. It just makes this the perfect treat. Now I love adding raisins and slivered almonds too, because, well, why not? And because hello—more perfection!
before baking
out of the oven
cream cheese glaze
So the pumpkin cinnamon rolls are the real deal. Yeast and all. But not in a scary way, I promise. Let's take this one step at a time, and you be the judge. Mix in some flour, yeast, sugar and salt in a bowl. Cold cubed butter pieces go in and get rubbed in by hand or using a mixer until the flour mixture looks wet (no restrictions like making pie dough here). After that some nice warm milk  and one egg gets poured in and mixed. And just like that you made the dough! Now kneading this dough by hand or mixer will produce optimal pumpkin cinnamon rolls, but if you're not a kneading person, you can skip this step and simply pat the dough a few times until it holds a nice ball shape. Add in more flour if it feels too sticky.
If you go back to these best soft burger buns recipe (which are a fabulous way to make dinner rolls too!), you'll see they're quite similar. The dough needs to be that slightly sticky consistency that can easily be rubbed off your finger but still sticks to it.
So after the dough is ready for those pumpkin cinnamon rolls, you'll need to cover it up and leave it on the counter for 2 hours (less if you're in a warm place—like half an hour less). And then take it out and roll it on a nice floured surface into a rectangle about 1/8th thickness. Slather the surface of the rectangle with pumpkin and sprinkle a cinnamon sugar mixture. Then go nuts and sprinkle in slivered almonds (or your choice of nuts, or skip!) ad raisins (optional) leaving always about an inch border at the top and bottom of the rectangle.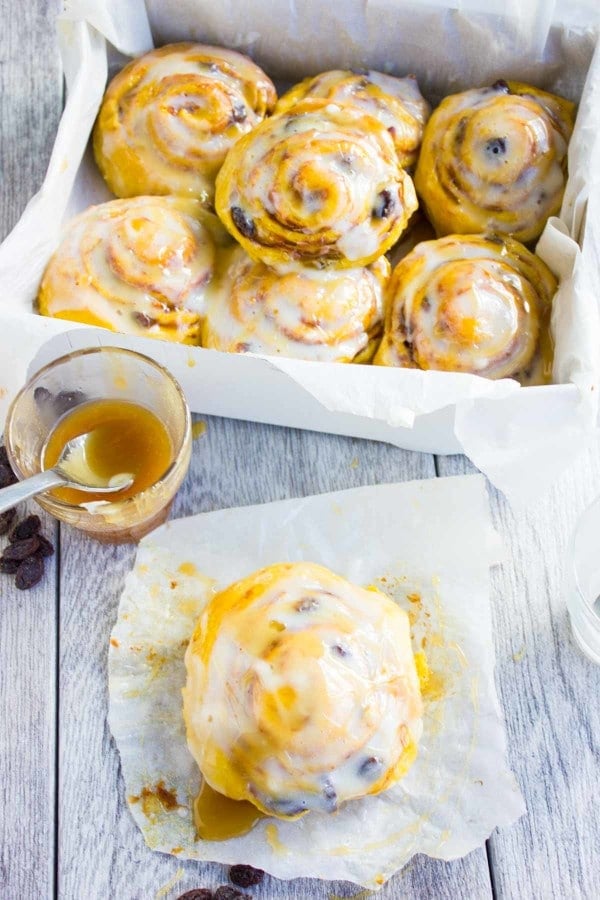 Now comes the rolling part. You'll take the long side of the rectangle closest to you and begin rolling it over the pumpkin, nuts and raisin filling to form a cylinder. The sweet tip for these beauties to hold their shape is to take a little bit of beaten egg (or egg white) and brush the long side of the rectangle furthest away from you as you start rolling. This seals in the cylinder and keeps it intact. Now take a sharp little knife and cut an inch pieces along the length of the cylinder. And place those pumpkin cinnamon rolls on a baking sheet for about 1 hour and a half before baking.
Next is bake, glaze and indulge. Pure indulge.
On a side note—even though I wouldn't change a thing to this recipe, I should say that you can double the cinnamon sugar mixture and skip the pumpkin to make those classic cinnamon rolls. And you can skip the raisins, you can add any type of nut you prefer, cranberries, chocolate chips, espresso powder..etc. My lovely mom makes these cinnamon rolls filled with a spicy chai date spread and walnuts—it is out of this world and I promise to share it soon! For now let's stick with these blissful pumpkin cinnamon rolls and enjoy! 🙂
Pumpkin Cinnamon Rolls
Total Time
3
hours
20
minutes
Ingredients
Dough:

2

cups

of flour

1 1/2

teaspoons

of instant yeast

1/3

cup

of sugar

1

teaspoon

of salt

4

tablespoons

of cold unsalted butter cut into half inch dice

1

egg

1/2

cup

of warm milk

1/4

cup

of canned pumpkin

Filling:

2

cups

of canned pumpkin

1

tablespoon

of ground cinnamon

1/4

cup

of granulated sugar

3/4

cup

of slivered almonds

(optional)

1/2

cup

of raisins

(optional)

2

tablespoons

of beaten egg or egg white for brushing the dough edges.

Glaze:

Cream Cheese Icing

Homemade Caramel Sauce
Instructions
In a large bowl or a stand mixer bowl, add the flour, sugar, salt, yeast and mix well.

Add in the butter and mix it using the mixer or rub it with your fingers into the flour mixture until the flour mixture feels wet.

Add in the egg, continue mixing, add in the milk and canned pumpkin and mix until your form a dough.

If the dough feels too sticky, add in a little bit of flour. Knead the dough for about 3 minutes until it feels smooth. It should stick slightly to your fingers, but should easily be rubbed off.

Place the dough in an oiled bowl and cover it for 2 hours until the dough is doubled in size at least.

Lightly flour a surface and roll the dough into a large rectangle about 1/8th of an inch thick, and make sure the long sides of the rectangle are parallel to you, with the shorter sides to your sides.

Spread the pumpkin over the entire surface of the rectangle leaving an inch border at the longest sides of the rectangle only.

In a small owl, mix the sugar and cinnamon and then sprinkle that over the pumpkin. Then top with raisins, and almonds or any toppings you prefer.

Brush the long side of the rectangle which is the furthest away from you with the beaten egg.

Take the long side of the rectangle closest to you and start rolling the dough over the toppings like to form a cylinder.

Use a sharp knife, cut about 1 inch pieces (bigger or smaller to your taste) along the length of the cylinder.

Place the rolls with the cut sides facing up or down on the baking sheet (so the filling is exposed) and space the rolls about an inch apart.

Cover the rolls with plastic wrap and allow them to rise again for an hour.

Preheat the oven to 375 degrees F.

Bake the pumpkin cinnamon rolls until they are slightly golden on the edges—about 18-20 mins.

Remove them from the oven and glaze them while they are still warm.