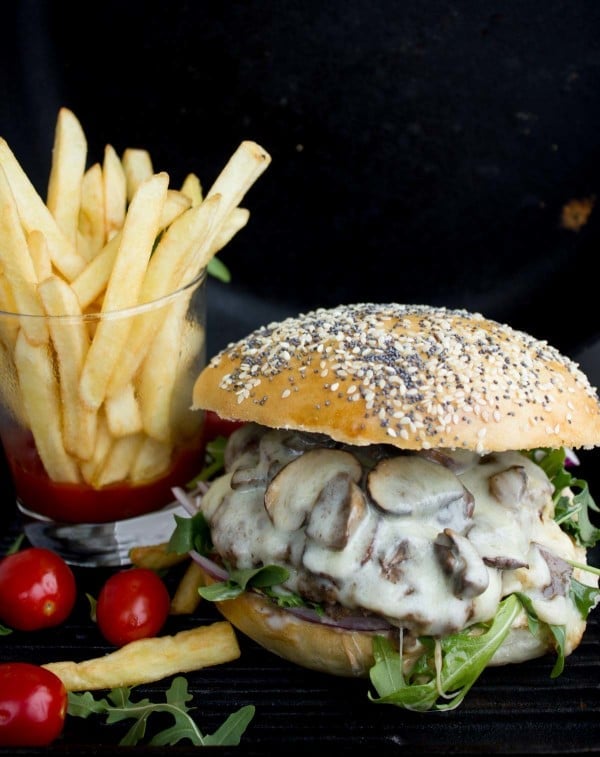 A mouthwatering mushroom swiss cheese burger recipe that is juicy and packed with flavor. Made with pure ground beef, boosted with spice, pan grilled to perfection, topped with sautéed cremini mushrooms and a slice of swiss cheese, then made extra special served with the best soft burgers buns. This fast and easy recipe will satisfy the most burger-loving-person you know!
Burgers are one of my favorite meals to make for dinner or friends, and one of the quickest to pull up when I'm rushed on time. Although I heard before that homemade burgers take too long to make, I feel just the opposite. Believe it or not, burgers are a snap to prepare, and burgers can be made in many different ways depending on how you spice them and what toppings you have on hand to use.
If you're not a believer yet, I'll briefly walk you through it. Let's take this mouth watering mushroom swiss cheese burger for example.
It starts with pure ground beef (lean or extra lean is entirely your choice) flavored with salt, pepper, onion powder, garlic powder and a pinch of dried rosemary, then shaped into patties ( size and thickness are to your preference). A nice skillet heating up with some olive oil, mushrooms sautéed for 1 minute, then removed. And on that same skillet, the burgers are added. Seared on each side for 5-7 minutes (depending on your thickness and size).  While still in the skillet, mushroom are piled on top of the cooked burger and a slice (or 2, or 3?) of Swiss cheese crowns the mushrooms. The skillet is covered for 30 seconds for the cheese to melt beautifully without over cooking the burger.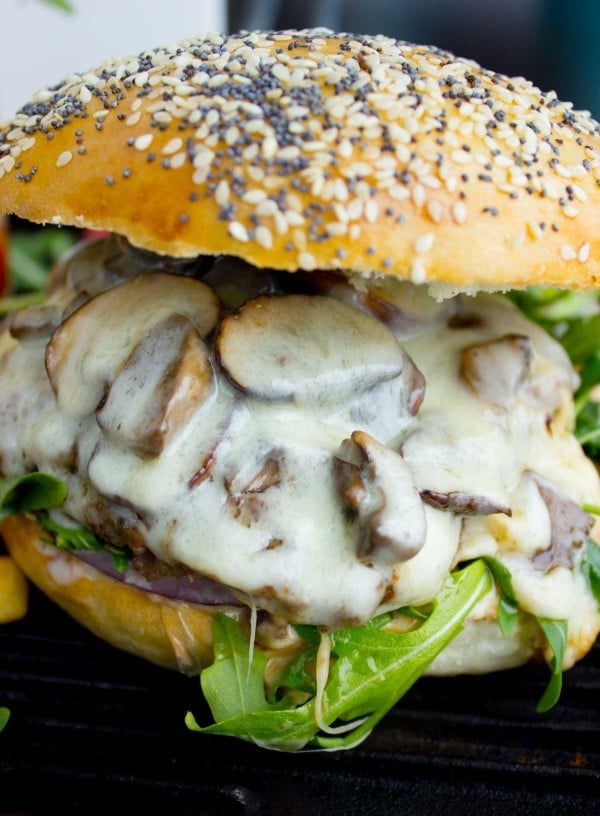 During those few seconds, the best soft burger buns are slathered with your choice of mayo, mustard, ketchup, hot sauce, any condiments. And right on top of that your favourite toppings pile up-arugula, sliced red onions, sliced tomatoes and whatever makes you happy.. And finally your burger is placed at the centre on top of it all.. And you are the luckiest person at that moment waiting to grab a bite.. Now go ahead take a big bite and enjoy 🙂
I can't see a better, easier or faster way of making this all time favorite dinner!
Mushroom Swiss Cheese Burgers
Servings
4
medium burgers
Ingredients
1 1/2

pounds

of ground beef

( lean or extra lean-your choice)

3/4

teaspoon

of salt

1/2

teaspoon

of fresh cracked pepper

1/2

teaspoon

of garlic powder

1/2

teaspoon

of onion powder

1/2

teaspoon

of rubbed rosemary leaves

pinch of red pepper flakes

(optional-but recommended)

2

tablespoons

of olive oil

1

cup

of sliced cremini mushrooms

4

(or more) slices of Swiss cheese

4

best soft burger buns

Choice of condiments : mayo

, mustard, ketchup , ranch (or your choice)

Choice of toppings: Arugula

, sliced red onions,sliced tomatoes (or your choice)
Instructions
Prepare the burgers by adding all the seasoning spices to the ground beef : the salt, pepper, onion and garlic powders, rosemary and red pepper flakes (if using). And shape your patties to your desired thickness and size.

Preheat a skillet ( or grill pan) over medium high heat and add in the olive oil. Sauté the mushrooms with a pinch of salt for just a minute, then remove on to a plate and set aside.

To that same skillet (or grill pan) add the burger patties ( no need to add an extra oil).

Sear the burgers for about 5 minutes and flip them. Sear for an extra 5-7 minutes ( you might end up searing for 7 minutes per side if you prefer a thick burger) until the burgers are just cooked.

Lower the heat to medium low and divide the sautéed mushrooms on top of the burgers. Then place a slice ( or more) of swiss cheese over them.

Cover the skillet with a lid or tent loosely with aluminum foil for just 30 seconds until the cheese melts. Turn off the heat.

Slice the

burger buns

and slather them with your favourite condiments and pile on your favourite toppings.

Then place the burger on top at the centre of the bun.