This mashed potato rosemary crisps recipe is a perfect side to any comfort meal and one of the best ways to use your left over mashed potatoes! It has a delicate crispy outside and a soft tender inside, flavored here with fresh rosemary and Parmesan cheese, it can be totally personalized to fit your meal. It's like a potato cookie with a soft bite!
A few years ago, I did a huge cooking class which involved a very comfort feel menu. It was one of those cold cold winters where everyone was saying they just wanted to stay indoors and have soup everyday. So I guess this cooking class came to the rescue, it was over booked to the point where we had to split it to two days. The very comfort feel menu involved these mashed potato rosemary crisps.
It starts with your humble mashed potatoes, and it's totally up to you the herbs cheeses and spices you use, garlic, scallions, green peas or any veggies. It's also up to you if you're a heavy cream mashed potato lover or a milk mashed potato lover, and if you're a little bit of butter mashed potato lover or a no butter mashed potato lover—everything works! The only tip is to make your mashed potatoes somewhat on the dry side.



All you'll ready want to add to your mashed potato is 1 egg. It's this simple. Although I do like Parmesan and fresh herbs, they're completely optional. If you're like my sis who has a teeny little weird thing about the taste of eggs in her food, you'll want to add the cheese and fresh herbs to completely mask it off. You can completely kick up the spice level and really make it more like an Indian style potato and veggie crisp, or add garlic, scallions, baby spinach and feta cheese for a Greek feel..the possibilities are endless!
Once you got your mashed potatoes and all flavorings ready, add in the egg, mix, and place the mixture in a piping bag (or a ziplock bag, and cut a bit off one of its corners) and start piping rounds of mashed potatoes on a baking sheet. Bake them off and you've got crispy golden mashed potato rosemary crisps with a soft flavor packed inside that bursts in your mouth. The beauty of a sweet side like this, is that it's completely gluten free and paleo friendly too. If you'd ask me, I would say- make this today with my killer grilled steak with rosemary lemon butter and man are you going to enjoy!!:)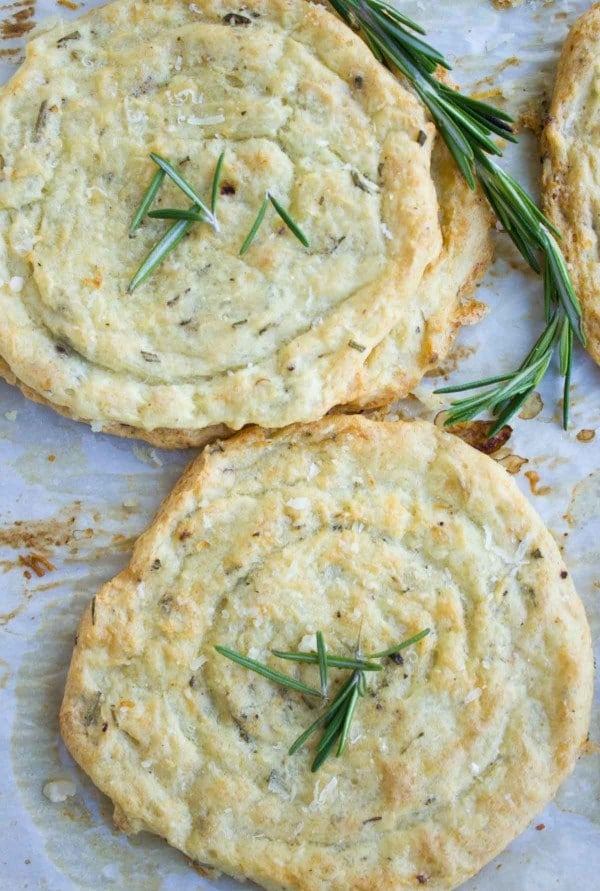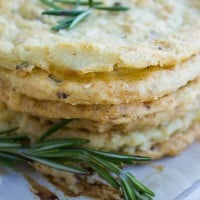 Mashed Potato Rosemary Crisps
Ingredients
5

large russet potatoes

(or any type you prefer), peeled, cut up and boiled to make about 6 cups depending on the size of your potatoes

1/2

teaspoon

of salt

1/2

teaspoon

of fresh cracked black pepper

3

tablespoons

of chopped fresh rosemary leaves

2

tablespoons

of unsalted butter

1/4

cup

to 1/3 cup of cream

(or milk, any fat percentage)

1

egg

1/3

cup

of freshly grated Parmesan cheese and extra for sprinkling
Instructions
Preheat the oven to 400 degrees F.

Mash the boiled potatoes with salt, pepper, butter and cream (or milk) until smooth (or leave it chunky if you prefer). Then add in the fresh rosemary, egg and cheese and mix them in.

Put the mashed potato mixture into a piping bag and pipe rounds of potatoes on a parchment lined baking sheet.

The size, shape and height (thickness) of the potato round is completely up to you—from thin and flat to thick and high, big or small, rounds or rectangles or any shape will work.

Sprinkle the tops with extra parmesan cheese and bake the potatoes for 25-40 minutes (depending on the size and thickness) until crisp on the outside and slightly golden in color