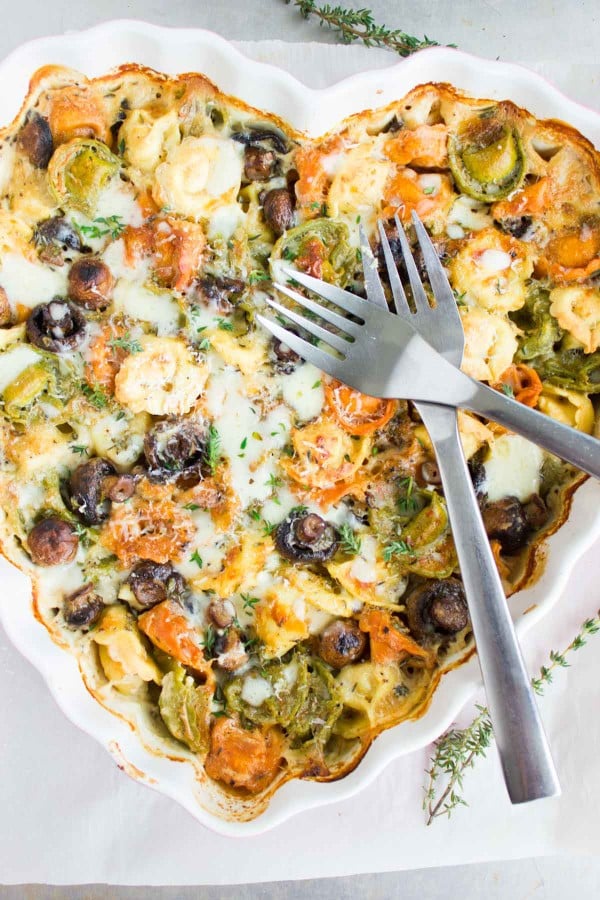 This one pan creamy mushroom tortellini recipe is as straight forward as it sounds—just a baking pan and all ingredients go straight in. Baked till cheesy tender tortellini perfection, this is a busy day's best friend, a last minute pick for potluck and a can't go wrong sweet cozy dinner. It's just easy, simple comfort food..
A little heads up—this one pan creamy mushroom tortellini is made with the real deal, the "c" word, the one and only : cream! I'm not even ashamed. There are things in life, ok things in my life, that I don't want to replace. There are times when I can and other times I can't replace…I just can't. And today I was in that place, so I decided to go with it and pour in the cream!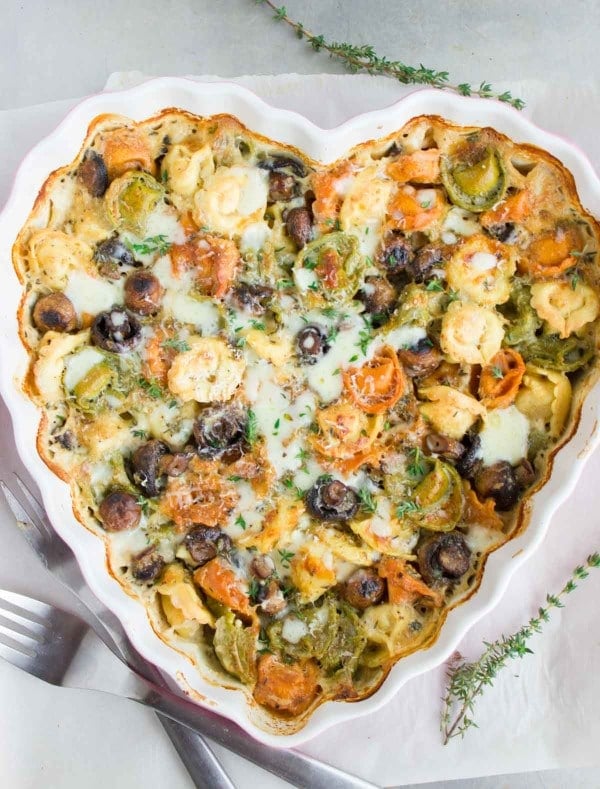 So it's no secret the Mr. doesn't approve of cream, and while I was preparing this recipe, this was all I can think of: to say or not o say. I decided to say, and he leniently agreed to taste. Then he gradually picked up bite after the other, and the girls jumped in and we all shared this sweet pink heart of one pan creamy mushroom tortellini 🙂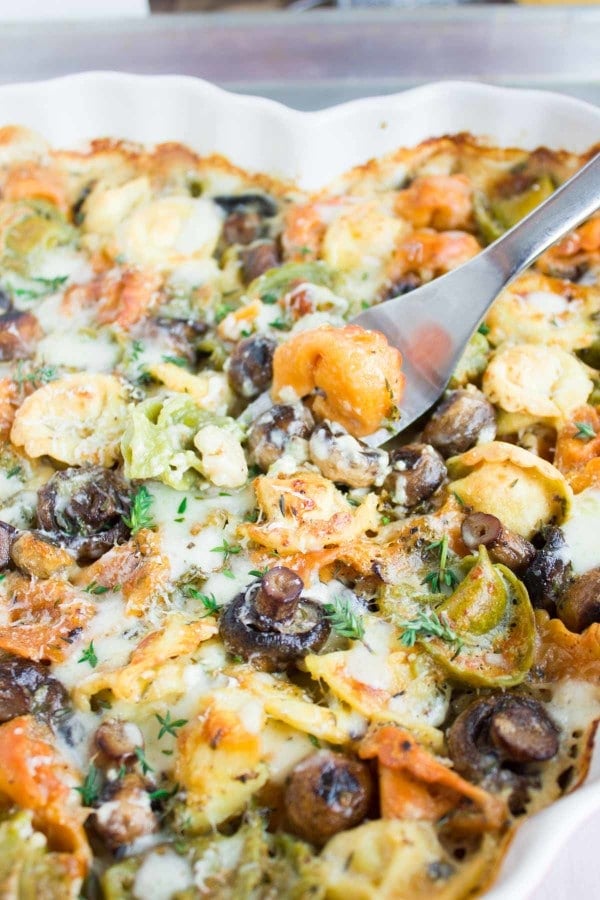 Even though there's nothing necessarily emotional about this recipe, it worked as my emotional booster–today was one of my down days. Sometimes some people cross my mind. People who were once as close to my heart as can be, but ended up as far to it as can be. People that I believed in their kindness and genuine nature, which at the end turned out to be self serving behaviour. Well, in honour of those no more close to my heart people, I made a nice big heart of ultimate comfort for dinner and let me tell you, it worked! It just put me in a MUCH better mood and gave me a huge sense of comfort…Was it how we all enjoyed it together, was it the tortellini, was it that tender pasta texture, was it the warm cozy smell, was it the pretty pink heart plate, or maybe was it the cream?—whatever it was, it really worked!
sauteed mushrooms
mushrooms and tortellini in the pan
creamy mixture poured on top, ready to bake
So let's call this one pan creamy mushroom tortellini recipe the comfy mood booster for the day, it needs your favorite pasta pairings (I used only mushrooms today— but oh how a bunch of sun dried tomatoes would've been perfect to throw in too), a nice heaping amount of cream (18% and even 10% will do, but no less), fresh herbs (I used fresh thyme and fresh oregano), a handful of cheeses ( I used parmesan, havarti and white cheddar) and your favorite tortellini (or ravioli, any filling you prefer—I used cheese here). The extra step I did was to place the whole baby mushrooms on a piping hot skillet with olive oil, swirling the skillet around for 1 minute to caramelize the mushroom tops—this is optional but quite recommended.
At this point, all the ingredients for this comfy mood booster are placed in an oven proof pan, and then baked covered for 20 minutes, and uncovered for an extra 10 mins (or more if you prefer a drier pasta bake). Finally, it gets sprinkled with extra fresh thyme and Parmesan right before serving. All you need now is to gather up your favorite people around, each one can grab their fork and share the love! Enjoy 🙂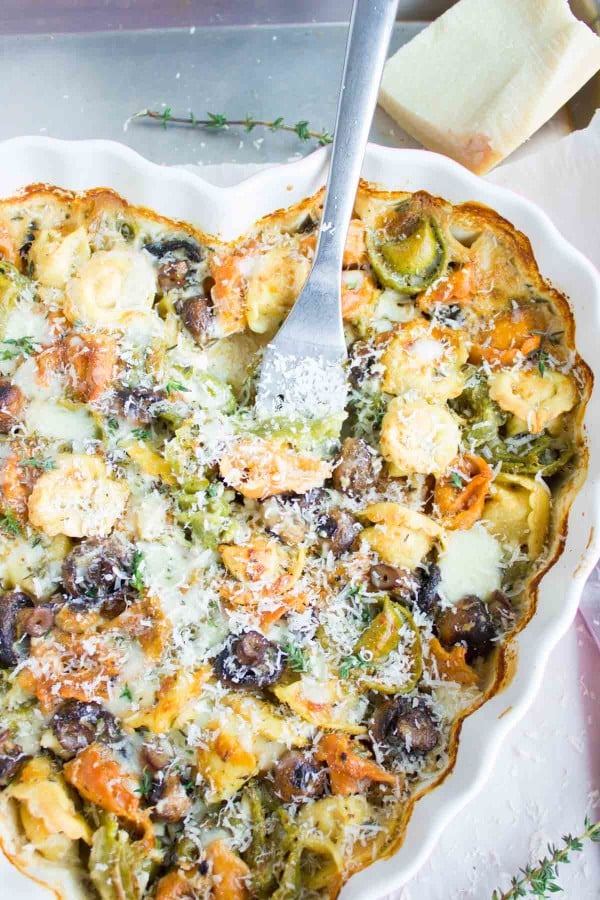 If you can't enough of tortellini or need a lighter version, don't miss out on this 10 minute Greek cheese tortellini recipe! If I were you, I'd make them both and double enjoy! 😉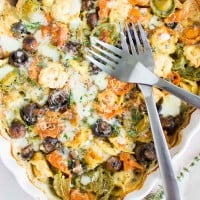 One Pan Creamy Mushroom Tortellini
Ingredients
1

box of colored cheese tortellini 1 lb

(or your favorite)

2

cups

of mini mushrooms

pinch of salt

2

tablespoons

of fresh thyme leaves

1

teaspoon

of olive oil

2

cups

of cream

(10%,18% or 35%)

1

cup

of shredded cheeses

(Parmesan and White Cheddar)

Pinch of salt

(more or less to taste)

1/4

teaspoon

black pepper

(optional)

Pinch of red pepper flakes

Parmesan cheese for serving
Instructions
Preheat the oven to 400 degrees.

Heat a large skillet on medium high heat and add in the olive oil, mushrooms, salt and a pinch of thyme. Swirl the skillet around for 1 minute until mushrooms are golden on the outside.

In an oven safe pan, place the tortellini and the mushrooms. Then add in the cream, seasoning, fresh thyme and scatter the cheeses on top.

Cover the pan with foil and place in the oven, bake for about 20 minutes and then uncover and bake for an extra 10 minutes until cheese is bubble and the sauce is thickened up.

Serve sprinkled with extra fresh thyme and Parmesan cheese if desired.
Nutrition Facts
One Pan Creamy Mushroom Tortellini
Amount Per Serving
Calories 105
Calories from Fat 63
% Daily Value*
Fat 7g11%
Cholesterol 22mg7%
Sodium 179mg8%
Potassium 204mg6%
Carbohydrates 3g1%
Protein 7g14%
Vitamin A 356IU7%
Vitamin C 6mg7%
Calcium 162mg16%
Iron 1mg6%
* Percent Daily Values are based on a 2000 calorie diet.