Next time you're entertaining, make these Bite-Sized Antipasto Salami Cups instead of an antipasti platter! You'll absolutely LOVE the simplicity of this recipe. All you need is to gather your favorite antipasto ingredients and arrange them in salty and savory homemade salami cups!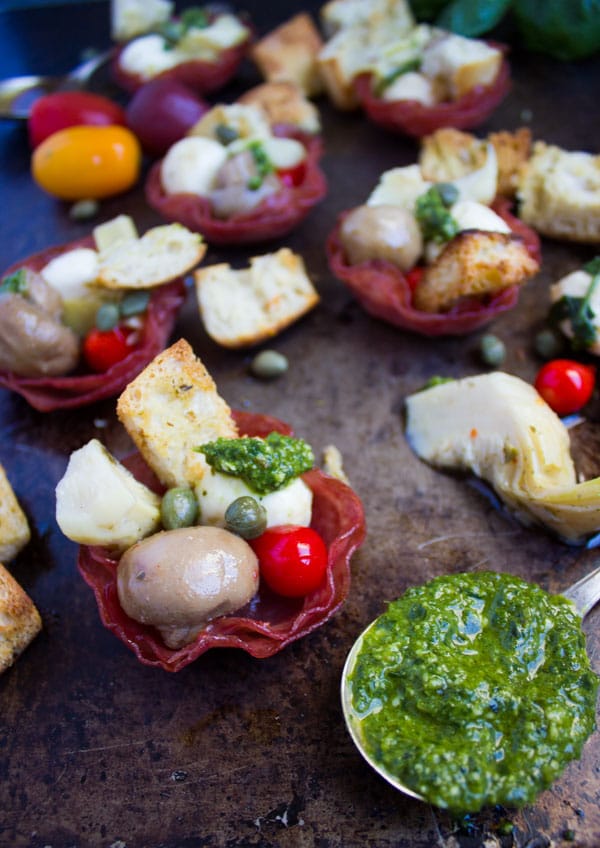 I'm so excited to share this bite-size antipasto cups recipe with you. It was handed down to me from a dear old friend. I've unfortunately lost contact with her, but I remember her and her amazing food vividly. She's a lady I met when I was just a newlywed, probably fourteen years ago (Yikes! how did time fly?).

I connected with her instantly. She was kind, sweet, supportive, wise, and loved sharing her family's Italian food! Her name is Marie and these salami cups are inspired by her amazing antipasto bites!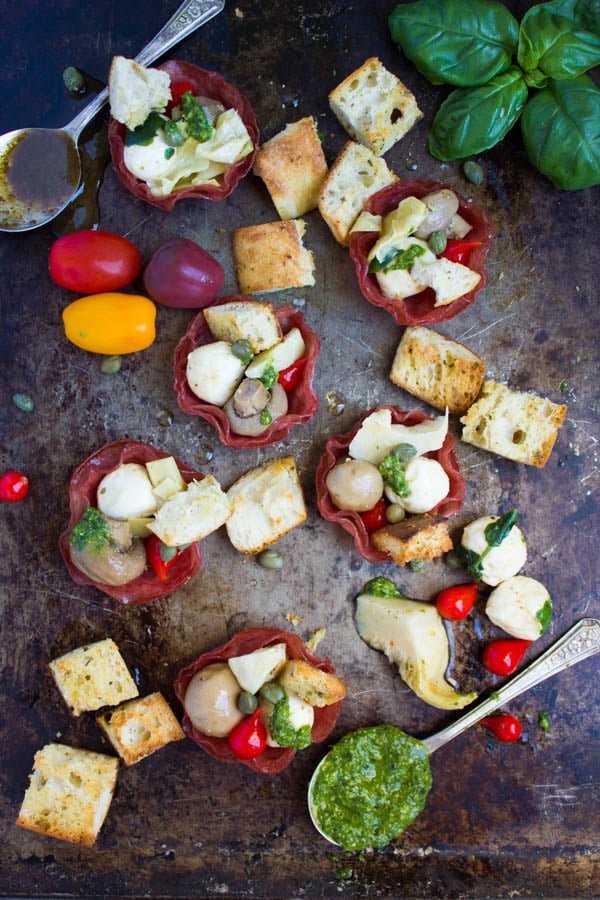 Why these Antipasto-Stuffed Salami Cups are the perfect recipe for entertaining: 
If you're a fan of antipasto like I am, you'll love these bite-sized salami cups filled with all kinds of pickled and marinated veggies and cheese! The beauty of antipasto in general is how you assemble it, so there's no real recipe, it's rather all about what you love to put together.
Whenever you go to your local food retailer you'll find a huge antipasto bar, which is a great place to pick up a little bit of everything and mostly inspiration!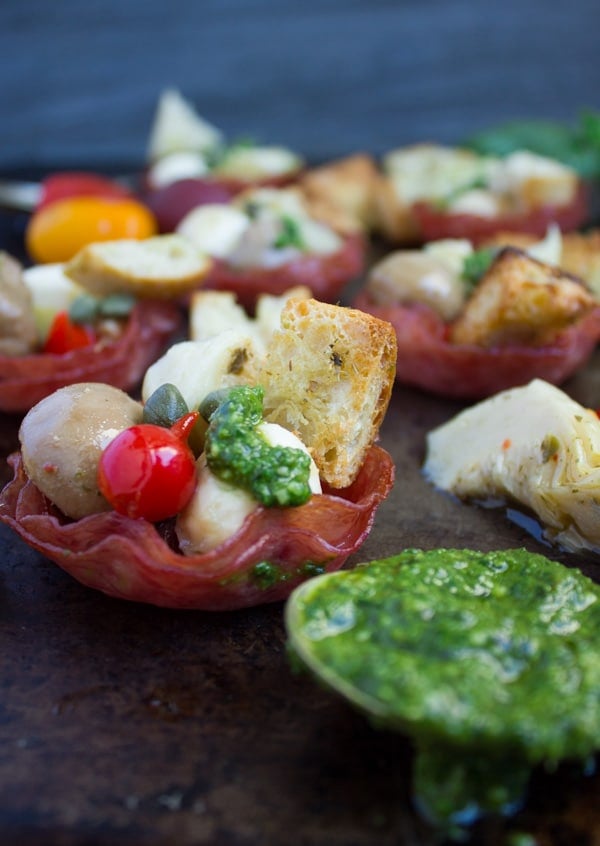 Today I chose some spicy tiny sweet peppers, marinated mushrooms, marinated bocconcini cheese, grilled artichokes, marinated capers my favorite garlic-oregano-parmesan croutons.
Then I used my favorite protein packed nut free hemp basil pesto to drizzle slightly over the antipasto bites. Perfection!
For the salami cups, I chose my favorite soft salami (hard type works great too), and I chose it to be mild because I had a teeny bit of hope that my kids might eat them.
Well, my oldest had just a couple and the picky little Miss didn't care to actually look at them. So certainly, feel free to go as spicy or mild as you prefer.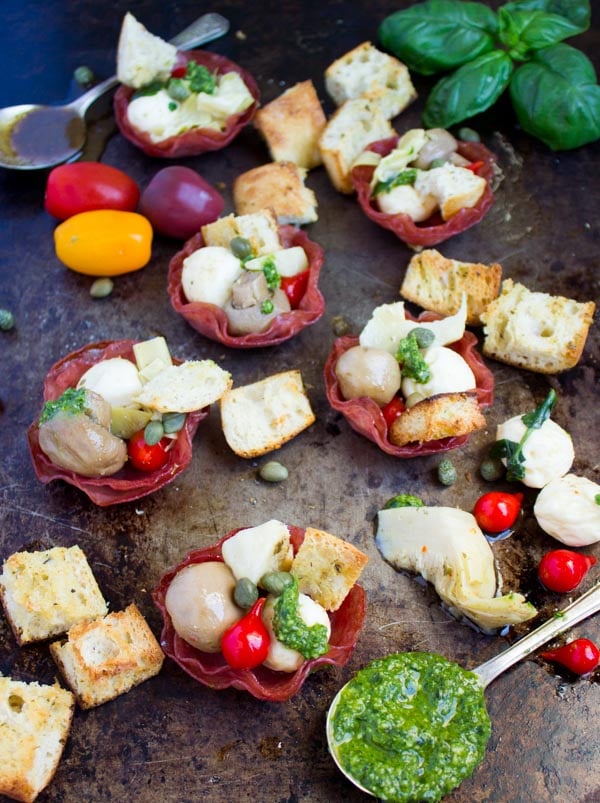 How to make Bite-Sized Salami Cups  filled with Antipasti:
The trick to these antipasto bites is to have your salami perfectly fitting into your muffin tins.
Line your muffin tin with a double layer of salami slices and bake at 375 F.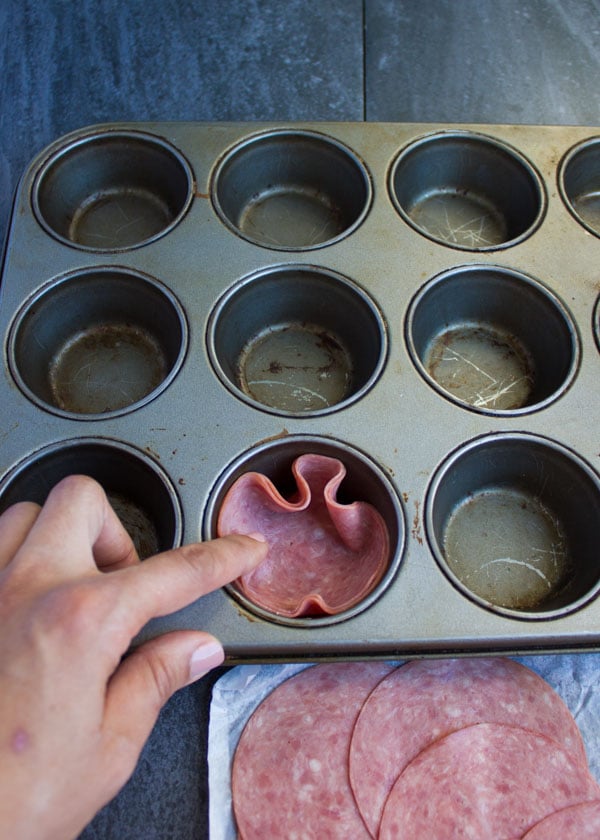 The salami gets baked for 15 minutes or so. It won't be crispy or anything, it should be rather chewy and sturdy enough to hold in the antipasto filling.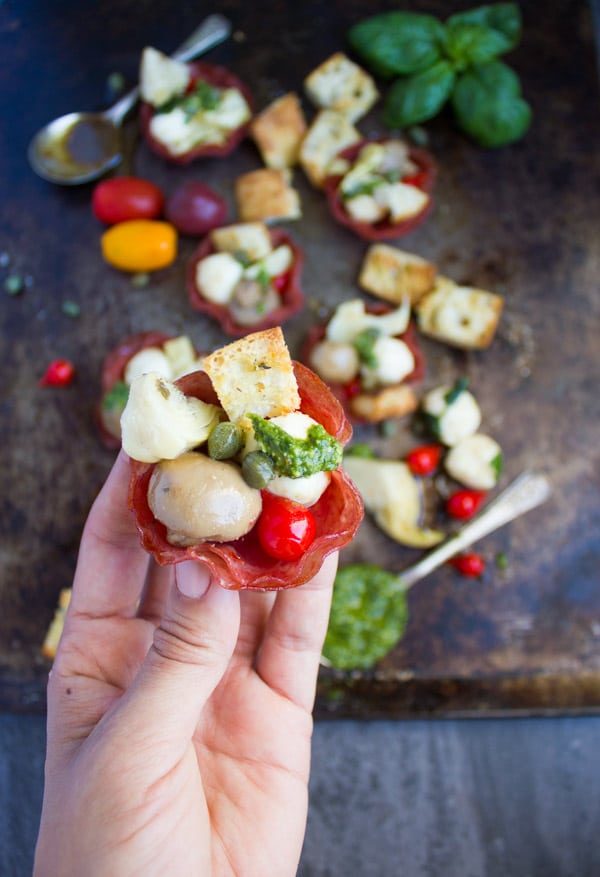 Now hello it's fun time! Fill your salami cups with your antipasto filling of choice. Do so in any order you like, just make sure not to overstuff your salami cups!
Then drizzle some basil pesto and balsamic vinegar on top and enjoy!!
I can't urge you enough to make these mini salami bites—they're totally addictive and you can make them with your favourite pickled and marinated veggies and cheeses!
Tips for success: 
You can experiment with a mini muffin pan but I suggest sticking to a standard muffin pan just because it's a good size for one serving and the cavity will be big enough to fit the antipasto filling.
Make sure to form a DOUBLE layer of salami when making the cups. A single layer will not hold any filling.
Don't freak out when you see the salami cups coming out of the oven! They will look quite oily at that point, so just grab some kitchen paper and dab them lightly to absorb as much of that oil as possible.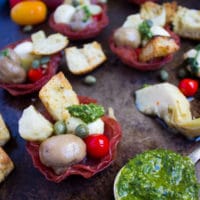 Antipasto In Bite Size Salami Cups:
Next time you're entertaining, make these Antipasto-Filled Bite Size Salami Cups instead of an antipasti platter! You'll absolutely LOVE the simplicity of this recipe. All you need is to gather your favorite antipasto ingredients and start assembling these bites of goodness!
Ingredients
For the croutons:
1/2

baguette

, cut up into half inch cubes

1/2

teaspoon

salt

1

teaspoon

oregano

1/2

teaspoon

garlic powder

3

tablespoons

parmesan cheese

, freshly grated

2

teaspoons

olive oil
For the Antipasto Bites:
24

slices

salami

( your choice of meat and spice level)

1/2

cup

marinated mushrooms

1

cup

marinated bocconcini

1/4

cup

sweet mini grilled peppers

1/2

cup

grilled artichokes

1

cup

heirloom tomatoes

1

x

Hemp Basil Pesto

or store-bought pesto
Instructions
Preheat the oven to 375.

On a parchment lined baking sheet, toss the croutons ingredients and place them in the oven for 15 minutes until crisp.

Remove the baking sheet and keep the oven on.

Take a standard muffin pan and place 2 slices of salami into each muffin cup cavity pressing them down to form a cup shape.

Bake the salami for about 15 minutes until it starts to shrink and get darker in color.

Remove the muffin tin and let the salami cups cool down for 10 minutes.

Dab off any oil on the surface of your salami cups.

Remove the salami cups and start assembling your toppings to your taste, and then drizzle with some basil pesto. Enjoy 🙂
Nutrition Facts
Antipasto In Bite Size Salami Cups:
Amount Per Serving (3 cups)
Calories 294
Calories from Fat 180
% Daily Value*
Total Fat 20g 31%
Cholesterol 36mg 12%
Sodium 1252mg 52%
Potassium 256mg 7%
Total Carbohydrates 13g 4%
Protein 14g 28%
* Percent Daily Values are based on a 2000 calorie diet.