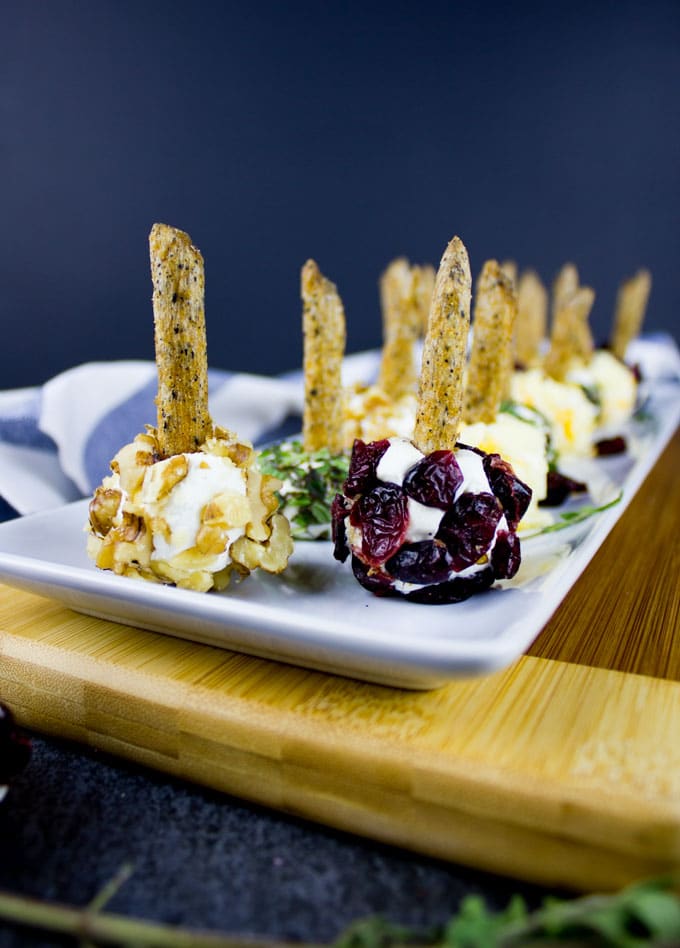 Today just feels like those Mini Cheese Ball Recipe Bites. The perfect snack to whip up when you're craving something salty, something sweet, something hearty and best of all, something good for you! Whether you have kids or not, this pick me up little bite of YUM is a real crowd pleaser. All you need is two basic ingredients, and your imagination 🙂
Today's divine recipe is sponsored by my amazing friends at Harvest Snaps—makers of delicious crispy snacks! So many flavors and so many ways to enjoy them! All opinions are my own.
I've been secretly snacking on these crispy goodies for a while now. And I say secretly because I wasn't a snack-ish person at all, until I had kids. I was one of those full meal people and nothing in between. Times have changed. So like every crazy mom out there I tried to force my kids to avoid snacking and focus on the main meal, but again, like every normal kid out there, they refused to listen. I eventually caved in. And I couldn't go back!
I remember the very first time I had one of those addictive Harvest Snaps was at a daycare and it was LOVE at first crunch! So many flavors to chose from and all super good for you! Low carb, high protein, gluten free, you name it! And while it seems like they're just perfect as they are—which is true! I also love sneaking them in many, many of my recipes. Like this Healthier Nachos Recipe with Mango Avocado Salsa it takes nachos to a whole new level of delicious!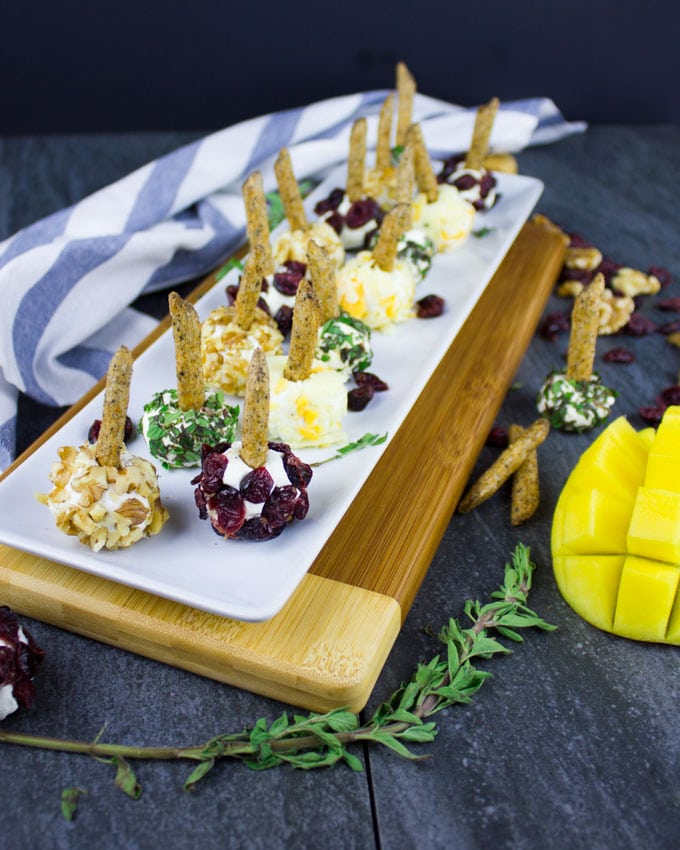 Today we're all about the cheese ball recipe. And we're all about them in mini's. Perfect finger food, snack food and just a perfect way to combine your favorite flavors in one bite! These mini bites are really too good for words. Probably the best combo of salty, spicy, sweet, creamy, cheesy.everything! Start off with a nice flavor packed bean variety of Harvest Snaps—I've chosen the Mango Chile Lime!
Here's the beauty of these mini cheese ball recipe bites, chose any coating you like for the cheese ball snacks. Some of my favorites today were dried cranberries, walnut pieces, chopped herbs and shredded cheese. Another beauty is, you can skip the coating al together and just have a plain, simple cheese ball recipe on a crunchy stick of Harvest Snaps and enjoy it completely plain!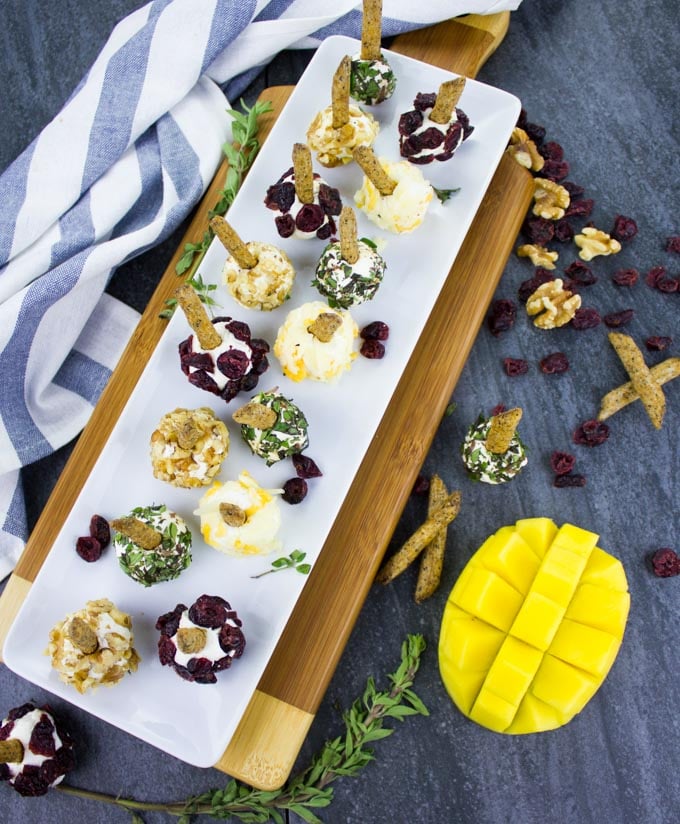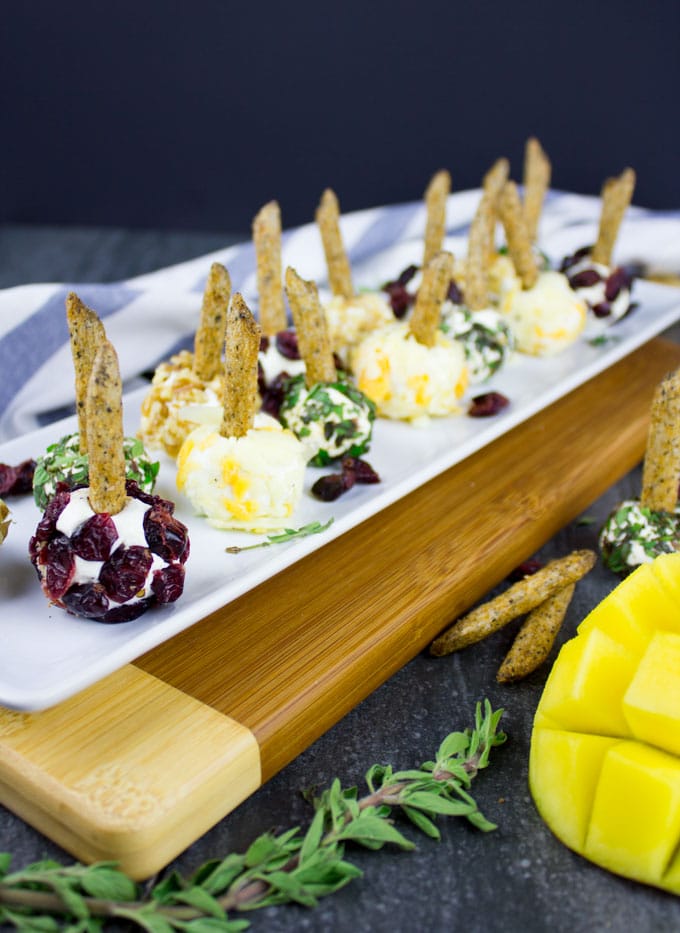 Here's how simply and quick those babies come together. First of all, take your favorite type of cream cheese—plain, flavored, low fat..etc. Take about a teaspoon of that and roll it between your hands into a ball shape. The size is totally optional, but I feel an inch diameter size is a great size relative the Harvest Snaps crisp we're using. Place them on a parchment lined baking tray.
Then roll your mini cheese balls into different coatings—walnuts, shredded cheese, cranberries, herbs, maybe chocolate chips? I almost thought I had some, but we missed out on that! And take a Harvest Snaps bean and stick it right in the center of the ball, pressing it down till it's more than halfway through the cheese ball. Then repeat the same process until you've finished all the cheese balls. Just a quick note here—if you feel the cheese balls are too sticky, chill the tray for about half an hour before coating them 🙂
Now this is certainly optional but totally worth indulging, drizzle a little bit of honey over the mini cheese ball snacks. OMG. So worth it. Seriously. The sweetness of honey with the flavor and spice of Harvest Snaps, the different types of coating on the cheese balls, and the creamy smooth cheese—it feels like a treat!
Before I left you go with this easy, quick and divine mini cheese ball recipe, I wanted to share some other toppings you may enjoy. I've made it with pomegranate arils, tiny pieces of cucumbers, tomatoes, sweet peppers, shredded carrots, used a grape instead of the cheese and coated it with a brush of cheese before coating—it was SO good too! The sky's your limit! Aside from snacking, make those as a Holiday appetizer and watch them disappear! I've been making them once a week with many different toppings each time and they've been a HIT with my kids and friends! Can't wait for you to try them and ENJOY 🙂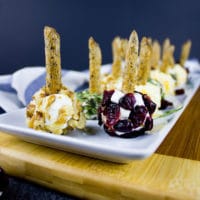 Mini Cheese Ball Recipe Bites
Today just feels like those Mini Cheese Ball Recipe Bites. The perfect snack to whip up when you're craving something salty, something sweet, something hearty and best of all, something good for you! Whether you have kids or not, this pick me up little bite of YUM is a real crowd pleaser. All you need is two basic ingredients, and your imagination 🙂
Ingredients
Cheese Balls:
1

block

8 ounce of cream cheese, cold from the fridge
Coatings:
1/2

cup

of chopped Walnut pieces

1/3

cup

of mixed minced fresh herbs

I used a combo of parsley and oregano

1/2

cup

of dried cranberries

1/3

cup

of shredded marbled cheddar cheese
Harvest Snaps Mango Chile Lime Crisps
Honey, for drizzling—optional
Instructions
Take a teaspoon size of the cream cheese and roll it between your hands to a ball shape, about an inch in diameter.

Place the cheese ball on a parchment lined baking tray. Repeat with the remaining cream cheese.

If the cheese is soft and sticky, chill the tray for twenty to thirty minutes in the fridge before proceeding.

Place the coatings, each in a small bowl.

Take one ball of cheese at a time and roll it in your favorite coating, then set it back on the tray.

Take a stick of the Harvest Snaps Crisps and place it in the center of the coated cheese ball, pressing down until it's over halfway through.

Drizzle honey over the cheese balls and enjoy right away!! Enjoy 🙂