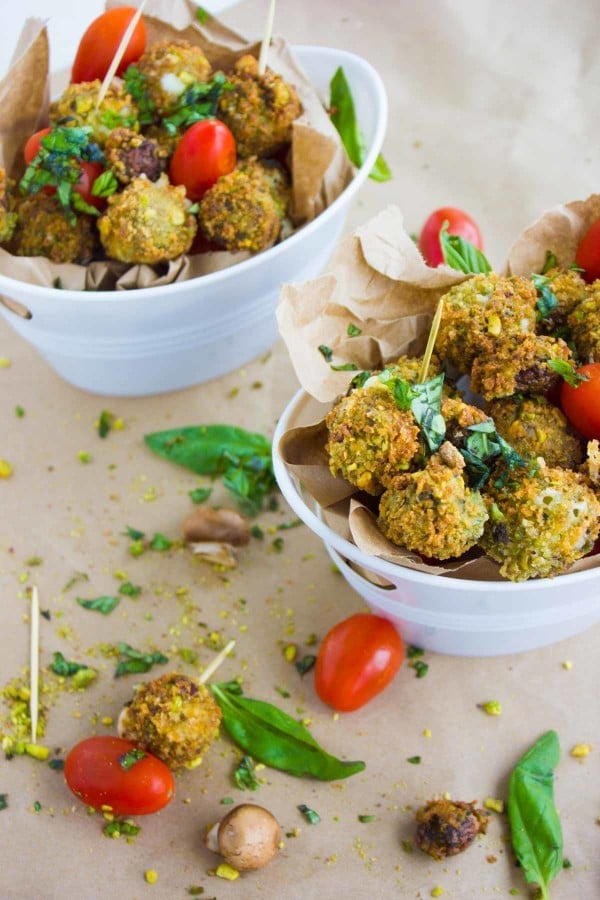 This pistachio fried caprese bites recipe is a nutty fried version of the classic caprese salad. Frozen bocconcini mozzarella is rolled in a basil pesto and balsamic mixture, then coated in a pistachio panko breadcrumb (gluten free or not) mixture and fried for just 1 minute. The result is a crunchy, pistachio-basil-balsamic flavor loaded bocconcini which pairs with tomatoes and extra basil—absolutely no dressing needed!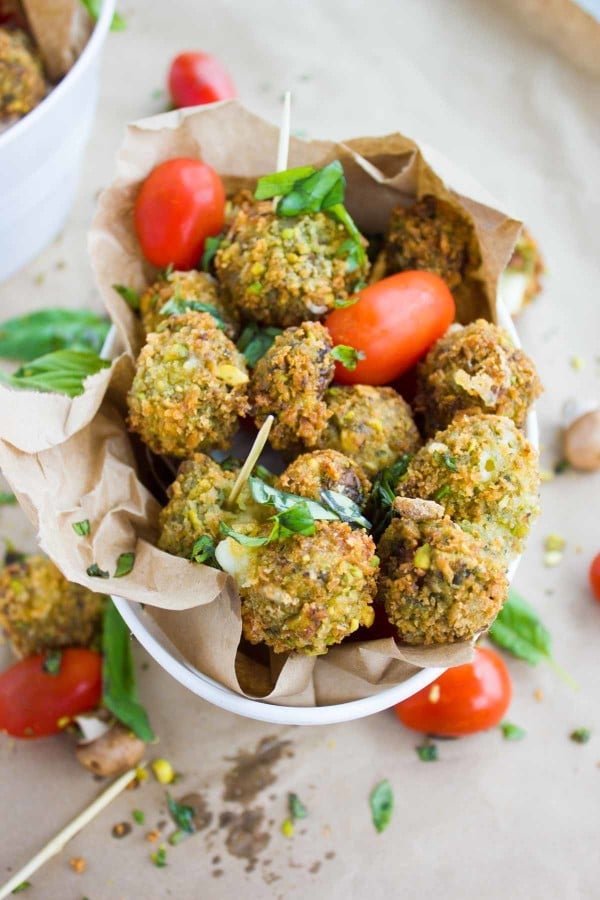 Is it just me or did this year SWOOP by so fast?!!?!?! If I have to chose one word to sum up my 2015–I would say "eye-opening" –on so many levels for me. I've learned a lot both on a personal and professional level, I've been surprised about a few people, I've accepted a lot, and I've changed a bit..but mostly I can say I've been Blessed and Thankful a lot! And I'm wishing you all a fabulous, Happy and Blessed 2016!!
Before we get to 2016–DON'T let this year go by without making these DELICIOUS pistachio fried Caprese bites !! It's seriously too good to miss out!! Wherever you're celebrating this year, these will be a HIT! So this lovely recipe is indeed, fried. I'm usually not a fryer person, well except for those awesome spicy fried chicken fingers with garlic blue cheese dip. So that was chicken and probably I got away with it, but this is a salad—yes I know a salad..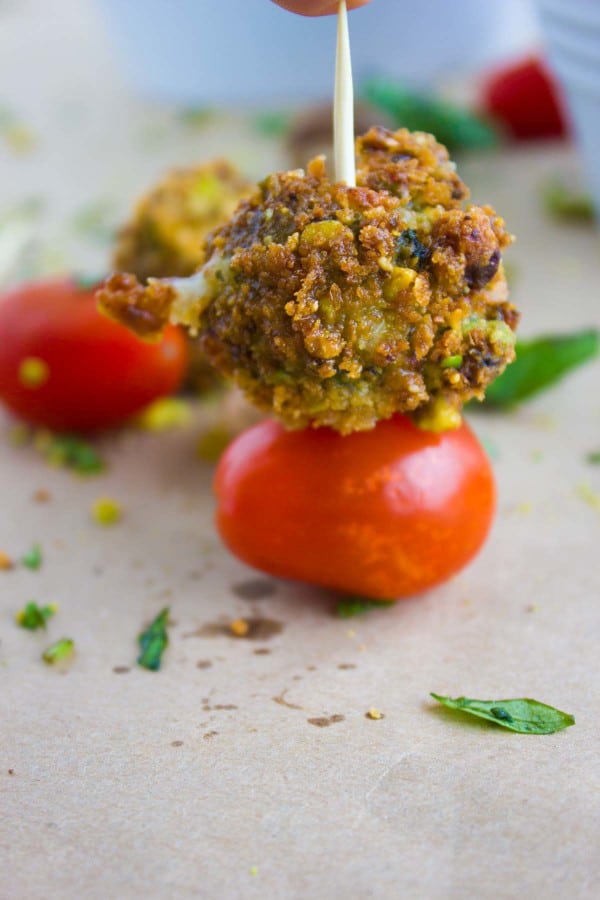 I am all ears and ready to take the blame for this, and when you make it—be prepared to take some blame too, but I can assure you, when you and anyone else you'll be serving it to, just takes a bite into one of those pistachio fried caprese bites—you will feel absolutely no guilt and no shame! Yes, it's JUST THAT GOOD!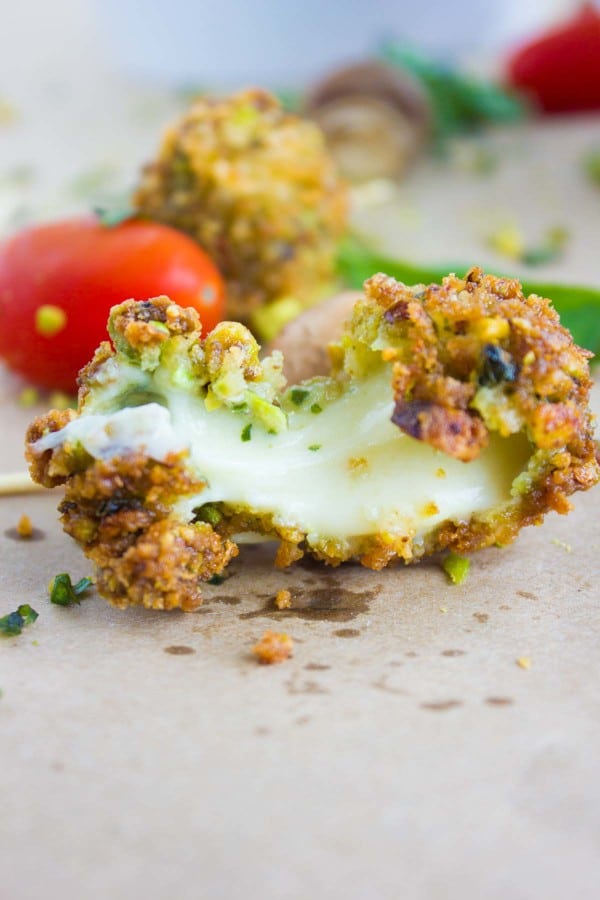 Usually the classic fried mozzarella fingers don't do much for me, I instantly feel heavy. If I ever wished for them, they would be in tiny bites and tossed in some fresh salad so I could enjoy them a bit more. Well, I suppose this wish sort of came true. After I took a bite of those crunchy little fried goodies, I didn't want them in a salad, and I didn't feel they needed any salad dressing..they needed their sweet tomatoes, a pinch of salt, toothpicks, a bucket and a napkin. Pure fried comfort. Pure fried deliciousness. Pure satisfaction.
breading station
ready for frying
fried
The basic tip here is to freeze the bocconcini really well before attempting to fry them. And I mean really well. You got to remember the bocconcini has much much more moisture than regular mozzarella and if not well frozen—that's a frying disaster right there! Then those frozen bocconcini go into a mixture of flour (use rice flour for gluten free), and a mixture of basil pesto—I used my protein packed nut free hemp basil pesto mixed with balsamic vinegar and 1 egg. Then the sticky bocconcini moves on to a pistachio and panko (use gluten free if needed) mixture for the crunch. They are fried for 1 minute and a few seconds until perfectly golden.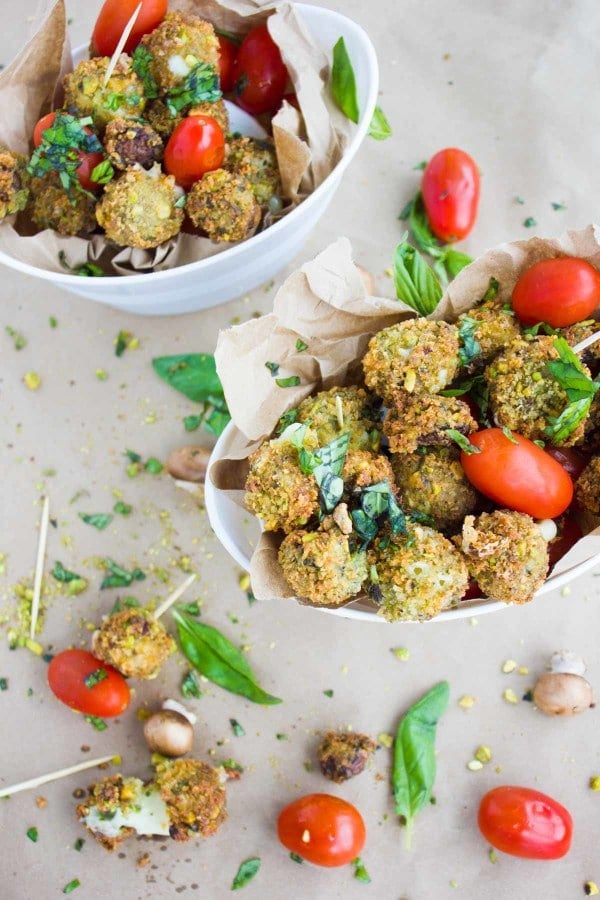 I tried these pistachio fried caprese bites with pistachio only as a coating and it was great, but I felt the panko gave it an extra crunch and texture. Feel free to use any breadcrumbs you have, or rice puffs (for gluten free). And I am thinking any type of pesto would work awesome here—maybe this sun dried tomato pesto? Even though I didn't want any dressing—to me it felt like good street food—feel free to try a basil vinaigrette (a perfect one here in this blackberry pecan roast veggie power salad), balsamic reduction (hello rainbow power grilled haloumi salad) or your favorite! Aside from the bocconcini I was guilty of frying some tiny baby mushrooms—which I should say were great but not really a must here.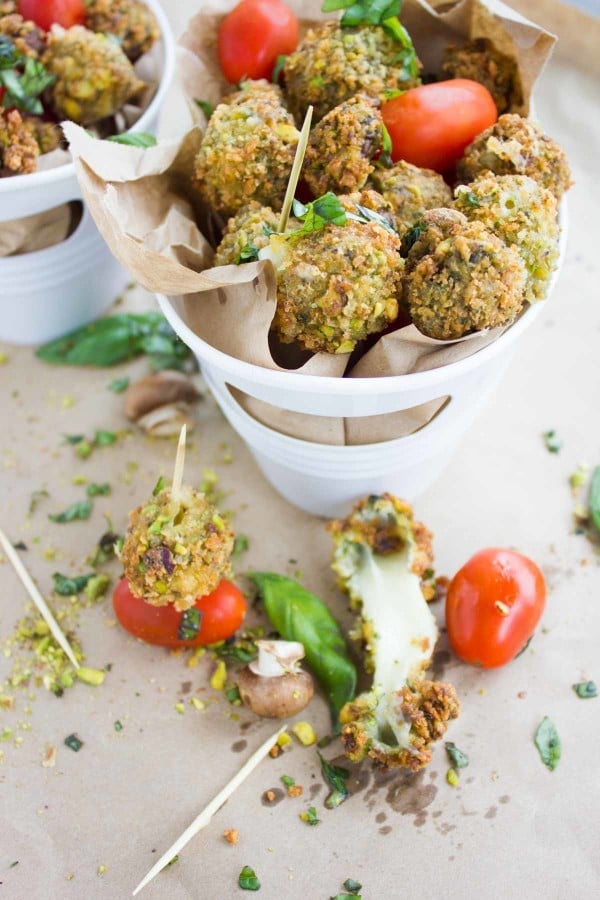 Before you start judging me for taking a salad and frying part of it, let me tell you—you won't need this as a main course, just a few pieces and you'll be good to go. A few crunchy pistachio fried caprese bites will change your take on good old salads into: a new fried DELICIOUS guilt free pleasure! And also, let me tell you, do you remember this AMAZINGLY refreshingly sweet take on caprese: strawberry caprese salad  ?Super light, sweet, healthy and super good—a must try if you're having gorgeously warm weather now, or when Spring hits back next year! So I'm not all that bad influence you see..but for now I urge you to make yourself a nice plate of these pistachio fried caprese bites and share it with a nice bunch of people…Enjoy and Happy Fun New Year!! 🙂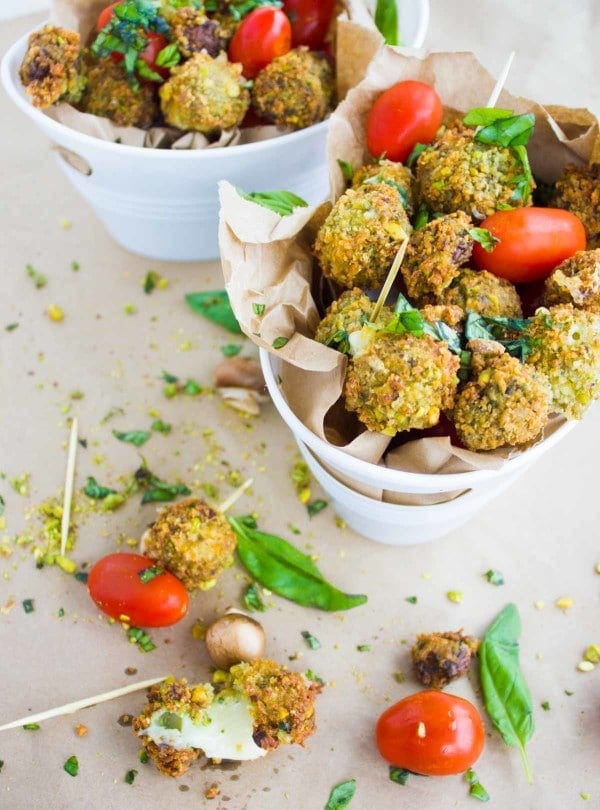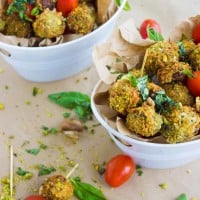 Pistachio Fried Caprese Bites
Ingredients
20

pieces

of bocconcini

1/2

cup

of all purpose flour

(use rice flour for gluten free)

2

tablespoons

of protein packed nut free hemp basil pesto

(or store bought)

2

Tablespoons

of Balsamic Vinegar

1/2

an egg

pinch of salt

1/3

cup

of crushed pistachios

1/3

cup

of panko breadcrumbs

(or gluten free bread crumbs, rice cereal)

1

pint

of grape tomatoes

fresh minced basil for sprinkling

pinch of salt

baby mini mushrooms

(optional)
Instructions
Place the bocconcini on a parchment or wax paper lined tray and cover it with plastic wrap. Then freeze it over night r at least 6 hours until the cheese hardens completely.

In a bowl add the flour.

In a separate bowl, add the pesto, balsamic vinegar, egg and a pinch of salt.

In a third bowl, mix the pistachios and panko bread crumbs.

Preheat an electric fryer or a small pot filled half way with oil till 375 degrees F.

Take each bocconcini ball and dredge it in the flour bowl, shake off any excess. Then drop it in the basil pesto mixture and roll it well to coat, and finally roll it in the pistachio bowl and make sure the entire surface is covered well with the coating. Place on a wax paper lined plate.

Repeat with all the bocconcini, and if you'd like to fry mushrooms, repeat the same procedure with the mushrooms too.

Fry the bocconcini and mushrooms for just 1 minute and maybe 30 seconds extra (depending on the temperature of your oil and how crowded your pot is). Drain on paper towels and sprinkle a pinch of salt. Serve.