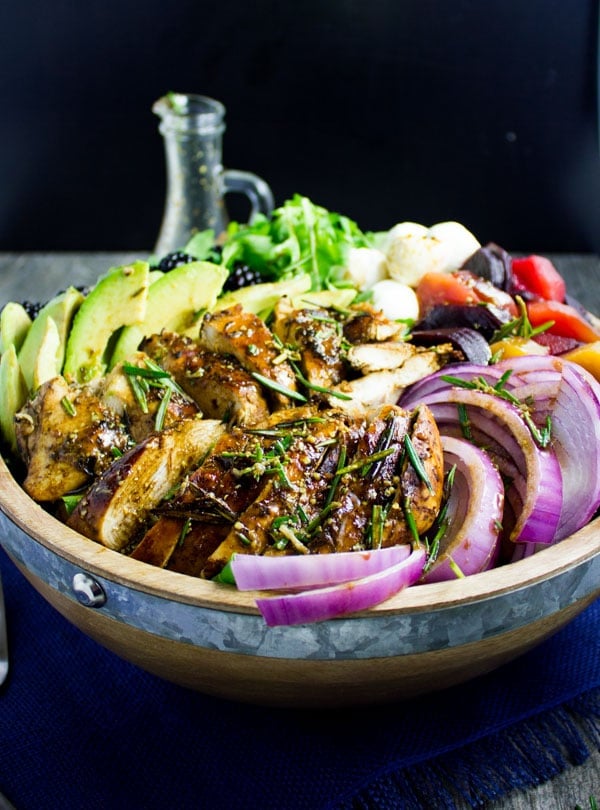 There are days when you need to cook for one, cook for two or cook for a crowd–this Italian Balsamic Chicken Salad Recipe is a perfect match for all days. It's succlent flavorful chicken that's pan grilled in 15 mins, served in a delicious salad bowl and drizzled up with a rosemary blackberry balsamic dressing that makes the whole dish shine. A quick gourmet with  minimal fuss..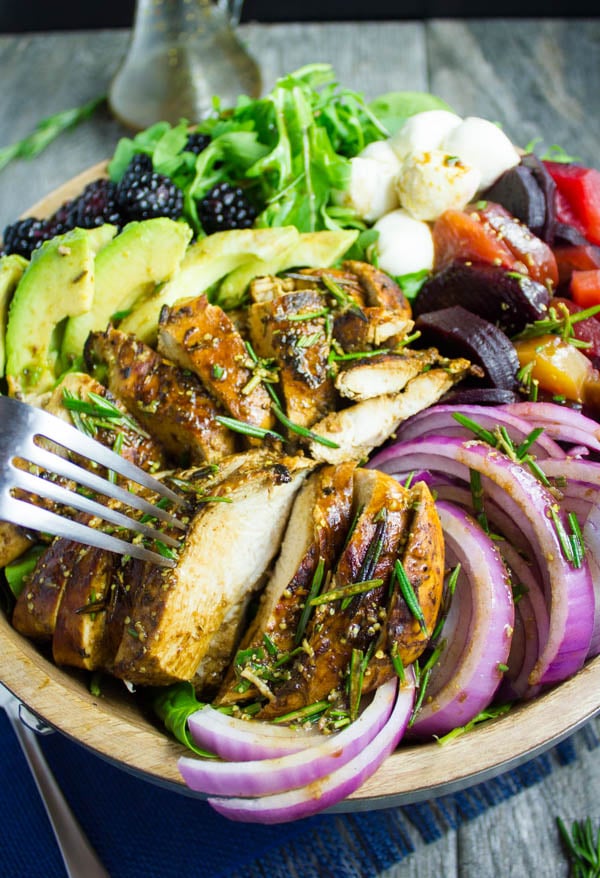 Today's my kind of salad day. Sometimes I need that one bowl fix–call it super food bowl, goodness bowl, or buddha bowl (still hang up on this Lentil Fall Harvest Buddha Bowl) Whichever way you call it, it's definitely a super delicious salad bowl. It comes running to me on days like today–kids are having a pizza party playdate and won't be having dinner at home, I need to pick up a couple birthday gifts and wrap them, finish off the laundry and cleaning for the week..and I can't spend more than 20 mins to cook something quick for hubby and me.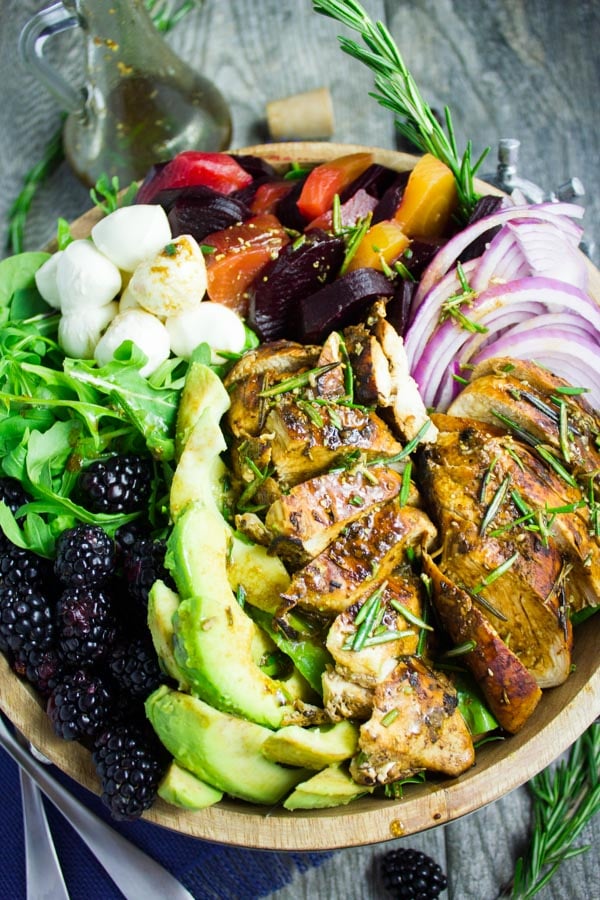 For days like that, I would go with either shrimp or chicken breasts–something like this Shrimp Salad with Avocado Dressing, these Fiery Tandoori chicken tacos with Cilantro Slaw, …or today's chicken salad recipe! Frankly it feels like nice warm Balsamic rosemary chicken today, and since I can't grill a whole chicken (like this Rosemary Balsamic BBQ Whole Chicken), I will happily settle for a nice balsamic chicken salad recipe bowl.. 🙂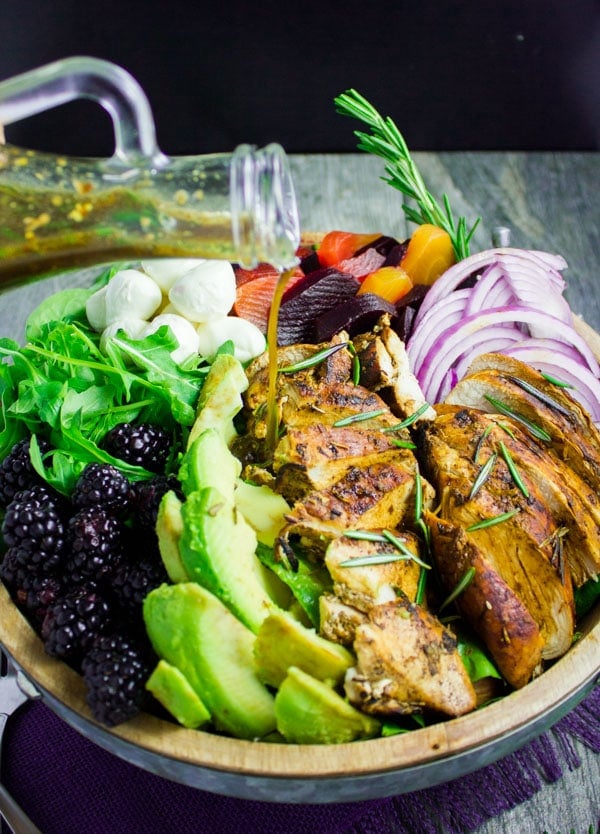 So basically this salad bowl is all about the Balsamic flavor. The chicken is flavored with minced garlic, mustard, honey, balsamic vinegar, plenty of rosemary and that's it. Pan grilled for 10 mins, then covered with some stock to cook through for 5 mins extra and it's ready! The salad ingredients are completely up to you–I put my lovely arugula and spinach combo, some roast beets (canned would work too!), some sliced avocados, fresh blackberries, sliced onions and some bocconcini cheese. You can add or takeaway any ingredients here–it's whatever you have on hand, whatever you prefer and whatever works for your mood that day kind of thing..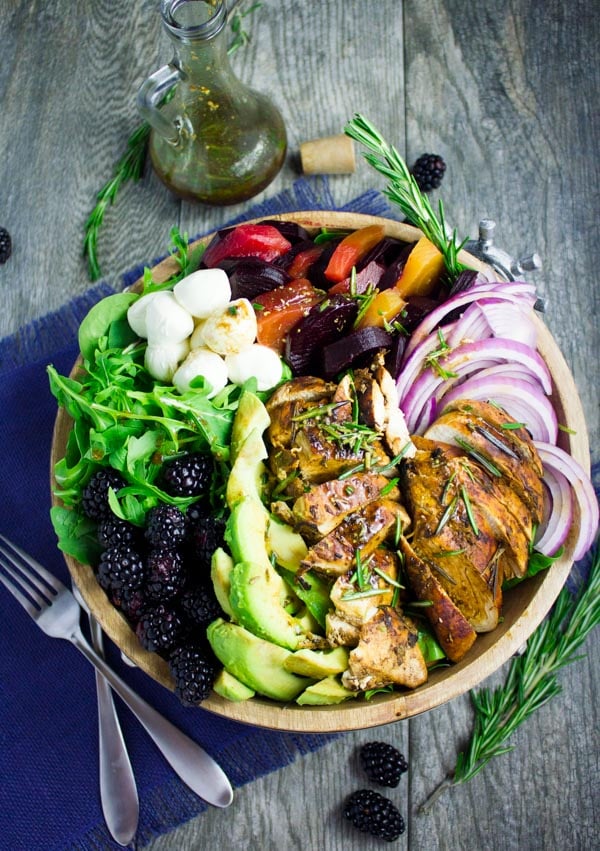 Then comes the sweet blackberry balsamic dressing. Any berry works beautifully here, I happen to have plenty of blackberries because it's my little one's favorite 🙂 so the dressing starts with finely minced shallots or red onions, finely minced blackberries, some fresh rosemary, more balsamic, honey, mustard and olive oil.. all mjxed up for a sweet fruity balsamic dressing that pops up the flavor for the salad and chicken too! The dressing keeps in your fridge for about a week so feel free to make plenty of it for busy days. I also love it as a dip for grilled sandwiches–Maybe this outrageously good Blue Cheese Philly Steak Sandwich-? Now I'll leave you with the recipe and I'm off to my never ending laundry lol.. so enjoy 🙂
Italian Balsamic Chicken Salad Recipe
Ingredients
For the chicken:

2

chicken breasts boneless and skinless

2

cloves

of garlic minced

2

teaspoons

of mustard

2

teaspoons

of honey

1/4

teaspoon

of salt

1/2

teaspoon

pepper

Pinch of chilli flakes optional

1/4

cup

of balsamic vinegar

1

teaspoon

of honey or brown sugar

1

cup

of chicken stock

For the salad;

1

cup

of sliced roast beets

1/2

cup

of blackberries

2

avocados sliced

1

res onion sliced

3

cups

of greens

(spinach, arugla, kale , spring mix)

1/4

cup

of Bocconcini

For the dressing;

2

tablespoons

of minced shallots

1

tablespon of fresh rosemary leaves minced

2

tablespoons

of fresh blackberries minced

1

teaspoon

of honey

1

tablespoon

of mustard

1/8

teaspoon

of salt

1/4

cup

of balsamic vinegar

1/2

cup

of olive oil
Instructions
Start off with the chicken. Mix all ingredients together and preheat a girll pan on medium high heat.

Add the chicken reserving any extra balsamic mixture, and grill 5 mins on each side. Then add the reserved balsamic marinade with the stock, cover the chicken and let it cook through for 5 mins on medium heat.

In the meantime arrange the salad bowl.

Prepare the dressing in a small food container. Add all ingredients, place the lid on and shake the container until the deessing comes together.

Slice the chicken and arrange it over the salad, then pour about 2 tablespoons of the dressing evenly over the salad (pour more or less to taste). Serve and enjoy 🙂