This shop has been compensated by Collective Bias, Inc. and its advertiser. All opinions are mine alone. #YogurtInspiration #BreakfastInspiration #CollectiveBias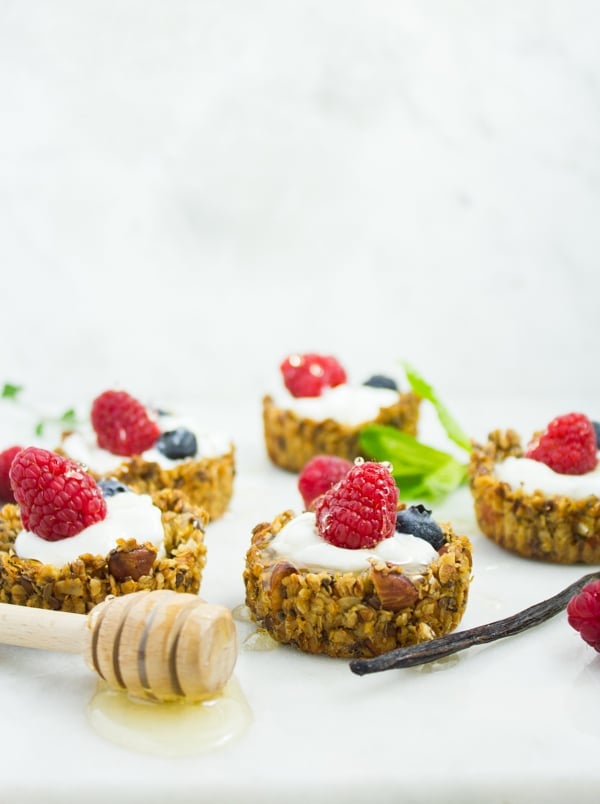 They say a healthy breakfast is the best start to the day, and this Healthy Breakfast Granola Yogurt Cups Recipe is really the perfect way to start your day! It's the combo of almond, vanilla, honey and superfood seeds granola with a decadent healthy Greek yogurt and berries. The contrast of velvety smooth yogurt and crunchy sweet granola is unbeatable, and I love the mini individual serving, plus the varieties of yogurt flavors and fruits you can use is endless! 
There's a bunch of reasons why I love yogurt, but I'll admit the absolute definitive reason is because my pickiest eater LOVES yogurt! Maybe it's a crazy and silly mom logic, but it's totally legit. And it applies to absolutely everything else. So yes, hello yogurt we love you! We love you for breakfast, for snack, and for sneaking you in cooking and baking recipes.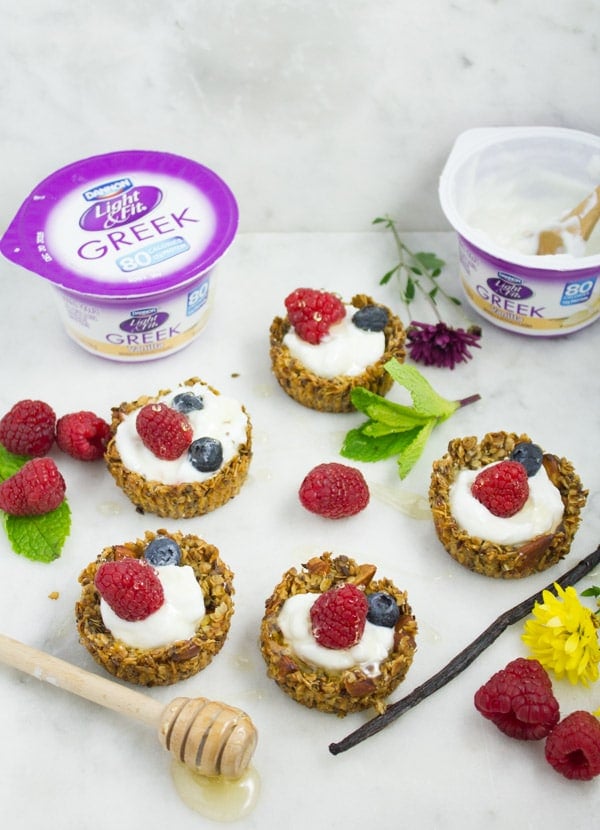 Now for my other yogurt loving reasons—I love how a nice fruity velvety smooth protein packed Greek yogurt can be just as satisfying as dessert! And with the Holidays coming up, you need a back up treat to get you through some sweet temptations! For me, a Greek Dannon yogurt—Light&Fit Salted Caramel or Tiramisu or Strawberry Cheesecake is ALL I need to get through a dessert craving when I shouldn't have dessert. And not only that, I feel GOOD after having these yogurts. They're packed with protein, calcium and Vitamin D—plus there's so many varieties to chose from and it's great way to sustain a healthy lifestyle. I chose those 3 flavors because they taste like such a treat—but honestly there are so many more, and you're sure to find your perfect treat too, so don't miss out!
Aside from that, I really love baking with yogurt, cooking with yogurt, and having a healthy breakfast involving yogurt! Just because breakfast is really the start of the day and when it's packed with yogurt goodness, I feel it boosts me up all day no matter what my schedule looks like. So this healthy breakfast granola yogurt cup is one of my favorite ways to do breakfast. It's the same concept of granola + yogurt, but it's a bit more personal and wholesome. It's also great for a crowd, and can be prepared well in advance..plus it's SUPER easy and quick!!
Now for today's healthy breakfast recipe, I went to shop at Meijer—if you're lucky to have a store near you you'll find a huge display for the Dannon yogurt (all types, all flavors) and you'll surely to find your match. I chose the classic Greek Vanilla today because I wanted to add in berries, a touch of honey and I didn't want to over power the granola with any other flavor. But this recipe is so easily adapted to your taste, so maybe coconut yogurt is your thing, or chocolate, or a type of berry..ANY Dannon yogurt works great here. I also chose the Greek yogurt because it has a nice thick velvety texture (almost like sour cream or whipped cream) and so much more protein than regular yogurt.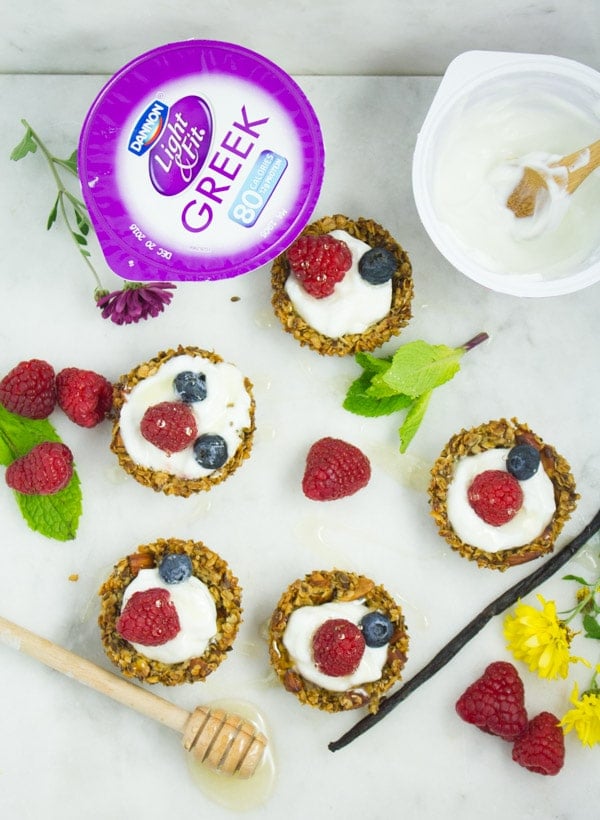 Ok here's the breakdown of this simple yet amazing and power boost healthy breakfast. It starts with making those cute little granola cups. I use a combo of oats, chia seeds, flax seeds and almonds for my base. Here you can add any other type of nut (or take away the almonds, or make a combo)..and any coconut, dried fruit, quinoa flakes, puffs, anything goes well here! The most important thing is to keep the ratio of these base dry ingredients always the same to the wet ingredients. For the wet ingredients, I use honey (maple syrup or brown sugar is great too), oil (coconut oil is a great substitute!), vanilla (any spice can be added here too) and egg whites ( to bind the cups—or you can use mashed banana/applesauce here too).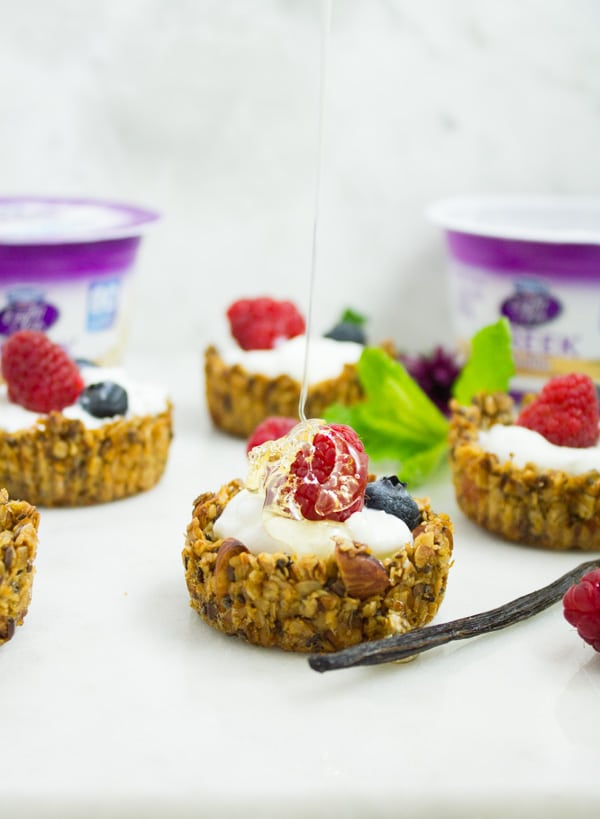 Once you mix all the granola ingredients, you'll place a tablespoon and a half of it into each cavity of a standard size muffin tin. They're super cute in a mini muffin pan too—just use a teaspoon only of the granola mix. You'll notice I lined my pan with baking cups—because yes the granola is quite STICKY and you don't want to risk it. So I would strongly suggest you do the same. And make sure to use the tablespoon (or any spoon) to press down the granola mix at the centre so you have a nice dent and so it looks like a cup.
The granola cups bake for 18 mins until golden and crispy. It's always best to let them cool completely before attempting to remove the paper from them—again they're quite sticky 🙂 But once they cool down, they become nice and crunchy. Now your healthy breakfast is ready for assembly. Dollop a tablespoon of your favorite Dannon Light & Fit yogurt in the middle and top with any fruit you love! I used raspberries and blueberries. I've tried topping it with chia seeds for extra crunch—it was delicious, you can go for a crunchy topping like nuts, chia, popped quinoa etc..Or simply a drizzle of honey, or a combo of berries and honey like I did here..Or frankly skip the topping and enjoy the yogurt-granola 🙂 Either way, this recipe will surely put a smile on your face and body—make it and enjoy 🙂 You can always stay updated with Dannon on Facebook  , Twitter and Pinterest  for ideas, inspiration and  more yogurt goodness! Have a delicious healthy breakfast!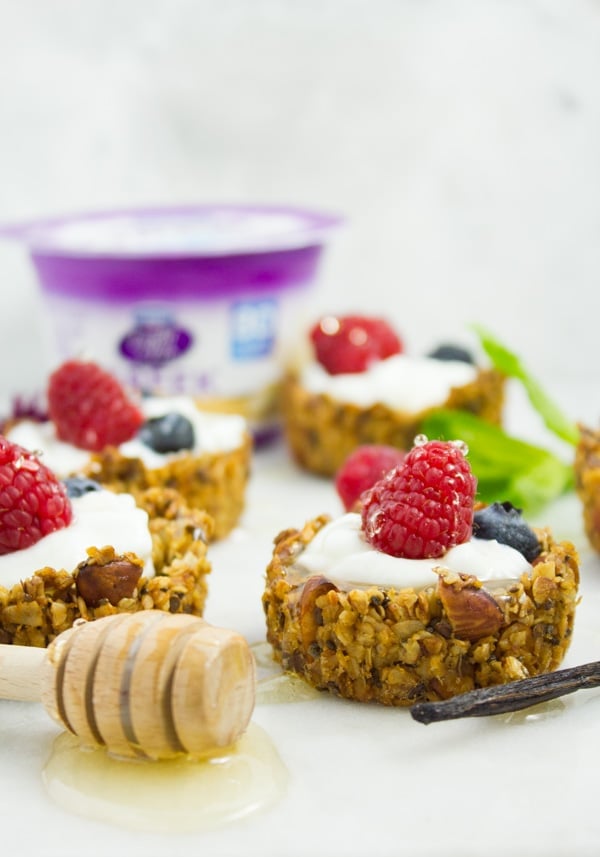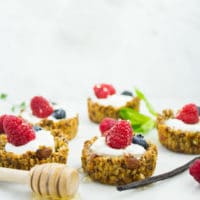 Healthy Breakfast Granola Yogurt Cups
Ingredients
]For the granola cups:

2 1/2

cups

total of these base dry ingredients

1 1/2

cups

of Oats

(any type)

1/2

cup

of chopped almonds

1/4

cup

of chia seeds

1/4

cups

of flax seeds

pinch of salt

Wet ingredients:

1

teaspoon

of vanilla

1

tablespoon

of egg whites

1/4

cup

of honey

1/3

cup

of oil

For the Filling:

Dannon Light & Fit Yogurt—any flavor

For the Topping:

Berries

, Nuts, more seeds, honey..
Instructions
Preheat the oven to 400 degrees F. Line a standard muffin pan with baking cups and set aside.

In a large bowl mix the base ingredients for the granola cups (you can alter them adding any other ingredients such as coconut flakes, nuts, dried fruits, but keeping the total ratio the same to the wet ingredients).

Add the wet ingredients to the bowl of base ingredients and mix using a spatula.

Take a tablespoons and half of the granola cups mixture and place it into each paper lined muffin cup. Make sure to press down the mixture firmly in the middle to create the cup shape.

Bake the granola cups for about 10 mins and then take them out to press down the centres again using the same tablespoon. return the granola cups to bake for 6-8 mins more until golden and crisp around the edges. The cups will harden and crisp up more as the cool down.

Once cool completely, carefully remove the aper cups and serve the granola cups.

Fill each granola cups with the Dannon Light & Fit yogurt and top with your favorite toppings. Serve and enjoy!!: )