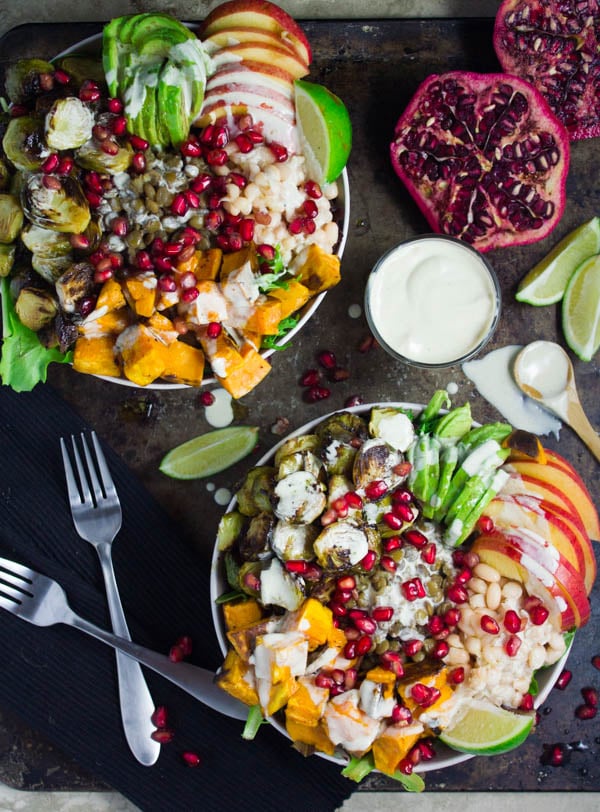 If you're craving a super hearty, flavorful and filling bowl for dinner—this Lentil Fall Harvest Veggies Buddha Bowl recipe is your best bet! It's a perfect balance of roast Fall veggies, salad greens, lentils and beans, apples, sweet pomegranate arils and my famous luscious perfect tahini sauce drizzled on top! It's a melody of sweet, savory, crunchy, melt in your mouth smooth lentils and beans—and a 1 minute tahini sauce that adds a smokey feel and extra creamy texture!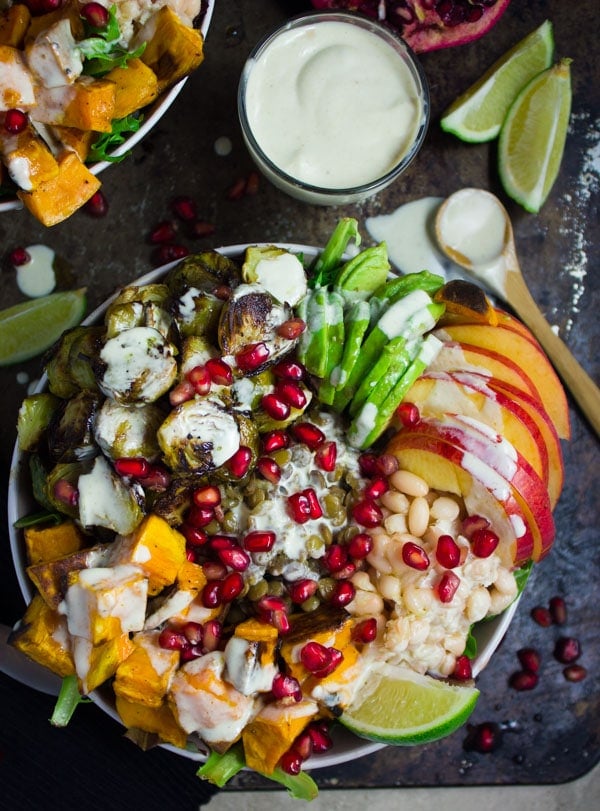 Hello Fall Salads. Hello warm, hearty, filling and healthy bowls. Today it's Buddha Bowls! I've been intrigued by Buddha bowls for a while and at some point I researched what on earth is a Buddha Bowl?! Why aren't my every day healthy salad bowls considered Buddha? Well as it turns out, they are. Call it Buddha bowl, Bliss bowl, Glory bowl, Glow bowl, Nourish bowl, Hippie bowl, Power bowl…or just GOODNESS bowl! So a Buddha bowl is just a fancy word for "good for you" salad, veggie, grain and protein bowl. And the beauty is, there's no right or wrong—just get your imagination going.
The base of any Buddha bowl is the greens. Preferably organic. Think kale, spinach, arugula, chard, watercress or a mixture. Then there's the veggie component—and that's a perfect way to use up left over roast veggies in your fridge! Roast, steamed, boiled or raw veggies work great—any type and any amount. Now you need some protein. Go for lentils, beans, chickpeas, tofu, and if you're a carnivore, go for eggs, beef, chicken or seafood. Then you need a bit of sweetness and crunch—hello apples, pears, berries, pomegranate arils, mangoes and more. Then there's the grain which can go anywhere from rice (brown rice, rice noodles, rice sheets and more) to cooked millet, quinoa, buckwheat, barley..and more! Remember—there's no right or wrong.
Now finally, the dressing. To me is the best part. I think no matter what goodies you throw in to your Buddha bowl, without the perfect dressing you'll be missing out on something. So I chose my all time favorite Perfect Tahini Sauce. And with this I'll make a bold confession. That Perfect Tahini sauce is seriously PERFECT. It's addictively delicious and yet a simple 4 ingredients sauce that comes together in 1 minute of mixing. I absolutely LOVE it. I've made it at my cooking classes for a Moroccan dinner night class I was teaching, and it was the star of the night..But…this recipe was one of the first ones I made for this blog and I confess the photos I took for it were beyond hideous!!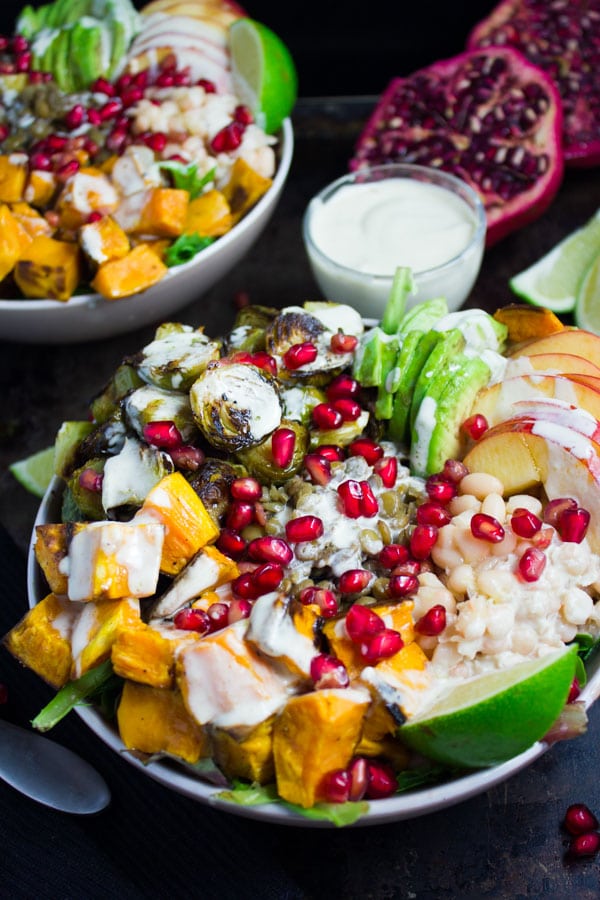 So here's the fun thing—I seriously hated those sauce photos so much because I felt they didn't give it justice—which is so true. But one day, one happy reader pinned that Perfect Tahini Sauce..and it blew up on Pinterest! YES with the hideous photos! lol I couldn't believe it. But morale of the story you guys—this sauce is absolutely PERFECT and worth every re-pin it got irrespective of the bad photos! So now it's your turn to make it and see for yourself 🙂 Keep this amazing sauce in your fridge for weeks ( yes weeks!) and use it on salads, veggies, spread it on breads, drizzle it on chicken, beef, fish, you name it!
Ok now for today's lentil Fall Harvest Buddha bowl, here's how I stacked it up. I started with a mixture of greens, then I piled on some roast Brussels sprouts and roast sweet potatoes. Then I added in some sliced avocados and sliced apples. For my protein fix, I threw in some cooked green lentils and navy beans. A drizzle of my Perfect Tahini Sauce and a sprinkle of pomegranate arils on top, and it's Buddha bowl perfection!! Now it's your turn to make these at home—grab your favorite ingredients, pack up our bowl, drizzle the Perfect Tahini Sauce over it and ENJOY!! 🙂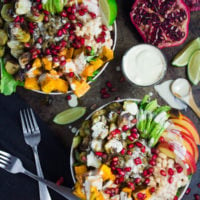 Lentil Fall Harvest Buddha Bowl
Ingredients
3

cups

of organic greens

( Kale, Spinach, Watercress, Arugula or a mixture)

1

cup

of roast sweet potatoes

1

cup

of roast Brussels sprouts

1

cup

of cooked green lentils

1

cup

of navy beans

1

large apples

, sliced

1

avocado

, sliced

1

cup

of pomegranate arils

Sauce:

1/4

cup

of Perfect Tahini Sauce
Instructions
Bring two bowls, and add the greens in first. Then arrange the remaining ingredients all over the greens in any pattern you prefer (leaving the pomegranate arils to sprinkle at the end). Drizzle about 2 Tablespoons (more or less to your taste) over each of the Buddha bowls and sprinkle the pomegranate arils. Enjoy!

Preheat your oven to 400 degrees F. Toss the diced up sweet potatoes and Brussels sprouts (each cut up in half) with a teaspoon of olive oil and pinch of salt. Roast for 15-18 mins.