This shop has been compensated by Collective Bias, Inc. and its advertiser. All opinions are mine alone. #ShareYourBrilliance #CollectiveBias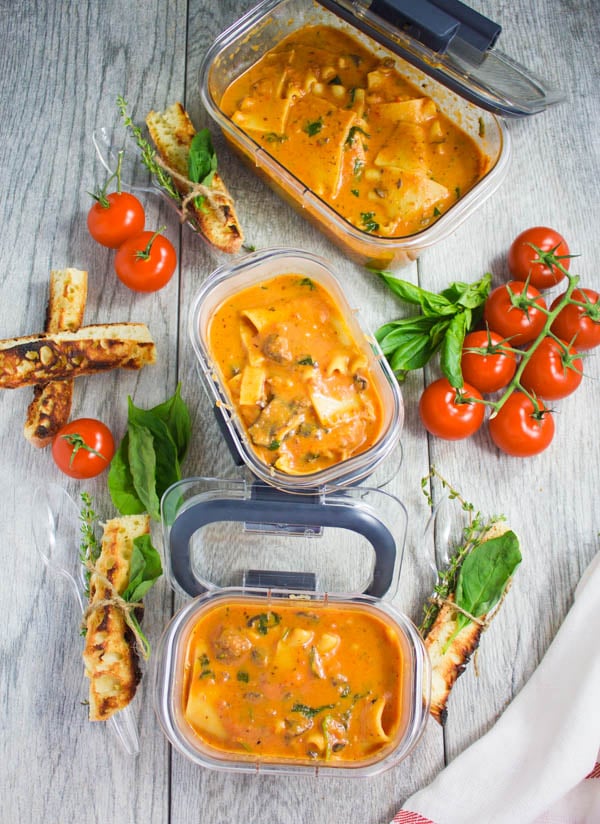 Love Lasagna? Love Soup? Then you're about to fall madly in Love with the Best Lasagna Soup recipe! It's everything you dream about in a lasagna with bonus extra thick creamy tomato basil sauce. Delicious, heartwarming, comforting, filling and much easier and quicker than making a lasagna. This soup is a real crowd pleaser with kids and adults—every sip is pure Love!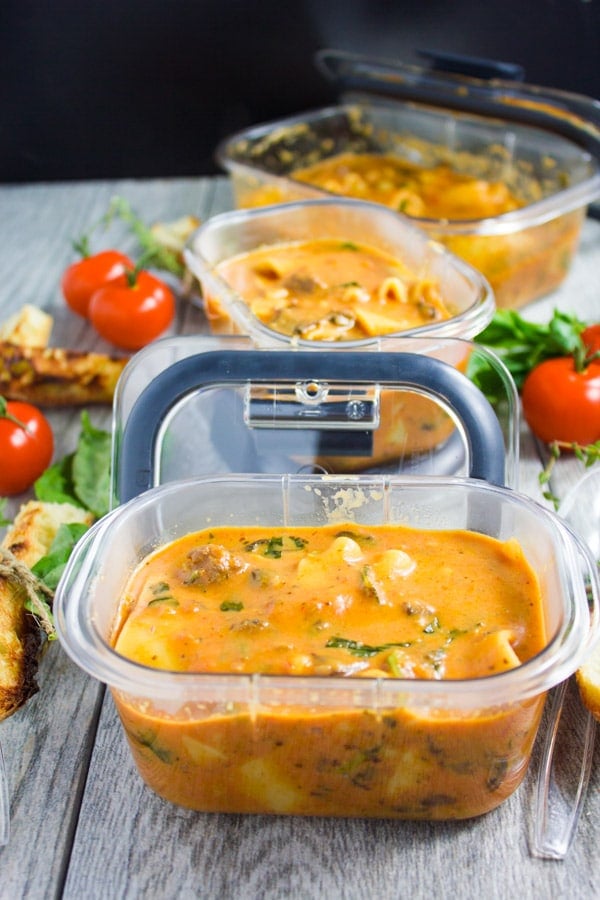 Time for more soup. We're making the Best Lasagna soup. Like ever. Soup has to be one of my favorite things about this season and I know I've mentioned this before but soup really does cheer me up any day. I'm not sure what is, I feel it's just pure comfort. So let it rain, let is snow, let it be..I'm having my bowl of soup with a big smile on my face 🙂 lol
So if you haven't you tried lasagna soup before, well it tastes just as drool worthy as it sounds! So there. I warned you. To me, it's better than a plate of lasagna. It's like lasagna with plenty, and I mean plenty of sauce. Thick, creamy tomato basil garlic sauce. The first time I had this recipe was a couple of years ago at the cooking school. There was a visiting chef from Italy who made all sorts of Italian American twists on Classic Italian food, and the lasagna soup was one of them—it was my favorite one! I've been making it ever since, I've twisted it a touch to make it creamier and thicker..and I have to say it's ALWAYS a hit. Kids love it, grown ups love it, and you'll absolutely love it too!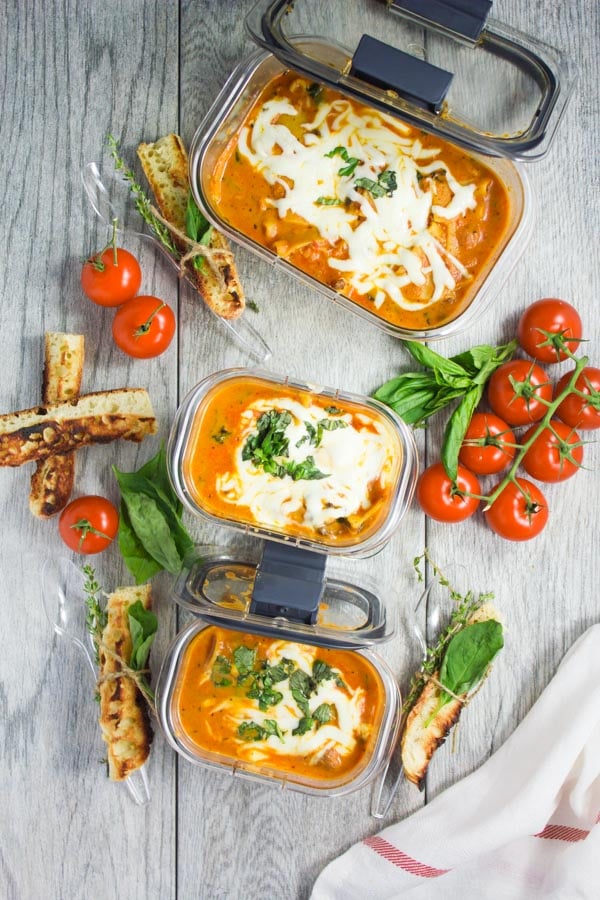 Now there's something super exciting too about this lasagna soup today—I've made them using the new Rubbermaid Brilliance collection from Walmart. And that means I can actually take soup on the go—that's huge! So these fabulous food containers are totally and completely leak proof—YES I tested them as you can see below! There's a nice strong rubber seal all around the food storage container which I think locks it perfectly.
They also happen to be stain and odor resistant and clear 360 degrees—my nice thick and creamy tomato lasagna soup didn't stain a single bit! I just rinsed the food container and it was crystal clear just as new! If you're microwaving food using them, seal the lid leaving the vent flaps—you'll get no splatter whatsoever. I bought the whole set and I couldn't be happier, they stack beautifully!
Just look at these cute and luscious lasagna soup on the go containers, paired with plastic spoons and toasted breadsticks. Pure comfort. Pure love! Here's quickly how this amazing soup comes together—just sauté onions, garlic and minced beef (optional—you can make this totally meatless or use ground turkey/chicken too). Flavor them up with plenty of oregano and basil. And now add your crushed tomatoes, stock and bring the mixture to a boil. Once it boils, add down the broken lasagna noodles—I just use my hands and break up the sheets of lasagna into a little less than an inch wide pieces ( this is optional how big/small you break down your pasta). Then you'll add in the lasagna pieces into the soup and let it cook for about 12-15 minutes. You really don't need an al-dente experience here, so make sure the pasta is cooked well. Now you'll go in with creamy ricotta cheese—and as it melts in the bubbling tomato sauce, it will turn creamy dreamy pink and extra luscious! Then finish the soup off with plenty of chopped fresh basil.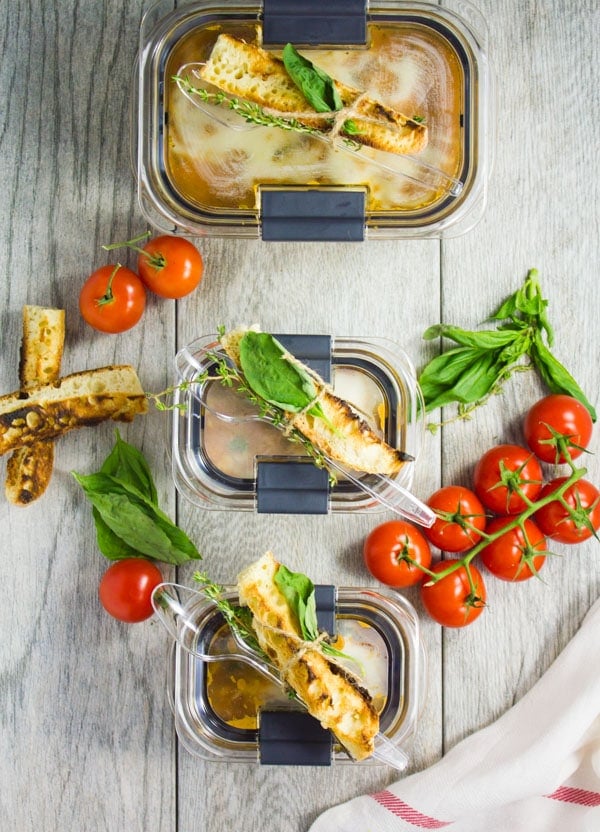 For a final lasagna feel, sprinkle some grated mozzarella and Parmesan cheese over the soup and more fresh chopped basil. Now it's time to sit back and ENJOY! 🙂 Make this lasagna soup asap and it'll be your go to for comfort, or whenever you crave lasagna! And look for the new Rubbermaid Brilliance food storage containers, follow them on Facebook and Instagram for more updates!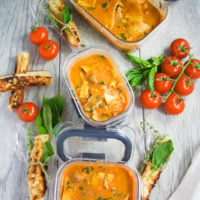 The Best Lasagna Soup
Ingredients
1

teaspoon

of olive oil

1

large onion

, finely diced

4

cloves

of garlic minced

1

cup

of sliced cremini mushrooms

1/2

lb

ground beef **optional

1/4

teaspoon

of salt

1/2

teaspoon

of black pepper

1

teaspoon

of oregano

1

can of crushed tomatoes

1

teaspoon

of oregano

1/4

cup

of minced fresh basil

2

cups

of vegetable/beef stock

1/4

teaspoon

of salt

1/4

teaspoon

of pepper

10

lasagna sheets cut up into 3/4 inch thick pieces

(more or less to your taste)

1/2 - 1

cup

of ricotta cheese*

1/4

cup

of fresh minced basil

Grated Mozzarella and Parmesan Cheese **optional
Instructions
In a large pot over medium high heat, add the live oil and wait until it warms up. Then add the onions. Sautee the onion until they soften up—about 2 mins.

Add the garlic and mushrooms and sauté for another 2 minutes until they're fragrant and start sticking to the pot.

Add in the ground beef, salt, pepper and oregano and sauté over high heat until the meat is fully cooked and any liquid has evaporated.

Add the tomatoes, stock, basil and more oregano and bring the soup to a boil. Allow it to boil for a few minutes and then add the lasagna noodles.

Mix the noodles for a few minutes and then let them cook for about 15 minutes until tender.

Add in the ricotta cheese and keep mixing it in gently until it completely dissolved in to the tomatoes sauce. **add more ricotta for a creamier thicker soup! If you're out of ricotta, try mascarpone or regular cream cheese!

Turn off the heat and add in the fresh basil and mix it well.

Serve the soup sprinkled with some grated cheese if you like. Taste for seasoning and adjust with some extra salt and pepper.