This is an Italian Panzanella salad with basil dressingrecipe that's loaded with artichokes, fennel, apples and crispy croutons! It's amazingly filling, crunchy and fresh tasting! If you're making this a full dinner, simply broil a few strips of salmon and rock them with some of that basil dressing too—this only adds 10 extra mins to your time, but leaves you with a complete DELICIOUS salad plate that you'll make over and over again!!
Well no more weather complaints from me—yes it finally feels like Spring around here! Finally! And while I'm still recovering from a nasty flu, I am so in the mood for the outdoors, planning some bbq and picnics! And when it comes to dinner, all I feel like is salad, salad and more salad!
So have you had Panzanella salad before? It's a classic Italian salad, a Tuscan salad to be more precise. It's a salad you'll have to try if you ever visit Italy! And it's one you can make with endless toppings and dressings. The base of the salad is the crunchy bread pieces—which I crunch up in the oven with some garlic, olive oil and fresh thyme, so it's more of a crouton. Classically in Italy, any stale old chewy bread is used. I find that by crisping up the bread, the salad lasts longer with the dressing, and the bread doesn't mush up on me for at least 6 hours.
So how about the Panzanella salad ingredients? Oh my—the sky's your limit! The really classic version focuses on tomatoes, red onions, some cucumbers and a simple vinegar & olive oil dressing. But now you'll find Panzanella made with all sorts of veggies, fresh or even roasted ( actually one of my favorites is roast veggie Panzenalla—recipe to come pretty soon on the blog!). And feel free to go with any greens you love. I've used my beloved kale here, some Romaine, and kicked it up with some sliced apples, sliced fennel and caned artichokes.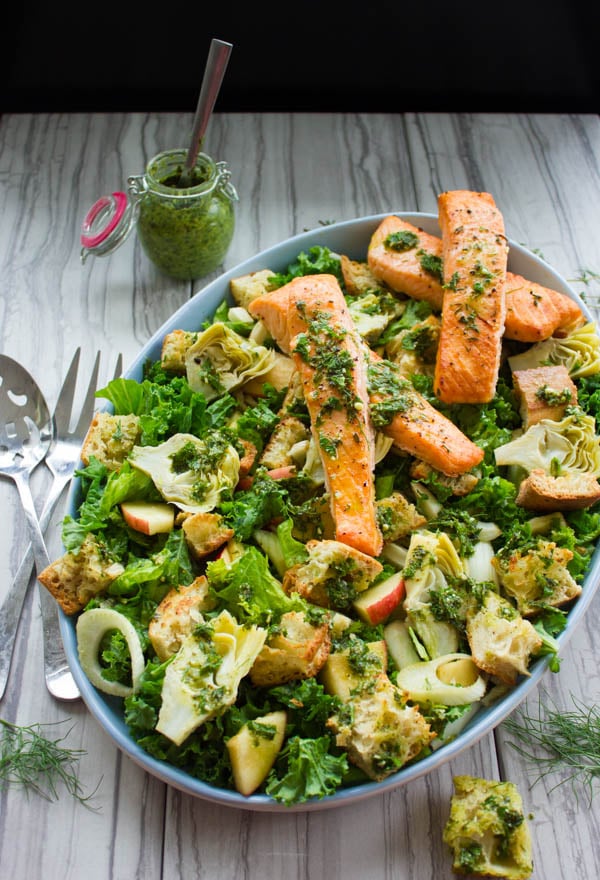 I absolutely love this combo because fennel has a sweet liquorice taste which is absolutely fabulous with the garlicky croutons and slight bitterness of kale, and more sweetness is loaded from the apples, while the artichokes add a nice salty contrast and chewy texture. Now imagine all of these get drizzled with a fragrant refreshing lemony balsamic dressing! For the record, I wouldn't mind the basil balsamic vinaigrette from this Blackberry Pecan Roast Veggie Power Salad. But in keeping with my happy Spring-ish feel, I'm going for a zestier twist on basil vinaigrette. If you're vegan, this recpe is PERFECT—filling, fresh, crunchy, sweet and bursting with flavors!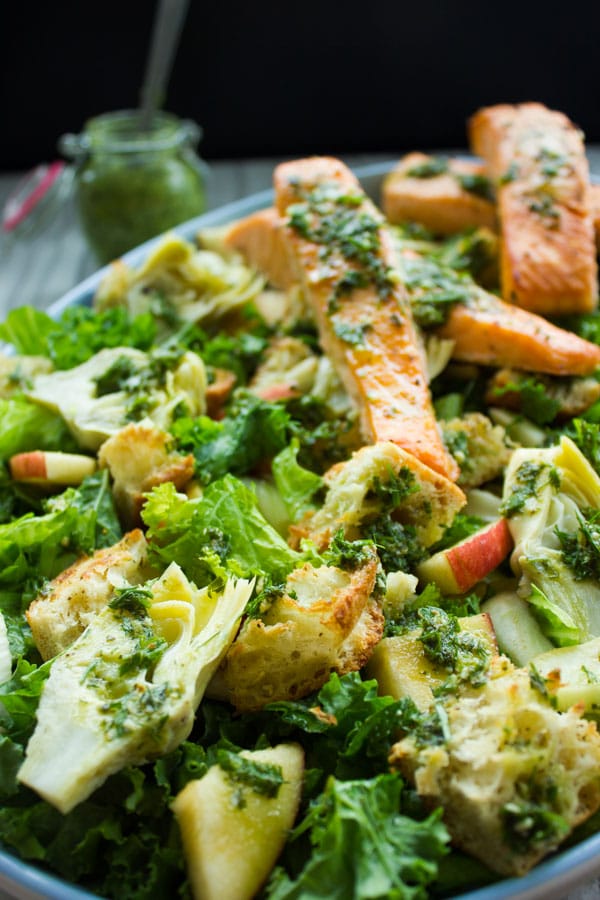 And if you're looking to add a type of protein to this fabulous salad—I highly suggest broiled salmon strips. They broil in 5 mins, they only need salt, pepper and olive oil before broiling, and they take a nice drizzle of the basil dressing when they're done. So that adds an extra punch of flavor! If you remember this outstanding Salmon Asparagus Sweet Potato Nicoise —another Spring fresh salad from France, I broiled the salmon too.
Basically, you'll turn the broiler on high, season the salmon strips with salt, pepper and olive oil drizzle, then broil them fro no more than 5-6 mins. And they're magically done!!! They're YUM as they are, and even YUMMIER with a drizzle of dressing on top once they're cooked. So that's when this citrus basil dressing shines even more. Now if you've got left over grilled chicken, steak, shrimps—they all work beautifully! And if you're as busy as a bee—then even canned tuna works GREAT, or some soft boiled eggs—or again, simply have it vegan, light and refreshing with no meats.
Finally, I love making the dressing out of my protein packed nut free hemp basil pesto recipe, which I thin out with plenty of lemon juice and some more olive oil. If you've got prepared basil pesto on hand, I should say it would work (although I can't see HOW you wouldn't spare 2 mins to try this protein packed nut free hemp basil pesto recipe 🙂 ). And if you don't have basil pesto, and don't plan on making it—then simply add chopped garlic, plenty of minced basil, plenty of lemon juice, salt, and olive oil. Parmesan is a fabulous ingredient to throw in, and if vegan—I love using mustard instead of Parmesan cheese, it emulsifies beautifully and adds extra flavor! For a perfect fennel compliment to to the salad, I chop some of the green fennel fronds and add them with the basil for the dressing. On a side note- I ABSOLUTELY love those fennel fronds—and I hear many people throw them out!?! They have a delicate mild sweet fennel flavor which you can't miss!
This Panzanella salad not only makes a delicious dinner, it also makes an AMAZING bbq side dish, a fabulous picnic salad and a show stopper potluck dish! And next day, it makes a yummy lunch 😉 So enjoy your Spring with this Panzanella salad, and flavor it with as many toppings and dressings as you love!! 🙂 Enjoy!!
Italian Panzanella Salad With Basil Dressing
Ingredients
Croutons:

1

small baguette cut up into 1 inch cubes

(smaller or bigger is up to your taste)

2

teaspoons

of olive oil

2

tablespoons

of fresh thyme leaves

(or 1 teaspoon dried)

1/4

teaspoon

of salt

(more or less to taste)

Salad:

2

cups

of salad greens

( I used a mix of chopped fresh kale leaves and Romaine lettuce)

1

can of artichoke hearts

, cut up (marinated or plain)

2

small heads of fresh fennel

, thinly sliced

1 1/2

Gala apples thinly sliced

All the croutons above

Basil Dressing:

1/2

cup

of chopped fresh basil leaves

2

tablespoons

of chopped green fennel fronds

(optional, but recommended)

1/4

teaspoon

of salt

1/4

teaspoon

of sugar

1

large clove of garlic finely minced

zest of 1 lemon

juice of a large lemon

(about 2 tablespoons)

1/4

cup

of freshly grated Parmesan cheese

(OR: 2 teaspoon of mustard if Vegan)

1/3

cup

of oil oil

OR:

1/4

of protein packed nut free basil pesto

( or any ready made basil pesto)

2

tablespoons

of fennel fronds

1

tablespoon

of lemon juice

zest of 1 lemon

2

tablespoons

of olive oil

Optional: Broiled Salmon

4

strips of salmon totalling to 1 lb

1/4

teaspoon

of salt

1/2

teaspoon

of pepper

2

tablespoons

of fresh thyme

( or 1 teaspoon of dried)

2

teaspoon

of olive oil
Instructions
Preheat the oven to 400 degrees F.

For the croutons, toss the bread cubes with all the ingredients and spread evenly on a baking sheet. Toast them in the oven for 10 mins until crispy and slightly golden. Let them cool while you prepare the salad.

If you're making the salmon, switch the oven setting to broil and adjust the rack to the highest rack.

Toss the salmon strips in seasoning and olive oil, and place them in a single layer on a baking sheet, then broil for 5-6 mins until slightly golden and perfectly done.

To make the dressing: Place all ingredients in a sealable container, seal well, and shake until all blended and emulsified. If you like a smoother creamier type dressing—place all ingredients in a blender or food processor and process until smooth.

Assemble the salad by tossing the salad greens, fennel and apples with 2 tablespoons of the dressing, then spread the salad on a plate.

Top with the croutons, artichoke hearts and drizzle more dressing on top (to your taste).

If you're serving the salmon too, arrange them over the salad and drizzle each salmon strip with 1/2 teaspoon of the dressing.
**Nutrition Table is for the Vegan Salad: