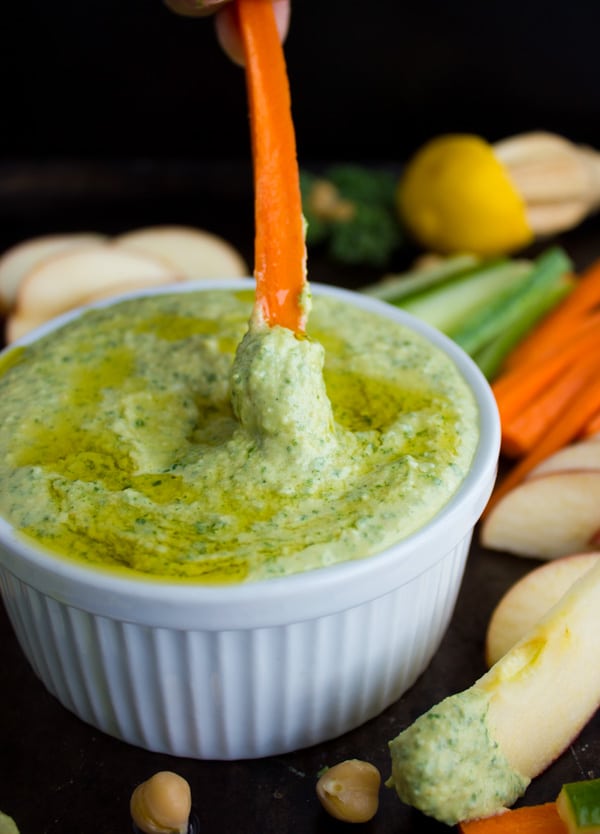 This garlic kale hummus dip recipe is a power boost to the good old hummus! It's the same texture, same taste, same satisfaction, but plenty more goodness! The super kale is sauteed for 20 seconds with garlic and a pinch of salt, then whipped up with chickpeas, lemon juice, tahini for the ultimate garlic kale hummus dip! 
This is a MUST try recipe. And while it feels like a continuation of the DETOX vibe going on around here (which started with this Mexican style lentil detox salad ), it's actually a continuation of delicious stuff. The detox vibe will end up being yummier than you think—so don't miss out! So it's no secret we all LOVE hummus!! I usually prefer a good old classic like this ultimate hummus dip— and use it a base recipe when I feel like flavoring it up —like with mashed sweet potatoes or avocados, roast peppers, roast garlic etc.. but with all these flavor options, I always have a thing for that deep smooth classic hummus taste….enter this garlic kale hummus dip.. A super flavorful, healthy yet rich smooth dip that's perfectly Vegan and gluten free too.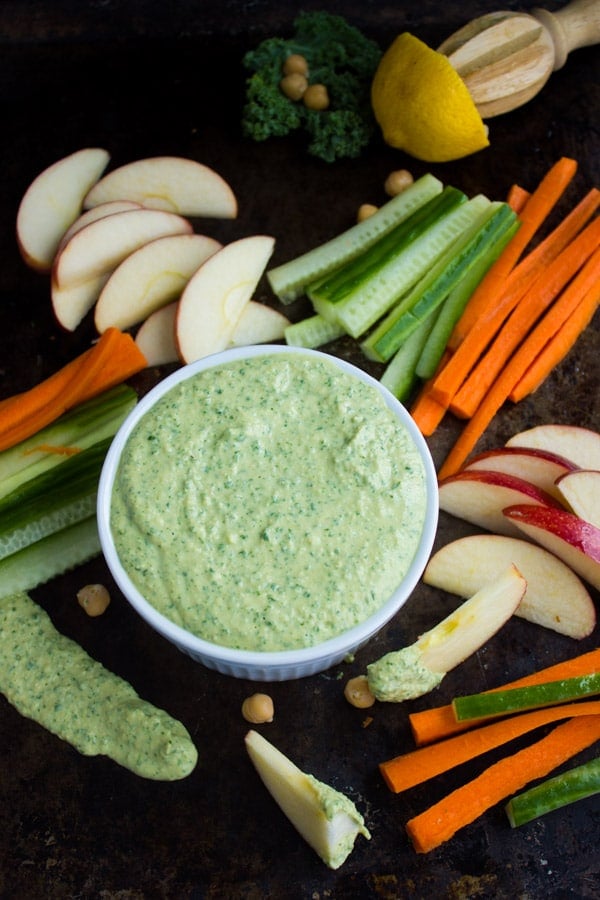 So why else does this dip blow me away? Well for 2 simple reasons– it tastes just like the real classic rich hummus,  and it involves kale. I brag too much about my love for kale and use it many recipes around the blog here– it has a pleasant bitter taste, a nice chewy texture, and kale is soo good for you, so it's absolutely worth giving it second and third chances.. .  if you're looking for some inspiration on using more kale, try some of these recipes : kale mushroom brie pizza, kale veggie mini frittata, quinoa kale stuffing with squash rings, kale pesto stuffed mushrooms, healthy kale squash mushroom pasta.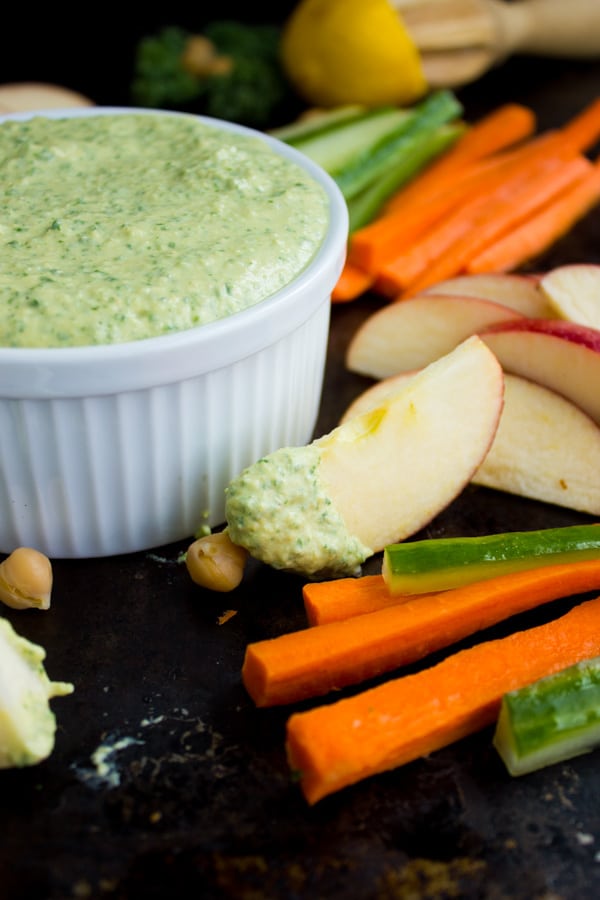 I'll tell you a quick funny story. I was invited last week to a superfoods party—yes it's exactly as it sounds. And I came along with this superfood hummus boosted with super kale (too many super things I know!). And the lovely crowd deemed this as their new and upgraded super hummus from now on! And last weekend, I went by to watch the game with a friend who's anything BUT the healthiest person on earth, and yet again I took this dip with me. She deemed this garlic kale hummus dip her favorite kale-thing, specially with sliced apples! Bottom line—no mater who you're relating to here, you will LOVE this hummus!


To make this AMAZING garlic kale hummus dip, I start by adding 1/2 a teaspoon of olive oil to a hot skillet and then dump in the sliced garlic and chopped kale leaves. I sautee that for exactly 15-20 seconds with a pinch of salt. The kale softens up and wilts slightly, while the garlic becomes super fragrant. For the record, I've made this with fresh kale and fresh garlic –that's when I felt the flavor was slightly too strong.. plus the fresh kale gave my humble food processor a harder time (my good processor had to be tucked away for space issues–long story! But moral value is: never let go of your good processor and settle for less!) .. If you prefer a completely raw dip, or a stronger kale feel and taste in your hummus–by all means go with the fresh leaves (minus stems).
I follow the exact recipe in this ultimate hummus dip–because it really is the ultimate! A perfect balance of chickpeas, tahini, tang, salt and smokey cumin, with a secret ingredient: olive oil! It adds a ton of flavor and ultra smooth texture! So after the kale is quickly sauteed, it goes in the processor with all ingredients and a few mins later (depending on how strong your food processor is) you've got yourself a silky smooth, perfect hummus dip that can be enjoyed right away or stored in your fridge for at least 2 weeks!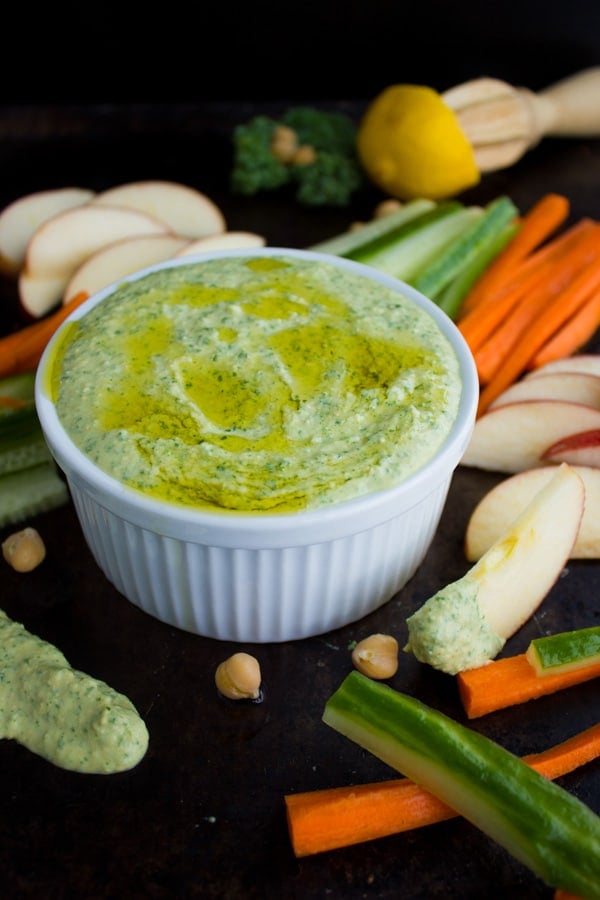 This garlic kale hummus dip makes the perfect game day dip this season! A perfect lunch, a great appetizer to any meal and a fabulous snack anytime! Serve it with your favorite veggies or crackers—my absolute favorite is apple slices 🙂 Kale obsessed or not, you will love love love this dip!! Enjoy 🙂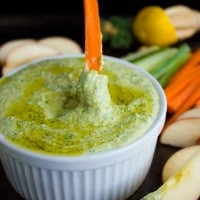 Garlic Kale Hummus Dip
Ingredients
1

cup

of fresh kale leaved

, chopped and stems removed

2

garlic cloves

, roughly chopped

pinch of salt

1/2

teaspoon

of olive oil

The ultimate Hummus diprecipe
Instructions
Preheat a skillet over medium high heat. When the skillet is hot, add in the olive oil, garlic and kale. Season with a pinch of salt.

Sauté the kale for about 20 seconds until it starts to wilt and shrink to about half the amount.

Add the garlic kale mixture into the food processor along with the remaining ingredients and pulse until smooth.

Serve with your favorite crackers, fruits and veggies.