Looking for a fabulous new way to do stuffing, or enjoy some squash, veggie and quinoa goodness? You'll have to make this quinoa kale stuffing with squash rings recipe! It's everything you're looking for in a stuffing, and simply everything you're looking for in a perfect side dish. It's one of those good and good for you recipes, but this one tastes extra super duper good.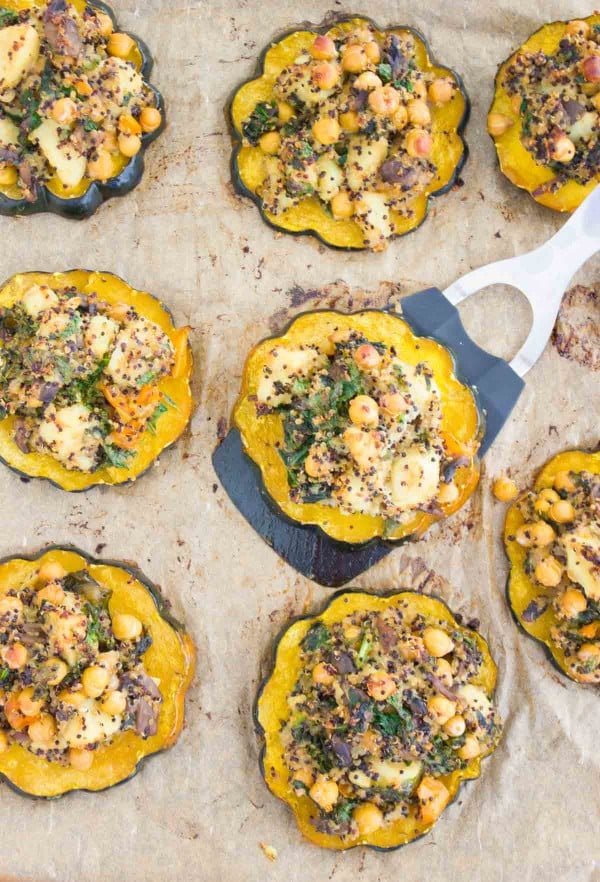 I think you can feel the excitement. The overjoy. The OMG I love Fall, I love squash, I love quinoa, I love stuffing, I love Thanksgiving, I love sweet potato, I love kale, I love side dishes, I love chickpeas, I love comfort food, you get the idea. And how can you not love any or all of the above! Well to be fair, I had a close friend, my college roommate actually, who ate no veggies and zero salads. At the time I bugged her to change her mind and failed. Now she lives so far off, I stay in touch just to say hi and we check on each other every now and then, so I can't reach her to bug her. But if I could, I would absolutely start off with this quinoa kale stuffing with squash rings. I miss you Miss W!
Now if you're a veggie lover already—you'll absolutely fall in love with these. And if you're a bit veggie challenged, I urge you to give these a try and you'll change your mind. Now if you're like my friend Miss W. who resents all veggies, I would urge you to read through and look at how scrumptious these quinoa kale stuffing with squash rings look and then give them a try using your favorite herbs, nuts, spices, cheeses etc, and gradually sneak in a veggie or two.
stuffing ready
slicing squash
squash rings ready for topping
before baking
The beauty here is, even though I used sweet potatoes, kale, chickpeas with the quinoa as a stuffing or topping to the acorn squash rings, you can use just about anything you like. So think walnuts, cranberries, mushrooms, apples, pears, cheeses, broccoli, cauliflower, carrots, zucchini, tomatoes, beans, herbs…the possibilities are endless! So it can be as simple as quinoa, herbs and cranberries, or as veggie packed as I made it here.
These quinoa kale stuffing with squash rings, start up with the quinoa stuffing. You can use pre cooked quinoa if you've got some in the fridge (check out how to cook quinoa for tips and perfect results) or you can cook the quinoa with the sweet potato. I start by sautéing onion, bell peppers and then add in the sweet potatoes and quinoa (in uncooked) with a little bit of water, lower the heat and cover the pot for about 20 mins until everything is tender and cooked. At that point I turn off the heat and add in some fresh kale and cooked chickpeas (or canned, drained chickpeas), some Parmesan cheese (skip if you're vegan), seasoning, fresh oregano and that's it!
I love acorn squash to use as a base for this recipe because when sliced horizontally, they look like flowered rings. Not to mention they're so buttery sweet, rich and just perfectly balance the quinoa stuffing. If you've got small pumpkins or butternut squash, they would work fabulously too! When sliced into 1/8th inch thick, the squash doesn't need to be pricked at all. Just toss the rings with some olive oil, salt and pepper, then pile on your quinoa stuffing along the sides and the center—even if hollow like the acorn squash rings, the stuffing will stick on the squash—don't worry! And just bake those quinoa kale stuffing with squash rings for 15-20 mins until the squash is fork tender!
Simple, fresh ingredients, seasonal love, gluten free, vegan and healthy good for you side dish that screams delicious comfort! Give those a try, personalize them however you like and enjoy! 🙂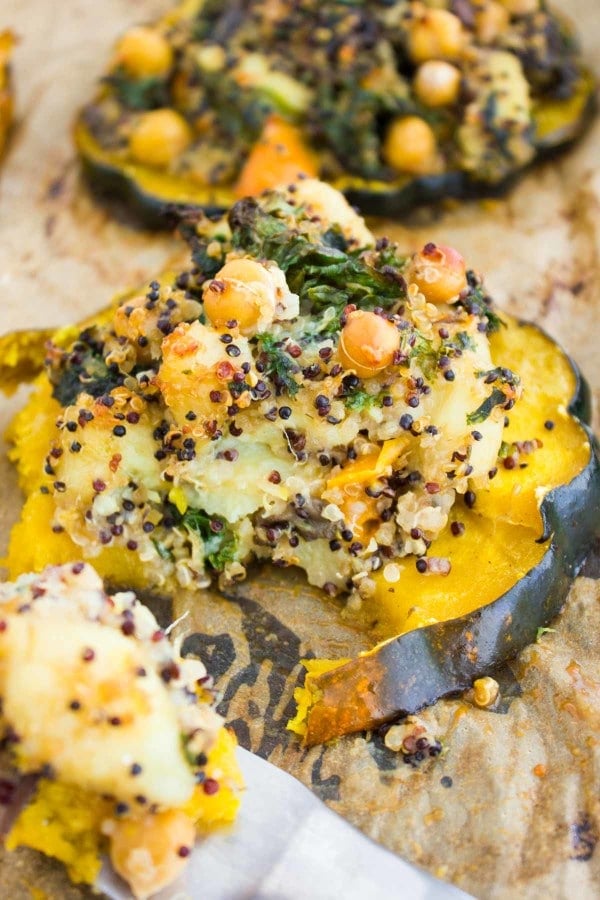 Quinoa Kale Stuffing With Squash Rings
Ingredients
1

acorn squash

, washed and thinly sliced horizontally into 1/8th inch thick slices, seeds removed

pinch of salt

pinch of pepper

1

tablespoon

of olive oil

Quinoa Stuffing:

1

teaspoon

of olive oil

2

small shallots

, thinly sliced

1/3

cup

of diced sweet bell pepper

1

sweet potato

, peeled and diced into 1/2 inch cubes

2/3

cup

of uncooked quinoa or 1 1/4 cup of cooked quinoa

(check how to cook quinoa post)

1

cup

of sliced fresh kale

2/3

cups

of chickpeas

(canned then drained, or cooked)

1/4

teaspoon

of salt

1/4

teaspoon

of pepper

1

tablespoon

of fresh oregano

, minced (or 1 teaspoon of dried oregano)

1/4

cup

of grated Parmesan cheese

(skip if vegan)
Instructions
Preheat the oven to 425 degrees.

Prepare the stuffing by sautéing the shallots and bell peppers with he olive oil in a show skillet over medium heat.

Add int he sweet potatoes and quinoa (if uncooked, otherwise if using cooked quinoa, add it in later).

Toss the mixture together and add in 1 cup of warm water if using raw quinoa, and if using cooked quinoa, add just 1/2 cup of warm water to the sweet potato mixture.

When the water starts to bubble, lower the heat to low and cover the pot for about 15 mins until sweet potatoes are tender and quinoa is cooked (if using raw).

Uncover the pot and make sure no more water is remaining at he bottom of the pan. If you find some water, keep the lid uncovered and let the mixture continue to cook on low for another 2 mins until the water has evaporated. At that point add in the quinoa if cooked and toss it for a few seconds.

When the quinoa sweet potato mixture is ready, add in the kale, parmesan cheese, chickpeas, seasoning and oregano. Toss well and set aside.

Toss the squash rings with salt, pepper and olive oil and place them on a parchment lined baking sheet.

Top each squash ring with about half a cup of the quinoa stuffing. Place stuffing in the centre and to the sides of the rings leaving a little bit of border.

Place the baking sheet in the oven and bake for 15-18 mins until the squash is fork tender.