For a while now, every year with no exception, I make this Fool Proof Homemade Dinner Rolls Recipe. They're extremely light, fluffy and melt in your mouth soft rolls with just a touch of butter. And every year with no exception, I try to make them with different toppings—this version is brushed with an herb-sesame-butter. The dough is very versatile and forgiving so it's really fool proof—you can't ever mess it up, so get in your baking zone and let's make homemade dinner rolls 🙂
Hey Holiday planning, I have zero plans this year. I've had a hectic Fall season and I really need to give myself a break. For some reason, the cooking classes were as crazy as ever—even though I scheduled myself to give only 4 classes this Fall, I ended up doing more to fill up for a chef who had to travel overseas for a family issue. And you guys know we moved to a new neighbourhood last summer—as it turns out, it's quite a busy and social neighbourhood. We're loving it so far, even though my littlest one had a bit of trouble adjusting to the new school. So bottom line, after Thanksgiving I'll probably just bake cookies, make soup and these homemade dinner rolls for the Holidays..and that's it!
Before we get in to these pillowy soft homemade dinner rolls, I want to tell you about the first time I ever attempted to bake bread. I remember it as if it was yesterday, although it was a good 20 years ago! Oh wow I feel so old just saying that lol So I read and read about why's and how's bread baking can fail, and I thought it's all to do with yeast. So I read and read about how to ensure my yeast was active before I started. And it was. So I started. Little did I know, yeast is only a chunk of bread baking.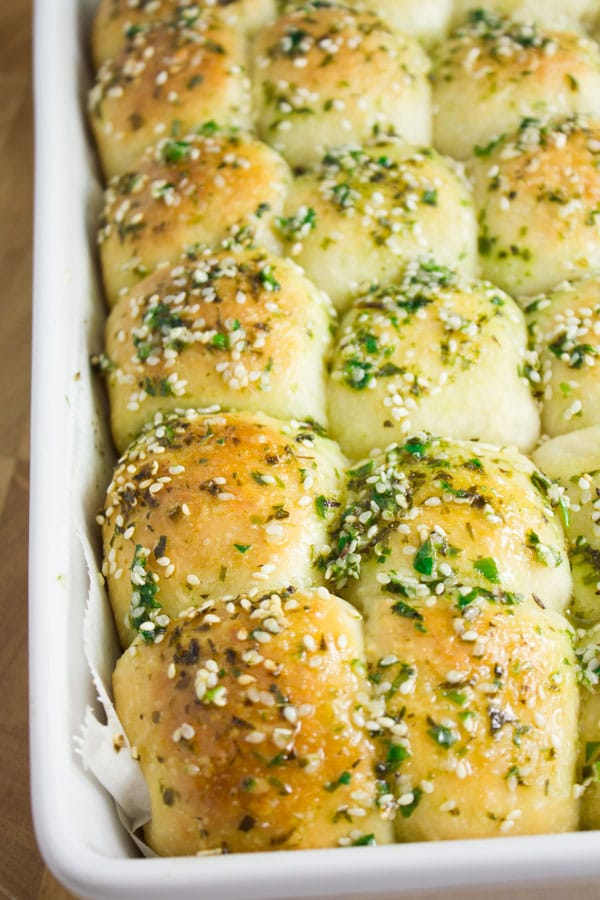 I remember I started right off with a French loaf—excuse me French baguette experts, this is how ignorant my baking ambitions were. The yeast was perfect, the dough was stiff rock hard—which at the time I thought was perfect, the shape looked perfect, I baked it for soooo long—which at the time I thought was perfect to get that crust. I removed it from the oven, I went in with a knife right away—which at the time I thought was perfect since it's ready and since I could hardly wait. At first bite, so many feelings came rushing to me. It tasted NOTHING like a baguette. I had even forgotten to add salt. It was rock hard on the outside, gummy on the inside,  and tasted like tangy yeast. I felt like crying. But a tiny bit of me felt proud to have achieved this much and actually baked bread. I didn't know how to feel. I just knew this wasn't anywhere close to what I was dreaming about.
I can't count how many books, how many doughs, how many loaves of bread later until I felt proud, just pride no disappointment lol And the truth is, I've learned my mistakes, I've learned to understand the "feel" of the dough irrespective of the recipe, and mostly I've learned that SOME recipes are truly forgiving and fool proof—which is where everyone should start! That's where these homemade dinner rolls come in and make you proud 🙂
So if you've been following the blog for a while, you might notice I made these best soft burgers buns recipe using the same dough. The dough for these homemade dinner dolls makes perfect burger buns, hot dog rolls, any soft sandwich bun basically. It makes the BEST monkey bread (sweet or savory). The best garlic knots, soft breadsticks, cheese sticks you name it! And of course the BEST homemade dinner rolls.
The dough is basically using cold butter—a technique I've tested and loved over the years, and I use it in this easy flakey pie dough, a few cakes, cookies and bread. There's step by step photos for this dough in this best soft burger buns so please look at it. Basically cold butter mixed with flour. Then the yeast is mixed with sugar until it starts to foam up. Now you'll add the yeast mixture to the flour, and an egg. The key here when you mix the dough is to leave the dough a bit sticky—so it should stick to your fingers when you dip them in the dough, but it should not stick to the bowl or counter.
The dough for these homemade dinner rolls should rise for about 2 hours and then I divide the dough into 2 and roll each part in to a long rope, then slice off inch size pieces. I roll each piece in to a ball and place it in an oven safe pan. At that point, the dough needs to rise again for 30 mins. Then I brushed with a butter-sesame-herb mixture and bake them. 30 mins of baking and your homemade dinner rolls are done!! When it comes to the toppings—I really jazz things around. Pure simple butter is a classic, and it rocks! My sis actually ditches the butter all together and suss the tops with some flour—and frankly it rocks too!! Butter and cheese is another great combo, butter and garlic powder, fresh garlic and cheese, butter and pesto (any type), minced feta and spinach, orange rosemary onion salt..etc. Seriously I've done them all. They're all amazing—and it's because the dough is amazing!
So now get baking—these homemade dinner rolls are really FOOL PROOF, pillowy, melt in your mouth, soft and super easy to make! Enjoy!! 🙂
Fool Proof Homemade Dinner Rolls
Total Time
2
hours
30
minutes
Ingredients
1

cup

of lukewarm water

( not too cold or hot, more like your body temperature)

2

teaspoons

of instant or dry yeast

3

tablespoons

of sugar

1

egg

2

tablespoons

of cold butter

, cut into 1/4 inch cubes

2 1/2

cups

of all purpose flour

( may be 1/4 cup more or less depending on the type of flour and the level of humidity/dryness in your area)

1 1/2

teaspoon

of kosher salt

Brushing and Toppings:

3

Tablespoons

of melted unsalted butter

2

Tablespoons

of Sesame seeds

4

Tablespoons

of Minced Mixed Herbs
Instructions
Put the flour and salt in a large mixing bowl. Rub the cold butter in to the flour until the butter starts to incorporate into the flour totally. Set aside.

In a measuring cup, measure the water and add the sugar and yeast to it. Mix them up and wait for 2-3 minutes until the yeast starts to activate : the mixture will turn cloudy and may foam on the top. After that, add in the egg and mix it well.

Pour the yeast mixture to the flour mixture and begin kneading the dough in a mixer or by hand, for just a few minutes ( 4-6 minutes) until smooth but just a little sticky when you press your finger deep into the dough. Add a little extra flour if you feel the need to, but hesitate to add too much. It might feel challenging but it needs to be worked fast (if by hand) until it doesn't stick to the surface anymore.

Place the dough in an oiled bowl and cover it with plastic wrap. Let it rise in a warm, dry place ( like inside your oven while it is shut off). It may take from 1-2 hours depending on how warm your home is that day. You will see it double in size and that's how it's ready.

Remove the dough from the oven and preheat it to 350 degrees.

In the meantime shape your dough to your desired size and thickness, and cover it back with plastic wrap for another 30 minutes while the oven is preheating.

Brush the tops of the rolls with the butter mixture.

Bake in the oven on a middle rack for 30 minutes (depending on the size of your rolls) until nice and golden. Once the rolls are ready, brush them with extra butter mixture.