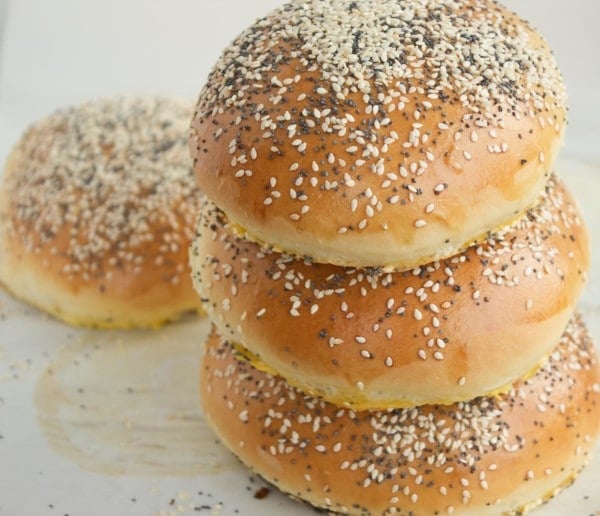 The best soft burger buns recipe is revealed here—a tender crumb, soft pillowy bun topped with sesame and poppy seeds. These buns will upgrade any burger to another level, it will be your favourite soft hot dog rolls, you favourite dinner rolls or slider buns, your favourite soft everything bread! This recipe is super light and fluffy that you will be making it over and over. 
Making bread at home is something many people won't attempt, but just allow me to stop you right there and ask: Have you tried to make this fabulous soft burger buns recipe before? I'm sure not. Well allow me to tell you this: it will change your mind.
This cottony soft, pillowy light , ever so tender bun recipe is one that I make, flavour and shape in endless ways. Either into dinner rolls, or garlic knots, or monkey bread (sweet or savoury), or a large soft loaf, cheese stuffed tiny dinner rolls, slider buns, basic burger buns, hot dog rolls or sandwich bread..etc..etc..etc..And think of the endless flavours (sweet or savoury) to stuff with, sprinkle on, roll and dredge in..etc..etc..etc.. I mean seriously endless..
Oh, and as you can see below – I get much much help when anything baking is happening in the kitchen.
You'll be more surprised to know that unlike many of what claim to be soft buns, these hardly have any butter or oil or eggs, no milk or cream at all, and don't require any fancy or advanced baking technique! It's almost too good to be true..
The key to these fabulous buns is to use minimal butter that's cold and rubbed into the flour (and salt). then the classical water, yeast and sugar mixture (with 1 egg) is added into this flour mixture. The dough is kneaded in a machine or by hand for just a few minutes. Another key here is to keep the dough a little sticky. It should not stick to the surface or your hands, but when you dig your finger inside, it should stick.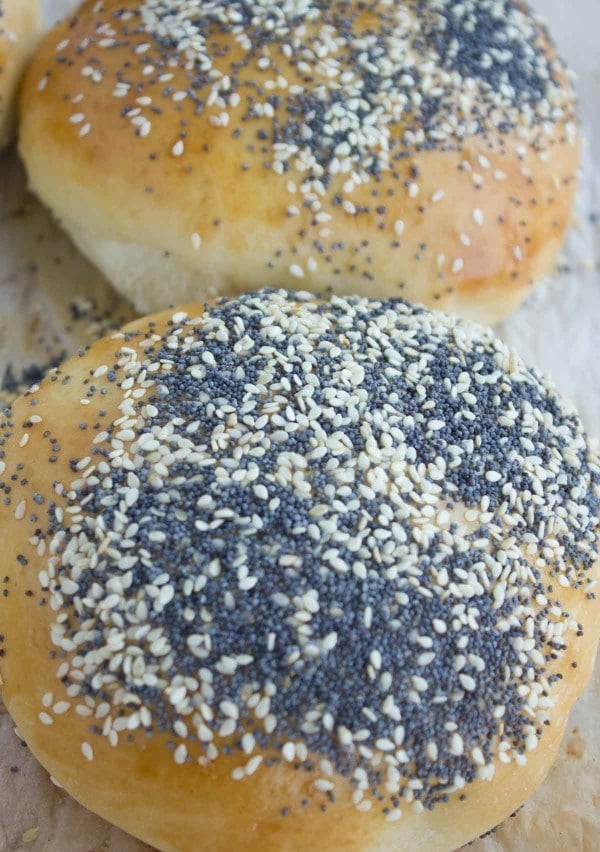 The dough should rise in a warm, dry place until doubled in size ( 1hour – 2 hours depending on your home temperature), then shaped. While the oven is preheating, the buns will get an extra 30 minutes of rising, and when they bake, they puff up and bake to a golden color.
Best Soft Burger Buns
Ingredients
1

cup

of lukewarm water

( not too cold or hot, more like your body temperature)

2

teaspoons

of instant or dry yeast

3

tablespoons

of sugar

1

egg

2

tablespoons

of cold butter

, cut into 1/4 inch cubes

2 1/2

cups

of all purpose flour

( may be 1/4 cup more or less depending on the type of flour and the level of humidity/dryness in your area)

1 1/2

teaspoon

of kosher salt

Topping:

2

tablespoons

of sesame seeds

2

Tablespoons

of poppy seeds

Egg Wash:

1

eggs

, beaten well

1

teaspoon

of water or milk or cream
Instructions
Put the flour and salt in a large mixing bowl. Rub the cold butter in to the flour until the butter starts to incorporate into the flour totally. Set aside.

In a measuring cup, measure the water and add the sugar and yeast to it. Mix them up and wait for 2-3 minutes until the yeast starts to activate : the mixture will turn cloudy and may foam on the top. After that, add in the egg and mix it well.

Pour the yeast mixture to the flour mixture and begin kneading the dough in a mixer or by hand, for just a few minutes ( 4-6 minutes) until smooth but just a little sticky when you press your finger deep into the dough. Add a little extra flour if you feel the need to, but hesitate to add too much. It might feel challenging but it needs to be worked fast (if by hand) until it doesn't stick to the surface anymore.

Place the dough in an oiled bowl and cover it with plastic wrap. Let it rise in a warm, dry place ( like inside your oven while it is shut off). It may take from 1-2 hours depending on how warm your home is that day. You will see it double in size and that's how it's ready.

Remove the dough from the oven and preheat it to 350 degrees.

In the meantime shape your dough to your desired size and thickness, and cover it back with plastic wrap for another 30 minutes while the oven is preheating.

Brush the tops of each bun with the egg wash and sprinkle the toppings.

Bake in the oven on a middle rack for 15-20 minutes (depending on the size of your buns) until nice and golden.