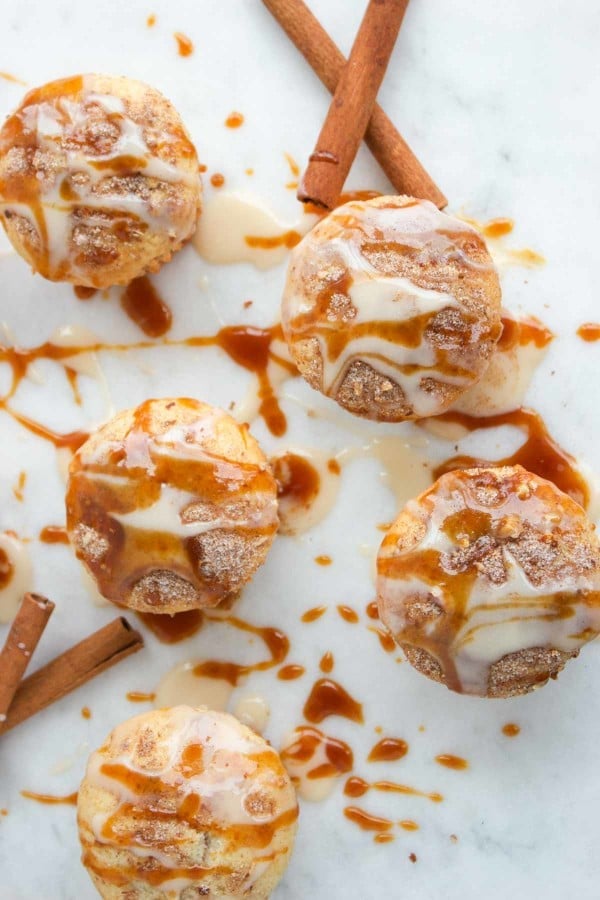 This tender cinnamon roll muffins recipe has all the flavours you crave from a cinnamon roll and the tenderness and convenience of baking a muffin! The perfect treat, ideal for breakfast, brunch and a satisfying dessert! Now every time you crave cinnamon rolls for comfort, here they are made light, fast and delicious!. Give them a try and enjoy!
It's already February! Is it too late to talk about resolutions and wish everyone a Happy New Year? Well even if, wishing everyone a Happy and Sweet New Year!
Speaking of resolutions, this blog is my New Year's resolution and even though it has been for the last few years—well this year, here it goes!
I chose to start the blog (and this year!) with a sweet recipe, not just sweet—but cinnamon comfort sweet. Those cinnamon roll muffins are everything they claim to be— the taste of cinnamon rolls with the tenderness of muffins, and the convenience of a 10 minute prep.
I chose to glaze those cinnamon beauties with my homemade caramel sauce and my cream cheese icing just to really not miss a thing from my favourite cinnamon roll, but they're completely optional and the muffins are delicious on their own. But some times indulgence is a necessity and that was the situation when I first baked those cinnamon roll muffins.
Last summer my sister and her family were visiting from Vienna, and at that time she was pregnant with my now cutest nephew ever. All she craved were cinnamon rolls..all she wanted me to bake for her were cinnamon rolls with cream cheese icing and caramel sauce. And while that was a simple request, with 4 little girls running around the house and wanting to go out everyday all day, well this request seamed like a really big one. So one evening when all little ones were asleep and my mind still awake, these cinnamon rolls muffins were born. At that point the home made caramel sauce already existed in my fridge and all I had to prepare was the cream cheese icing.
After much anticipation from everyone, especially the pregnant lady…they came out perfect and were devoured! Not again did my sister have a cinnamon rolls craving through out her vacation, yet we made those muffins several times.
Hope you enjoy them as much as we did!
The process of those muffins involves 2 basic steps, the preparation of the tender buttermilk vanilla plain muffins and the mixing of cinnamon sugar and nuts (optional) in a separate bowl. half of the muffin batter is scooped into your paper lined muffin tins, then sprinkled with half the cinnamon sugar mix. The remaining batter goes on top and then a final sprinkle of the remaining cinnamon sugar mix. The muffins are then baked and glazed while still warm.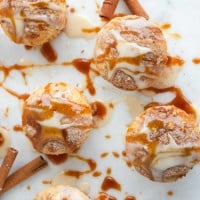 Cinnamon Rolls Muffins
Ingredients
Wet Ingredients:

3/4

cup

of sugar

1

egg

1/3

cup

of oil

1

cup

buttermilk

1

teaspoon

vanilla extract

Dry Ingredients:

2

cups

of all purpose flour

1

teaspoon

of baking powder

pinch of salt

Cinnamon sugar mix:

1/4

cup

of granulated sugar

2

teaspoons

of cinnamon

1/4

cups

of crushed nuts

(optional)

To glaze and dress up:

Homemade caramel sauce

Cream cheese icing
Instructions
Preheat your oven to 375 degrees.

Line a 12 cup standard muffin pan with baking paper and set aside.

In a small bowl mix the cinnamon sugar ingredients and set aside.

In a large bowl mix the wet ingredients using a whisk until all ingredients are well belnded.

In a smaller bowl, whisk the dry ingredients together.

Add the dry ingredients into the wet ingredients and using a rubber spatula, gently mix the batter together, do not over mix it and do not worry about some lumps in the batter.

Using a tablespoon measure, place 2 tablespoons of batter at the bottom of each muffin cup, top with a teaspoon of cinnamon sugar mix and then top with a tablespoon more of batter.

Bake for 18 minutes until done