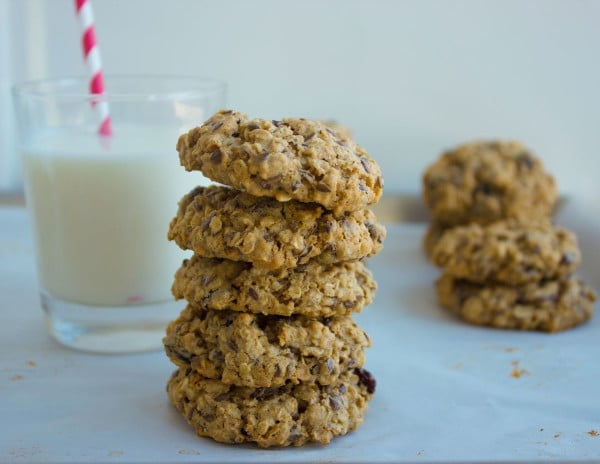 If you're looking for a healthy oatmeal raisin cookies recipe, this one is a winner. It has all the flavors you crave, but not the fat. It's a chewy and puffy cookie studded with oats, raisins and flax seeds for extra fibre and omega 3. It's prepared in 10 minutes and baked right away, no waiting required. The dough can also be frozen and baked frozen directly for extra convenience. Add chocolate chips and nuts to upgrade those into a healthy delicacy!
These cookies are all they claim to be, I mean really they have it all. I've made them with many variations and every time they feel like a new treat. They are a snap to make and bake! But they leave you happy for a while 🙂
My girls love these cookies, and so do their friends. I've always made them with pecans or almonds, they are the perfect fit! But lately I always make them without nuts in case they end up going to school or daycare by mistake..On the bright side, I've found that flax seeds give them a slight (ok very slight ) nutty flavor and feel to them, and give them a nice (really nice) boost of fibre and omega 3..So flax seeds now are a staple with these cookies.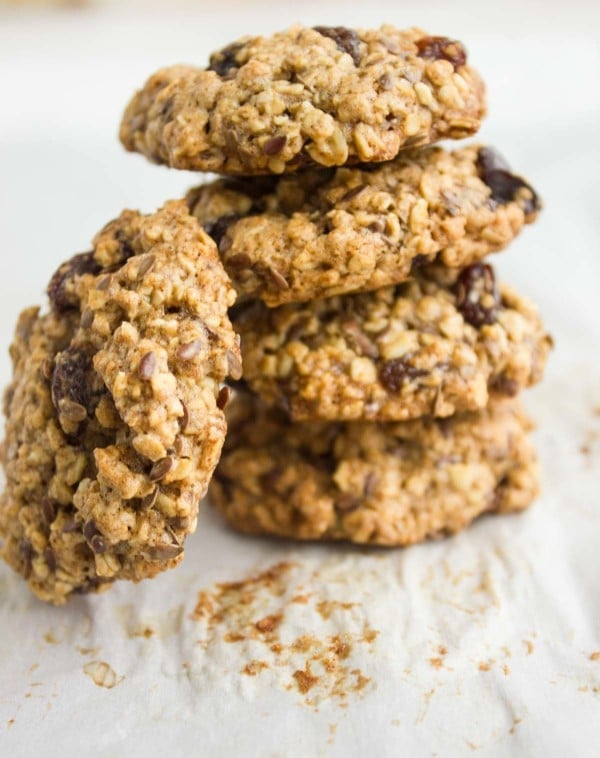 I have to warn you though, if you're looking for an extra soft buttery cookie that melts in your mouth—this is not it.. This cookie is rather a little on the crunchy side on the outside, but tender and chewy on the inside. Very moist cookie, just not buttery or oily or melt in your mouth—rather chewy in your mouth..
Ok to be sure I didn't discourage you from trying these, I have to also mention that these cookies pack a lot of oats and very little flour which really boost that oat-y flavor make them very chewy. They are spiked with a little cinnamon which adds a comfort feel to them, and studded with raisins ( add chocolate chips and, or nuts too!) which add a sweet finish. They have minimal butter and for that they're super healthy and light ( when compared to other cookies) and satisfy every oatmeal raisin craving you may have.
I am sure my dad would want to pick one right out of the screen right now!
Make a batch today, bake a few and freeze the dough for later to enjoy! 🙂
Healthy Oatmeal Raisin Cookies
Servings
12
medium-sized cookies
Ingredients
1 1/3

cups

of quick cooking oats or rolled oats

1/3

cup

of all purpose flour

pinch of salt

1/4

teaspoon

of baking powder

1/4

teaspoon

of baking soda

1

teaspoon

of ground cinnamon

1

teaspoon

of vanilla

6

tablespoons

of room temperature unsalted butter

( margarine may be substituted)

3/4

cup

of light brown sugar

1

egg

3/4

cup

of dark raisins

1/3

cup

of flax seeds
Instructions
Preheat the oven to 350 degrees and line a baking sheet with parchment paper.

Using a hand mixer, beat the butter and brown sugar until fluffed up ( 1-2 minutes) and add the egg, cinnamon and vanilla and beat for another 30 seconds until smooth.

In a separate bowl, mix the oats, raisins, flax seeds and flour with baking powder and baking soda and pinch of salt.

Then using a rubber spatula, fold the oat mixture into the egg mixture. The dough will be a little crumbly, that's ok.

Using a standard tablespoon measuring spoon or a small ice cream scoop or oiled hands, pick up golf ball sizes of the dough and place them on the cookie sheet about 1/2 inches apart ( these cookies don't spread too much).

Bake the cookies ( middle rack) for 12-14 minutes depending on the size of your cookies. Take them out while the centre is still soft but the edges have set ( if you like a chewy cookie) or let them bake an extra 2 minutes until the centres are set too if you like a crunchier cookie.

Cool on the baking sheet for 2 minutes before attempting to remove them.

Now enjoy!

To freeze the dough: wrap it in wax or parchment paper and freeze it as a log or pre-measure it into golf ball sizes. When ready to bake slice the dough ( if it's a log) or bake the gold ball frozen doughs at the same temperature for an extra 2 minutes longer.