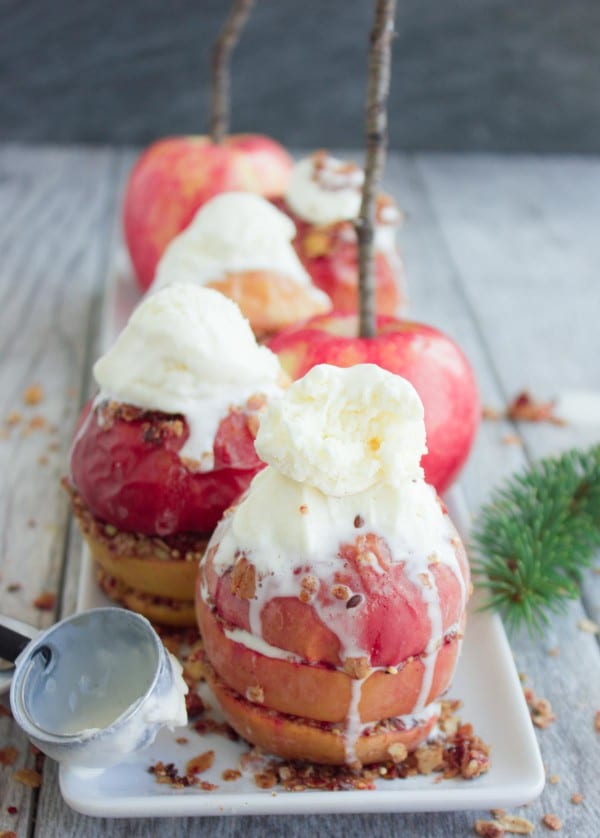 This baked apples with granola crunch recipe is every apple lovers' dream! It's all apple with a crunch of oats and nuts, and a touch of cinnamon all in one big healthy guilt free bite! These baked apple slices are like a cross between apple pie and apple crumble, only made healthy and gluten free! Oh and that smell of apples and cinnamon baking—real comfort mood!
There's something about baked apples that associates with many of us, or dare I say all of us! Is it because it reminds us of apple pie, or is it the cinnamon and spice, or just the good old apple..? But then there's the oats, the nuts, that crunch! which pairs beautifully with the tender soft baked apples. And finally there's that feel good moment where you had a comforting dessert and your sweet tooth is completely satisfied but at the same time it's a healthy good for you dessert!
oat mixture ready, apples cored
apple sliced horizontally ready for topping
crunchy topping on each apple slice
stacked up apple ready for baking
It's completely gluten free (I use gluten free oats) and perfect for gluten free diet. It's also vegan and great for vegan diet, paleo diet and just good for anyone else! I use a combination of oats, nuts and boost them up with flax seeds and quinoa seeds so that's extra fibre, protein, omega 3 and Iron! I mean what else can you be looking for in a sweet treat? 🙂
This is such an easy and light treat that I love to use as a sweet finish at my cooking classes when we've been making pizza all evening! Or when we've been cooking healthy options all evening and still need a sweet ending!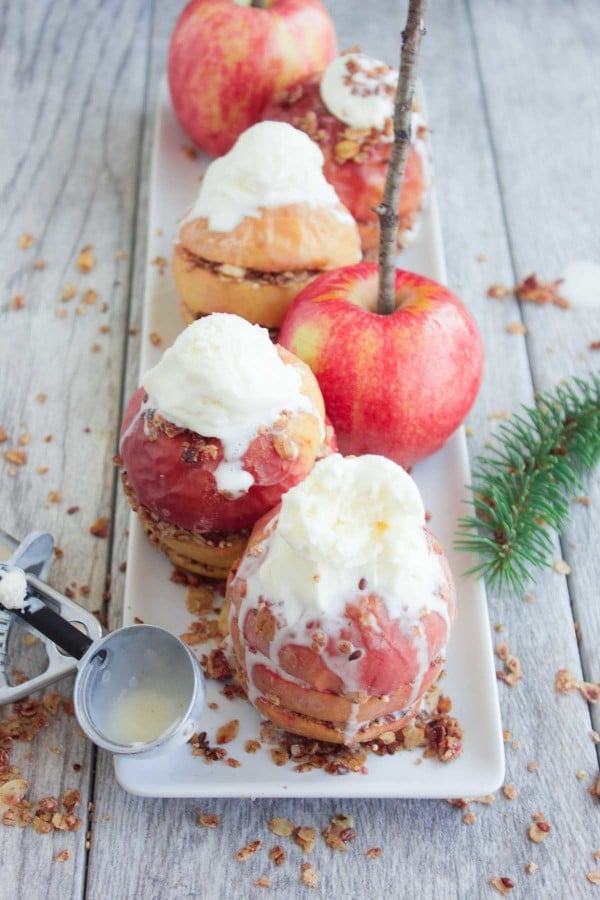 Feel free to use any type of apples you prefer or have on hand—they all work just as fine. I personally love Gala apples in most of my apple desserts so that's what I used here. Pears are a great substitute or variation on this recipe. It all starts with mixing oats, nuts and flax seeds, quinoa seeds along with cinnamon and a touch of oil and brown sugar in a bowl. By all means use any nut, seeds you have, or skip them all together and make it strictly oats, or use your favorite store bought granola!— It's a very forgiving recipe so take advantage of that!
Then we move on to coring the apples and slicing each apple horizontally into 3 discs. And start piling up the oat mixture in between the discs while stacking the apple back in shape. These stacked apples then hit the oven for 20-30 minutes (depending on how soft you like your apples and on the sizes of your apples) and you've got yourself a super easy, quick, healthy, gluten free, vegan, paleo..(you name it!) perfectly comforting baked apple treat!
Alternatively, you can bake the apple discs separately with each disc and it's crunch topping in a single layer for a shorter time and then stack them up when done. This way you get a crunch on every apple piece, while when apples are baked whole, you get the crunch at the top while the inside layers feel like an oatmeal.
They're best prepared and baked right away, although the oat mixture may be well done ahead of time. Once baked, these apples can stay in your fridge for about 5 days, and enjoy them cold or re-warm them in the oven to serve. If you can afford a little bit of melted butter brushed on them before baking—that wouldn't be a bad thing at all 🙂 Or a nice tiny little scoop of vanilla ice-cream while they're still warm-oh that wouldn't be the end of the world either! Either way, if you're an apple lover or looking for a perfect healthy treat-make those and enjoy!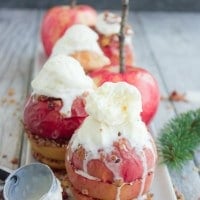 Baked Apples with Granola Crunch
Ingredients
5

small apples

(any type)

Crunch Mixture

1/3

cup

oats

(use gluten free if needed)

1

pinch salt

1

tsp

. ground cinnamon

Optional spice mix: 1/4 teaspoon of ground ginger

, pinch of ground cardamom, pinch of ground nutmeg and ground cloves.

2

Tablespoons

of light brown sugar

2

Tablespoons

of hazelnuts

, toasted and skinned, finely chopped

1

Tablespoon

of flax seeds

1

Tablespoon

of quinoa seeds

1

Tablespoon

of oil

(or melted butter)

OR:

Use your favorite granola to replace the above mixture
Instructions
Preheat oven to 400F.

Wash and pat dry the apples.

Using an apple corer, core the inside of the apples (removing all seeds and stems).

Slice each apple horizontally into 3 pieces; set aside.

Prepare the stuffing by mixing the oats, salt, oil, cinnamon, brown sugar, flax seeds, quinoa seeds and nuts.

Take each apple piece and lay it on a parchment-lined baking sheet and top each slice with about 1½ teaspoons of stuffing (depending on the size of your apples).

For the top part of the apple, lay it skin side up and stuff it lightly in the middle. Repeat with the remaining apples.

Bake for 15-20 minutes until apples are tender and stuffing is crisp.

To serve, lay the bottom piece of each apple on a plate, then top with the middle piece and finally the top part stacking them to complete the apple shape.Alternatively you can bake the apples stacked as a whole for 20-30 minutes (depending on the size of your apples and on how tender you like them to be.)

Enjoy with some ice cream or on their own!